Aston Villa travel to Anfield this weekend on a wretched run of form, having lost six of their last eight games and picking up just six points in the process.
Liverpool, meanwhile, are fresh off a record-breaking 5-3 victory at the Britannia Stadium and have played consistently well for the past six weeks. Luis Suarez is carrying the team through fixtures with his goals, and Daniel Sturridge has finally returned to the fold.
How, then, will this weekend's tactical battles shape up?
Luis Suarez vs. Villa's Back Three?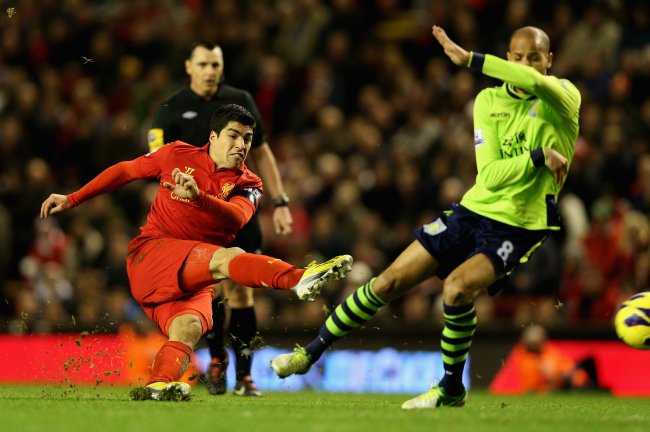 Clive Brunskill/Getty Images
How do you stop Suarez given the form he's in? It's like trying to contain water in a sieve.
Villa held him goalless in their 3-1 win at Anfield last season by employing a 3-5-2 formation and allowing Ciaran Clark to step out and follow his weaving, false-nine-esque runs into midfield.
Even though the Uruguayan had been able to drag Clark out, Nathan Baker and Ron Vlaar were still present to provide a two-man partnership in defence; thus, no holes were opened.
Paul Lambert used a back three against Arsenal on Monday night and lost, but for 30 minutes or more it looked an excellent system. He may well have been getting his side into a groove early to prepare for Suarez, but the issue he faces this time around is that the Liverpool man is better. A LOT better.
The smart money's on Suarez to score first, whatever Villa do.
Wingers vs. Full-backs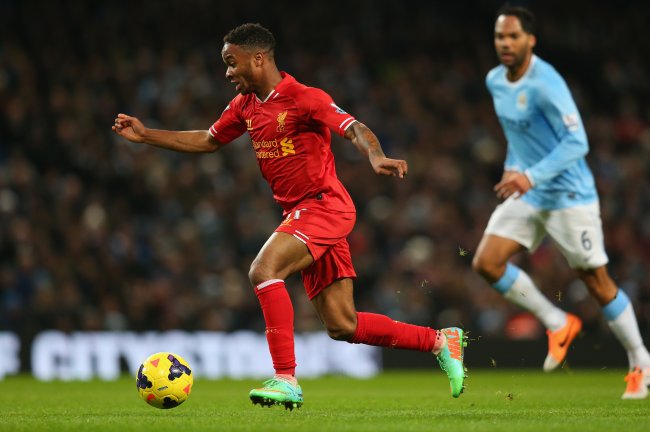 Alex Livesey/Getty Images
This should be an absolute massacre—on both sides of the ball.
First up, we have a rejuvenated, fit Raheem Sterling—fresh from tormenting Manchester City and Stoke City with direct running and aggressive dribbling—going up against the reckless Antonio Luna.
Aside from a strong performance against Arsenal both on the opening day of the season and on Monday, there's not a lot to be pleased about so far with the Spaniard. He's a little chaotic, gets beaten for pace often and appears timid in the challenge.
On the other side, Matthew Lowton is magnificent going forward but can struggle defensively; his opponent, Philippe Coutinho, could well teach him a lesson in positioning.
Liverpool are hardly in better shape, though, with Glen Johnson—who's playing some of the worst football of his career—going up against the direct, pacey Gabriel Agbonlahor.
Villa will play on the counterattack, and Agbonlahor's pace has undone some of the tightest defences in the league this season. Marc Albrighton, penciled in on the right, could cause Aly Cissokho fits too.
Christian Benteke vs. Mamadou Sakho and Martin Skrtel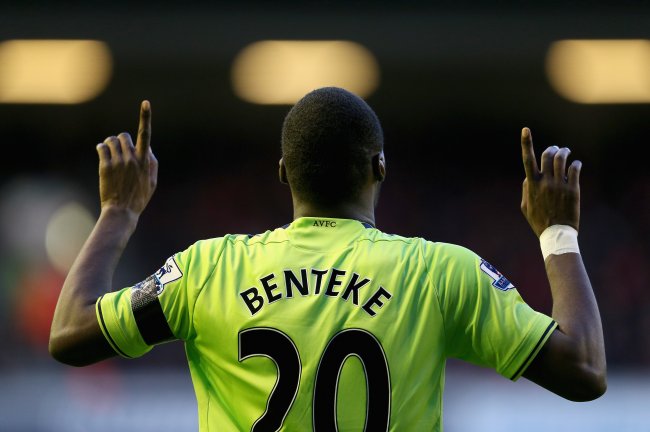 Clive Brunskill/Getty Images
The Physio Room believe Sakho could be back and ready to start against Villa on Sunday, and that's great news for everyone at the club—in particular Martin Skrtel.
The Slovakian defender got bullied relentlessly by Christian Benteke in this fixture last season, as the Belgian scored two goals and made life uncomfortable throughout.
The precedent for containing Benteke is set: Both Per Mertesacker (Arsenal) and Kolo Toure (reverse fixture) were able to dominate him physically. Toure held him without a chance until the 90th minute, while Mertesacker forced him into wider areas and away from the central danger zones.
Skrtel, without a more physical partner, would be in line for another serious struggle on Sunday. But with Sakho back in action, Reds fans can breathe a little easier.