The name of the game in the NBA playoffs is coming back from deficits, and the Golden State Warriors showed their ability to do just that, time and time again on Wednesday night against the Denver Nuggets.
On three separate occasions, the Warriors trailed by eight or more points, only to at least came back to within a point each time. Unfortunately for Golden State, however, a lack of late-game focus, accentuated by a costly Stephen Curry turnover (remind me if you've heard that one before), ultimately cost the Warriors the game as they allowed the Nuggets to go on an 8-0 run at the finish to win 123-116.
But that shouldn't take away from Golden State's persistence and determination. Most importantly, the Dubs highlighted their ability to come back quickly from even the largest of deficits. Better yet, they were able to do so without efficient three-point shooting from Curry and Klay Thompson, who were a combined 5-of-18 from beyond the arc.
Deficits Overcome by the Warriors Wednesday Night

| | | |
| --- | --- | --- |
| Score | Deficit | Recovery |
| 61-53 | 8 | Tied 80-80 |
| 94-85 | 9 | Trailed 94-93 |
| 103-95 | 8 | Led 116-115 |
ESPN
That comeback ability will prove valuable come playoff time, as the Warriors showcased perfectly in their 2013 playoff run. Their ability to overcome abnormally large deficits was essentially what allowed them to stay in the playoff hunt as long as they did.
The Dubs' biggest comeback wins included one in which they overcame a 12-point halftime deficit against the Nuggets in Game 3 of their series and an overtime win in Game 4 against the Spurs in which they trailed by 11.
It's no secret that coming from behind is a valuable skill to have, and the Warriors showed how especially important it is in the playoffs. Most importantly, they clearly still have that ability thanks to their performance on Wednesday night, despite the loss.
Even so, Golden State's resilience should not overshadow their glaring problems. For one, Wednesday night's loss was their worst defensive performance in recent memory. The Warriors came into the contest ranked fourth in the NBA in defensive efficiency, but you never would have guessed it.
First, let's assess just how bad the situation was. The Dubs allowed 65 first-half points on their way to a 123-116 loss, and they didn't improve much in the second half, surrendering 58 points after the break.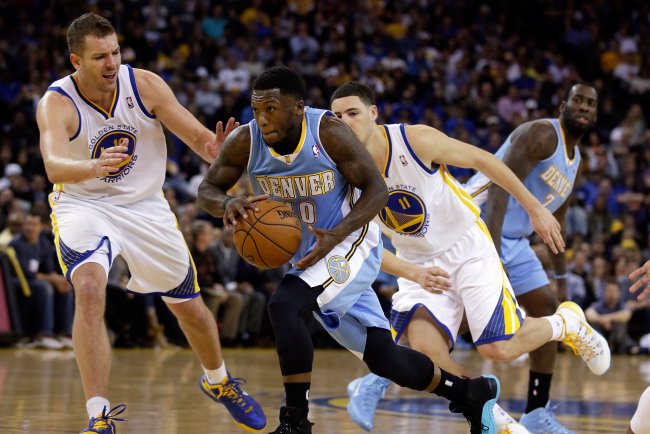 Ezra Shaw/Getty Images
At halftime, the Nuggets had 65 points on 61.9 percent shooting thanks to Randy Foye's 18 points on just nine shots. In total, four Nuggets players finished with over 20 points, including Nate Robinson's 24 points on 9-of-12 shooting.
Randy Foye is shredding the Warriors with 16 points and JJ HIckson with 10 rebounds. It isn't halftime yet. Fresh legs, I used to say.

— Golden State of Mind (@unstoppablebaby) January 16, 2014
Why exactly did the Warriors struggle defensively? Much of it can be pinned on poor perimeter defending, which is generally a strength for Golden State.
The Dubs allowed the eighth-fewest three-pointers per game in the NBA heading into Wednesday night (6.8) while holding opponents to a 34.4 three-point shooting percentage, the latter of which was good for seventh in the league.
Much of that success comes thanks to Andre Iguodala, one of the premier perimeter defenders in the game, but he uncharacteristically struggled against Denver, both offensively (1-of-7, three points) and defensively. That led to the Nuggets connecting on 12 of their 24 three-point attempts, which ultimately made the difference in the game.
But that wasn't the only issue for Golden State.
The Warriors also surrendered nine offensive rebounds, including four to J.J. Hickson, part of his 24-rebound night. In particular, a key offensive board by Hickson late in the fourth quarter essentially sealed Golden State's fate while perfectly summing up the night's struggles.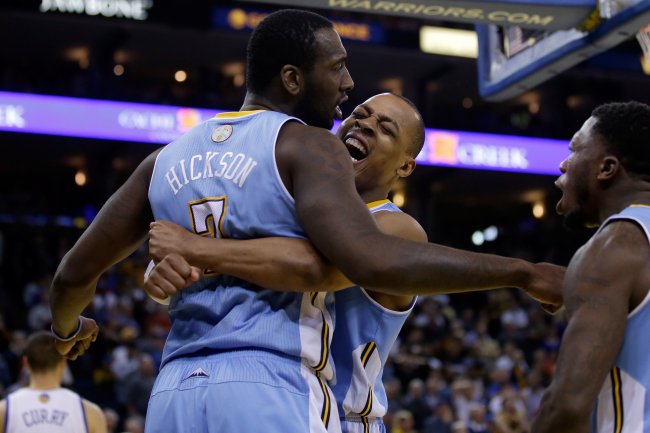 Ezra Shaw/Getty Images
But what really hurt the Warriors on Wednesday were their defensive struggles in transition, as they allowed 28 fast-break points. That includes 19 first-half fast-break points for the Nuggets, which, as Rusty Simmons of The San Francisco Chronicle noted, isn't exactly characteristic of the Dubs:
Denver has scored 19 fastbreak points. The Warriors have allowed that many in an entire game only six times this season.

— Rusty Simmons (@Rusty_SFChron) January 16, 2014
But don't forget the poor interior defending as well, which was almost equally abysmal.
David Lee played particularly soft defense, which allowed Hickson to score all six of his field goals in the paint. Timofey Mozgov also had a relatively easy time scoring inside, with four field goals in the key, and even three of Ty Lawson's six field goals also came from inside the key.
That all contributed to a 65-point outburst for Denver in the first half, and it controlled the game heading into the break with a 65-58 lead.
Nevertheless, the Warriors had a great chance to seize control of the game in the second half, holding the Nuggets to three-and-a-half scoreless minutes to open the third quarter. Additionally, the Nuggets had to deal with foul trouble for Hickson and Kenneth Faried, who had three and four fouls, respectively, just three minutes into the second half.
But the Warriors failed to capitalize on the situation, as Hickson and Faried committed just one more foul each for the remainder of the game. (Admittedly, Faried played just 17 minutes.) The Dubs also proved susceptible to big runs by the Nuggets, which effectively negated their own various comebacks.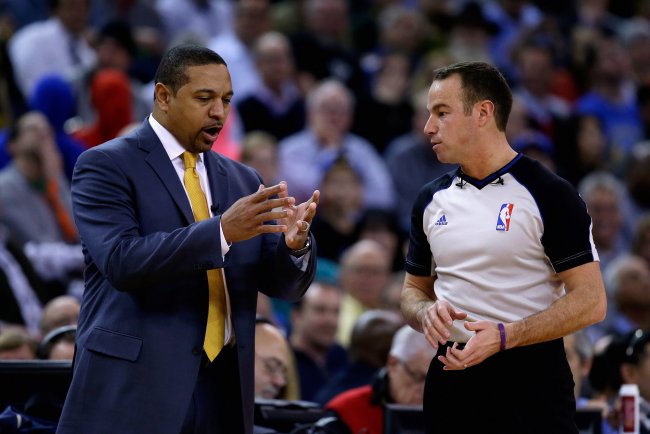 Ezra Shaw/Getty Images
In short, it was an all-around poor defensive effort by the Dubs, which is particularly uncharacteristic of one of the NBA's best defensive teams. Don't forget, however, that there are 82 games in the regular season, and Wednesday night constituted a small fraction of that number.
Based on prior results, the Warriors still have one of the NBA's best defenses, and one poor performance isn't enough to write them off.
Instead, the important takeaway from the game is the Warriors' ability to stick with a team even when they aren't playing their best basketball. Better yet, they kept it close despite the shooting inefficiency from Curry and Thompson. The Warriors are truly moving away from the "live and die by the three" mantra, and they nearly proved that once and for all on Wednesday.
They'll just have to keep grinding; it's a long season.