2015 MLB Free Agents: An Early Look at Next Winter's Best Available Players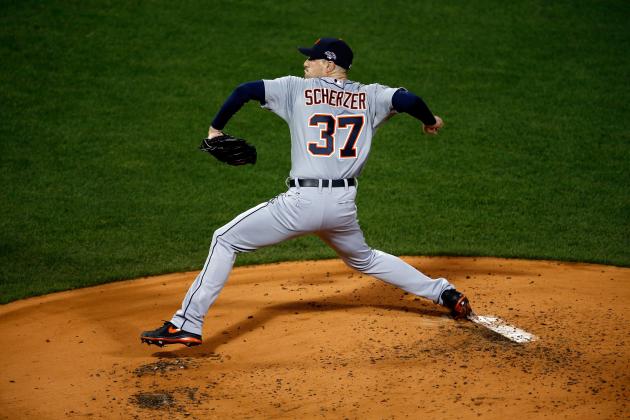 Jim Rogash/Getty Images

While this year's hot stove has been defined by a class heavy in position players at the top, the opposite is true next winter. The spotlight belonged to Robinson Cano, Jacoby Ellsbury, Brian McCann and Shin-Soo Choo once the postseason wrapped up, but the 2014-15 offseason is shaping up to be ruled by starting pitchers.
Of course, extensions could change everything, as could injuries, but as of now, there's a class of pitchers whose contracts figure to blow away those likely to be doled out to the likes of Ervin Santana, Matt Garza and Ubaldo Jimenez when the market finally moves on from Masahiro Tanaka. Not to be totally overshadowed, there's at least one position player who could land a nine-figure contract, and several others who figure to be well into the tens of millions.
Here's the best available projected free agent at each position next winter. By the time these guys hit the market, the Tanaka saga will be a mere afterthought.
Note: Projected free agents listed here are culled from MLB Trade Rumors and Cot's Baseball Contracts.
Begin Slideshow

»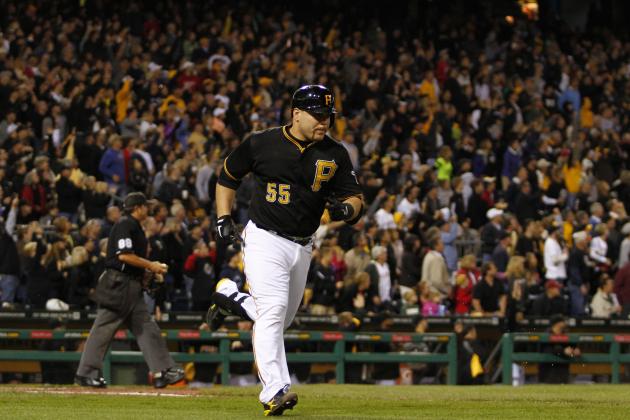 Justin K. Aller/Getty Images

Catcher is not an easy position to fill, and while teams in search of one this offseason had a crack at an All-Star in Brian McCann, the same can't be said for next offseason's projected class.
Russell Martin, of the Pirates, whom the Yankees allowed to walk in free agency after 2012, is the best of the bunch. The right-handed hitter, who signed a two-year deal with Pittsburgh last offseason, will be heading into his age-32 season and figures to land a multiyear deal again.
After Martin, the group is led by Texas backstop Geovany Soto, who has battled injuries and inconsistency since claiming NL Rookie of the Year honors in 2008. Soto, too, will be 32 in 2015. He signed a one-year deal with the Rangers earlier this offseason.
Other notables include Ryan Doumit, who is entering his first year with Atlanta, and longtime catcher A.J. Pierzynski, who turned 37 last month. It's fair to wonder if the upcoming season, Pierzynski's first with the Red Sox, will be the last of his career.
If a team wants a McCann type next offseason, it looks like the trade route will be the only option.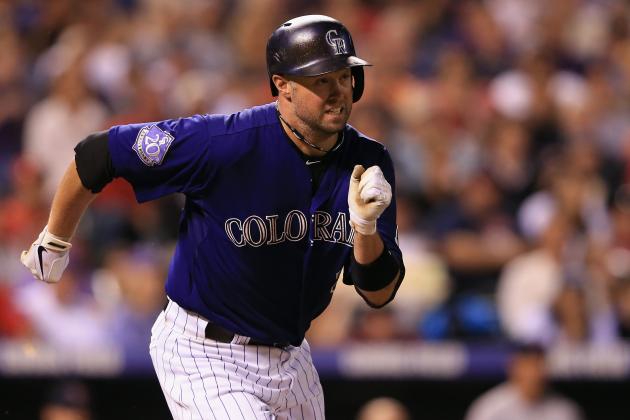 Doug Pensinger/Getty Images

Mike Napoli headlined this year's underwhelming class of free-agent first basemen, and next year's group looks to be more of the same.
Michael Cuddyer appears to be the best of the lot as of now, but just as Napoli's market was seemingly hurt by concerns about a medical issue with his hips, Cuddyer may see limited suitors because of his age—36 in March 2015—and doubts that his bat will play at first base outside of Coors Field. I'd be surprised if Cuddyer were to land more than a two-year deal.
Corey Hart, now a Mariner, could upstage Cuddyer as the most coveted first baseman, but he'll need a healthy, productive 2014 with Seattle after missing all of 2013 with the Brewers due to knee surgeries. If he can re-establish himself this season, Hart could be looking at a two- or three-year deal.
The Royals and Blue Jays hold options on Billy Butler and Adam Lind, respectively, that are likely to be exercised. Adam LaRoche could become a free agent if the Nats decline his $15 million club option (with a $2 million buyout) for 2015, which seems very possible if he doesn't have a solid year in 2014.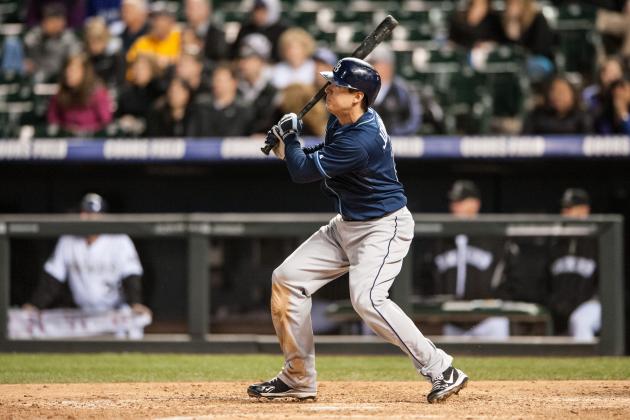 Dustin Bradford/Getty Images

Second base lacks the top-shelf star power of this year's class—#HelloCano—but there are a handful of serviceable types who could fit the bill for teams in search of a stopgap.
Kelly Johnson and Brian Roberts might both see substantial playing time this season with the Yankees. If either of them conjures the better days of their youth, they could be in line for a job in 2015. Johnson, primarily a second baseman throughout his career, might have an opportunity to prove himself as a valuable utility guy if the Yankees give him a shot at third this season.
The odds of success are longer for Roberts, a 37-year-old former All-Star, although part of me still wonders what he can do if he can stay healthy. The 77 games he played in last season were his most since 2009.
Other notables include speedy utility man Emilio Bonifacio, and geezers Mark Ellis of the Cardinals and Rafael Furcal of the Marlins. Finally, there is Brewers keystoner Rickie Weeks, whose $11.5 million option for 2015 vests if he's healthy at year's end and makes 600 plate appearances in 2014, per Cot's. If it doesn't vest, the Brew Crew can void it for $1 million. If Weeks is cut loose, he should draw some interest as a rebound candidate.
Our first three positions have been pretty underwhelming, but it gets better. I promise ...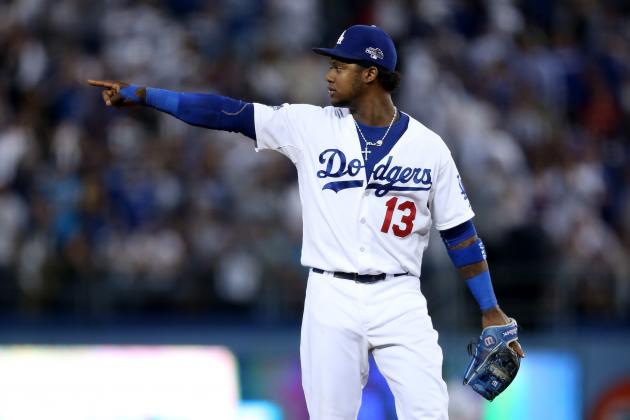 Jeff Gross/Getty Images

Finally! Some good players! Jhonny Peralta took advantage of a weak market to the tune of a four-year, $52 million pact with the Cardinals this offseason, but teams will have a relatively stronger class from which to choose next offseason.
The headliner of the group is Dodgers star Hanley Ramirez, who is tentatively slated for his first foray into free agency after signing a six-year extension with the Marlins back in 2008.
Ramirez may never get there, though, because he has discussed an extension with the Dodgers, Dylan Hernandez of the Los Angeles Times reported last month via Twitter. The right-handed hitter never developed the consistency to be the perennial MVP candidate many projected he would be early in his career, but if he can put together a solid, healthy 2014, he'll likely be in line for a huge payday next offseason—assuming he doesn't get locked up before then.
Down a tier, we find two pretty good shortstops who might be looking for a Peralta-like contract if they play well next season in J.J. Hardy of the Orioles and Cleveland's Asdrubal Cabrera.
Hardy, especially, looks like a good bet to land that contract if he keeps up his recent production, while Cabrera will need to rebound from a disappointing 2013. Age is on Cabrera's side, though, as he turned 28 in November, while Hardy will turn 32 this season.
Jed Lowrie is another name to watch, a guy who hits well for a middle infielder (.264/.332/.427 career line) but might be best suited for a utility role because of his defensive limitations and proclivity for injuries. His 662 plate appearances last year were by far the most of his career, and if he can do it again, and maintain his production at the plate, he'll make for an interesting case in free agency.
Finally, a couple of past-their-prime greats will be at a crossroads, as Derek Jeter could be facing retirement, while Jimmy Rollins could be a free agent due to a convoluted vesting/club/player option for 2015 (as per Cot's Contracts).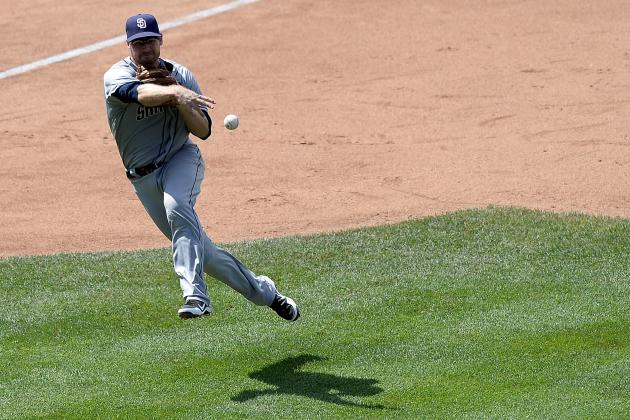 Patrick McDermott/Getty Images

Juan Uribe was the only third baseman to sign more than a one-year deal this offseason, so it's pretty safe to say the hot corner was the shallowest position in free agency.
Things get a little bit better next offseason, though, or they might. Padres third baseman Chase Headley will probably draw interest from many suitors if he hits the market. Headley and the Friars have had on-again, off-again extension talks, although the latest is that the team is comfortable allowing Headley to play out his walk year, according to Bill Center of the San Diego Union Times.
Staying in the NL West, Giants third baseman Pablo Sandoval will likely be on many teams' radar. The Kung Fu Panda can hit (.298/.351/.476 career line), though he has battled injury and weight issues, and he'll need to rebound from consecutive underwhelming seasons in 2012 and '13. Hanley Ramirez, mentioned previously among the shortstops, might also interest some teams as a third baseman.
Another Ramirez, Aramis, could be a free agent next offseason if his 2015 mutual option isn't picked up. He'll turn 36 in June and missed time last season due to injury, but he's always hit when in the lineup. Other notables include Alberto Callaspo, probably a utility man at this point, and Eric Chavez, a platoon corner infielder/DH.
In all, still not a great class, per se, but a much better one than this offseason.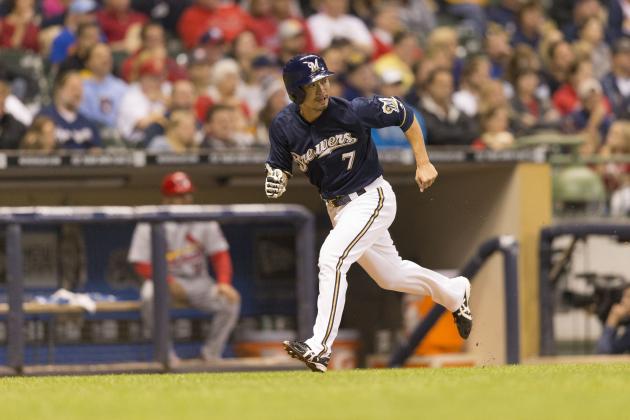 Tom Lynn/Getty Images

Shin-Soo Choo landed the fourth-largest contract for a corner outfielder in MLB history this offseason, as per Cot's Contracts, but there doesn't figure to be anyone even in that ZIP code next year.
Norichika Aoki, acquired by the Royals in December, might garner interest as a speedy leadoff type with good on-base skills. It's tough to see a comparable player for him, though, because most players with his offensive skill set are center fielders. Without the inherent defensive value that comes from playing center field, I wonder whether he'll end up a fourth outfielder on a good team.
Melky Cabrera, who has played poorly and battled injuries since his 2012 PED bust, will be back on the market. This is just my speculation, but if he doesn't pick it up in 2014, a lot of teams could dismiss him as a guy who couldn't get it done without the juice.
Alfonso Soriano and Torii Hunter have played better into their late 30s than most of us would have imagined, but it's not hard to see them retiring after this season, as they're both 38. Josh Willingham could give it another go as a DH, depending on whether he rebounds from an injury-wracked 2013.
On the option front, Nick Markakis and the Orioles share a $17.5 mutual option for 2015 (no guess on how that'll go yet), while the Rangers hold a $13.5 million option on Alex Rios. I could see Texas picking that one up if Rios continues his output from the past couple years.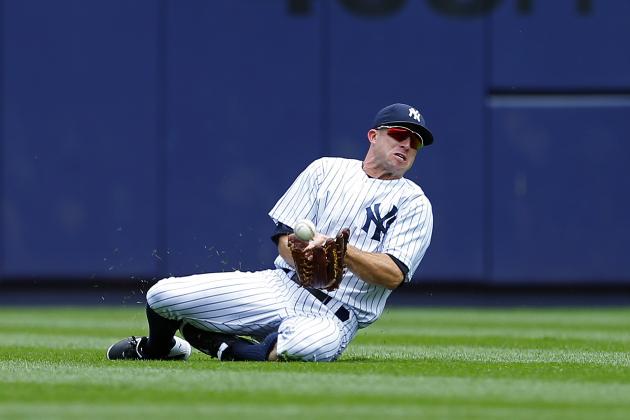 Rich Schultz/Getty Images

As with second base, the market for center fielders won't bowl anyone over, but there are viable options here.
Colby Rasmus, who socked 20-plus homers in three of the past four seasons, boasts the most upside among them. The left-handed hitter is a big guy who strikes out a lot (24.1 percent career rate), though, so I wonder whether teams will regard him as a corner outfielder long term, which would likely hurt his value on the market.
Brett Gardner is more of a prototypical center fielder, a guy who makes his living getting on base, stealing bags and playing good defense. I would think he'll be looking for a deal comparable to the four-year, $48 million pact Michael Bourn signed with the Indians last offseason.
Coco Crisp, 35 in November, will need to use this year as a chance to show teams he's still a viable starter, which he certainly was in 2013, slugging 23 homers while putting up his best fWAR, 3.9, since 2007 with the Red Sox. Can he wrangle two years out of some team next year if he's healthy?
Elsewhere, Chris Young and Franklin Gutierrez will be back on the market after trying to re-establish their values with one-year deals with the Mets and Mariners, respectively.
Again, not a great class, but not completely barren.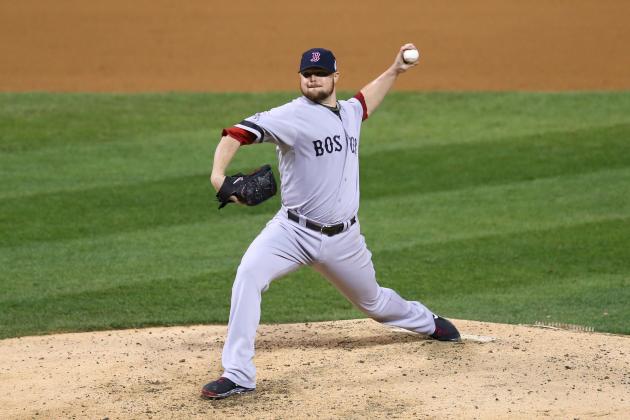 Ronald Martinez/Getty Images

An usual confluence of circumstances hamstrung this offseason's market for pitchers who might otherwise have secured long-term contracts weeks ago, but a repeat appears unlikely next year. A weak class of free-agent pitchers have taken a back seat to Masahiro Tanaka, but even on the off chance there's another Tanaka next offseason, I would think the domestic options are strong enough that they won't get short shrift.
You could assemble a heck of a rotation with the best of this class, which includes Max Scherzer, Jon Lester, James Shields, Justin Masterson and Homer Bailey. It bears mentioning that Scherzer, Lester, Masterson and Bailey are potential extension candidates, with only Shields likely to be too pricey for his team, the Royals.
A few of yesteryear's aces will likely move on to late-career, short-term-contract status, most notably Jorge De La Rosa, Wandy Rodriguez, Jake Peavy and Josh Beckett. I'd be surprised if any of them were able to land three-year deals due to various combinations of age, decline and injuries.
The biggest wild card is Josh Johnson, who will be coming off a year with the Padres in which he hopes to re-establish his value after a series of injury-plagued seasons. If he says healthy and pitches like an ace, the latter of which is not unfathomable, considering his talent and new home ballpark, Johnson could make for an interesting case in free agency next year.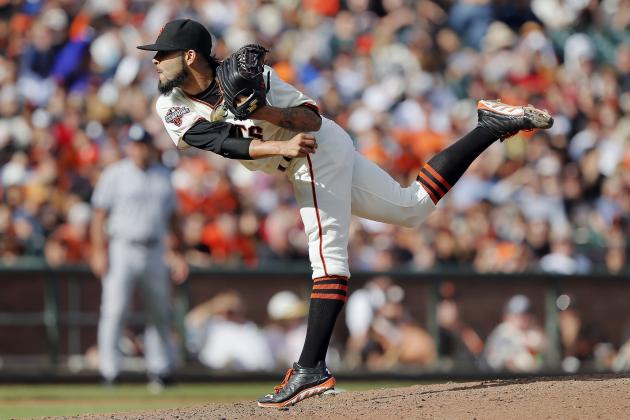 Brian Bahr/Getty Images

There is no shortage of intriguing power arms in next year's class of free-agent relievers, which seems to be the new norm as teams shy away from committing either big years or big bucks to the bullpen.
That's not to say there's going to be any Mariano Riveras out there, however. The group is headed up by Sergio Romo of the Giants, Casey Janssen of the Blue Jays, and Oakland's Jim Johnson, a solid trio. Romo has been terrific for several years running, although his strikeout rate took a dip last year. I wonder if his arm-taxing slider is catching up to him. Janssen might be the best of them, although he may also face competition for his job from Sergio Santos.
After that, there are old-timers such as J.J. Putz, Koji Uehara, Heath Bell and Jason Grilli, Jason Motte, who's coming off 2013 Tommy John surgery, and Chris Perez, looking to rehab his career and image after his unceremonious departure from Cleveland.
Elsewhere, Luke Gregerson has long been viewed as a guy with closer stuff, though he's never really owned the role. Now with the A's, he might not get the opportunity, which leads me to wonder whether some team will target him as its closer next winter at a "setup man" price tag.
Finally, David Robertson, Rivera's successor as the Yankees' closer, has an interesting opportunity to position himself for a windfall next winter if he proves he's up to the task. Presumably, the Yankees would want first crack at him, but that's just a guess.