Michigan Football: Why Brady Hoke Can't Afford a Quarterback Controversy
January 16, 2014

Jim Rogash/Getty Images
Newly-minted offensive coordinator and quarterbacks coach Doug Nussmeier has already made an impact in Ann Arbor. 
Aside from bringing a renewed enthusiasm to the Michigan offense, he's also upped the Wolverines chances of landing 4-star running back Jeff Jones. But there's something Nussmeier hasn't done since assuming the job that has slowly become a story. 
When asked if there will be an open competition at quarterback in the spring, Nussmeier responded only by saying, "It's a quality group of young men," during an interview with mgoblue.com. "(At Alabama) we recruited some of those young players in Shane (Morris) and Wilton (Speight), and then Devin (Gardner), obviously, what he's been able to accomplish to date." On more than one occasion, Nussmeier has dodged questions about who'll be the starting quarterback on Aug. 30 against Appalachian State. 
By refusing to name Gardner the starter, or even saying that he's the clear favorite, Nussmeier is incubating a quarterback controversy. That's the last thing Michigan needs heading into a season that may very well be a make-or-break one for head coach Brady Hoke after his teams regressed in consecutive years. 

Jim Rogash/Getty Images
Maybe it's the strong potential that freshman Shane Morris showed in the Buffalo Wild Wings bowl that's causing the holdup. Maybe it's Hoke's desire to return the team's offense into a more traditional pro style attack. Regardless of what's really holding Hoke and Nussmeier back from committing to Gardner, it's becoming a distraction in a critical offseason. 
Hordes of people argue that competition at every position is healthy. Hoke himself has been a major advocate of making players earn their starting roles. In this brief interview with ESPN's Brian Bennett from Mar. 13, 2013, Hoke continuously stressed the importance of competition on the offensive line and the linebacking corps. 
But the quarterback position, particularly at Michigan, is different. To Michiganders, it's the regional equivalent to being the shortstop for the Yankees or the quarterback for the Cowboys. 
In the 17 games that Gardner's started over the past two seasons, he's thrown 32 touchdowns to 16 interceptions and has made countless plays with his feet. He's done this with a running game that's underachieved and an offensive line that has ranged from pathetic to mediocre. Assuming Gardner's healthy, he's done more than enough to secure the starting job in his senior season.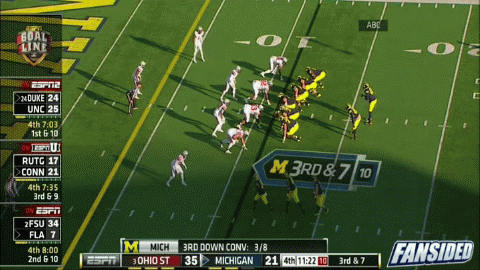 Fansided
With rumors that Gardner is considering reuniting with Rich Rodriguez at Arizona, the time is now for Nussmeier and Hoke to firmly endorse Gardner as their starting quarterback.
Following Michigan's win over Notre Dame on Sept. 7, Sports Illustrated's Andy Staples had Gardner ranked No. 16 overall in his NFL mock draft. Was that projection too high? Definitely, but Gardner is supremely talented and his potential has intrigued more than a few NFL scouts. Under Nussmeier's tutelage, he very well could unlock that potential and develop into that first-round quarterback that Staples anticipated he'd be. 
The last time Michigan had a real quarterback controversy, it was between Tom Brady and Drew Henson in 1999. While I'm not ready to compare Gardner to one of the greatest quarterbacks in NFL history, I do believe in the value of experience. 
It's Gardner, not Morris, who gives the Wolverines the best chance to succeed in 2014. 
Follow Tom Logan on Twitter @TomLogan_BR