The first round of the 2014 NFL draft is still months away, slated for May 8 at New York City's Radio City Music Hall. Even still, it's not too early to dream up which destinations make the most sense for the top quarterback prospects.
Three of the four potential first-rounders are underclassmen in UCF's Blake Bortles, Texas A&M Heisman Trophy winner Johnny Manziel and steady Louisville QB Teddy Bridgewater.
Another possibility who has lost steam after a poor bowl game outing is Fresno State product Derek Carr, who will have a chance to redeem himself soon at the Senior Bowl—a luxury the prior trio doesn't have.
Here is a look at the likeliest NFL destinations for these intriguing field generals and how their skills translate to those respective teams.
Blake Bortles, UCF: Houston Texans (No. 1 overall or via trade)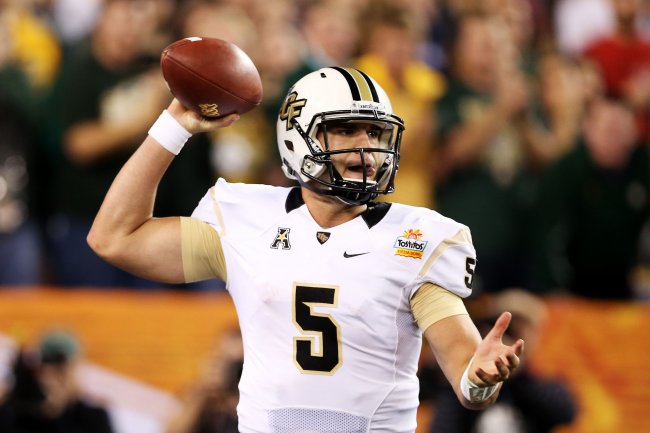 Christian Petersen/Getty Images
The mix of physical tools, dynamic athleticism and sheer upside may see Bortles selected at No. 1 overall by the Houston Texans.
New head coach Bill O'Brien is a quarterback guru and can help mold the Knights star into a surefire star. At 6'4" and 230 pounds, Bortles has a comparable frame and similar athletic ability to another recent top draft choice—Andrew Luck of the Indianapolis Colts.
With several QB-hungry franchises near the top of the 2014 draft order, though, there is a possibility Houston could trade out of the spot to accrue more assets. It's something owner Bob McNair has expressed a willingness to do, per a Jan. 3 report by ESPN.com's Tania Ganguli:
Maybe we'll trade down and still get a quarterback that can do the job and get an outstanding defensive player. It's an exciting time. Everything's a moving target. Lot of different pieces.
In the event that occurs, as McNair hints, general manager Rick Smith could still wind up with another quarterback, depending on how the cards fall. Based on the superior hype Bridgewater and Manziel have generated, it's possible Bortles isn't first off the board in that case.
CBSSports.com expert Dane Brugler has Bortles going No. 1 overall to the Texans in his latest mock draft, so there's at least one reputable voice advocating for this move to happen.
With a receiving tandem like Andre Johnson and DeAndre Hopkins already in place, a versatile running back in Arian Foster and a talented defense, the pieces would be in place for Bortles to lead Houston to an instant turnaround in a precarious AFC South division.
Johnny Manziel, Texas A&M: Cleveland Browns (No. 4 overall or via trade)

Scott Halleran/Getty Images
There's a serious possibility that the Jacksonville Jaguars will take Manziel at No. 3 in an attempt to generate excitement, but the Jags ranked last in the league in sacks for the second straight season.
South Carolina's freakish defensive end Jadeveon Clowney should still be available, and Jacksonville may not have the pieces in place to complement Manziel well enough.
But at least on paper, the Browns do with the NFL's reigning receiving leader in Josh Gordon and Pro Bowl tight end Jordan Cameron. Manziel's playmaking ability would galvanize the entire city of Cleveland, and just like he had Mike Evans with the Aggies, he would have a surefire No. 1 target in Gordon to lean on.
Some may argue that Manziel is raw in terms of being a pure pocket passer, yet he showed a ton of improvement in his sophomore season at College Station.
While Manziel did press at times, he also had one of the worst defenses in the country and had to put a ton of points on the board against SEC defenses just to keep Texas A&M in most games.
If the Browns' front office wants to make a big statement, it must hire a head coach that is on board with this pick and see what Johnny Football can do as the face of the Browns.
NFL.com's Ian Rapoport also confirmed multiple reports that suggest the team is high on Manziel:
They are RT @NFL_CFB: Another report surfaces indicating #Browns very interested in drafting Johnny Manziel. http://t.co/Y2hPP7V1og

— Ian Rapoport (@RapSheet) January 13, 2014
Should he still be available if Cleveland remains in the fourth slot, Manziel—along with picks at No. 26 overall and early in the second round—would give the Browns a big boost ahead of the 2014 campaign.
Teddy Bridgewater, Louisville: Minnesota Vikings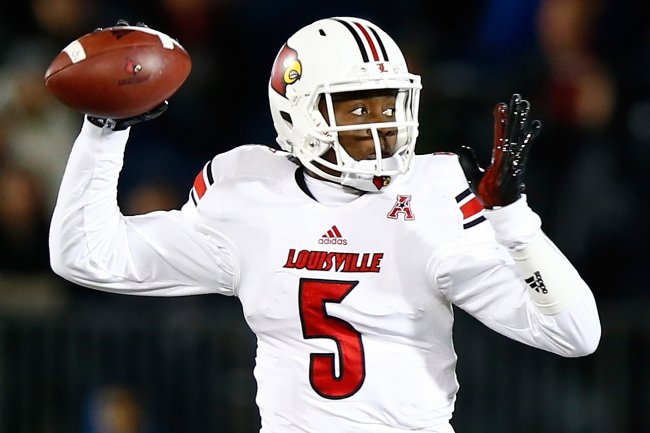 Jared Wickerham/Getty Images
Imagine a cerebral signal-caller such as Bridgewater picking apart opposing defenses with Adrian Peterson to complement him. Bridgewater has the quick decision-making to take advantage of frequent eight-man fronts and plenty of targets to distribute the ball to.
Between solid No. 1 wideout Greg Jennings, electrifying rookie Cordarrelle Patterson, Pro Bowl tight end Kyle Rudolph and even Jarius Wright, all signs point to an immediate impact.
Mel Kiper Jr.'s first mock draft on ESPN.com (subscription required) has Bridgewater going No. 8 overall to Minnesota. Chris Burke of Sports Illustrated weighed in on the implications of that prospective selection:
Kiper with Teddy Bridgewater going 8 to Minnesota. That would be the stealiest steal in the history of steals.

— Chris Burke (@ChrisBurke_SI) January 15, 2014
There is almost no chance the Vikings stick with Christian Ponder and Matt Cassel as the top two options entering next season if they want to compete in the NFC North under first-year head coach Mike Zimmer—just hired on Wednesday, Jan. 15:
It's official- Vikings name Mike Zimmer the 9th head coach in franchise history. pic.twitter.com/MJtCCfHeXD

— Minnesota Vikings (@Vikings) January 16, 2014
One concern is a lack of elite arm strength, which could hurt Bridgewater should he go to Minnesota with the team set to play outdoors for the next two seasons. NBC Sports' Josh Norris isn't worried, though:
Its true RT @evansilva: Mr @JoshNorris on Teddy Bridgewater: "I really have zero questions about him... I think Teddy undoubtedly is No. 1."

— Josh Norris (@JoshNorris) January 15, 2014
However, Bridgewater has enough mustard on the ball to make the requisite throws and has the football IQ to compensate for any lack of physical gifts. He could stand to pack a few pounds onto his 6'3", 205-pound body, but there are almost no other concerns about him.
For a franchise starved of consistently competent quarterback play to balance out the best running back in football, the Vikings would be wise to snag Bridgewater if the draft plays out this way.
Derek Carr, Fresno State: Arizona Cardinals (No. 20 overall)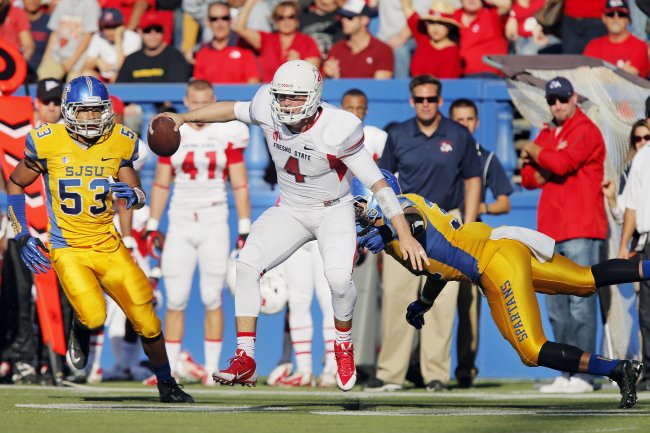 Brian Bahr/Getty Images
There's a lot of chatter going on about Carr, who put up astounding numbers for the Bulldogs but capped off his college career with an underwhelming 45-20 loss to USC in the Las Vegas Bowl.
ESPN's Adam Caplan criticized how the senior stood in the pocket and wilted in the face of pressure:
While Fresno St. QB Derek Carr will be a first-round pick, he has issues with footwork. Shuffles feet when he throws. Causes ball to float.

— Adam Caplan (@caplannfl) December 21, 2013
However, Bleacher Report expert Matt Miller came to Carr's defense in his Week 17 scouting notebook, citing the negativity as being blown out of proportion and not a viable basis on which to judge the QB:
The instant Twitter overreactions to Derek Carr's subpar performance against USC in the Las Vegas Bowl was incredible. Carr didn't play his best game, but you also cannot ever scout a player based on one game. As I said during the game, Carr's weaknesses (happy feet in the pocket, overthrows under pressure) are all coachable. He has all the tools and abilities of a franchise quarterback, regardless of one poor game against USC.
Carr fired at his critics and made a bold declaration on NFL.com's College Football 24/7 podcast on Wednesday, Jan. 15, per Dan Greenspan: "I hope they nitpick a lot because I want to be the best to ever do it, with respect to everyone who has ever played the position," said Carr.
One key distinction Carr has over his more highly touted peers is that he's not declaring for the draft early. Superior experience and the amazing arm talent he possesses should keep him in the first round—and Arizona makes a lot of sense.
Which QB will have the best NFL career?
Head coach Bruce Arians utilizes a vertical passing game and has weapons such as
Larry Fitzgerald
and Michael Floyd on the outside.
Carson Palmer was a serviceable option under center in 2013, but he is not the long-term answer. Coming off a 10-6 season and with a stellar defense already in place, the Cardinals can afford to groom a franchise quarterback.
In the event that Palmer succeeds and cuts down on the 22 interceptions he threw, Carr will have time to sit and learn the offense. Although Carr threw a lot of shorter passes in Fresno's spread scheme, his ability to spin it to all parts of the field will be better taken advantage of in Arians' system.
Should the aging veteran in Palmer struggle and the Cardinals fall behind early in the elite NFC West, there is enough talent there for Carr to step in and succeed.
Last year's first-round pick Jonathan Cooper will be returning to help in protection and with the rushing attack between the tackles at guard. Couple that with Carr's massively underrated mobility—he has reportedly run a 4.56 40-yard dash—and the Cardinals could have a steal with the 20th pick.