10 Minnesota Vikings Who Will Have Biggest Impact in the Mike Zimmer Era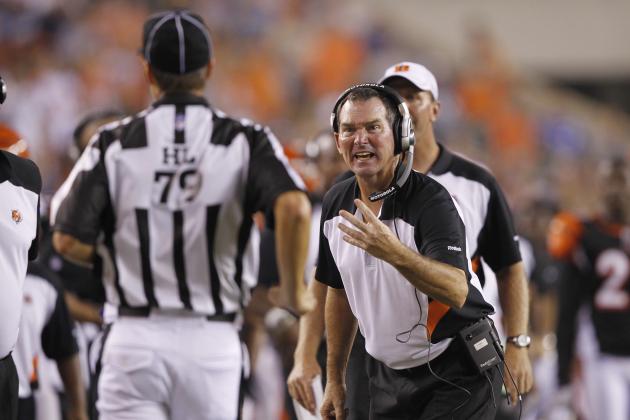 Joe Robbins/Getty Images

Out with the old and in with the new, the Minnesota Vikings have moved on from the placid ways of fired head coach Leslie Frazier and replaced him with the fiery Mike Zimmer, the former defensive coordinator of the Cincinnati Bengals, who becomes the ninth head coach in team history.
Zimmer takes over a floundering franchise that has played five games under .500 over the last decade, highlighted by the 12-win Brett Favre season of 2009 and low-lighted by three- and five-win seasons in three years under Frazier.
Zimmer comes to Minnesota as a highly regarded leader with a brilliant defensive mind, which is obviously needed for a team that gave up the most points in the NFL.
Minnesota's offense needs fixing as well, but it certainly has more pieces in place than the defense. The offense's struggles can be directly traced to the quarterback position; the Vikings passing offense has ranked an average of 27th in the league over the past four seasons.
With Zimmer being a defensive specialist, it will be incumbent on him to hire an offensive coordinator who can develop a young quarterback quickly. Minnesota has enough good players on offense to turn things around quickly, but without a quality quarterback, that won't happen.
While Zimmer comes to Minnesota as a highly respected coach who can light a fire under his team, a coach is usually only as good as his players.
Here, we look at the 10 players on the Minnesota Vikings who will have the biggest impact for the team moving forward in the Mike Zimmer era. We're obviously considering age and position as we evaluate impact. More players will be added to the mix through free agency and the draft, but we can only talk about the players who are on hand now.
Begin Slideshow

»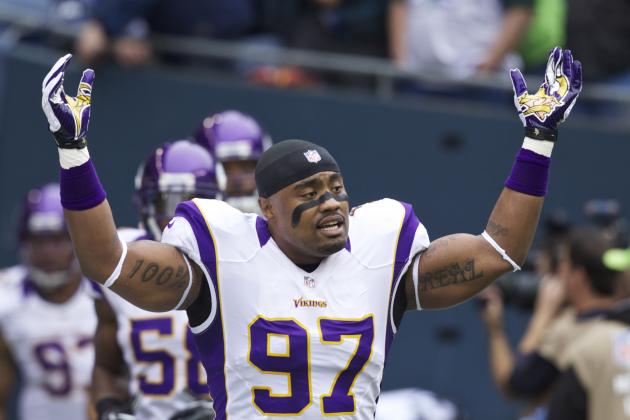 Stephen Brashear/Getty Images

One word hovers above the four-year career of Everson Griffen with the Minnesota Vikings: Potential.
Griffen has shown flashes of brilliance in his role as the third defensive end on the Vikings, but he has never put together enough consistent stretches of play that will prove he can be an above-average NFL player.
Griffen is an unrestricted free agent, but the thought is that Minnesota will do their best to re-sign him and say goodbye to fellow free agent Jared Allen, who is probably looking for more years and money than the Vikings are willing to give him.
If that is indeed what happens with Griffen, he will then become a starter and will have to start providing more adjectives to describe his game than just potential.
Griffen's 17.5 sacks over the last three years are a good sign, especially considering his snaps have been limited as the third defensive end in the rotation.
It will be an interesting negotiation with Griffen, who turned down the Vikings' initial offer during the season. He is probably looking for successful starter money, even though he has no history on his side. He seems like an ideal candidate for a one- or two-year deal where he'll be given the opportunity to prove his worth.
If the Vikings do re-sign Griffen, they'll obviously hope he can become an impact player and deserve a bigger deal in one or two years. Griffen is 26 years old, and the next three seasons will go a long way in defining his NFL career.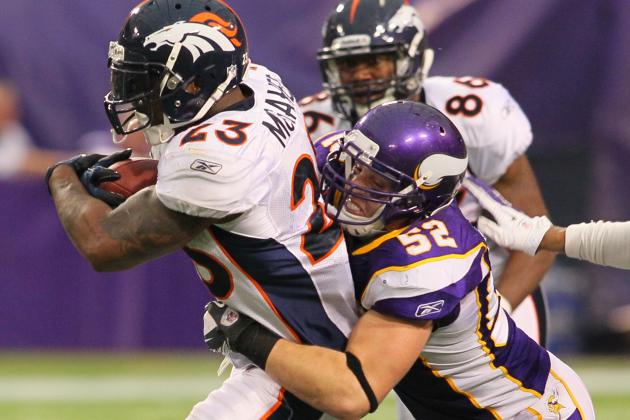 Adam Bettcher/Getty Images

Chad Greenway has led the Minnesota Vikings in tackles for six consecutive seasons. His nine interceptions in seven seasons are more than any Minnesota defensive back in that time. He's made two Pro Bowls.
He's proved to be a player who the Vikings have been able to depend on year in and year out, yet he still has plenty of critics in Minnesota. He doesn't get a lot of sacks (he's played in a defense where that wasn't his role), he doesn't exactly blow people up, and he's certainly not among the faster linebackers in the league.
He's the kind of player you'll miss badly once he's no longer there.
Greenway is now 31 years old, and his best years are probably behind him, but look for him to be rejuvenated under Zimmer. Greenway is locked in to be a Viking for the next two seasons and is the perfect guy to lead a young unit transitioning to a new coaching staff.
Greenway is a pro's pro who should mesh perfectly with Zimmer's no-nonsense style.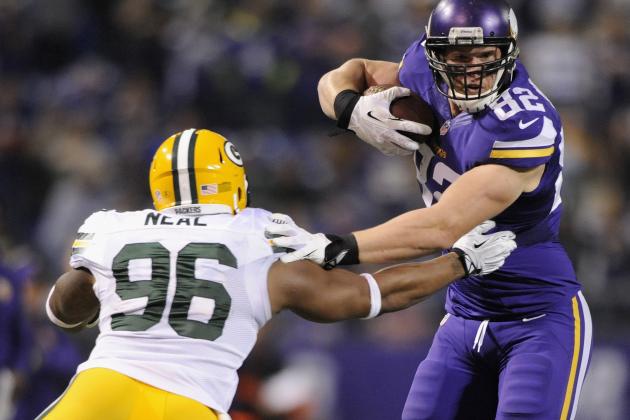 Hannah Foslien/Getty Images

The Minnesota Vikings have a handful of players on their roster who have shown glimpses of greatness, but they either haven't been able to stay healthy or haven't played well consistently throughout a season.
Tight end Kyle Rudolph might be at the top of that list.
Rudolph was off to a good start in 2013, when his season was lost to a foot injury. His best season was in 2012, when he caught 53 passes for 493 yards and nine touchdowns.
You could make a very good argument that Rudolph's receiving numbers have been stunted by the Vikings' awful quarterback play during his career. That said, Rudolph heads into the last year of his rookie contract still needing to prove that he can be an elite tight end in the NFL.
The hope is that Rudolph can stay healthy in 2014 and become a favorite target for whoever is throwing passes for the Vikings. One thing Rudolph has already proved is that he is one of the better red-zone targets in the league.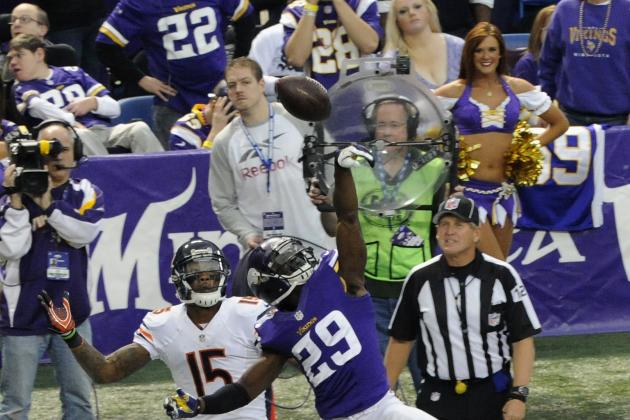 Hannah Foslien/Getty Images

Cornerback Xavier Rhodes was the second of three first-round picks the Minnesota Vikings had in the 2013 draft.
Selected for his size and physicality, Rhodes was Minnesota's answer at cornerback in a division filled with great wide receivers.
Rhodes, like many rookies, struggled early on in 2013 and had trouble adjusting to the Vikings' zone schemes in pass defense.
Once given the opportunity to play press coverage and lock down a single receiver, Rhodes flourished and gave hope to Vikings fans that they'll finally have a cornerback who can make some plays against the pass.
Rhodes was the Vikings best defensive back in the second half of the season before missing the last three games of the season with an ankle sprain. Rhodes didn't have an interception in his rookie season, but he led the Vikings with 10 passes defended, picking up seven of them in two games on the road, at Green Bay and at Baltimore.
The future looks bright for Rhodes, and he can become the key piece in a Vikings pass defense that hasn't seen a defensive back pick off as many as five passes in eight seasons, since Darren Sharper had nine thefts in 2005.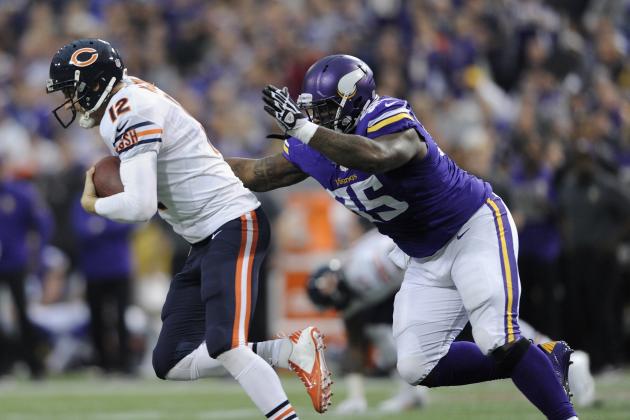 Hannah Foslien/Getty Images

Kevin Williams took over the right defensive tackle spot for the Minnesota Vikings from Chris Hovan in 2004, and Minnesota hasn't had to worry about that spot since.
Six pro bowls later, and Williams is a free agent who's going to be 34 years old when the 2014 season opens.
All good things must end, and it's probable that Williams' time in Minnesota has come to an end. There's still a possibility that Williams decides to take a pay cut and finish up his career with the Vikings under new head coach Mike Zimmer, but that remains to be seen.
It's time for a new era for the Vikings at the defensive tackle position, and it's time for Sharrif Floyd to step into the starting lineup.
The Vikings were thrilled to see Floyd drop to them with the 23rd pick in the first round of last year's draft. Many had ranked Floyd as the top defensive tackle prospect in the draft. With Williams around, Floyd didn't see quite as many snaps as some other rookie defensive tackles, but he appeared to be getting better as the season wound down.
At 6'3", 305 pounds, the Vikings would probably like to see Floyd put on a little weight and get a little stronger to be more of a force against the run in the middle of their defensive line. Floyd is very athletic for his position, but he certainly needed a year of learning the ropes under Williams.
The Vikings defense needs to be drastically better in 2014 and beyond for the team to be a contender again, and they'll need Floyd to play up to his draft potential for that to happen.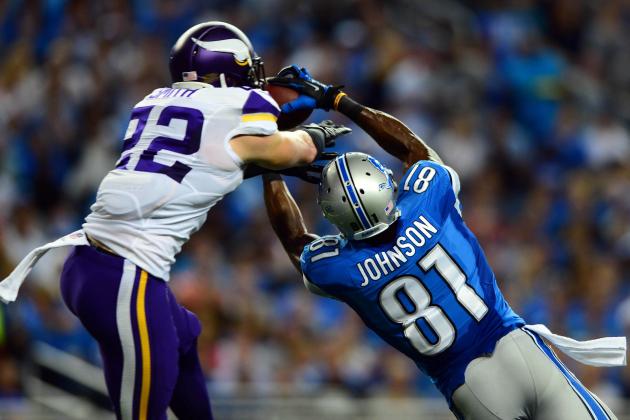 Andrew Weber-USA TODAY Sports

Mike Zimmer is an old-school football guy who likes his defense to play an aggressive, attacking style.
He's going to love free safety Harrison Smith.
Smith missed the second half of the 2013 season with a turf toe injury, and the Vikings defense suffered. In just his second season, Smith had firmly established himself as one of the leaders on the Vikings defense, with his hard-hitting, aggressive style.
Smith has intercepted five passes in his first 24 career games, which doesn't seem like a ton, but in a Vikings secondary where picks are almost non-existent, it's a lofty number.
Smith has a high football IQ and a no-nonsense quality to his game that Zimmer and his staff will love. He's certainly had some growing pains in his first year-and-a-half, but he seems to learn from his mistakes and become a better player through them.
The Vikings have a fine leader for their defensive backfield in Smith, and he'll be like a coach on the field for Zimmer and his staff. Look for Smith to get better and his numbers to get bigger over the next few seasons.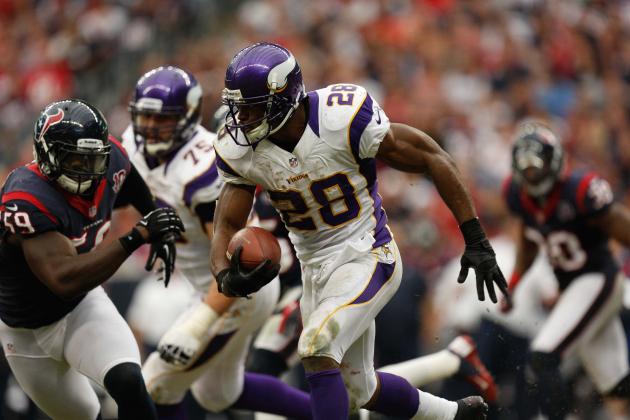 Thomas Campbell-USA TODAY Sports

The clock is ticking on the career of Adrian Peterson.
Already in the argument for the greatest Minnesota Viking of all time, the truth is that as Peterson heads towards his 29th birthday in March, there's a chance that his best days are already behind him.
Although it wouldn't surprise anyone if Peterson made another run towards 2,000 yards in 2014 or even in 2015, he's now seven years in to a career that's been built on both giving out and taking punishment.
Everyone loves Peterson for his reckless abandon and his unwillingness to ever give an inch or to go down without a fight, but that abandon will eventually take it's toll.
Yes, Peterson is a workout warrior who treats every offseason as a chance to get stronger and faster, and that may serve him well as he approaches his 30s. Peterson's work ethic and will are like few we've ever seen before, so if anyone can defy the odds against aging running backs, it's him.
In the short term, as the Vikings begin the Zimmer era, Peterson remains the best player on the team and the focal point of the offense. Defenses are forced to game plan for Peterson first and foremost, and that should only help the Vikings' passing game moving forward.
It's a shame that three of Peterson's prime years were wasted on an offense that had such terrible quarterback play, but the hope is that he's got five or six great years left in him and that the passing offense can come up to meet him.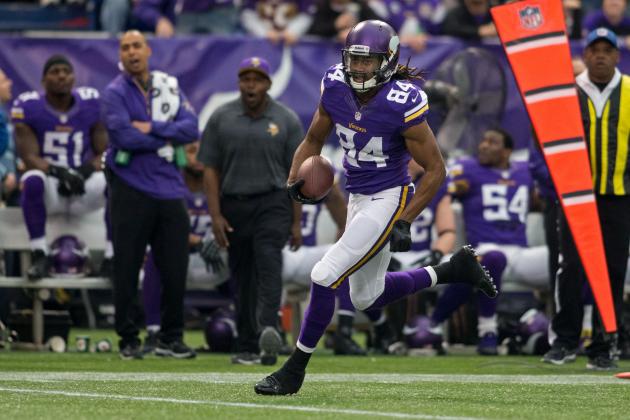 Bruce Kluckhohn-USA TODAY Sports

If all the wide receivers in the NFL were thrown into a hat for a re-draft this offseason, how high do you think the Vikings' Cordarrelle Patterson would go?
Suffice to say that he'd go higher than Percy Harvin, which goes a long way toward alleviating the angst many Vikings had when the Vikings traded the mercurial Harvin last March.
The Vikings traded up to move back into the first round last April so they could take Patterson, the uber-talented, but very raw, receiver who'd only played one season of Division I football.
In his first season, the talent far outweighed the raw, as Patterson led the NFL in kickoff return yardage and made the Pro Bowl.
Patterson scored nine touchdowns for Minnesota, four on receptions, three on handoffs and two on kickoff returns. He finished third on the team with 45 receptions for 469 yards.
As for his future, the sky seems to be the limit.
Patterson will only improve his route running and get better at figuring out how to get open against NFL defenses. He's clearly an other-worldly athlete who should become more dangerous as he learns the nuances of the game over the years.
Like Harvin, Patterson will be a nightmare to game plan against, as the Vikings will use him out of the backfield and on short bubble screens to take advantage of his running ability. Where Patterson should be much better than Harvin is that he has a chance to develop into a dangerous deep threat in the passing game.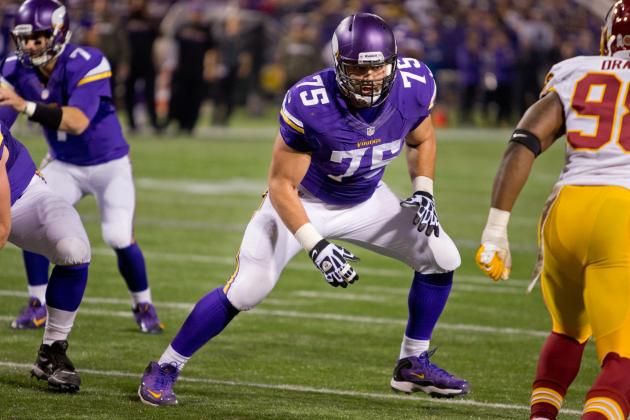 Bruce Kluckhohn-USA TODAY Sports

Left tackle Matt Kalil's second NFL season was definitely a step backwards.
After a standout rookie season that saw him make the Pro Bowl, Kalil wasn't nearly as effective in his second season. Kalil started the season slow and never really approached the high level of play from his rookie season.
To the surprise of many, the right side of the Vikings offensive line outplayed the left side for most of the season. Phil Loadholt had his best year as a pro, and right tackle Brandon Fusco took huge strides forward in his second season as a starter.
The Minnesota offensive line took a lot of heat in the Twin Cities media in 2013, but Pro Football Focus actually had them ranked as the sixth-best line in the NFL, up from ninth in 2012.
Looking towards the future, Kalil has to become the franchise left tackle that the Vikings are counting on. Kalil definitely has to become stronger. He's a smart player with quick feet, but he was simply manhandled at the line of scrimmage too many times in 2013.
The 2014 season begins a new era for Vikings football, and for that era to be one as a team that can contend for division titles, Kalil has to become a dominant force at left tackle.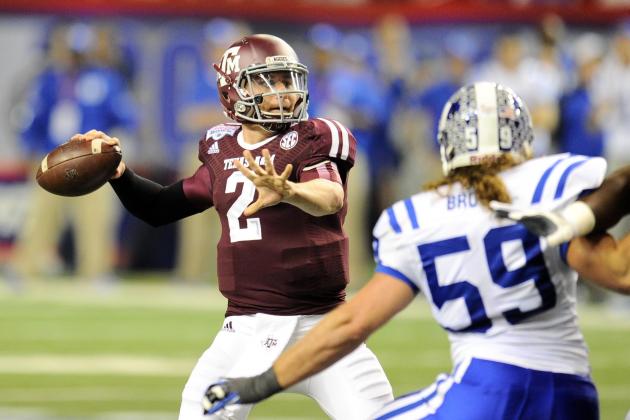 Dale Zanine-USA TODAY Sports

We'll say what you've heard a million times before and will hear a million times more as you follow the NFL: Quarterback is the most important position in sports.
Yes, the Vikings defense was worse than it's offense in 2013. How much of that was due to awful play at quarterback? How many extra snaps was the defense on the field because the Vikings didn't have a quarterback who could sustain drives? Much of good defensive football rides off of momentum, and that's something the Vikings never had in 2013.
The above questions are unanswerable, but the point is that there is a mushroom effect on every NFL team that begins and ends with the quarterback. A great quarterback (Tom Brady and Aaron Rodgers) can mask a team's weaknesses. A bad one only highlights them.
We currently have no idea how the Vikings will handle their quarterback situation heading into the 2014 season. Once again, they won their way out of a top draft position that could have landed them one of the top quarterback prospects in the draft.
If the Vikings stand pat with the eighth pick in the draft, there could be as many as four quarterbacks already gone. It's a peculiar year, because there really aren't any sure things in the Andrew Luck mold at quarterback, but there are several who could become elite quarterbacks given time.
The new coaching staff will come in and meet with general manager Rick Spielman and develop a strategy on how to go about finding their next signal-caller. If they don't find any of the top quarterback prospects enticing enough to trade up for, they may draft on the defensive side of the ball for the first round and try to find a quarterback after that.
In any event, the conventional wisdom is that the Vikings will do all they can to entice Matt Cassel to opt-in on the last year of his contract. Cassel will more than likely begin the year as the starter and mentor whatever rookie the Vikings bring in.
In a perfect world, the Vikings would find a way to land the player pictured above.