Will Chase Budinger's Comeback Solve Minnesota Timberwolves' Bench Woes?
January 16, 2014

David Sherman/Getty Images
It's certainly been a bizarre season for the Minnesota Timberwolves, who currently sit outside the Western Conference playoff picture and have failed to get over .500 on nine straight tries. Still, there's reason to feel pretty optimistic about the team going forward in the season.
As of January 15, the Timberwolves' expected record based on point differential (4.4) was 24-13, eighth in the league. In a lot of ways, Minnesota's just gotten unlucky—it has almost as many wins of 20 or more points (eight) as it does losses of five points or fewer (11, per NBA.com). And the return of Chase Budinger could go a long way in reversing the team's bad fortune.
Budinger's not a gamebreaking player, but he's a solid wing who should provide some offensive help to a punchless Minnesota bench. The Wolves' bench woes have been well-documented this season, and for good reason—with a few exceptions; the reserves have been a disaster.
The Minnesota bench ranks among those at the bottom of the league in minutes, points per game and shooting percentage, per hoopsstats.com.
It's been bad to the extent that Rick Adelman has rejiggered his rotations to ensure that a high-scoring starter is on the floor at all times. Nikola Pekovic has gotten the most burn with the reserves, and while early returns on that move have been promising, per NBA.com, the Wolves need to maximize the time Kevin Love and Pekovic are on the court together.
The Minnesota bench essentially only has one scorer in J.J. Barea, and as such, he's taken on a big offensive role.
Unfortunately, the reserves have very few offensive options outside of running Barea through strings of pick-and-rolls, per Synergy Sports Technology (subscription required), and that's far from ideal. Barea's a decent pick-and-roll guard, but he's hurt by Minnesota's relative lack of three-point shooting.
Aside from Love and Kevin Martin, Minnesota has virtually no real catch-and-shoot options. Its big-minute wings (Corey Brewer, Robbie Hummel and Luc Richard Mbah a Moute) are shooting a combined 29 percent from deep. Defenders routinely cheat off them to help on the real scoring threats, making it difficult for the Wolves to get anything going offensively for long stretches.
Minnesota Three-Point Shooting (Career)
3PM
3PA
3P%
Kevin Martin
967
2509
38.5
Chase Budinger
297
830
35.8
Corey Brewer
286
962
29.7
Robbie Hummel
13
45
28.9
Luc Richard Mbah a Moute
22
78
28.2
Basketball-Reference.com
And that's where Budinger comes in.
Budinger's a career-36-percent three-point shooter, and in his (relatively) injury-free 2011-12 campaign, he shot 40 percent from deep, including 48 percent (!!) from the corners, per NBA.com. Budinger hasn't shot the ball particularly well in his first few games back, but once he shakes off all the rust, his outside touch could provide Minnesota a big boost.
It's not as if Budinger is just a spot-up shooter, though. He's a legitimate scorer who can—to a lesser extent—act as a roaming, off-ball presence in the same way Martin does for the starters.
Budinger almost never creates his own shot (he's been assisted on around 80 percent of his career baskets, per 82games.com), but he moves well without the ball, and the Timberwolves have some set plays for him that take advantage of that.
The majority of Budinger's offensive looks (aside from spot-up shots), come from simple pin-down screens that allow him to curl toward the paint for easy jumpers.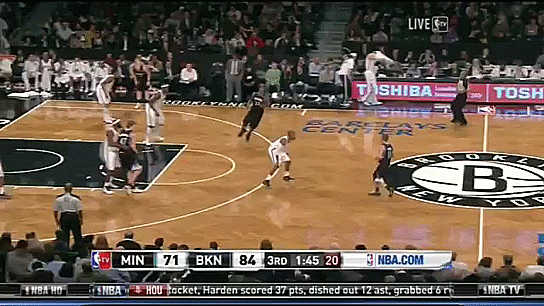 Courtesy of Instagiffer.
Those looks also give Budinger the option to put the ball on the floor and take the screener's man off the dribble. Budinger's not the best off-the-bounce guy, but he's a great athlete and is generally quick enough to get a solid look at the basket. He's not an elite finisher at the rim, but shots off of cuts like that are among the best looks in the NBA, and Budinger gets them fairly often, per NBA.com.
Courtesy of Instagiffer.
Budinger's also fantastic in transition, a pretty important quality considering the Timberwolves are second only to the Philadelphia 76ers in pace this season. Budinger can get up like crazy, and he was a frequent lob target back when he was with the Houston Rockets.
The Timberwolves already rank in the Top 10 in fast-break points this season at nearly 16 a game, per NBA.com. Budinger's got the ability to give them a healthy boost in that category, particularly if he sees any real minutes alongside Love.
With all that being said, it's worth pointing out that Budinger's defense doesn't quite match up with his offensive prowess. Budinger's not a terrible defender, but he's not particularly good either, and quicker forwards regularly beat him off the dribble.
Budinger will certainly still be a net positive for the Wolves. His addition means the Minnesota bench isn't totally out of luck anytime Barea has an off night, and his outside shooting will open up a lot for the team's playmakers.
Still, a big part of the Wolves' surprisingly stout defense (it ranks ninth in the league) has been its ability to keep a strong wing defender on the floor at almost all times, and Budinger is a big step down defensively from Brewer and Mbah a Moute.
Minnesota's been quite good with Budinger on the court thus far, and the all-bench unit of Barea, Alexey Shved, Budinger, Dante Cunningham and Ronny Turiaf has held opponents to just 79 points per 100 possessions, via NBA.com.
But they've also played very few minutes together, and unless Turiaf has morphed into a Roy Hibbert-esque rim-protector, that level of defense isn't likely to last, though the unit could certainly still be above average.
Budinger isn't going to transform the Wolves bench into a powerhouse, but his (and Turiaf's) return should at least lead to a competent reserve unit. And honestly, that's all Minnesota needs.
Love is having an MVP-caliber season. The Wolves are just losing because they bleed points when he's on the bench, per 82games.com. Getting Budinger back could go a long way in making sure that happens much less often, and that, in turn, could make Minnesota one dangerous team heading into the second half of the season.
All statistics accurate as of 1/15/2014 and courtesy of Basketball-Reference.com unless specifically stated otherwise.