At this point of the MLB offseason, the available options are limited as far as players who can make an impact this season. However, there are still a few diamonds in the rough looking to join a squad before spring training.
These available players have plenty of options based on the interest being shown from teams around the league. The only question is which organization will offer the best opportunities to succeed in the upcoming season.
Although nothing is final, here is a look at the latest buzz around the league regarding key free agents.
Masahiro Tanaka, RHP
The Japanese pitcher is the player everyone is talking about due to his impressive repertoire and his results from last season. With the Rakuten Golden Eagles, he finished 24-0 with a 1.27 ERA.
While the Los Angeles Angels were once considered a favorite to land the 24-year-old pitcher, general manager Jerry Dipoto recently explained, "We did not meet with Tanaka. We were not scheduled to meet with him," according to Mike DiGiovanna of the Los Angeles Times.

Buster Olney of ESPN provides the latest in the quest to sign Tanaka (subscription required):
Some of the executives I spoke with believe that ultimately, the Tanaka bidding will come down to the two financial superpowers: the Yankees versus the Dodgers. The Yankees have the greater need, and maybe a little more pressure to sign Tanaka after learning they won't have to pay A-Rod in 2014. The Dodgers are perceived by some rival officials to be more shameless in their bidding, untethered to market prices shaped by other teams, and more driven by what they want. That's been the philosophy of the Dodgers' ownership, even in acquiring the team.

Richard Justice of MLB.com also argues that the addition of Tanaka would make the Yankees playoff contenders:
The Yankees could be better at seven of nine everyday positions, and that includes third base. If they land Japanese right-hander Masahiro Tanaka to the rotation, they will have positioned themselves to return to the postseason. Or at least be in the conversation.
There is little denying that the Yankees have the biggest need for the Japanese pitcher among the contenders to sign him. However, that does not always lead to a deal being completed.
Many factors can go into the final decision for the young star, but you can be certain the Yankees and Dodgers will be fighting until the end.
Mark Reynolds, 1B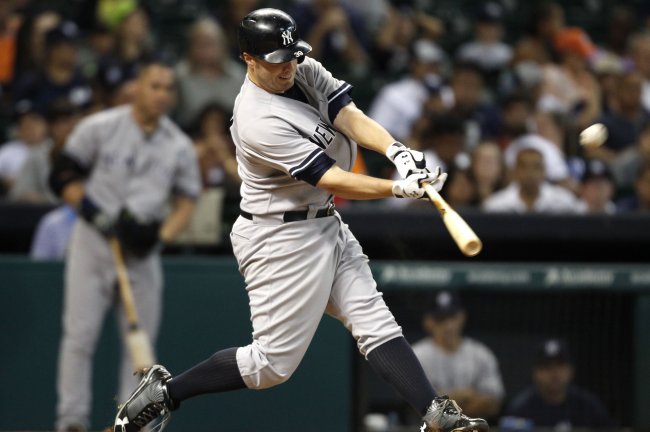 Eric Christian Smith/Getty Images
Teams are always looking for players who can hit the ball out of the ballpark. This is what will keep Mark Reynolds a hot commodity on the free-agent block.
According to Jon Heyman of CBS Sports, at least five teams are interested in signing the corner infielder:
nationals, rangers, twins, orioles & yankees among teams that have been in on mark reynolds.

— Jon Heyman (@JonHeymanCBS) January 13, 2014
While he could potentially help replace Alex Rodriguez at third base for the New York Yankees, Jay Jaffe of Sports Illustrated highlights the negatives of this option:
Reynolds hit 21 homers for the Indians and Yankees last year, but the 30-year-old slugger batted just .220/.306/.393 while striking out in more than 30 percent of his plate appearances. Meanwhile, he was a combined 11 runs below average in the field at first and third base. He's become virtually unplayable at the latter, -35 runs in 183 games there over the last three seasons.
Still, Reynolds has hit at least 20 home runs in each of the past six seasons, which is something that is not easy to find. He has also fared much better at first base than third base in recent years. A team could use him there or as a designated hitter in the lineup.
Considering four of the teams listed are in the American League, there is a good opportunity for Reynolds to find a spot somewhere.
Nyjer Morgan, OF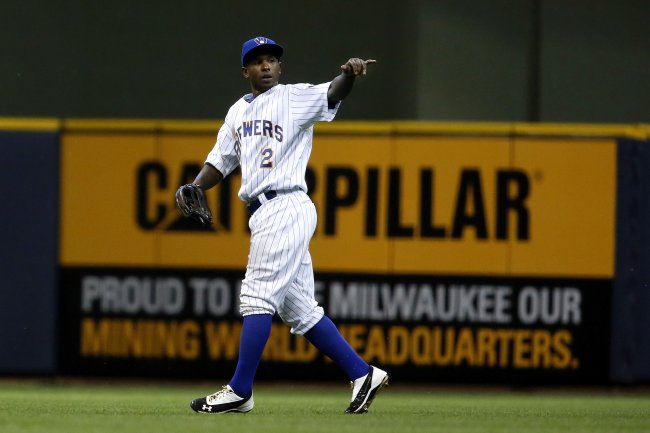 Mark Hirsch/Getty Images
There were few players more entertaining over the past few seasons than Nyjer Morgan. Although the 33-year-old player made plenty of bad choices on and off the field, he still had great speed and a unique talent as a leadoff hitter.
After spending 2013 in Japan, the outfielder appears ready to return to the league, according to Jerry Crasnick of ESPN:
It appears Nyjer Morgan will be back in MLB in 2014 after a year in Japan. He's closing in on a deal with unspecified club.

— Jerry Crasnick (@jcrasnick) January 14, 2014
Crasnick also quoted Morgan's agent, Jonathan Maurer, who said six to eight teams were interested. He explained:
Japan was a great experience for Nyjer and he would still enjoy playing there, but he's had a great deal of success in the States and would love to come back here as well. We've had interest from teams who see him as a guy who could come in and spell a starter or possibly earn more playing time.
The fact that Morgan is willing to play a secondary role is important to expand his options. In his last season with the Milwaukee Brewers, he finished with only a .239 batting average and 12 stolen bases in 122 games.
However, he can still be productive off the bench as someone who can play all three outfield positions and steal bases late in games. Whichever team is fortunate enough to sign him will get a quality player who can make the difference for a playoff contender.
Follow Rob Goldberg on Twitter for the latest breaking news and analysis.