How Mourinho Stacks Up Against Britain's Best
Paul Frederiksen-USA TODAY Sport
Jose Mourinho
Since the arrival of one Jose Mario do Santos Mourinho Felix to Stamford Bridge, things were never the same. When you talk about modern football and the managers that marked an era as of right now, one of those that you have to mention is Jose Mourinho. It's been a tremendous study in football to see how a young translator for Sir Bobby Robson at FC Barcelona would rise up into the ranks the way he did.
When he came from Porto, things changed for a team with a new owner that was poised to see them take the next step, and that they did. Now 10 years later, in Mourinho's second stint as coach of the Blues, he comes back as a man looking to possibly stay at this club "forever" and many willing to see that happen.
Although it is not fair at times to compare a completed masterpiece to a canvas still being worked or to compare different eras, I thought it would be worth a try to see how at this stage of his career The Special One stacks up to those legendary coaches that have bronze statues and an omnipresent sensation over the teams that they've been able to lead to glory while in charge.
Regardless of where he's gone, Mourinho has won. Many might question his methods, but you cannot question the results, which in the end are what every club wants.
To be quite honest, Jose is not that far off from reaching the same status as six greats from the past. If you want to count trophies, he's left many in the dust.
Porto
Primeira Liga

2002/03, 2003/04

Taça de Portugal

2002/03

Portuguese Supercup

2003

UEFA Champions League

2003/04

UEFA Cup

2002/03
Chelsea
Premier League

2004/05, 2005/06

FA Cup

2006/07

Football League Cup

2004/05, 2006/07

FA Community Shield

2005
Internazionale
Serie A

2008/09, 2009/10

Coppa Italia

2009/10

Supercoppa Italiana

2008

UEFA Champions League

2009/10
Real Madrid
La Liga

2011/12

Copa del Rey

2010/11

Spanish Supercup

2012
Begin Slideshow

»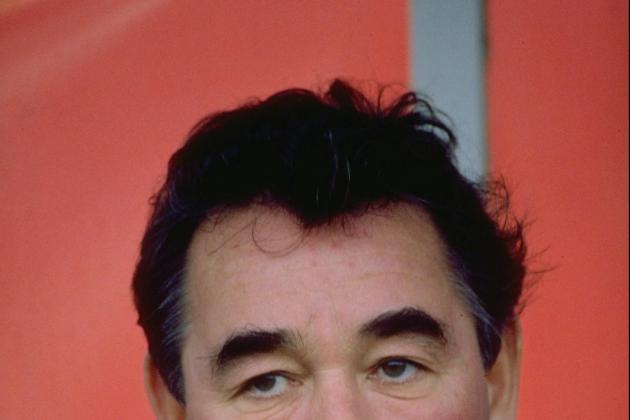 Getty Images/Getty Images
Brian Clough
Brian Clough's charisma helped to see him reach ultimate glory with those tremendous Nottingham Forest sides of the late '70s and early '80s. I doubt that there was a manager that was as frank, to a fault, as Brian Clough. If there was one thing that the manager was not accused of, it was backing out of a confrontation. At the same time, he had the perfect line and it would stir laughter as well as reason.
His legendary spat with former Leeds United manager and then England national team manager Don Revie was epic. Imagine Mourinho with a forum similar to that to face a Sir Alex Ferguson, or even a Pep Guardiola (each segment in a different language, if possible). Obviously that interview with David Frost shortly after being sacked by Leeds United after seven weeks on the job was one that remained in the collective mind of the British football audience.
His success at Forest was not just a moment of dominance for a team, it was a time that changed a culture in a part of England.
How did Brian Clough transcend the game? Well, upon his death, both Nottingham Forest and Derby County fans ended up united, for one rare moment, to give tribute to a coach that placed their respective names amongst the greats.
Derby County
First Division 1971/72
Second Division 1968/69
Nottingham Forest
First Division 1977/78
League Cup 1977/78, 1978/79, 1988/89, 1989/90
FA Charity Shield 1978
European Cup 1978/79, 1979/80
European Super Cup 1979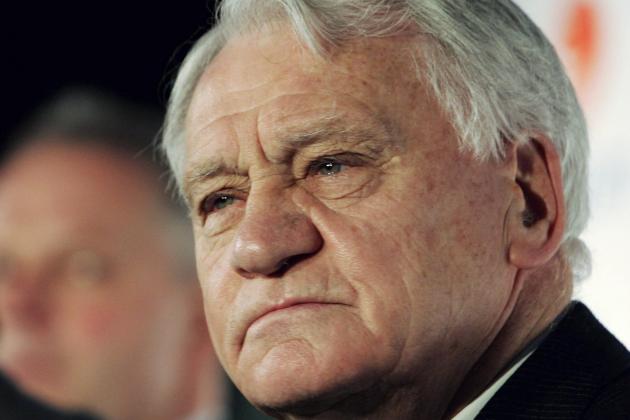 Tom Shaw/Getty Images
Sir Bobby Robson
Without Sir Bobby Robson, this countdown would be absolutely meaningless. A man that enjoyed going out of the comfort zone that was staying in England. Albeit he was one that would be more measured as a coach, the antithesis of Mourinho, he was still successful in the challenges he had throughout his career.
Being able to take England to the semifinals in 1990 might have been one of the greatest feats of his career. Personally, Robson might not have had the polyglottal endowment of Jose, but he knew one language that made him extremely successful in every stop he had—he knew the language of football. Being able to win in the Netherlands, at Mourinho's old team in Portugal and at FC Barcelona showed you that he was capable to adapt to the players and still remain as British as possible with the implementation of a traditional 4-4-2.
If it were based on sentimentality and his connection to Mourinho, he'd be top of this list by far.
Ipswich Town
FA Cup 1977/78
UEFA Cup 1980/81
PSV Eindhoven
Eredivisie 1990/91-1991/92
Porto
League title 1994/95, 1995/96
Taca de Portugal 1993/94
FC Barcelona
Copa del Rey 1996/97
Spanish Supercup 1996
UEFA Cup Winners Cup 1997
Coached England in 1986 (quarterfinals) and 1990 (semifinals) World Cups.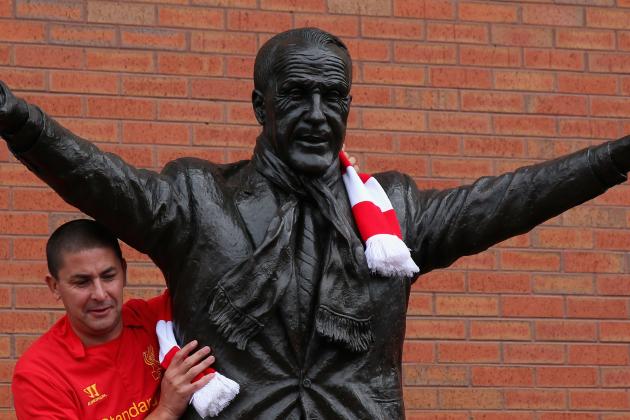 Alex Livesey/Getty Images
Bill Shankly
Few managers in English football history have had the influence that a Bill Shankly did during his time as manager of Liverpool. His spirit lives at Anfield, and that is one thing that Mourinho has not achieved as of yet. It could take a few seasons before we start talking about the Chelsea coach in that light. Still, his best qualities were to organize and be detailed in all aspects. It was his vision and the belief he had in his acquisitions that saw their remuneration in a devotion towards the man that was reflected on the pitch.
Shankly arrived to a club that had hit bottom, there is no other way to put it. Liverpool was in the second division, and he literally took it as a mission to have the club reconstruct its facilities and become the greatest side in English football. He was the driving force, the motivator that helped bring about their turnaround and eventual rise to the top. Once that was in place, he helped usher in Bob Paisley, who helped Liverpool evolve into a European powerhouse.
Shankly was a man whose ability to establish working relationships made his capability to work much more effective.
Liverpool
Football League First Division 1963/64, 1965/66, 1972/73
Football League Second Division 1961/62
FA Cup 1964/65, 1973/74
FA Charity Shield 1964, 1965, 1966, 1974
UEFA Cup 1972/73
Joe Toth-USA TODAY Sports

Sir Matt Busby was (and still is) revered as one of the greatest coaches of one of the greatest teams to have come out of England. Manchester United entered a spell of great success when he arrived onto the scene after having managed Scotland in 1958.
Busby was the mastermind of the Busby Babes and a man that put Manchester United on the map upon taking over the reigns in 1945. His 29 years at the helm saw a club that was mired in mediocrity before him taking over start to grow and eventually became one of the biggest squads in Europe. Busby was able to not just reinvent his side but to fortify the club's history after the tragic Munich Air Disaster and would see them touch the sky in 1968 after winning the European Cup.
Manchester United
First Division 1951/52, 1955/56, 1956/57, 1964/65, 1966/67
FA Cup 1947/48, 1962/63
FA Charity Shield 1952, 1956, 1957, 1965,1967
European Cup 1967/68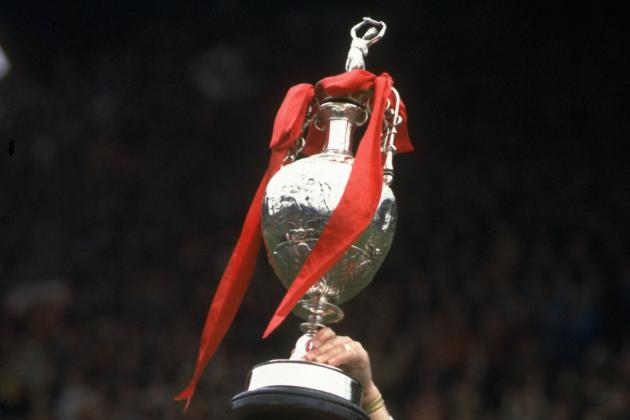 Mike Powell/Getty Images
Bob Paisley
If there something more difficult to do than establish a winning tradition, it is to maintain it. In the case of Bob Paisley, he was a major part of the building of that tradition. He was the brains for Bob Shankly as he offered the tactical acumen to become one of the stronger sides in England prior to taking over as manager. When Paisley took finally took over for Shankly in 1974, little would people imagine that he would surpass his predecessor when it came to titles at Liverpool.
If there is a person that Mourinho is on par with titles, it's Paisley. Six league titles as well as Charity Shields and three European Cups (only coach to have won it thrice) are amongst his greatest achievements as a coach.
Liverpool
Football League First Division 1975/76, 1976/77, 1978/79, 1979/80, 1981/82, 1982/83
League Cup 1980/81, 1981/82, 1982/83
FA Charity Shield 1974, 1976, 1977, 1979, 1980, 1982
European Cup 1976/77, 1977/78, 1980/81
UEFA Cup 1975/76
UEFA Super Cup 1977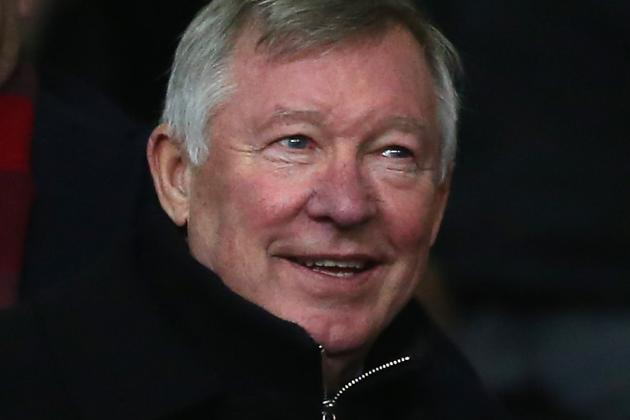 Alex Livesey/Getty Images
Sir Alex Ferguson
When you mention Mourinho, one of the coaches that obviously comes into any conversation is Sir Alex. Their butting of heads throughout Mou's time as manager of Chelsea saw him get the best of the Scot on various occasions. The "cheeky young sod," as Ferguson referred to Mourinho in his autobiography, was one who quickly showed his worth at a club that was began taking its first steps towards becoming the globally recognized team that it is at this stage.
Sir Alex had to rebuild a historic side that was down on hard times when he took over as United manager in 1987 after taking Scotland to the World Cup the year before. Mourinho's side was already beginning to take off under the ownership of Roman Abramovich when Jose arrived in 2004.
What you can say is that both were able to turn their respective teams into not just dominant sides, but international phenomenons both on the pitch and in off the field marketing. Although Fergie is not going to be inviting Mourinho to lunch or to be a guest on one of his speaking tour stops, one thing is sure. Mourinho wants to reach Fergie as far as titles won, and he has a shot to do so.
St. Mirren
Scottish First Division 1976/77
Aberdeen
Scottish Premier Division 1979/80, 1983/84, 1984/85
Scottish Cup 1981/82, 1982/83, 1983/84, 1985/86
Scottish League Cup 1985/86
UEFA Cup Winners' Cup 1982/83
UEFA Super Cup 1983
Manchester United

Premier League 1992/93, 1993/94, 1995/96, 1996/97, 1998/99, 1999/2000, 2000/01, 2002/03, 2006/07, 2007/08, 2008/09, 2010/11, 2012/13
FA Cup 1989/90, 1993/94, 1995/96, 1998/99, 2003/04
League Cup 1991/92, 2005/06, 2008/09, 2009/10
FA Charity/Community Shield 1990, 1993, 1994, 1996, 1997, 2003, 2007, 2008, 2010, 2011
UEFA Champions League 1998/99, 2007/08
UEFA Cup Winners' Cup 1990/91
UEFA Super Cup 1991
Intercontinental Cup 1999
FIFA Club World Cup 2008