The Senior Bowl is a great place to scout for NFL talent. However, when a team coaches it, it's an exceptional scouting advantage. The Atlanta Falcons coaching not just the North for the first part of the week but the South on Thursday gives them the best scouting advantage they have had with the game.
This gives Atlanta a ton of work with over 100 prospects without having to burn visits on them. It also works into the current tendencies the Falcons have when it comes to their selection patterns. They get an idea of how these guys will react when they get thrown into the Falcons' current schemes.
Where do the Falcons get their players?

| | | |
| --- | --- | --- |
| Category | Amount | Percentage |
| Senior Bowl | 14 | 30.4% |
| East-West Shrine Game | 6 | 13.1% |
| Texas Vs. the Nation or NFLPA Bowl | 4 | 8.7% |
| Seniors w/o All Star Participation | 14 | 30.4% |
| Underclassmen | 8 | 17.4% |
Bleacher Report Research
Atlanta already scouts it heavily
Over the first six years of general manager Thomas Dimitroff's tenure, the Falcons have spent 14 of their 46 draft picks—30.4 percent—on players who have participated in the Senior Bowl. In 2013 alone, the Falcons' first three picks were in the Senior Bowl.
When breaking down who the Falcons pick, seniors who have been to the Senior Bowl are the most common pick—14 occurrences—tied with only seniors who didn't play in an all-star game. Of players who went to the Senior Bowl, Atlanta has nine players who have started at one point or another for the team.
The Falcons will always be heavy into scouting the Senior Bowl and should continue that especially in 2014. Between all of the offensive and defensive line talent, the Falcons could take their pick of guys who are worthy of selections throughout the seven rounds of the draft.
After @seniorbowl Players' Banquet, @falcons and @jaguars will "swap" teams for meetings and interviews. Both org's maximizing opportunity.

— Phil Savage (@SeniorBowlPhil) January 23, 2014
Get a better read on more total prospects
Due to the Falcons being able to coach both squads, they will have an early evaluation from their own coaches on over 100 different prospects. That alone is worth more than any amount of visits or combine interviews or even running the combine.
That being said, Atlanta will still have at least 30 guys they can bring into it's facilities, 20 combine interviews and as many visits to campuses around the country that they feel like taking. With limited time before the draft on May 8, the Falcons can get a jump-start on building their board properly.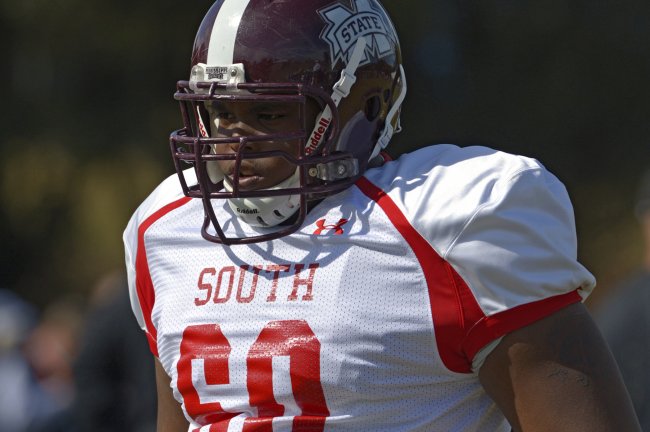 G.M. ANDREWS/Associated Press
See what these guys can do in current Falcons schemes
More than just building the board early, the Falcons can see how these guys fit the scheme. They can answer questions like, "How does Aaron Donald play as a 5-technique?" and "Does Zack Martin fill in well at guard?"
Because of that, they can truly get a read on the kinds of players that are there inside of their potential future roles in the defense or offense. It's a great supplement to the film that they should already have on the multitude of prospects in Mobile.
It could also help lift a guy on the board because they might see something that other teams did not see. In the end, the Falcons will need to make sure that they see the advantages of this week. Otherwise, coaching all of these players would be absolutely pointless.
All stats used are either from Pro Football Focus' Premium Stats (subscription required), ESPN, CFBStats or the NFL. All contract information is courtesy of Spotrac and Rotoworld.
Scott Carasik is a Featured Columnist for Bleacher Report. He covers the Atlanta Falcons, College Football, NFL and NFL draft. He also runs DraftFalcons.com.