With just four teams remaining in the NFL playoffs, the postseason schedule is shortly coming to an end.
Thankfully, the football gods have saved the best for last, because championship weekend features two matchups most fans have been anticipating since before the season began.
Tom Brady and the New England Patriots will travel to Colorado to face Peyton Manning and the Denver Broncos in the early game on Sunday, Jan. 19, at 3 p.m. ET. Then, the Seattle Seahawks will host the divisional rival San Francisco 49ers in the NFC Championship Game, which is slated to kick off at 6:30 p.m. ET.
Here's a terrific look at the full playoff bracket, courtesy of FanSided, followed by the remaining playoff schedule:
Here is your updated #NFLPlayoffs bracket: pic.twitter.com/7WVkd9wu4y

— FanSided (@fansided) January 13, 2014
| | | | | |
| --- | --- | --- | --- | --- |
| Game | Matchup | Date | Time (ET) | TV |
| AFC Championship | New England Patriots vs. Denver Broncos | Jan. 19 | 3 p.m. | CBS |
| NFC Championship | San Francisco 49ers vs. Seattle Seahawks | Jan. 19 | 6:30 p.m. | FOX |
| Super Bowl | AFC and NFC Champions | Feb. 2 | 6:30 p.m. | FOX |
NFL.com
AFC Championship Game
The AFC Championship Game represents the 15th time Manning and Brady have squared off, and it will be their fourth playoff battle. Brady has dominated the series with a record of 10-4, as noted by ESPN Stats & Info, and he has won two of the three previous postseason matchups:
Tom Brady:10-4 all-time when starting at QB against a team starting Peyton Manning at QB

— ESPN Stats & Info (@ESPNStatsInfo) January 13, 2014
While everyone's focus will be on the two future Hall of Famers, Manning was quick to remind reporters after beating San Diego that the upcoming battle is against two teams. Theresa Smith of The Boston Globe relayed Manning's comments:
[T]he game next week is the Broncos vs. the Patriots. I know there will be some individual matchups that will get the headlines, but it will be a battle between two good teams, teams that have been through a lot, that have overcome a lot to get to this point, and that's where my focus will be, trying to help the Broncos get a win against the Patriots.
Interestingly enough, the Patriots haven't exactly featured a pass-happy approach recently, anyway, meaning a quarterback duel might not even occur.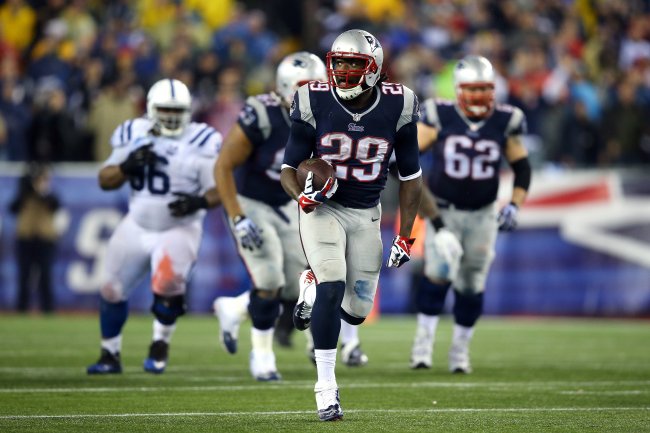 Al Bello/Getty Images
Thanks to the incredible play of running back LeGarrette Blount and New England's offensive line (not to mention a lack of receiving talent), the team's offense has evolved into a smashmouth unit. The team has run over, around and through its last three opponents to the tune of 643 rushing yards and 10 touchdowns.
Denver's run defense has been strong all year long, however, ranking No. 7 in the league (101.6 yards per game), and it held up well against San Diego in the divisional round, allowing just 65 yards on 18 carries (3.6 yards per carry).
Combined with the potent aerial assault Manning and Co. bring to the table, this matchup favors the home team.
NFC Championship Game
The Seahawks have owned the 49ers at CenturyLink Field the past two seasons, winning by a combined score of 71-16. The last time they faced off in Seattle was Week 2 of the 2013 season, when Colin Kaepernick turned the ball over four times, killing his team's chances of winning the game.
Seahawks fans expecting a similar result this time around will certainly be disappointed, however. When asked about his struggles at "The Link," Kaepernick was quick to dismiss his past struggles.
"That's in the past," said Kaepernick via Al Saracevic of SFGate.com. "This is a different situation. We have to go out there and win it."
He's not wrong about this being "a different situation."
The 49ers enter the contest as the hottest team remaining, having won eight games in a row, including five on the road. Three of those road wins came against playoff teams and the Arizona Cardinals—a team that missed the postseason despite winning 10 games.
This team is battle-tested, and it's been in this position before, needing to win a championship game on the road.
On the other side, Seattle hasn't exactly skated into the postseason, losing to the 49ers and Cardinals two out of three weeks near the end of the year. SI.com's Don Banks highlighted the most glaring problem:
Taking nothing away from Seattle's dominating defensive performance for most of the game, but that's not looking like a Super Bowl-ready offense in Seattle about now. ... Seattle had produced just 44 yards of offense in the second half until fewer than four minutes remained, and that lack of execution allowed the Saints to come dangerously close to stealing the game.

But I don't see the Seahawks getting past San Francisco if they don't threaten more than they did on Saturday. Don't think Russell Wilson completing just nine passes for a career-worst 103 yards, like he did against New Orleans, will cut it next Sunday.
Seattle's offense will continue to struggle against San Francisco's impressive defense, and Kaepernick will come through in the clutch for the 49ers, sending his team to the Super Bowl for the second year in a row.
Follow me on Twitter @JesseReed78