Arizona State Football's 2014 National Signing Day Wish List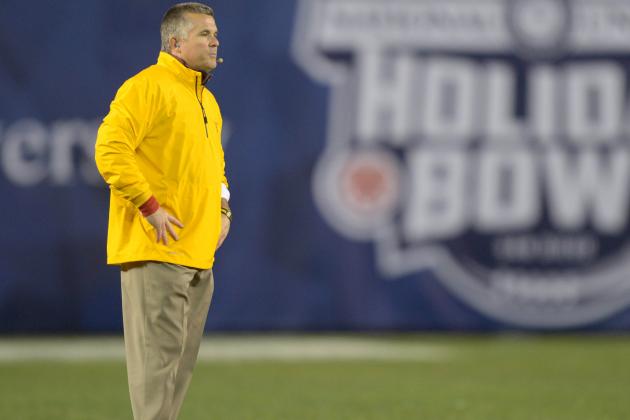 Kirby Lee-USA TODAY Sports
Head coach Todd Graham has plenty of names on his national signing day wish list.
The Arizona State football team will experience a lot of change this offseason.
The defense will return only a few starters, and it loses key leaders in Will Sutton, Carl Bradford and Chris Young. There isn't a position on ASU's defense that isn't going to lose a key contributor.
On offense, the Sun Devils lose scoring machine Marion Grice and offensive line mainstays Evan Finkenberg and Kody Koebensky.
Head coach Todd Graham will have to figure out how to fill all these glaring holes on both sides of the ball. Graham's ability to recruit high-level talent to Tempe, though, will help make this transition go smoothly.
The Sun Devils have a good looking recruiting class lined up for next year.
4-star quarterback Manny Wilkins, 4-star wide receiver/cornerback Tyler Whiley and 4-star linebacker Derik Calhoun are just a few big names that will be attending Arizona State next year.
It will be crucial for the Sun Devils to bring in a few big offensive lineman and a bunch of defensive help on national signing day to help keep ASU at the top of the Pac-12 South.
The 2013 team that won the division for the first time in ASU's history was led by a core group of seniors. Next year's team will be one of the youngest in the Pac-12.
With that being said, here are a few players on ASU's wish list that the Sun Devils hope to sign on national signing day
Begin Slideshow

»
247sports.com
Casey Tucker
Casey Tucker is a big, athletic offensive lineman who could make a major impact for Arizona State.
He's listed at 6'6'', 270 pounds and would fit well into Arizona State's quick-attack offense. He's currently deciding between Stanford and ASU.
He has a visit to Stanford on Jan. 17, and he visited Tempe in December. Tucker was originally committed to USC but decommitted in April.
The big offensive lineman is very athletic and could help Arizona State in their offensive scheme by getting to the second level and clearing lanes for the Sun Devils' playmakers.
Tucker is also a local product.
It would be huge for Todd Graham to land Tucker so he can continue building a pipeline within his own state.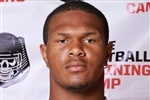 247sports.com
Alex Anderson
Alex Anderson makes this list because he has recently caused some controversy.
Anderson committed to Arizona State as a 3-star offensive guard/defensive tackle, but he recently reopened his recruitment.
The JUCO transfer will now be deciding between ASU and Oklahoma State, according to ASUDevils.com:
New Orleans Landry-Walker OL Avery Anderson tells us he's decommitted ASU. He will visit ASU and Ok State in next week, decide between two

— ASUDevils.com (@ASUDevilscom) January 12, 2014
Whether Anderson plays on the offensive or defensive line, the Sun Devils need him.
Steven Parker would be a huge get for Arizona State if Todd Graham and his staff can land him.
Parker is a safety out of Oklahoma, and as the video above shows, he can do it all. He can read the quarterback's eyes and break up passes, as well as play along the defensive line and stop the run.
He is a perfect fit for ASU's defense.
It doesn't appear that Parker has much current interest in Arizona State, but crazier things have happened.
If Graham can pull a rabbit out of his hat and make this happen, it would be huge for ASU.
Ismael Murphy-Richardson is a 3-star outside linebacker/wide receiver from Arizona.
As the video above shows, he has a knack of getting to the ball on defense and can rush the passer effectively with his quick first step.
He also is a physical specimen, listed at 6'4'', 215 pounds.
The recent departure of devil-backer Carl Bradford could attract Murphy-Richardson to Arizona State to fill that hole.
Murphy-Richardson has the unique combination of size and speed the devil-backer position requires and could become the next impact player on ASU's defense.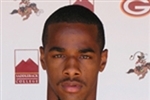 247sports.com
Eric Lauderdale
Eric Lauderdale is a 4-star JUCO wide receiver that could greatly help Arizona State's offense next season.
Jaelen Strong stepped in as a JUCO transfer last year for the Sun Devils and had a fantastic season at the wide receiver position. Lauderdale could step in opposite Strong and help give quarterback Taylor Kelly a legitimate No. 2 option.
Lauderdale has narrowed his choices down to Nebraska, Oregon, ASU and Florida. He'll officially visit Tempe on Jan. 17.
Landing Lauderdale would be huge for the Sun Devils because it would help take pressure off of Kelly and give the Sun Devils another big, offensive weapon.
Stats and information from 247sports.com unless otherwise indicated.
Robby Baker is a B/R Featured Columnist. You can find his B/R archive here and follow him on Twitter @Robby__Baker.