With arguably the greatest quarterback rivalry in the history of the sport and the best current team rivalry in the NFL, the conference championship games promise to thrill fans this Sunday, Jan. 19.
Tom Brady and the New England Patriots travel to Denver to take on Peyton Manning and the Denver Broncos, as the AFC takes the stage first on Sunday. The Patriots beat the Broncos in a Week 12 thriller in New England, yet it is still the Broncos who are four-point favorites, at Bovada, in this game.
Of course, that is just half of the final four, which the NFL helped point out with this tweet:
The @Patriots @Broncos @49ers & @Seahawks remain... For now. Championship Sunday PREVIEW: http://t.co/H3lYkvSWUZ pic.twitter.com/Nq9dedocPG

— NFL (@nfl) January 14, 2014
Once the AFC representative for the 2014 Super Bowl is secured, the NFC will take the stage as the Seattle Seahawks and San Francisco 49ers will play for the the third time this season. The NFC West rivals split their two meetings this season.
The 49ers won the most recent contest. That was a two-point victory in Week 14. That game, however, came in San Francisco. Seattle whooped the 49ers in Seattle in Week 2 of this year, and they destroyed them in Seattle last year.
Considering this game comes to us from the great northwest, it shouldn't be shocking that Bovada has the Seahawks as a three-point favorite.
Championship Sunday doesn't get much better than this. On top of what figures to be two highly competitive games, both of these contests are dripping with storylines.
Check out when and where you can catch the action, and then I'll highlight the storylines that have captured my attention the most.
NFL Playoff Schedule

| | | | | |
| --- | --- | --- | --- | --- |
| Round | Date/Time (ET) | Away Team | Home Team | TV |
| AFC Championship | Jan. 19 at 3:00 p.m. | New England Patriots | Denver Broncos | CBS |
| NFC Championship | Jan. 19 at 6:30 p.m. | San Francisco 49ers | Seattle Seahawks | Fox |
| Super Bowl XLVIII | Feb. 2 at 6:20 p.m. | TBD | TBD | Fox |
NFC Championship Game
San Francisco 49ers vs. Seattle Seahawks
When: Sunday, Jan. 19, at 6:30 p.m. ET
Where: CenturyLink Field, Seattle, Wash.
Watch: CBS
Which young QB will shine the brightest?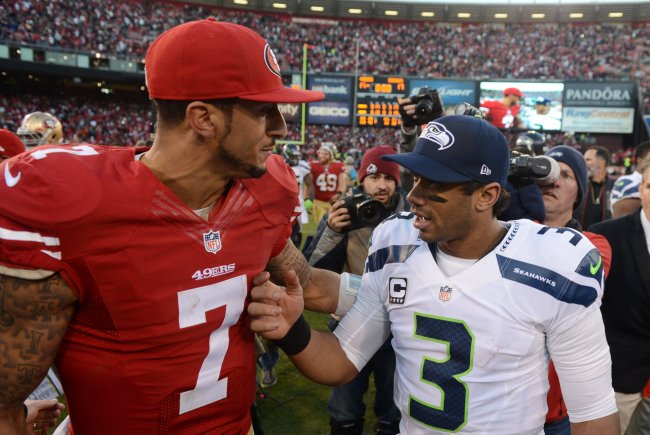 Kyle Terada-USA TODAY Sports
Although the AFC matchup deservedly is getting all the hype for the big quarterback matchup, this game also features a supremely interesting quarterback matchup.
With Russell Wilson and Colin Kaepernick, this game will display two of the bright young stars at the position. Both quarterbacks are dual-threat maestros. Colin Kaepernick is the athletic prototype. He is big, fast and has a cannon for an arm. Meanwhile, Russell Wilson is a gifted athlete, but the short quarterback impresses more with his heady play that is mature well past his experience.
Which QB will have the higher QBR?
Despite their quick success in the NFL, both quarterbacks have questions to answer in this game.
In his last five starts, Russell Wilson's QBR ranking for each game is among his lowest eight for any game this season.
As for Kaepernick? Well, he's been good in two playoff starts this season and is peaking after an inconsistent regular season.
If he played every game like he has in his two starts in Seattle, however, he wouldn't still be in the league. In his two starts in Seattle, both San Francisco losses, Kaepernick has combined to go 32-of-64 passing with 371 yards, one touchdown and four interceptions.
Both the 49ers and Seahawks will be looking to win this game with defense and their rushing attack. To accomplish anything on offense, however, both teams are going to need their quarterbacks to make some plays and avoid mistakes.
This game is a big moment in the developing legacy of each quarterback.
AFC Championship Game
New England Patriots vs. Denver Broncos
When: Sunday, Jan. 19, at 3 p.m. ET
Where: Sports Authority Field at Mile High, Denver, Colo.
Watch: Fox
Is this the epic last chapter of the greatest QB rivalry of all time?
With the running game taking an increasingly prominent role for both Denver and New England, on the field this game is about far more than the two quarterbacks. From a broader perspective, however, this game is all about Manning vs. Brady.
These two future Hall of Famers have what is arguably the greatest quarterback rivalry of all time. It is getting to the point that it is almost silly to say arguably to that statement.
There are some great rivalries at the position. Roger Staubach and Terry Bradshaw led the Dallas Cowboys and Pittsburgh Steelers to two epic Super Bowl showdowns. Bradshaw's Steelers got the better of Staubach in both.
Bart Starr and Johnny Unitas helped pave the way for NFL success with their rivalry. Unitas had the upper hand early, but Starr and the Packers dominated the Colts and everyone else in the '60s.
Dan Marino and Jim Kelly waged some great battles throughout the '80s and '90s with the Dolphins and Bills, but they lacked the impact meetings to be a serious contender.
The Manning-Brady rivalry is the finest this century and one of the all-time greats, says Bob Ryan (via @csnne). http://t.co/nqRnCvyVNO

— NBC Sports (@NBCSports) January 14, 2014
There have been plenty of other great rivalries at the position, but it is hard to top the one on tap for Sunday. In fact, Bob Ryan said this is the best individual rivalry of this century, for any sport, and he isn't likely to find many arguments.
When it's all said and done, this is one rivalry that will be mentioned alongside the likes of Magic/Bird, Ali/Frazier and Chamberlain/Russell and the greatest individual rivalries the sports world has ever seen.
This is the 15th meeting between the two, and the fourth in the postseason. Brady has a 10-4 edge overall and a 2-1 edge in the postseason. Adding to the greatness of all of this is that the three previous times they've met in the postseason, the winner has gone on to win the Super Bowl.
Head to head #Brady #Manning. pic.twitter.com/jaKfxnlyj5

— New England Patriots (@PatriotsMexico) January 14, 2014
Two of those meetings came in the AFC Championship game. Manning won in 2006 with the Colts, and Brady guided the Patriots to victory in 2004.
Consider that since Tom Brady helped the Patriots win the 2001 Super Bowl, that Brady and Manning have combined for four Super Bowls titles and six MVP awards, and we start to get a feel for the impact these two have made on the game.
Neither of these two quarterbacks has shown retirement is imminent, but Brady is 36 and Manning is 37. In other words, there is the very real chance that this is the last time we see these two legends face off on this kind of stage.
Peyton Manning & Tom Brady's combined age of 74.3 is oldest ever between opposing starting QBs in a Conf Champ game (h/t @eliassports)

— ESPN Stats & Info (@ESPNStatsInfo) January 15, 2014
So although this game is filled with excellent players who are vital to their teams, it is truly special because of the two men who played quarterback.
When it's all said and done, this rivalry won't be discussed in terms of just a quarterback rivalry, but alongside the great rivalries in sports history like Russell vs. Chamberlain, Ali vs. Frazier and Magic vs. Bird.