If you weren't already sufficiently stoked for the 2014 Sochi Winter Olympics, watch this BBC Sport promo.
By the end you will be more amped than Joffrey Baratheon showing Margaery Tyrell his new crossbow.
In the simplest of terms, brace yourself: The Winter Games are coming.
If you have the sudden need to geek out Game of Thrones style, it makes sense. Deadspin's Barry Petchesky reports the menacing voice featured in this dark but enchanting commercial belongs to none other than Charles Dance, the man who plays the manipulating Tywin Lannister on the hit HBO show.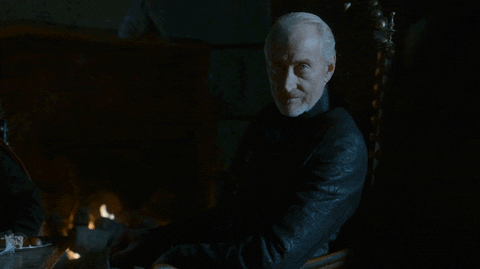 (GIF Credit: Giphy)
Really, there hasn't been a better casting job for a voiceover since someone had the genius idea to have Benedict Cumberbatch play a fire-breathing dragon.
And, as GoT fans will tell you, it's best not to get too attached to your favorite characters. Much like the show, their time in the spotlight at the Winter Games is fleeting.
As for the brief commercial, producers managed to pack as much wallop into a few short moments as possible. Now the Winter Olympics isn't merely something you are looking forward to; it's an event that you simply can't miss.
I only wish I was back in high school again, if only to cram this into my senior quote:
I am the dreadful menace, the one whose will is done, the haunting chill upon your neck. I, I'm the conundrum. I will summon armies of wind and rain and snow. I make the black cloud overhead, the ice like glass below. Not you or any other can fathom what is nigh. I will tell you when to jump and I'll dictate how high.

The ones that came before you stood strong and tall and brave, but I stole their dreams away. Those dreams could not be saved. But now you stand before me, devoid of all dismay. Could it be? Just maybe, I'll let you have your day.
That's when the beat drops in and you suddenly realize you have broken down the load-bearing wall in your house from overt enthusiasm.
Somehow I fully expect White Walkers to show up at Sochi to take in some of the events. Something tells me they would be really into curling.
Regardless, my previous excitement for the game is only rivaled by my anticipation for season four of one of the best shows on television.
Charles Dance could read off the ingredients in breakfast cereal and still put a smile on my face.
Hit me up on Twitter: