Bengals 2014 Salary Cap: Breaking Down Overall, Position-Specific Cap Space
Andy Lyons/Getty Images

One simply has to look at the Cincinnati Bengals' cap situation to understand that the front office has drastically modernized in recent years in regard to talent retention and financial balance.
There are no excessive contracts in the Queen City. There is no concern about the cap. Due to excellent talent acquisition and great negotiations, the Bengals are in a prime position to retain most of their top players in the coming years.
This is a far cry as to how things were for more than a decade when top players such as Corey Dillion and Justin Smith were sure to bolt. Now, names such as Geno Atkins, Leon Hall, Carlos Dunlap and numerous others are locked up long-term on cap-friendly deals.
The following slideshow will break down every single cap hit currently on the Bengals roster and the overall situation at each position.
Note: Team salary-cap status provided by Over the Cap. Player salary information provided by Spotrac.
Begin Slideshow

»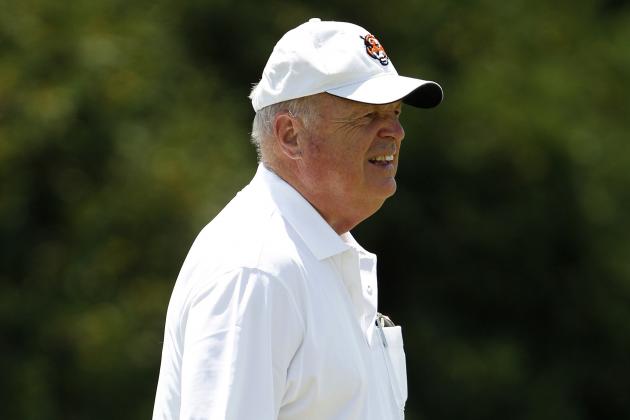 Frank Victores-USA TODAY Sports

Current 2014 Salary-Cap Spending: $108,475,148
Projected 2014 Salary Cap: $135,075,854
Projected Current Salary-Cap Space: $26,600,706
The Cincinnati Bengals have a solid amount of cap space to work with, but the seemingly high numbers will quickly become minute when the organization begins to fill out the roster and get extensions for players such as A.J. Green done.
It is great the Bengals decided last offseason to roll $10 million in cap space over to this offseason, per Geoff Hobson of Bengals.com.
Outside of extensions and other housekeeping maneuvers, this projected cap space will also go to draft selections and an injured-reserve fund should the Bengals have to bring on talent midseason to replace injured players.
Overall this is a strong and comfortable number for one of the NFL's deepest rosters. Impressive work by the front office.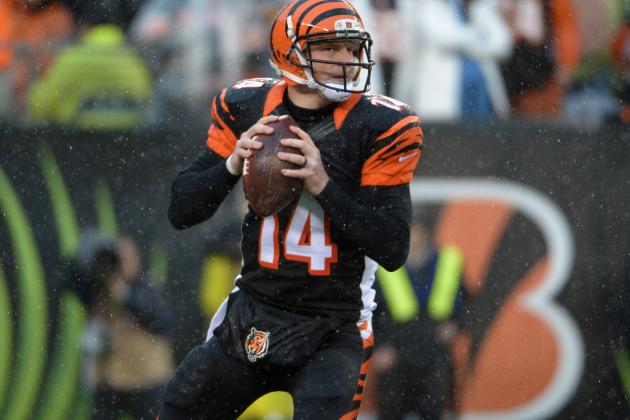 Kirby Lee-USA TODAY Sports

Current 2014 Cap Spending: $3,184,063
On 2014 Roster: Andy Dalton ($1,659,063 ), Josh Johnson ($955,000), Zac Robinson ($570,000)
Free Agents: None
Not much to say here. The elephant in the room is Andy Dalton, who has one year left on his rookie deal. His play in 2014 will dictate whether he gets a new contract from the Bengals. This number could significantly increase the position-spending total if he manages a great fourth year as a pro.
It is possible Cincinnati brings on a veteran or mid-round draft prospect to either push Dalton or take over when he leaves. If this happens, Josh Johnson is very much expendable—especially with offensive coordinator Jay Gruden gone.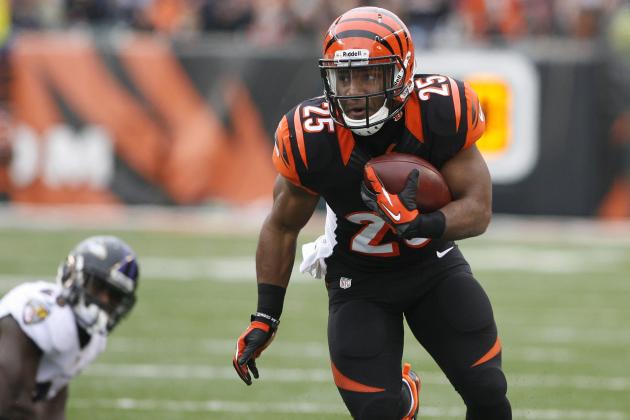 Mark Zerof-USA TODAY Sports

Current 2014 Cap Spending: $5,764,529
On 2014 Roster: BenJarvus Green-Ellis ($3,000,000) Giovani Bernard ($1,193,941), Rex Burkhead ($520,588), Cedric Peerman ($1,050,000)
Free Agents: Onterio McCalebb, Jamaine Cook
Given the talent of the running back position in Cincinnati, this is a very friendly overall number for the Bengals. Even BenJarvus Green-Ellis' cap hit is an easy pill to swallow with it being his last year under contract.
Cincinnati may add another back in free agency or the draft, which may cause either Rex Burkhead or Cedric Peerman to hit the road. Peerman would be a tough loss, but his cap number is noticeably high despite his contributions on special teams.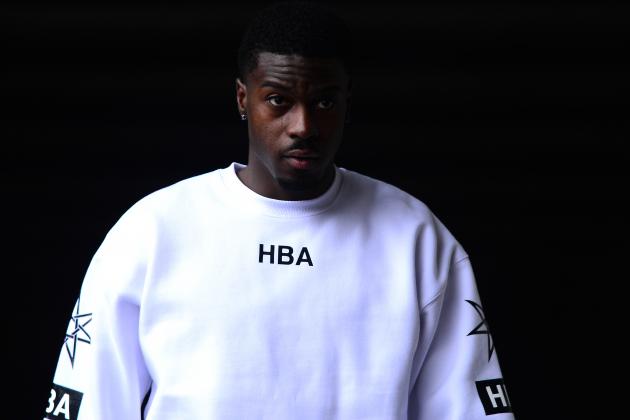 Andrew Weber-USA TODAY Sports

Current 2014 Cap Spending: $8,282,185
On 2014 Roster: A.J. Green ($6,264,394), Mohamed Sanu ($730,813), Marvin Jones ($610,700), Ryan Whalen ($676,278)
Free Agents: Dane Sanzenbacher (Restricted), Brandon Tate (Unrestricted), Andrew Hawkins (Restricted), Cobi Hamilton (Reserve/Futures contract)
Talk about a steal of a cap number given the amount of production the Cincinnati Bengals get out of this crop of wide receivers. The majority of NFL teams would kill to only spend in the neighborhood of $8 million on the position—a good amount for one player who commands that much yearly.
However, the financial honeymoon at the position with young talent will soon be over with A.J. Green in need of an extension. Green will likely command one of the heftiest contracts the position has ever seen, so prepare for this number to dramatically jump if a deal gets done.
Expect the Bengals to go into next season with six wideouts on the roster. Both Andrew Hawkins and Dane Sanzenbacher are guaranteed back given their restricted status, although the latter will have to fend off second-year receiver Cobi Hamilton.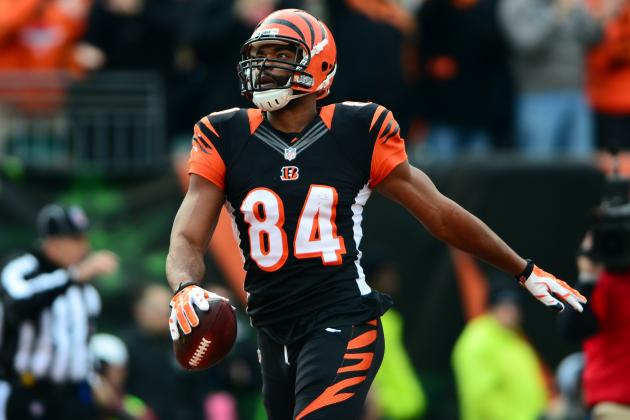 Andrew Weber-USA TODAY Sports

Current 2014 Cap Spending: $6,208,364
On 2014 Roster: Jermaine Gresham ($4,332,000), Tyler Eifert ($1,876,364)
Free Agents: Alex Smith (Unrestricted)
Nothing too surprising here. Look for the Cincinnati Bengals to bring on another blocking-savvy veteran such as Alex Smith this offseason.
The big story here is Jermaine Gresham, who is in the final year of his contract. Cincinnati would surely love to get a deal done, but he is not likely high on the totem pole of importance in terms of extensions at the moment.
Gresham's price is near-impossible to predict and will likely be predicated on his 2014 performance. The framework for an elite player is there, but he struggled with penalties all season in 2013. An extension is possible, but it will have to be on Cincinnati's terms, not his.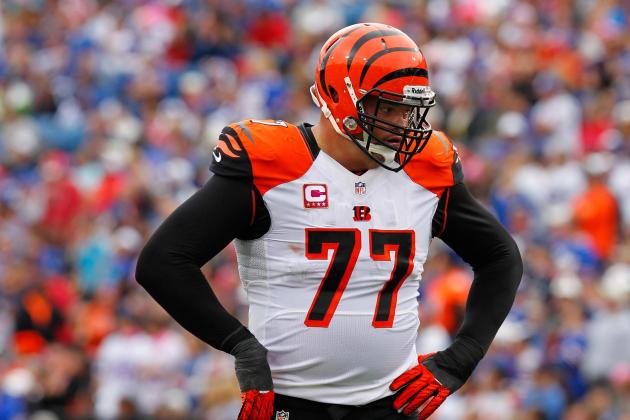 Timothy T. Ludwig-USA TODAY Spor

Current 2014 Cap Spending: $11,400,000
On 2014 Roster: Andre Smith ($5,200,000), Andrew Whitworth ($6,200,000)

Free Agents: Dennis Roland (Unrestricted), Anthony Collins (Unrestricted)
Here is where things get murky for the Cincinnati Bengals. Andre Smith and Andrew Whitworth are a quality starting tandem on the edges, although one has to wonder if the team will just keep the latter at left guard moving forward.
The price of the duo makes sense, but it also makes it very difficult to retain backup swing tackle Anthony Collins, who ranked as the No. 24 overall tackle in the NFL last season, per Pro Football Focus (subscription required).
Joe Reedy of the Cincinnati Enquirer put it best:
RT @cbishopjohnson: @joereedy: Odds #Bengals try & re-sign A. Collins? Too expensive?>Slim. He's earned a nice starting contract

— Joe Reedy (@joereedy) January 12, 2014
Collins is going to demand entirely too much money for the Bengals to compete. Expect Cincinnati to add an offensive tackle in the early rounds of the 2014 draft.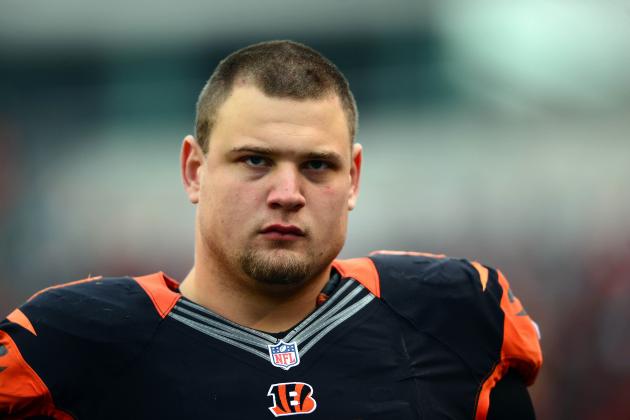 Andrew Weber-USA TODAY Sports

Current 2014 Cap Spending: $3,363,477
On 2014 Roster: Kevin Zeitler ($2,057,509), Clint Boling ($765,362), Tanner Hawkinson ($540,606)
Free Agents: Mike Pollak (Unrestricted)
Not much to see here. Cincinnati will either bring on a cheap depth option in the Mike Pollak mold or draft another rookie to serve as depth.
Kevin Zeitler's contract is only so big because he was a first-round selection. Clint Boling is making about as much as expected based on his performance. Zeitler's contract likely bars the Bengals from making a big splash in an upgrade over Boling.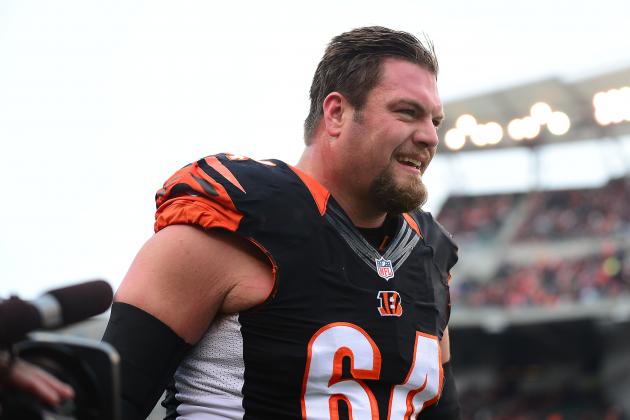 Andrew Weber-USA TODAY Sports

Current 2014 Cap Spending: $3,912,000
On 2014 Roster: Kyle Cook ($3,340,000), Trevor Robinson ($572,000), T.J. Johnson (Reserve/Futures contract), Scott Wedige (Reserve/Futures contract)
Free Agents: None
Kyle Cook's cap hit sticks out painfully here. His performance over the past few seasons in no way justifies the contract.
Cook ranked as the No. 24 center in the NFL in 2014 on a list that graded 35 players, per Pro Football Focus (subscription required).
It would not be outlandish to see the Bengals cut Cook outright and roll with Trevor Robinson, or bring in another more cost-effective option.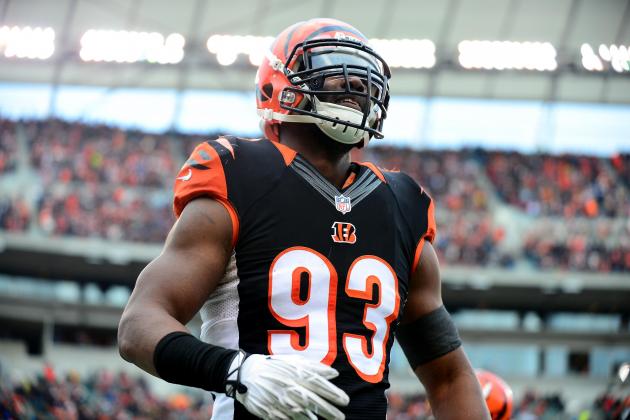 Andrew Weber-USA TODAY Sports

Current 2014 Cap Spending: $13,834,341
On 2014 Roster: Carlos Dunlap ($8,600,000), Robert Geathers ($2,700,000), Wallace Gilberry ($1,700,000), Margus Hunt ($834,341), David King (Reserve/Futures contract)
Free Agents: Michael Johnson (Unrestricted)
Here is another issue for the Cincinnati Bengals—the team simply cannot afford to keep Michael Johnson, which the front office has shown it understands with the second-round selection of Margus Hunt last year.
The Bengals hit Johnson with the franchise tag last offseason, but doing so again this year would cause his cap hit to move north of $13 million. That is simply too much financial stress on the organization given the amount of free space and needs to address.
Cincinnati still has an impressively deep four-man rotation at the position with Johnson out of the picture, but expect the Bengals to bring on another cheap name for depth purposes—likely a rookie with an extremely high ceiling in need of proper coaching and development. Sound familiar?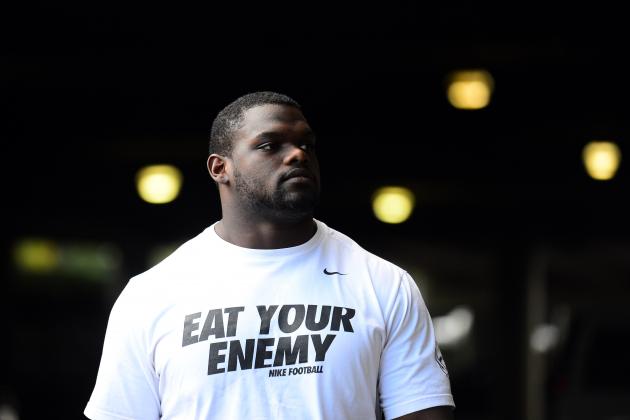 Andrew Weber-USA TODAY Sports

Current 2014 Cap Spending: $15,965,210
On 2014 Roster: Geno Atkins ($9,000,000), Domata Peko ($4,165,000), Devon Still ($1,027,910), Brandon Thompson ($705,300), Larry Black ($497,000), Christo Bilukidi ($570,000), Zach Minter (Reserve/Futures contract)
Free Agents: Ogemdi Nwagbuo
As a 4-3 team, it should come as no surprise that the bulk of Cincinnati's cash flow resides in the defensive line.
Geno Atkins' hit is high, but some cap relief is on the way after the 2014 season when Domata Peko becomes a free agent. Ideally, at that point one of Devon Still or Brandon Thompson will have stepped up and shown to be a quality replacement—not to mention a major financial help.
Expect Cincinnati to only keep the top-four names going into 2014.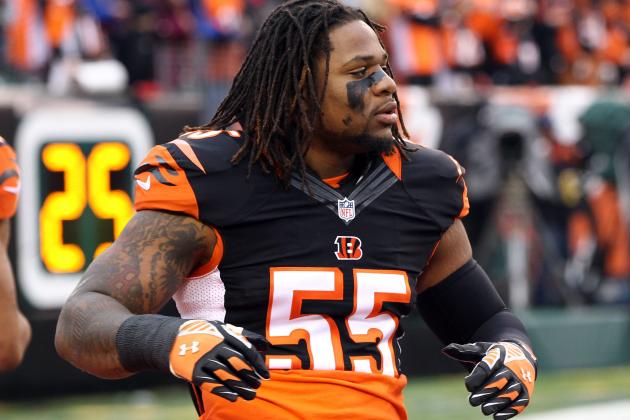 Pat Lovell-USA TODAY Sports

Current 2014 Cap Spending: $8,584,458
On 2014 Roster: Rey Maualuga ($3,875,000), James Harrison ($2,003,125), Brandon Joiner ($571,000), Emmanuel Lamur ($570,000), J.K. Schaffer ($495,000), Sean Porter ($500,000), Vontaze Burfict ($570,333), Bruce Taylor (Reserve/Futures contract)
Free Agents: Vincent Rey (Restricted), Michael Boley (Unrestricted)
Here is another bargain position for the Cincinnati Bengals. Both James Harrison and Rey Maualuga come off the books after the 2014 season, which means extension time for Vontaze Burfict.
The Bengals have quality talent in place here for a low price. Emmanuel Lamur could start on a number of teams, and Sean Porter is going into his second year as a potential long-term option.
There is an outside chance the Bengals add more talent in the offseason, but it is seemingly unlikely, even if Harrison is given the boot. It is also a guarantee the team brings back Vincent Rey, who showed in a few games as a starter in 2013 that he is starter material down the road.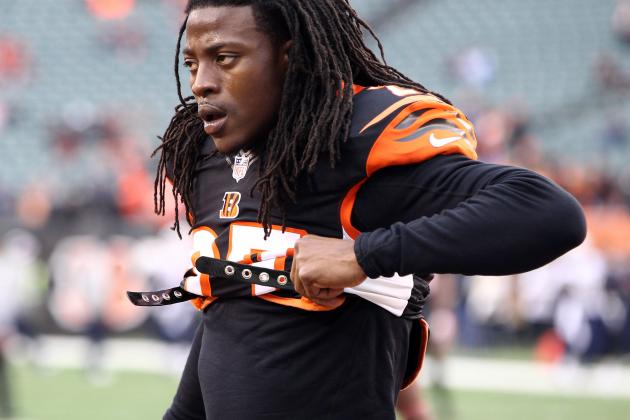 Pat Lovell-USA TODAY Sports

Current 2014 Cap Spending: $15,346,676
On 2014 Roster: Leon Hall ($8,700,000), Dre Kirkpatrick ($2,351,676), Adam Jones ($1,800,000), Terence Newman ($2,000,000), Chris Lewis-Harris ($495,000), Brandon Burton (Reserve/Futures contract)
Free Agents: Brandon Ghee (Unrestricted)
This 2014 cap number hurts in a bad way for the Cincinnati Bengals. Leon Hall has yet another Achilles injury, Terence Newman and Adam Jones are slowly aging and Dre Kirkpatrick has yet to prove he is starter material.
Kirkpatrick's struggles in 2013 mean Newman is unlikely to be cut despite his cap hit. It also means the Bengals may add even more to the cap hit with a rookie via the draft. Brandon Ghee is also a strong candidate to make a return, although Chris Lewis-Harris has flashed enough at times to make him expendable.
Cornerback is simply not giving the team proper returns given the amount of money it has invested into the position. Do not expect the number to budge much outside of an uphill spike.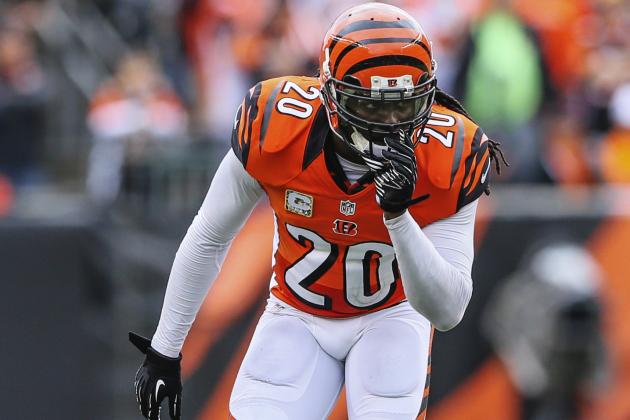 Kevin Jairaj-USA TODAY Sports

Current 2014 Cap Spending: $5,739,061
On 2014 Roster: Reggie Nelson ($4,475,000), Shawn Williams ($653,986), George Iloka ($610,075)

Free Agents: Taylor Mays (Unrestricted), Chris Crocker (Unrestricted)
Reggie Nelson is a quality talent the Cincinnati Bengals did a good job of securing recently with an extension, and he has more than earned every penny of his salary.
Taylor Mays is a safe bet to return, but the Bengals are surely hoping either Shawn Williams or George Iloka steps up and controls the starting spot across from Nelson. Iloka did so for the most part in 2013, but an upgrade via free agency or the draft is not out of the question.
None of the above players are in any kind of danger because of finances, but Williams and Iloka may be supplanted for a new face.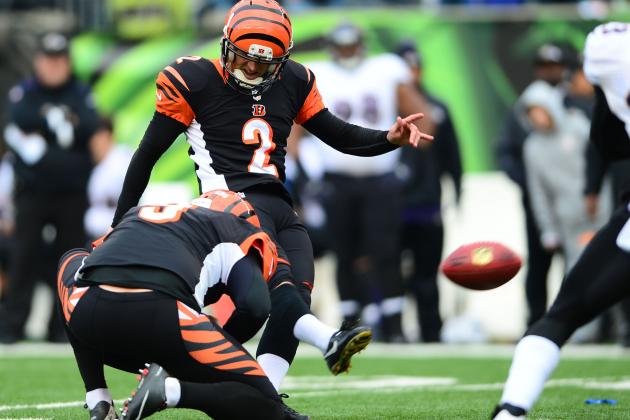 Andrew Weber-USA TODAY Sports

Current 2014 Cap Spending: $4,950,000
On 2014 Roster: P Kevin Huber ($2,320,000), P Quinn Sharp (Reserve/Futures contract), K Mike Nugent ($1,900,000), LS Clark Harris ($730,000)
Free Agents: P Zoltan Mesko (Unrestricted)
Barring a setback in Kevin Huber's recovery, this unit has too much experience together to break up—especially over finances.
The main story here is Mike Nugent, who sees his deal expire after the 2014 season. He is essentially playing for a contract extension next season but should earn one rather easily with a strong year.