NFL Playoff Predictions: B/R's Expert Consensus Conference Championship Picks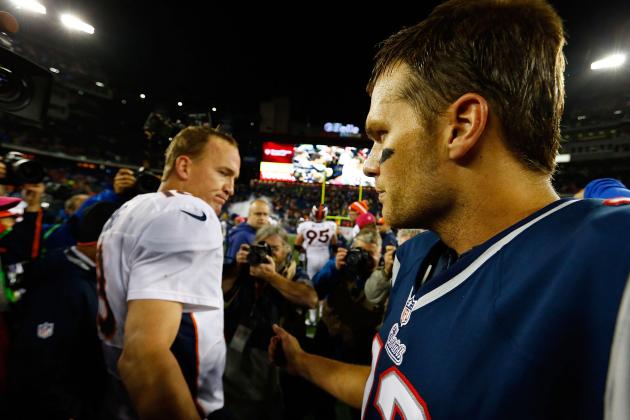 Jared Wickerham/Getty Images

What a week of football! What a season!
The final four of the NFL playoffs may be slightly predictable, but the outcome couldn't be better for anyone who loves to watch football—assuming, of course, that person's team wasn't knocked out. Parity is the name of the game in the NFL, and if this sort of playoff atmosphere is the result, sign me up for more of it.
The San Francisco 49ers head to Seattle, where the Seahawks have been nigh unbeatable but have lost their truly impenetrable aura. The stadium will be rocking, though, and it will take everything for the 49ers to head to their second straight Super Bowl.
The Denver Broncos welcome the New England Patriots, a team that's playing in its third straight AFC Championship Game, in a rematch of a Week 12 overtime thriller. Denver is hosting its first conference championship game since the 2005 season.
We'll cover each of these games—just a few clicks ahead. Don't like our picks? Give us yours in the comments below!
Voters
Michael Schottey: National Lead NFL Writer (Twitter)
Matt Bowen: National Lead NFL Writer (Twitter)
Mike Freeman: National Lead NFL Writer (Twitter)
Ty Schalter: National Lead NFL Writer (Twitter)
Matt Miller: National Lead NFL Draft Writer (Twitter)
Erik Frenz: AFC East Lead NFL Writer (Twitter)
Andrea Hangst: AFC North Lead NFL Writer (Twitter)
Chris Hansen: AFC West Lead NFL Writer (Twitter)
Knox Bardeen: NFC South Lead NFL Writer (Twitter)
Brad Gagnon: NFC East Lead NFL Writer (Twitter)
Tyson Langland: NFC West Lead NFL Writer (Twitter)
Zach Kruse: NFC North Lead NFL Writer (Twitter)
Begin Slideshow

»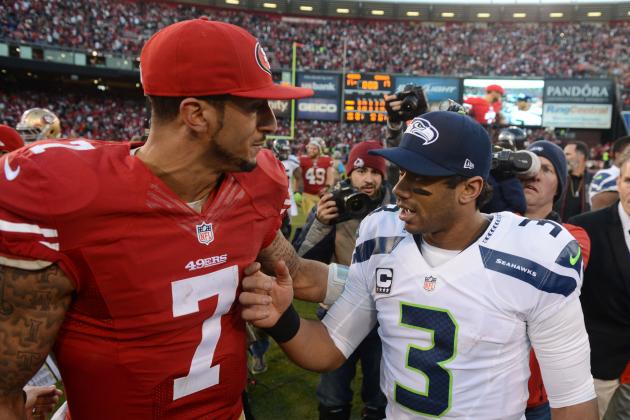 Kyle Terada-USA TODAY Sports

B/R Consensus Pick: Seahawks (8-4)
Miller: 49ers, 24-23
I'm taking the upset, and you should, too. The 49ers were destroyed in Seattle, but they're a different team now. Michael Crabtree is healthy, Colin Kaepernick is running the ball and the defense is a matchup nightmare for a Seattle offense that's struggled as of late. If the 49ers can score early, they'll win this game.
Schalter: Seahawks, 24-13
The 49ers have been outscored, 71-16, in their last two games at Seattle. It'll be closer than that, but the Seahawks will win.
Bardeen: 49ers, 24-20
If there is a team that can go into Seattle and beat the Seahawks at home, it's the San Francisco 49ers. Not only is the 49ers defense jelling, but its nasty, play-angry style is exactly what's needed to disrupt the Seattle offense.
Gagnon: Seahawks, 20-17
This is going to be a low-scoring game between two red-hot teams that know each other well, so it could obviously go either way. But that crucial home-field advantage should put the Seahawks over the top in the fourth quarter.
Langland: Seahawks, 23-20
Since the start of the 2011 season, head coach Pete Carroll and the Seahawks are 2-1 in front of the "12th Man" when they host the 49ers. Look for them to make it 3-1, thanks in large part to the ferocious play of the Legion of Boom and the relentless pressure from defensive ends Michael Bennett, Cliff Avril and Chris Clemons. In nine home games this season (playoffs included), the trio of pass-rushers amassed 10.5 quarterback sacks and five forced fumbles. With that being said, it's hard not to like Seattle's odds in its biggest game of the year.
Kruse: Seahawks, 27-17
Much of the focus will be on the two young quarterbacks, but the team rushing for more yards has won all eight of the previous meetings between these two clubs. And if that trend holds, the Seahawks become a big favorite. In the last two games in Seattle, the Seahawks averaged 174 rushing yards to San Francisco's 91, and Marshawn Lynch out-rushed Frank Gore 209 to 44. The Seahawks are allowing just 93.8 rushing yards at home the last two seasons. Seattle advances to the Super Bowl using the same formula in the conference title game.
Other Picks: 49ers (Schottey, Freeman); Seahawks (Bowen, Frenz, Hangst, Hansen)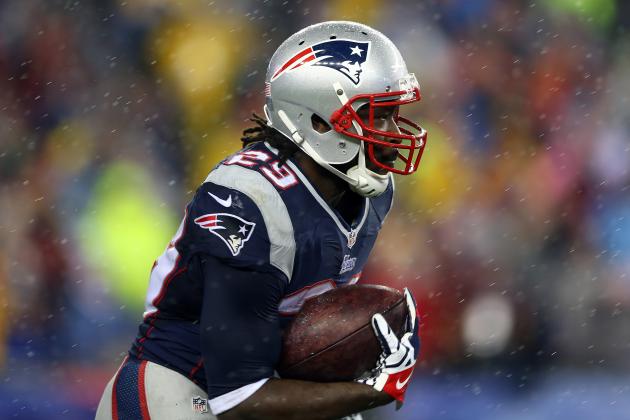 Elsa/Getty Images

B/R Consensus Pick: Broncos (7-5)
Schottey: Patriots, 30-28
This should be a phenomenal game to watch, as two of the top quarterbacks of our generation square off for what seems like the umpteenth time. Right now, I think the Patriots are the more complete team. They've beaten Denver already and don't tend to shy away from big moments like this—even on the road.
Freeman: Patriots, 30-28
Brady has won 10 of 14 matchups against Peyton Manning. He's won most of them with teams inferior to the teams Manning has quarterbacked. I think Brady gets it done again because he has the best running game maybe he's ever had and that Broncos defense isn't great. It's been good in the past month or so but can still be had. Brady takes advantage.
Bowen: Broncos, 26-22
The Patriots have shown the ability to win running the football and can always lean on Brady to challenge a Broncos secondary that is dealing with injuries. But I'm sticking with Manning and the Broncos at home. Look for a ball-control game plan from Manning and an opportunistic Broncos defense as John Fox's team advances to the Super Bowl.
Hansen: Patriots, 34-31
As far as playoff production, Tom Brady hasn't been statistically much better than Peyton Manning. Where there is a difference is how they perform in key moments. As with most games between these two teams, it will probably come down to which offense has the final possession. Given that situation, you have to go with Brady. Without cornerback Chris Harris Jr., the Patriots should be able to keep pace with a Denver offense that isn't firing on all cylinders right now.
Frenz: Broncos, 31-28
This game will end just like nearly every Patriots game this season: with one team having a chance to win on the final possession. If the ball's in Manning's hands, the number of weapons is just insurmountable—not to mention, the Broncos have Julius Thomas this time around, where he was absent in the previous meeting. If it's Brady with a chance to win the game, this could be where the lack of weapons finally comes back to haunt the Patriots—additionally, they're dealing with the subtraction of Rob Gronkowski, who was a main factor in the regular-season showdown. Broncos march on to the Super Bowl.
Hangst: Broncos, 31-27
The Denver Broncos have the edge when it comes to high-powered weaponry for their quarterback, Peyton Manning. But they also have a disruptive defense, which is just the thing they'll need to keep Tom Brady off his game. The home-field advantage doesn't hurt, either. All signs seem to point to a Broncos victory, but the Patriots won't make it easy.
Other Picks: Broncos (Schalter, Gagnon, Kruse, Bardeen); Patriots (Miller, Langland)
Michael Schottey is an NFL National Lead Writer for Bleacher Report and a member of the Pro Football Writers of America. Find more of his stuff on his archive page and follow him on Twitter.