The San Francisco 49ers are back in the NFC Championship Game for the third consecutive season.
On Sunday evening, they will face the Seattle Seahawks and the dreaded "12th Man" for a chance to clinch their ticket to the Super Bowl.
Playing at Century Link Field isn't easy to say the least.
The fans caused another earthquake during the Seahawks 23-15 win against the New Orleans Saints last weekend. The 12th Man will be ready for round three of Seahawks-49ers this weekend.
The two teams were projected as the top teams in the NFC prior to the season's start. The Seahawks crushed the Niners at home, while San Francisco pulled off a two-point win at Candlestick Park.
This weekend will be different. If there was a team that could take down the Seahawks, the 49ers are that team.
How?
The first player to be an influence on Sunday is Niners Quarterback Colin Kaepernick.
The dual-threat QB got himself back on track last weekend with a 23-10 victory against the Carolina Panthers.
Kaepernick knows that Seattle has been a tough place to play over the past two seasons. Seattle has won both games by a difference of 55 points. In fact, the 49ers have only scored one touchdown in their last two trips to Seattle.
"That's in the past. This is a different situation. We have to go up there and win," Kaepernick said to media during the post-game presser.
Kaepernick seems to have put his last two performances (32-of-64, 4 INT) behind him. During the team's streak, Kaepernick has completed 60 percent of his passes (133-of-223) while throwing 12 touchdowns.
The 49ers QB has been the ultimate game manager, and that should be taken as a compliment.
Kaepernick has thrown two interceptions over his last eight games, which has enabled the 49ers to keep the ball and have more chances to put points on the board. In fact, San Francisco has scored 23 or more points in seven of their last eight.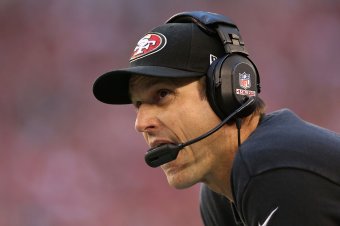 Christian Petersen/Getty Images
The hottest team entering the playoffs usually fairs well. San Francisco isn't hot. They are on fire. Winners of their last eight, the Niners have dominated in one key area: the running game.
Coming into their divisional matchup against the Green Bay Packers, the 49ers had run the ball with Kaepernick only a few times a game.
Green Bay was not prepared for Kaepernick on the ground as he rushed for 98 yards on only seven carries. He proceeded to rush for 15 yards against Carolina, but he did have an important rushing touchdown in the red zone.
Frank Gore and Kaepernick have made it easier for 49ers head coach Jim Harbaurgh over the past three seasons.
The running game is a huge reason why Harbaugh is the first coach in NFL history to take his team to three consecutive conference championship games in his first three seasons. The 49ers have finished among the league's leaders in rushing during the Harbaugh era.
Gore's season had been full of ups and downs.
Despite rushing for more than 1,000 yards, Gore had three games over 100 yards. One of Gore's best games of the season came in Week 13 against Seattle as he rushed for 110 yards on 17 carries.
Combining both Kaepernick and Gore's abilities is something that Harbaugh will have to do against one of the NFL's stingiest defenses. Both teams are evenly matched, no matter how you look at it—scheme, stats, etc.
Kaeprnick's recent hot streak has enabled the 49ers to spread the field, which is something that they will do against the Seahawks.
Kaepernick struggled a bit against Carolina's defense, but he was able to make the correct adjustments to get a victory. Kaepernick will struggle again, that's just how good Seattle's defense is.
But what they won't be able to stop is Kaepernick spreading the field. He will be able to wear a defensive line down by expanding the pocket with his legs. That is exactly what he did against Carolina and Green Bay. That's what makes a QB great, the ability to make adjustments.
Colin Kaepernick has a 76.3 Total QBR since start of Week 14 (3rd-best in NFL) Russell Wilson ranks 29th in same span (30.4)

— ESPN Stats & Info (@ESPNStatsInfo) January 14, 2014
Because Kaepernick will run down Seattle's front and expand the pocket, there will be holes left open for Gore to run through.
The offensive line has done their job during the latter part of the season. I expect them to bully the Seahawks front line to open up room for Gore, who loves to run between the tackles and get physical.
That's what makes Gore special.
He isn't afraid of struggling early on, and his coach isn't afraid to continue calling his number during a game. Gore will get two yards on a carry, but will then get six to seven yards on the next play. He is the physical running back that can certainly run against the Seattle defense.
The 49ers will rush for more than 125 yards on Sunday
As stated before, coaching in the NFC Championship game is nothing new for Harbaugh.
He knows what it takes to win. I fully expect Kaepernick and Gore to have big games. The best way to take advantage on the road is to run the ball efficiently and control time of possession. That's what San Francisco will be planning to do.
Harbaugh's teams have rushed for more than 125 yards in every playoff game that they've been in.
A 5-2 record looks pretty convincing compared to Seahawks head coach Pete Carroll, who is 3-2 since being named coach in 2010.
A proving statistic that may play a significant role on Sunday is that Carroll's defense has struggled in the team's second postseason game.
In 2010, the Seahawks beat the Saints at home, but then surrendered 35 points to the Chicago Bears. In 2012, they defeated the Redskins in Washington, but then lost to Atlanta after giving up 30 points. Seattle surrendered 15 points at home against New Orleans last weekend, but recent history says that they could surrender a big game to San Francisco on Sunday.
San Francisco's offense will be prepared for Seattle's defense heading into their third matchup of the season.
Coach Harbaugh's experience gives the Niners an advantage over the Seahawks, despite being on the road. If there is one thing that separates the two teams, it's the ability to put up points at will. The 49ers have done that week in and week out over the past few seasons, especially in the playoffs.
Given all that has been mentioned, give me the 49ers over the Seahawks 21-17 in one of the best games the NFL has seen this season.