During the 2012-13 season, it felt as if Arsene Wenger was coming to the end of his time at Arsenal. Despite scraping fourth place on the final day, it was a largely unsatisfactory campaign. Humiliating cup exits against Bradford and Blackburn were arguably the nadir of Wenger's tenure with the Gunners.
Does Arsene Wenger deserve a new contract?
However, this season has seen something of a resurgence for both Wenger and Arsenal. With Alex Ferguson now gone, Wenger seems to be relishing his undisputed seniority.
He is now the longest-serving manager in English football, and a glance at the Premier League table suggests he might just be the best, too. Arsenal are surpassing all expectations and currently sit at the league's summit. With Wenger experiencing something of a renaissance, Arsenal fans will be eager to see him commit his future to the club.
According to David Woods of the Daily Star, Wenger's contract is already a done deal. The only thing delaying official confirmation is Arsenal's desire to reveal the new contract alongside extensions for experienced defenders Per Mertesacker and Bacary Sagna:
Starsport understands the Frenchman has agreed to extend his stay at the north London club, which has entered its 18th year.

The big announcement is believed to be on hold because the Gunners want to tie up Per Mertesacker, 29, and stalwart right-back Bacary Sagna to new contracts as well and then reveal the three signings as a package.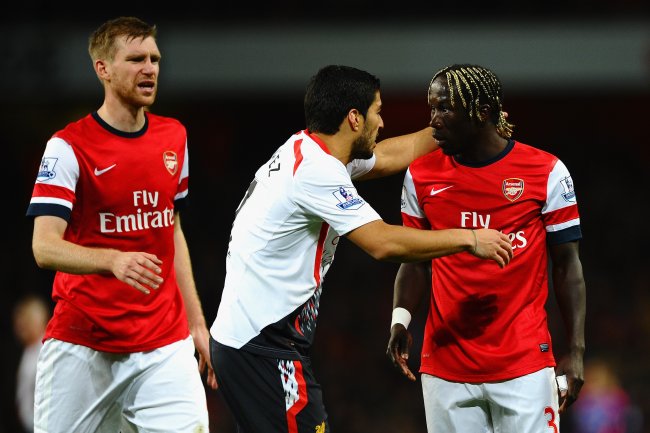 Laurence Griffiths/Getty Images
That would be an odd decision for Arsenal to take. Woods points out that the Gunners took similar measures when unveiling the contract extensions of five British players last season, but involving a coach is another matter entirely. Announcing manager and player contracts simultaneously would certainly be unusual, if not unprecedented.
Nevertheless, Arsenal fans will hope the report is accurate. Announcing the triple signing would give everyone around the club a huge lift. However, as influential as Sagna and Mertesacker are, the news of their deals would be dwarfed by confirmation that Arsene Wenger was set to stay.
Wenger undoubtedly deserves a new deal. He has guided Arsenal through a difficult decade, spinning plates in order to keep Arsenal relatively successful both on and off the pitch. He oversaw the period of transition from Highbury to the Emirates Stadium, cutting his cloth and his ambition accordingly.
That must have been hard for a man with such a fierce competitive spirit. Lesser men would have accepted one of the many offers to take up a position at a club with fewer financial restrictions.
However, Wenger saw a bigger picture. He knew that if he could guide Arsenal through the storm of switching stadiums, there were blue skies ahead.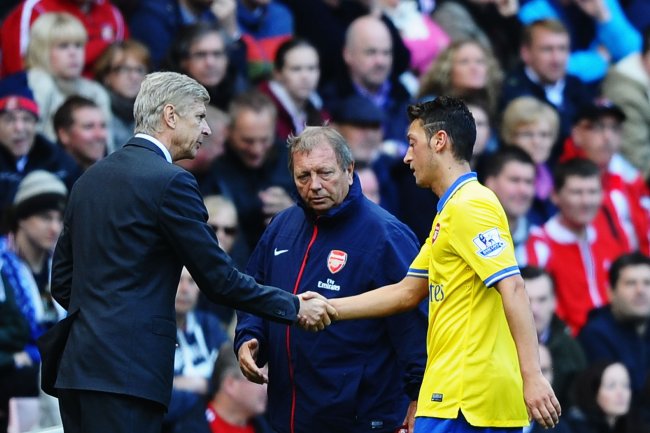 Laurence Griffiths/Getty Images
Those days have only just begun. Last summer, Arsene Wenger broke the habit of the past 10 years to spend big and acquire Mesut Ozil. The effect has been dramatic. Imagine what Arsenal and Wenger could be capable of with another summer or two of that kind of spending behind them.
Wenger has shown patience and prudence to arrive at this point. He deserves to be the man to take advantage of the club's renewed financial muscle.
There is the possibility that Wenger will look to follow Ferguson's example and announce a surprise retirement. However, he should treat the next few years as a reward for the remarkable work he has done since 2006. He owes it to himself to take advantage of the riches he helped Arsenal accumulate.
Arsenal have been forced to wait a long time to lift a trophy. Now that the club are back on an even financial footing, Wenger deserves a chance to bring the glory days back to North London.
James McNicholas is Bleacher Report's lead Arsenal correspondent and will be following the club from a London base throughout the 2013-14 season. Follow him on Twitter here.