Only three games in the NFL season remain, and with 28 teams already done playing, several franchises are working on finding their head coaches for the 2014 season.
The spots are beginning to be filled around the league. Jay Gruden became the head coach of the Washington Redskins, and according to the Tennessee Titans, they have officially hired former Arizona Cardinals coach Ken Whisenhunt.
Ken Whisenhunt has been hired by the #Titans as the 17th head coach in franchise history. pic.twitter.com/MCgfDnx3GG

— Tennessee Titans (@TennesseeTitans) January 14, 2014
Still, there are some open spots available. So let's take a look at some of the most recent rumors surrounding a few potential coaching candidates.
Mike Zimmer
USA TODAY Sports
Before signing Whisenhunt, the Titans formally interviewed Cincinnati Bengals defensive coordinator Mike Zimmer according to the team's official website, but they decided that he wasn't the right candidate for the position.
But Zimmer still appears to be a hot candidate. According to NFL Network's Ian Rapoport, Zimmer will be meeting with the Minnesota Vikings.
What's up in Minnesota? Mike Zimmer to meet ownership tomorrow. At this point, no Todd Bowles interview scheduled yet. Could Zimmer seal it?

— Ian Rapoport (@RapSheet) January 14, 2014
This is the second interview the Vikings have had with Zimmer, and it's a good sign for him to have been interviewed twice by two different teams. Zimmer helped make the Bengals defense one of the best in the league, as they gave up just 305.5 yards and 19.1 points per game.
Given his experience with defenses, it makes sense for the Vikings to be interested in Zimmer. Minnesota gave up 397.8 yards and 30.0 points per game, ranking 31st and 32nd in the league respectively.
While adding Zimmer won't turn things around immediately, bringing him in could help improve those numbers. Of course, the Vikings still need more talent on that side of the ball, but his defensive mind could make it more difficult for opposing offenses. He may not have head coaching experience, but that hasn't stopped the Vikings before.
Mike Munchak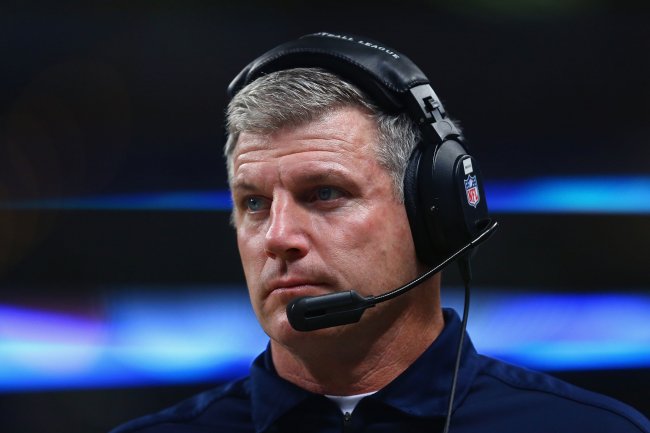 Dilip Vishwanat/Getty Images
When an NFL head coach is fired, a good portion of them tend to take a step back and accept a position as an offensive or defensive coordinator or even a job as a specific position coach. For Mike Munchak, it appears that he might not be taking a step back at all, as he's still a head coach candidate.
Alex Marvez from Fox Sports reported that Munchak interviewed for the Cleveland Browns' head coaching job.
Source tells @FOXSports that Mike Munchak is interviewing today for @Browns head coaching job

— Alex Marvez (@alexmarvez) January 13, 2014
Munchak was fired after going 7-9 in 2013 and 22-26 in three years with the Titans. Despite the fact that Jake Locker was hurt for most of the season, the Titans felt that Munchak wasn't leading the team in the right direction.
That makes this decision a questionable one for the Browns. They fired Rob Chudzinski after just one year as the head coach, which shows that the Browns don't exactly have the longest leash for their coaches anymore.
If Munchak was hired as the Browns coach, it's unlikely that he could turn the team around in just a season. The defense is improving, but the offense is still a bit of a mess except for Josh Gordon and Jordan Cameron.
Jim Caldwell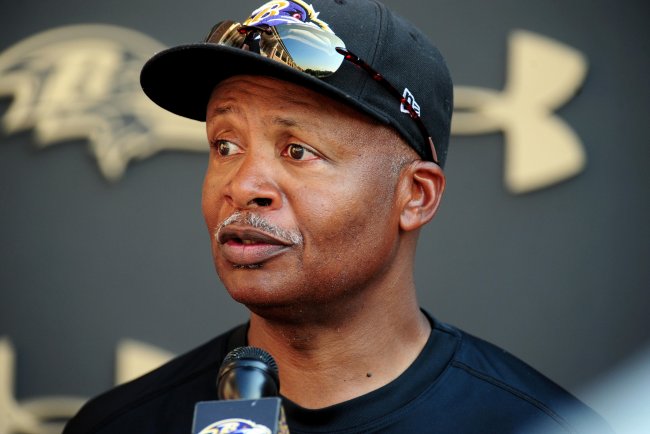 Evan Habeeb-USA TODAY Sports
It's been a quick rise back to being a head coaching candidate after being fired from the Indianapolis Colts after the 2011 season for Jim Caldwell. After taking a job as the quarterbacks coach for the Baltimore Ravens, he became the offensive coordinator after Cam Cameron left for LSU.
Now, with a vacancy open in Detroit, it looks like the Lions are targeting the former Colts head coach, according to ESPN's Adam Schefter.
Lions have spent day in talks with Ravens HC Jim Caldwell and Detroit has been focusing on him, via @mortreport and me.

— Adam Schefter (@AdamSchefter) January 13, 2014
For the Lions, firing Jim Schwartz was the right move. They have one of the most talented teams in the league, but Schwartz couldn't keep his team in check, and they were one of the most undisciplined teams in the league.
While he had some success in Indianapolis while Peyton Manning was there, Caldwell wasn't known as a motivator while with the Colts. He was a very quiet coach who didn't really do a lot in terms of hyping up players, and that could work out or fail miserably for the Lions. Either it could force the Lions as a whole to calm down and stop making dumb mistakes, or the players could resist and create a division in the locker room.
Caldwell didn't exactly help the Ravens become a high-powered offense as their offensive coordinator, as they put up just 335.5 yards and 22 points per game. He doesn't seem to have the most impressive resume, but the Lions still appear interested.