Twenty years from now you'll be telling stories of what it was like to watch Peyton Manning and Tom Brady square off against one another.
You'll be rambling to your kids, grandkids, neighbors or even your suitemate at the old folks' home, whoever will listen, about how good these guys were back in the day.
These are two no-doubt, first-ballot Hall of Famers whose busts in Canton might as well be on order right now. Two of the best to ever play the position battling for a shot at another Super Bowl late in their storied careers—some scripts just write themselves.
Luckily for us, the whole "back in the day" remembrance can be appreciated before the fact, as long as you're open to seeing the big picture.
Most of the time we as a football-watching nation don't truly appreciate guys until they're gone, so let's not make that same mistake this go-around as we get ready for another clash between two current superstars and future legends.
Manning, 37, and Brady, 36, will take the field against one another for the 15th time in their careers on Saturday, with Brady holding a 10-4 overall head-to-head record, including 2-1 in AFC title games.
Tom Brady has the record for most playoff wins without a TD pass (4) and Peyton Manning has record for most playoff losses without INT (5).

— Scott Kacsmar (@FO_ScottKacsmar) January 12, 2014
But their last playoff matchup was won by Manning back in the 2006-07 playoffs when he was with the Indianapolis Colts. He then went on to win his only Super Bowl that same year. Brady won the matchups in 2003 and 2004, also going on to win the Super Bowl in those years.
Each quarterback's body of work on paper speaks for itself.
Manning vs Brady - Career Regular Season Numbers

| | | | | | | | |
| --- | --- | --- | --- | --- | --- | --- | --- |
| Player | Record | COM | ATT | PER | YDS | TDs | INTs |
| Peyton Manning | 167-73 | 5,532 | 8,452 | 65.5 | 64,964 | 491 | 219 |
| Tom Brady | 148-43 | 4,178 | 6,586 | 63.4 | 49,149 | 359 | 134 |
Pro Football Reference
The numbers are impressive, but still, you can't get an appreciation for what these guys do by crunching numbers. You have to watch them out on the field doing what they do.
What is it that each of these players does that makes them so special?
Let's take a look at the film to try and break it down a bit. We'll start with Manning.
Manning - Timing and IQ
Whenever you watch Manning move the ball down the field, you're constantly asking yourself, "Why does this look so easy?"
The answer is simple yet equally complex.
The ball is always on time and to the right guy.
You don't feel pressure if you study the game plan and know what to do. – Peyton Manning

— NFL Retweet (@NFLRT) January 8, 2014
It sounds like such a basic idea that it's confusing as to why that wouldn't be the case with all quarterbacks.
But Manning's football IQ and pre-snap antics have become his defining characteristics, and it's those two traits that separate him from thousands of other quarterbacks with similar, or in a lot of cases better, physical abilities.
It's the special ones who make it look easy, and Manning makes it look easy.
Here's an example against the Dallas Cowboys from earlier this season.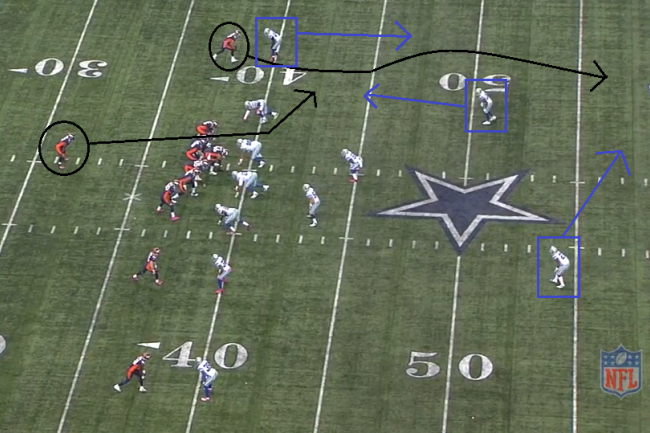 NFL Rewind - BJ Kissel
The Broncos are in 11 personnel with receiver Eric Decker split out (black circle) on the open side of the formation. He'll be given an inside release by the cornerback, who is attempting to funnel him back to the inside.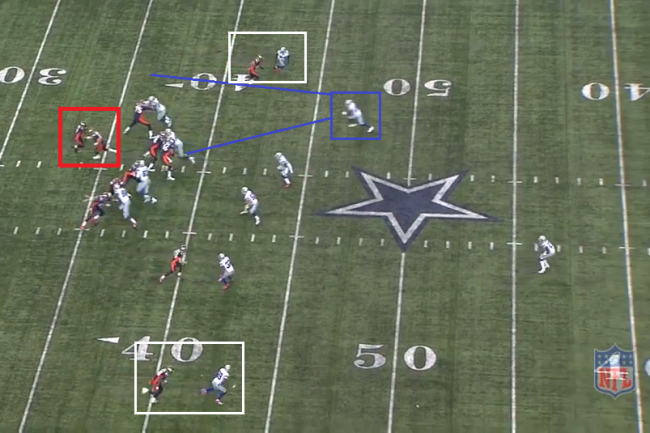 NFL Rewind - BJ Kissel
Manning fakes the dive to running back Knowshon Moreno, who then sneaks out into the flat and occupies the safety.
But as you can see here, the safety bit hard on this play action, and the cornerbacks are both playing with their backs to the sideline as they bailed off their press-man look before the snap.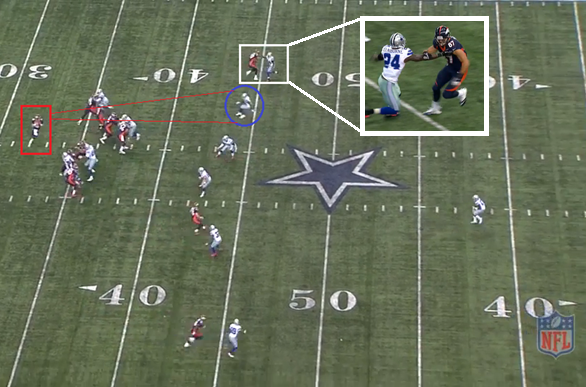 NFL Rewind - BJ Kissel
Decker is initially given an inside release, which he took to get up the field. Decker then forced the cornerback, Morris Claiborne, to open his hips back in the other direction as he planted his right foot and bent the route back to the outside.
This created separation, and it's something Manning could notice before the separation even occurred.
Once Manning saw the hip-positioning of Claiborne, he knew there was no way he'd be able to recover without holding onto Decker, which wouldn't have been a bad idea here considering the position he's in.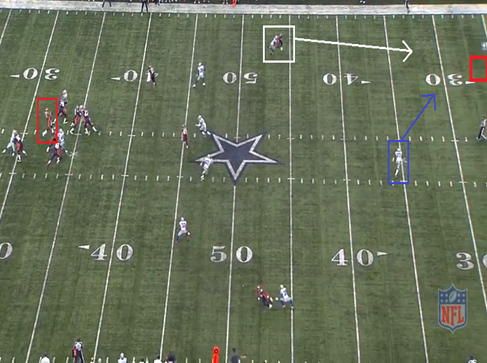 NFL Rewind - BJ Kissel
Once Manning committed to throwing the ball, Decker had a half-step on Claiborne. Manning also had to be aware of the safety coming from the back side of the play.
The red box is where the catch occurred.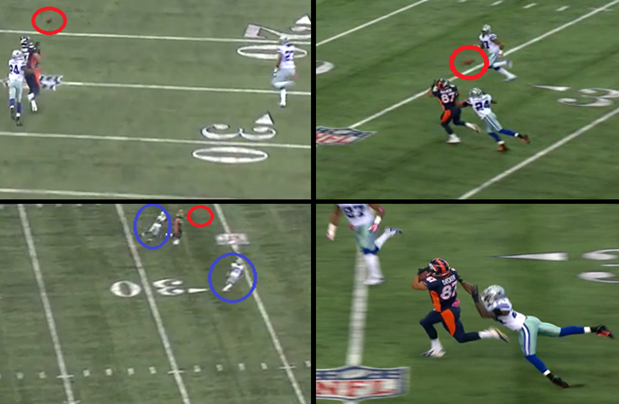 NFL Rewind - BJ Kissel
The ball was thrown on time and to the right guy on a dime. A half-second either way and this pass might not have been completed.
This next play is just an example of Manning making it look easy against the Philadelphia Eagles.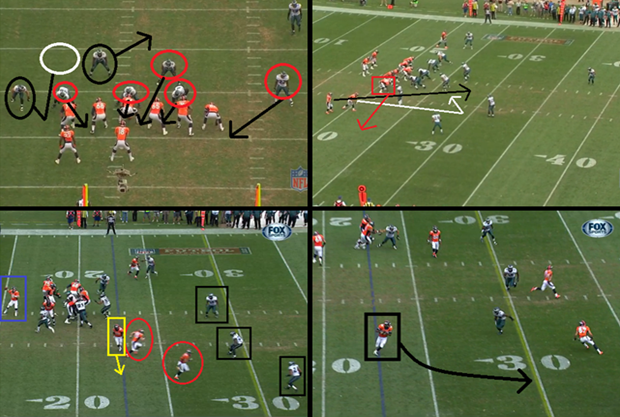 NFL Rewind - BJ Kissel
The Eagles attempt to bring pressure off the edge as they send their cornerback on the closed side of the formation.
Welker started the play split wide right but motioned back to a stacked set split close to the tight end, Julius Thomas.
After the snap, Welker simply cleared out the middle of the field by running an angle route through the middle of the defense. On this particular play, the hesitation from the second-level defenders that route caused was enough to give Thomas room to pick up the first down on the quick pass.
But it was Manning's quick decision to throw right at the blitz to his hot-read, Thomas, that made all the difference. You can see in that third picture how early Manning had his mind made up and where he was going with the ball.
The ball was on time and to the right guy, and it led to a 12-yard gain. Nothing fancy, just simple, correct decisions.
It looks too easy, but these are the kinds of routine plays Manning consistently makes and beats you with.
Brady - Pocket presence and ball placement
While Manning is known for his timing and football IQ, Brady is known for his pocket presence and ball placement.
That's not to say either quarterback isn't strong at the other's traits listed here, but if you're picking a couple of things that stand out about each of these future Hall of Famers, these are those traits.
In the last 7 games between Tom Brady and Peyton Manning ... 6 have been decided by a TD or less. #NEvsDEN

— Molly Qerim (@MollyQerim) January 14, 2014
Here's an example of the great footwork within the pocket that Brady consistently demonstrates.
This play is from the Patriots' Week 9 victory over the Pittsburgh Steelers.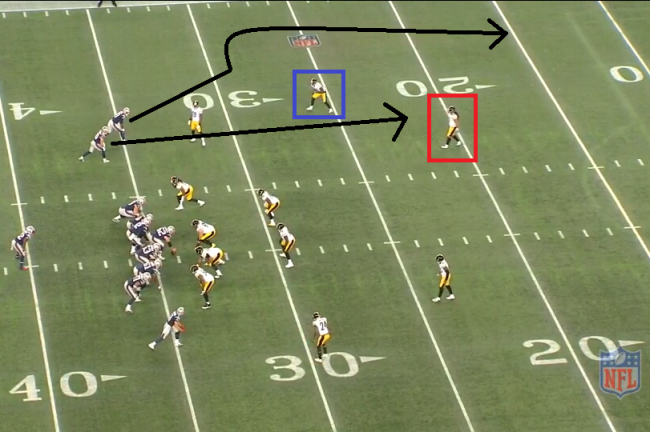 NFL Rewind - BJ Kissel
Danny Amendola is lined up in the slot and is going to simply run a seam route straight down the field.
The receiver at the top of the screen split wide left is going to initially widen his route off the snap to occupy the cornerback (blue square) before turning it back up the field.
Brady is going to take care of moving safety Troy Polamalu with his movement in the pocket.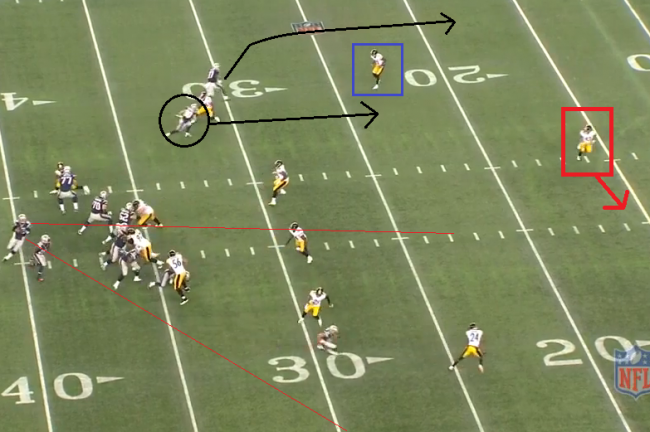 NFL Rewind - BJ Kissel
As you can see that Brady is initially looking to the right, Polamalu reacts to Brady's actions by moving that direction.
At the same time, the receiver at the top of the screen is planting his right foot and widening his route further to the outside. The cornerback now has to split the difference between Amendola and the far receiver.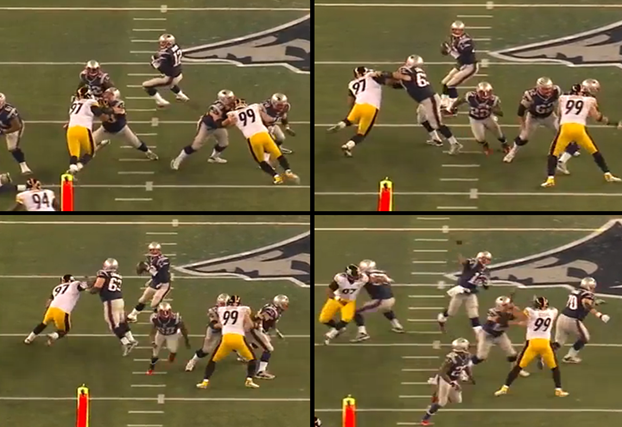 NFL Rewind - BJ Kissel
Brady's footwork within the pocket shows you why Polamalu reacted the way that he did. In that first picture, Brady fully committed to looking like he was initially throwing the ball to the right, and it's the only reason Polamalu moved that direction.
Many times you'll see quarterbacks not fully commit their bodies to selling that action. Either their shoulders won't completely close or their feet won't point toward the right direction, but Brady fully commits to the manipulation, and it works perfectly.
The slight pressure Brady feels causes him to slide to the left a half-step and allows him to step into his throw and get it down the field on a line, not allowing the cornerback any time to recover and get to Amendola on the seam.
NFL Rewind - BJ Kissel
Brady throws a dart to Amendola for the touchdown.
The footwork displayed on this play from Brady isn't something you'll often see talked about on television, sandwiched between highlight-reel montages.
His ability to slide smoothly to his left and get the ball out on a line looks easy, but only a small handful of quarterbacks do it well.
And those who do it well are household names.
These are the finer details of how big plays happen. These are the things that separate players like Brady and Manning from the rest of the league.
This play below shows the kind of ball placement that Brady has been known for throughout his career.

This was the game-winning pass to receiver Kenbrell Thompkins in the final seconds against the New Orleans Saints back in Week 6.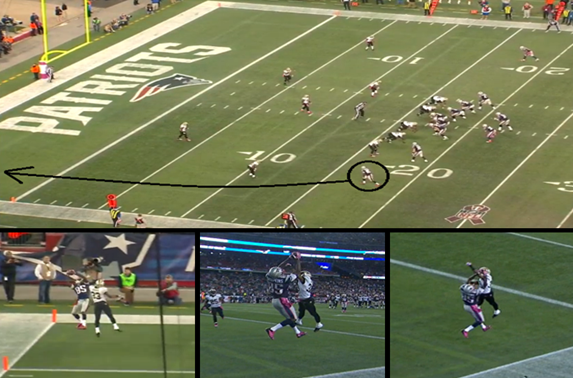 NFL Rewind - BJ Kissel
This was a dime from Brady with less than 10 seconds left to play and trailing by four points.
Adding to their legacies
Leading up to this game on Sunday, the narrative will continue to surround these two players' legacies and who the game might mean more for in the big picture.
But when you ask them, they'll just downplay the matchup as two players who won't even be on the field at the same time, via Gary Myers of the New York Daily News.
"Tom Brady has just been an outstanding quarterback for such a long time, but the game next week is the Broncos vs. the Patriots," Manning said. "I know there will be some individual matchups that will get headlines, but it will be a battle between two good teams."
Brady stuck to the script as well, via Field Yates of ESPNBoston.com.
"This game is going to come down to who plays the best," Brady said. "And we'll be able to take some things that we did when we played and study them and prepare for them, but we'll have different things to do, they'll have different things to do."
This game won't affect whether or not either of these players get into Canton, but the last impression is always a lasting impression.
And the real winners in all of this are football fans because we're getting to witness two of the best who ever played squaring off for a shot at one more Super Bowl championship.
So pay attention and don't take the moment for granted, because 20 years from now, you want to be the one telling this story.