Updates from Tuesday, Jan. 21
Ian Rapoport of NFL.com has more on Jim Caldwell's contract with the Lions:
On the contract of new #Lions coach Jim Caldwell: It's 4 years, worth between $4M and $5M per year, I'm told. Incentive-laden, too.

— Ian Rapoport (@RapSheet) January 21, 2014
---Original Text---
Jim Caldwell is getting another chance as a head coach in the NFL.
ESPN's Adam Schefter first reported the 58-year-old, who was fired by the Indianapolis Colts after the 2011 season and has been working on John Harbaugh's staff in Baltimore ever since, has agreed to terms to take over the reins of the Detroit Lions:
Detroit Lions are hiring Jim Caldwell as their head coach, per a league source.

— Adam Schefter (@AdamSchefter) January 14, 2014
Lions senior writer Tim Twentyman confirmed the news:
Lions have officially hired Jim Caldwell to be their next head coach.

— Tim Twentyman (@ttwentyman) January 14, 2014
MLive's Kyle Meinke has Caldwell's contract details:
Four-year deal for Jim Caldwell

— Kyle Meinke (@kmeinke) January 15, 2014
Chris McCosky of the Detroit News reports that Caldwell has decided on a defensive coordinator:
Was told Teryl Austin will be the Lions DC. Deal is done. No word yet on OC.

— Chris McCosky (@cmccosky) January 16, 2014
Twentyman provides William Clay Ford's statement on the hiring:
William Clay Ford statement: "On behalf on my entire family, I want to express how thrilled we are with the appointment…(cont)

— Tim Twentyman (@ttwentyman) January 14, 2014
… of Jim Caldwell as our new head coach. We believe Jim is the right man to lead our team and deliver a championship to our fans ...

— Tim Twentyman (@ttwentyman) January 14, 2014
… I also want to commend Tom (Lewand) and Martin (Mayhew) on the thoroughness of the coaching search ...

— Tim Twentyman (@ttwentyman) January 14, 2014
… We had a very specific plan and profile for our next head coach, and I am convinced that we found that man in Jim Caldwell.

— Tim Twentyman (@ttwentyman) January 14, 2014
ESPN's Ed Werder shared Tony Dungy's thoughts on the hire:
Tony Dungy on Jim Caldwell to Lions: "He is definitely the best person for that job. Has everything they're looking for."

— Ed Werder (@Edwerderespn) January 14, 2014
Bleacher Report's Matt Miller also believes it is a good hire for Detroit:
If Jim Caldwell will be tough on the #Lions, he can succeed there. They need discipline and a coach the players respect.

— Matt Miller (@nfldraftscout) January 14, 2014
Caldwell's agent also spoke about how the former Colts coach was attracted to the position (via Ian Rapoport of NFL.com):
Dennis Coleman, agent for #Lions coach Jim Caldwell: "This is the job he wanted all along. It takes him back to his Midwestern roots."

— Ian Rapoport (@RapSheet) January 14, 2014
Replacing Dungy in 2009, Caldwell's start with the Colts went about as well as could have been imagined. He led Indy to a 14-2 record and a spot in the Super Bowl before eventually falling to the New Orleans Saints.
However, after another postseason appearance the following season, things began to crumble in 2011. Peyton Manning missed the entire season, and the Colts went 2-14.
Although that was one of the best seasons to lose 14 games—Indy landed Andrew Luck in the draft for its troubles—Caldwell was still handed a pink slip.
Despite that miserable ending, Jim Tressel, a consultant under Caldwell during that season, remarked at how well the head coach was able to keep the locker room together, via the Detroit Free Press' Dave Birkett:
The (last) three games are all division games, Houston, Tennessee and Jacksonville, and both Houston and Tennessee needed to win for playoffs and home fields and stuff like that, and I'm thinking, 'Oh my gosh, I wonder how he's going to keep this thing together.'

[...]

But to keep that group together and not fold their tent, and I think the only reason was because of how much respect they had for (Caldwell). I really believe that and again I was just a guy sitting in the corner, but I mean I've never seen anything like that because usually when your hope is gone it's really hard to keep things together.
After being let go, Caldwell moved on to Baltimore, where he became the quarterbacks coach and eventually took over for Cam Cameron as the offensive coordinator.
Torrey Smith, who played under Caldwell at Baltimore Tweeted his support:
Congrats to Coach Caldwell...great coach/teacher and even better person..he always taught us something new..he will do well in Detroit

— Torrey Smith (@TorreySmithWR) January 14, 2014
As for Caldwell's potential staff in Detroit, Albert Breer of NFL.com and Jason La Canfora of CBS Sports have insight: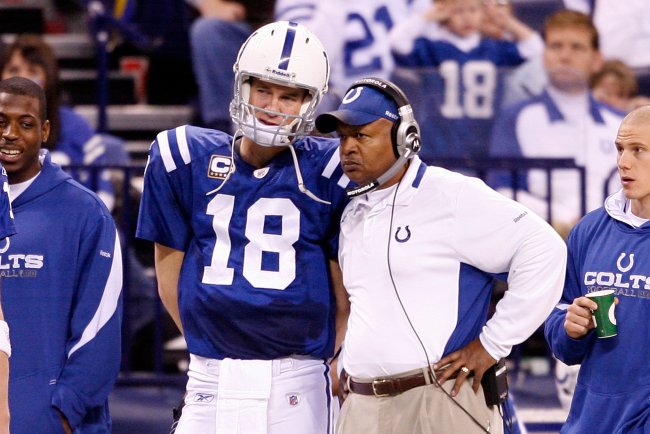 Andy Lyons/Getty Images
Jim Caldwell likely to take Ravens secondary coach Teryl Austin with him to Detroit as defensive coordinator.

— Albert Breer (@AlbertBreer) January 14, 2014
In 2012, Caldwell helped the Ravens to a Super Bowl and had quarterback Joe Flacco playing the best football of his career. Despite a down year for the entire team in 2013, Caldwell still attracted interest from multiple teams around the league.
As for Caldwell's offensive coordinator, strong buzz that Indy's QB coach Clyde Christensen would be top choice. Worked together with Colts

— Jason La Canfora (@JasonLaCanfora) January 14, 2014
He may not be the most exciting choice for head coach, but his previous success and demand for discipline should benefit the Lions.
Is this a good hire for Detroit?
Throw in Super Bowl credentials and head coaching experience, and it's easy to see why Detroit, a team with loads of talent that is in need of direction and leadership, made the move.