Eric Bledsoe has played phenomenal basketball for the Phoenix Suns during his first year as a full-time starter, but he's also missed 13 games so far in 2013-14 and will be out indefinitely due to a right knee injury that required surgery. He'll be a restricted free agent at season's end, but is the 24-year-old the star player Phoenix should build the franchise around?
In 24 games played this season (22 starts), Bledsoe is averaging 18 points, 5.8 assists, 4.3 rebounds and shooting 48.6 percent from the field. All of those numbers are career highs.
With the former Kentucky standout, the Suns have compiled a 16-8 record. Without him, Phoenix is a very mediocre 5-8.
His backcourt running mate, Goran Dragic, has been tremendous in his absence. In the past seven games without Bledsoe, "The Dragon" is averaging 22.7 points, 6.3 assists and 3.9 rebounds per game, but that hasn't helped the Suns avoid a 2-5 record during that span.
Simply put, this team is vastly superior from a talent standpoint when Bledsoe is healthy. Unfortunately, the "when healthy" part has become an area of concern.
Following successful surgery to repair a torn meniscus in his knee, per The Associated Press (via ESPN), there is no timetable for Bledsoe's return. However, the article cited a team news release that said the budding star "will pursue a possible return to action during the second half of the season."
This injury could be seen as a minor setback for an organization that has crushed every expectation after finishing dead last in the Western Conference a year ago. But alas, this isn't the first time Bledsoe's knee has required a surgical repair. Per the AP:
This is the second time in a little more than three years that the 24-year-old player has undergone surgery to repair a torn meniscus in the same knee. The first surgery was performed Oct. 7, 2011, during the lockout of that NBA season.
So not only will Bledsoe miss significant time for the Suns moving forward, but this also isn't the first time the Most Improved Player candidate has undergone surgery of this magnitude.
Other hyperathletic point guards around the NBA have suffered the same fate in recent times.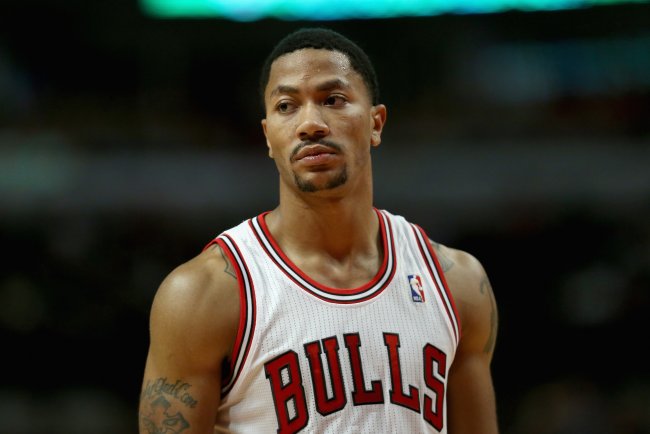 Jonathan Daniel/Getty Images
Former Chicago Bulls MVP Derrick Rose tore the ACL in his left knee during Game 1 of the 2012 playoffs against the Philadelphia 76ers. He missed the remainder of the playoffs and the entire 2012-13 season as a result.
Rose returned for the start of 2013-14 to mixed results. He averaged 15.9 points, 4.3 assists and 3.2 rebounds per game, while shooting 35.4 percent from the field and posting a player efficiency rating of 10.27. All of those numbers were career lows for the three-time All-Star.
In his 10th game of the season against the Portland Trail Blazers, Rose suffered yet another setback by tearing the meniscus in his right knee.
Oklahoma City Thunder point guard Russell Westbrook has also battled the injury bug. After appearing in every single game during his first four years as a pro—and all 82 regular-season games in his fifth season—Westbrook suffered a torn meniscus in Game 2 of the 2013 playoffs against the Houston Rockets during a freak collision with Patrick Beverley. Not surprisingly, the damage required surgery.
The All-Star was on the road to recovery when swelling caused by a loose stitch necessitated another arthroscopic procedure.
The setback was expected to keep him out until December, but Westbrook shattered those estimates by returning to the court on Nov. 3 against the Suns.
After knocking off the initial rust, OKC's point guard played arguably the best basketball of his career in December, averaging 21.4 points, 8.1 assists and 6.9 rebounds per game while shooting 45.4 percent from the field.
A post-surgery MRI, however, revealed an area of concern that put the 25-year-old under the knife for the third time in 2013, per Sam Amick of USA Today. He is expected to be out until after the All-Star break.
So is Bledsoe doomed to the same injury-prone fate?
Can he withstand the regular grind of an 82-game season with starter's minutes?
Can the Suns afford to invest in him given his injury history?
Those are all extremely valid questions Phoenix management has to explore, because recent history has shown us that even the most athletic NBA talents aren't immune to serious health problems.
Suns general manager Ryan McDonough said in December, "Obviously we don't have a whole lot of money committed for the future, we don't have a lot of long-term contracts on our books. So we'll have no problem stepping up and paying Eric whatever it takes to keep him," according to ESPN's Ramona Shelburne.
There's no reason to believe that concrete stance has changed, but the latest injury throws a monkey wrench into the process.
Should the Phoenix Suns sign Eric Bledsoe when he becomes a free agent?
Bledsoe is an elite NBA talent who still has room to grow. The knee troubles may scare off some teams that would have offered him a max contract otherwise, but I'd be shocked if he didn't receive a max offer sheet this summer from at least one suitor. After all, Amar'e Stoudemire and Eric Gordon got max deals with greater injury concerns in their respective pasts.
If you want my opinion, keeping Bledsoe by matching any offer extended to him as a restricted free agent is the best plan of action for Phoenix. The front office gave up Jared Dudley and a second-round pick to get him, which should have resulted in McDonough receiving a prison sentence for grand larceny.
Injury troubles or no, Bledsoe is, without question, the right star for Phoenix to build around. It can't afford to let him skip town for nothing in return, especially after a breakout performance beside Dragic in head coach Jeff Hornacek's uptempo offense.
Extending Bledsoe to what will likely be a max deal is a gamble, but it's a risk worth taking for a team with seemingly unlimited potential.