Arsenal's search for a striker in January has been laced with difficulty. However, having targeted Schalke's Julian Draxler, it seems Arsene Wenger has arrived at a pragmatic conclusion: if he cannot buy a forward, he'll make one.
According to John Cross of Mirror Football, Arsenal intend to make Draxler their new centre-forward:
Arsene Wenger is trying to do a £35million deal for German whizzkid Julian Draxler.

Arsenal manager Wenger accepts that they may have to wait until the summer, but enquiries have been made to Schalke about trying to land the Gunners' No.1 target this month instead.

Wenger sees major potential in converting the 20-year-old Draxler from an attacking midfielder to a centre-forward.
Subsequent reports by Sami Mokbel and John Edwards of the Daily Mail Online have suggested that Draxler may be unavailable to move in this window due to a troublesome tendon. However, respected journalist Raphael Honigstein believes the prognosis is premature.
Re Draxler injury. No new reports in Germany yet. Schalke have told reporters a couple of days ago that there'll be an update this week.

— Raphael Honigstein (@honigstein) January 15, 2014
Nevertheless, the move remains somewhat surprising. Draxler is not known as a striker. As this chart for WhoScored demonstrates, the vast majority of his appearances this season have come on the left wing.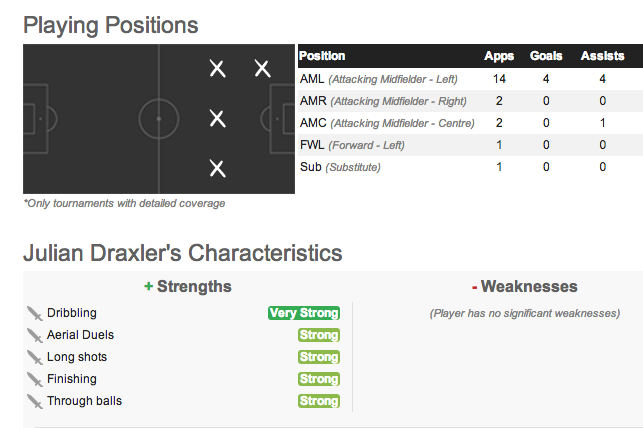 Image via WhoScored.com
However, when looking at a player, Wenger tends to see a set of attributes rather than a fixed position. The Arsenal manager has a history of identifying the optimum position for a player and then diverting their development accordingly.
Kolo Toure played his first few games for Arsenal in midfield before developing into a fine centre-half. Prior to Wenger's intervention, Emmanuel Petit was known as a left-back rather than a marauding midfielder. Thierry Henry famously became Arsenal's record goalscorer playing as a centre-forward, despite being deployed on the wing with his previous clubs.
Perhaps Wenger sees the same qualities in Draxler that he saw in a young Robin van Persie.
When Arsenal discovered van Persie, he was on the fringes of the Feyenoord Rotterdam first team. What's more, he was also on the fringes of the Feyenoord attack. Although van Persie is now regarded as one of the world's finest central strikers, his early years were spent predominantly on the wing.
However, Wenger spotted the Dutchman's potential to transform into a goalscorer. Now, perhaps he sees some of the same qualities in Draxler.
The pair share a similar frame and running style. Both are surprisingly tall, standing at over 6'1" with broad shoulders and a sturdy frame—crucial for withstanding the buffeting marking of English central defenders.
They also share a gift for beating a man with skill. Van Persie's audacious style was formed playing in the street cages of Rotterdam, and Draxler seems to share his ability to deceive defenders with quick footwork.
According to StatsBomb, over the past three years, Draxler has succeeded in 62 percent of his attempted dribbles. By comparison, last season Lionel Messi scored an almost identical 65 percent. Luis Suarez, hailed as the Premier League's most effective dribbler, only managed 37 percent.
This season, Draxler has been successful in 71 percent of his 101 attempted dribbles. It's a stunning return.
However, unlike the young van Persie, Draxler already has a team ethic to complement his individual skill. Van Persie arrived at Arsenal as an erratic and explosive soloist. Only when training alongside players with the selfless intelligence of Robert Pires did he develop a broader consciousness of what was required of a top-class footballer. The Dutchman's former youth coach, Henk van Stee, told the Daily Mail Online's Rob Draper in 2011:
Robin was excellent but at that age he sometimes wanted to go too far.

If he beat one person, he wanted to beat four or five players or the whole team. That's when you have an argument with him.

When he got older he understood more and more but I think most of this came from Arsene Wenger.
As a youngster, van Persie was preoccupied with aesthetics. Draxler is more efficient, and his smooth progression in to the first-team ranks at Schalke is indicative of a maturity beyond his years.
As anyone who has witnessed some of his spectacular Schalke goals will testify, Draxler can shoot, too. Intriguingly, he fares significantly better in front of goal when deployed through the middle than out wide.
In the 2012-13 season, the departure of Lewis Holtby enabled Draxler to get a run of games in the No. 10 spot. Statsbomb reports that his NPG90 (Non-penalty goals per 90 minutes) subsequently rose from 0.10 to 0.42. His shooting accuracy and chance-conversion rate also compare favourably with many existing centre-forwards.
There is one quality above all others that makes Draxler a suitable choice to play upfront at Arsenal: his first touch.
When Wenger originally deployed van Persie through the middle rather than a more conventional striker such as Nicklas Bentner, many were baffled. The powerful Bendtner found himself out on the wing, while the skillful van Persie was asked to fight off the attention of burly central defenders.
Wenger had his reasons. He believes that an immaculate first touch, more than any other quality, is the key to playing as a lone striker. It offers the team security, knowing they can fire passes at their striker from all angles, safe in the knowledge he will bring them under control. It enables the forward to provide the team with a genuine focal point for their intricate passing game.
It's the reason Wenger signed van Persie and is the same reason he has identified Draxler as the next man to undergo the transition from promising winger to lethal striker.
James McNicholas is Bleacher Report's lead Arsenal correspondent and will be following the club from a London base throughout the 2013-14 season. Follow him on Twitter here.