The New England Patriots will be on the road to face the Denver Broncos in the AFC Championship Game, which kicks off on Jan. 19, 2014, at 3 p.m. ET at Sports Authority Field at Mile High.
Obviously, the big story on everyone's mind is the 15th matchup between the two legendary NFL quarterbacks. Tom Brady and Peyton Manning will both end up in the Hall of Fame, but Brady has been the clear-cut winner when it comes to head-to-head matchups, as shown by ESPN Stats & Info:
Tom Brady:10-4 all-time when starting at QB against a team starting Peyton Manning at QB

— ESPN Stats & Info (@ESPNStatsInfo) January 13, 2014
But this is a team game, as Manning reminded us after beating the San Diego Chargers in the divisional round. Theresa Smith of the Boston Globe provides Manning's comments:
[T]he game next week is the Broncos vs. the Patriots. I know there will be some individual matchups that will get the headlines, but it will be a battle between two good teams, teams that have been through a lot, that have overcome a lot to get to this point, and that's where my focus will be, trying to help the Broncos get a win against the Patriots.
The Patriots edged the Broncos, 34-31, in overtime at Gillette Stadium in Week 12, as Brady outplayed Manning in front of his home crowd. However, Denver has been tough to beat at home this year, losing just one game—to the San Diego Chargers in Week 15.
This upcoming championship game is difficult to predict. Both teams are capable of winning not only this game but also the Super Bowl.
With that in mind, here's an examination of the players (not named Manning or Brady) that will determine the outcome, followed by a look at injuries, deeper analysis and a final prediction.
Key Players
New England: LeGarrette Blount, RB
Denver did a marvelous job shutting down San Diego's rushing attack in the divisional round, but Ryan Mathews was hurt and only carried the ball five times.
Things will be a bit different for Denver's defense against New England, however, because LeGarrette Blount has become a wrecking ball for the Patriots since being inserted into the starting lineup at the end of the season.
He's carried the ball 24 times in both of his last two starts, rushing for 189 yards and two touchdowns against Buffalo in Week 17 and 166 yards and four touchdowns against the Indianapolis Colts in the divisional round.
Six touchdowns in two games is remarkable production, and the Patriots will likely win if he comes through with another magnificent performance this upcoming weekend.
Denver: Eric Decker, WR
Eric Decker was the invisible man the last time these two teams met, catching just one pass for five yards, despite the fact that Manning targeted him four times. He was also remarkably absent in the team's loss to San Diego in Week 15, catching two passes for 42 yards.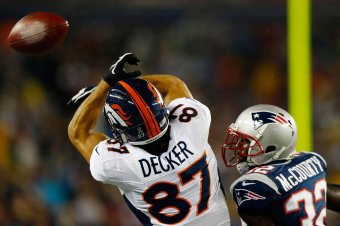 Jared Wickerham/Getty Images
Decker also struggled badly against the Chargers in the divisional round. He tripped over his own feet on a punt return that should have gone for six, and he failed to secure an onside kick that gave San Diego the ball back late in the fourth quarter.
When he's on his game, the Broncos are nearly impossible to defeat. In combination with Demaryius and Julius Thomas, Decker can be a deadly weapon. However, there are games in which he simply falls apart, and the Broncos are susceptible to defeat in those contests.
Decker must be on his game against the Patriots in order for the Broncos to advance to Super Bowl XLVIII.
New England: Aqib Talib, CB
Patriots cornerback Aqib Talib will have his hands full against Denver's potent aerial attack. He'll likely be matched up with Demaryius Thomas or Decker for most of the game, and he was superb in this capacity the last time the two teams met.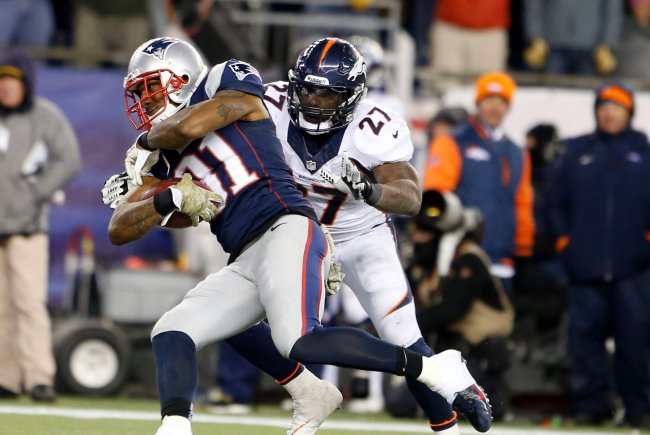 David Butler II-USA TODAY Sports
Manning passed for just 150 yards in that game, thanks in large part to Talib's efforts on the perimeter. Thomas and Decker combined to catch just five passes for 46 yards, though Thomas did manage a touchdown grab.
Talib also did a bang-up job holding T.Y. Hilton in check in the divisional round against the Colts, according to safety Devin McCourty, via Nick Underhill of MassLive.com:
I thought Aqib did a great job on him, making everything tough. It's hard to go into a game and a guy that's going to get targeted a lot—he's their main weapon—and say he's not going to have a catch. But he's a good football player.
Hilton finished the game with four catches for 103 yards—three of which he snagged with Talib in coverage. However, he was only targeted six times in the game and didn't catch a touchdown pass.
If Talib can put together another stellar game in coverage against Denver's receiving corps, then the Patriots will win the game.
Denver: Shaun Phillips, LB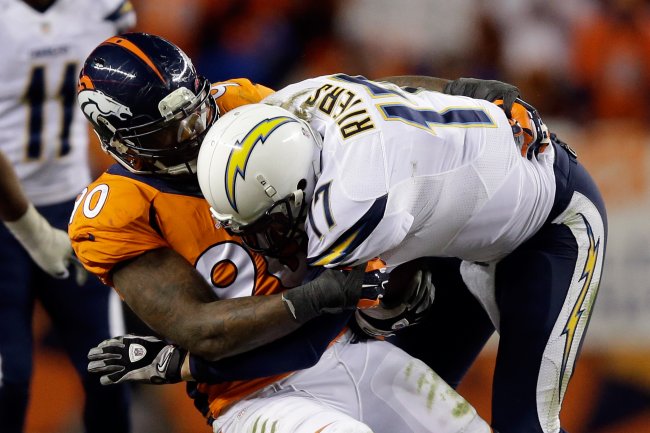 Ezra Shaw/Getty Images
The key to creating turnovers against New England is rattling Tom Brady.
The player with the best chance of doing so on Denver's roster is Shaun Philips, who came over in free agency from the Chargers before the season began as a replacement for Elvis Dumervil. With Von Miller out of action with a torn ACL, Phillips has become the team's most disruptive pass-rusher.
He racked up 10 sacks during the regular season, and he took down Philip Rivers twice in the divisional round.
Another stellar showing from the veteran linebacker/defensive end will give the Broncos an excellent chance to move on with a big win at home.
Key Injuries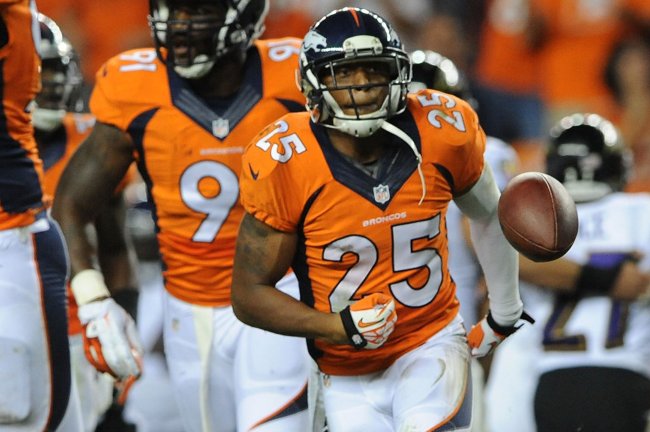 Dustin Bradford/Getty Images
The Broncos lost a key defensive back in the victory over San Diego. Cornerback Chris Harris suffered a torn ACL in the game and is out the remainder of the postseason, as Mike Klis of The Denver Post reported.
The Patriots also have a couple of noteworthy injuries to report, as receiver Kenbrell Thompkins suffered a concussion and punter Ryan Allen a shoulder injury:
Patriots Injury Updates: Ryan Allen will not return due to a shoulder injury. Kenbrell Thompkins is questionable to return w/ a head injury.

— New England Patriots (@Patriots) January 12, 2014
In particular, Allen's injury could put the Patriots in a tough spot for the upcoming AFC Championship Game, writes Michael Whitmer of The Boston Globe:
If Allen is injured seriously enough that he won't be able to play against the Broncos, the Patriots would have a decision to make: Allow Gostkowski to continue handling all kicking and punting duties or sign a free agent. Anybody who was on an NFL roster at the end of a team's season would not be available...
Can Denver Shut Down New England's Running Game?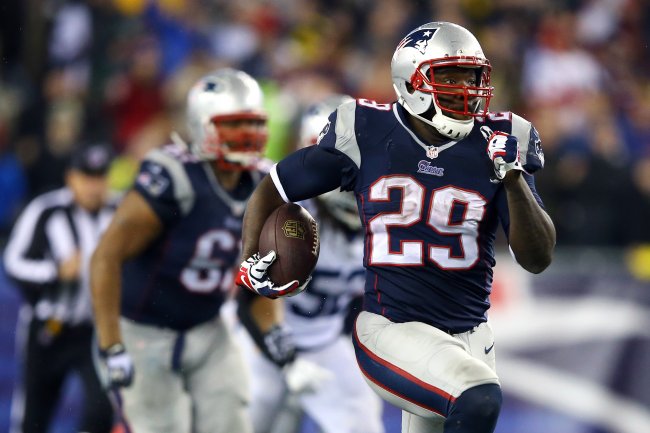 Al Bello/Getty Images
Everyone wants to see a classic battle between the two legendary quarterbacks in this game, but the real test could be between Denver's defense and New England's rushing game, believes NFL.com's Chris Wesseling:
All of the hype leading up to the AFC Championship Game will justifiably concentrate on future Hall of Famers Peyton Manning and Tom Brady. Don't be surprised, though, if the decisive matchup is the Denver's revamped front seven against the New England's steamrolling ground attack.
The Broncos were solid against the run during the regular season, finishing with the league's No. 7-ranked run defense (101.6 yards per game). However, Denver scored so many points that teams often were forced to abandon the running game in the second half.
That said, in each of the three regular-season losses suffered by the Broncos, the opposition rushed for well over 100 yards and scored one rushing touchdown while carrying the ball at least 31 times (414 rushing yards and three touchdowns allowed on 106 carries).
New England was obviously one of those teams, and the Patriots totaled 116 yards on the ground in Week 12 on 31 carries. Blount only had two of those carries.
As previously mentioned, Blount has toted the rock 24 times the past two games, and the Patriots have been running defenses into the ground the past three games, totaling 643 rushing yards and 10 touchdowns.
If the Broncos allow that kind of production in the upcoming championship game, then they will send Brady and the Pats to the Super Bowl.
Prediction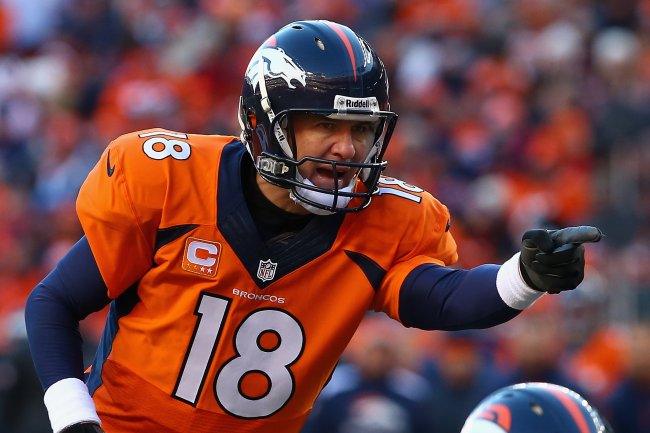 Doug Pensinger/Getty Images
Whenever two Hall of Fame quarterbacks get together it's going to be a spectacular game. However, it's going to take a miraculous performance by the Patriots to beat the Broncos in Denver on Jan. 19.
Denver simply has too many weapons on offense to be stopped. If not for a couple of flubs by Decker in the divisional round, then the Broncos would have cruised to a blowout win over the red-hot Chargers—a team that had appeared to have Manning and the offense's number during the regular season.
With the return of Wes Welker and the inspired play of Denver's defensive front, the Broncos have the ammunition to get to the Super Bowl.
That said, Bill Belichick's team will make it interesting. No team is as reliably good as the Patriots about coming up with effective game plans to shut down opposing offensive strengths. Combined with New England's balanced offensive attack, this is sure to be a close contest.
Final Score
Broncos win, 31-30
Follow me on Twitter @JesseReed78