Peyton Manning may be with the Denver Broncos, but he still wasn't able to avoid Tom Brady and the New England Patriots in his path to the Super Bowl. But with the Patriots travelling to Denver, Manning and the Broncos get a chance to exact revenge from their most disappointing loss of the season in Week 12.
The two quarterbacks have met up twice in the AFC Championship Game, with Brady taking the first in 2003 and Manning taking the second in 2006. Ironically enough, both teams finished by lifting the Lombardi Trophy after those games.
But neither team made it to the AFC Championship Game behind just Brady or Manning. Whether it's the Broncos wide receiving corps or Patriots stable of running backs, both teams have great players surrounding their franchise quarterbacks.
Here is a full positional breakdown before the two teams kick off on Sunday at 3 p.m. EST.
Defense: Patriots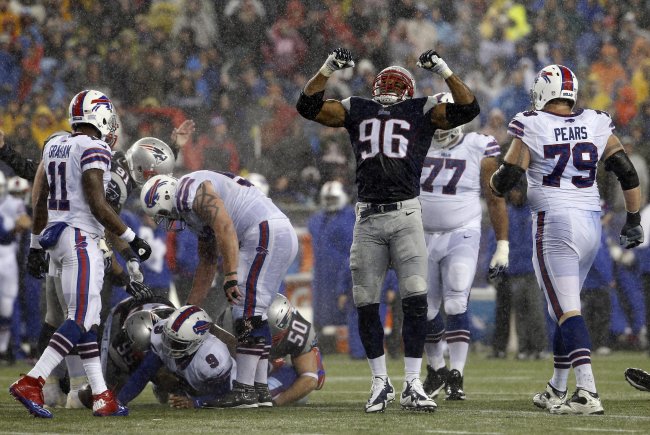 David Butler II-USA TODAY Sports
Neither one of these teams have been great defensively this season as two of the lowest-ranked teams in terms of yards allowed, but they showed up in the divisional round of the playoffs.
With both defenses playing well coming into the AFC Championship Game, this decision came down to which team has played better in clutch situations. And after the Patriots shut down the Indianapolis Colts in the second half in the divisional round, they take this positional matchup.
Despite the Broncos pulling out the victory over the Chargers, they nearly choked up a game that was otherwise a blowout by allowing 17 points in the fourth quarter.
In the Week 12 game, the Broncos allowed Brady to stage a huge comeback with all 34 of their points coming in the second half and overtime in a 34-31 win.
As for the Patriots, their defense also shut down Manning in the second half, allowing just one second-half touchdown in the overtime win. Despite a depleted defense in several positions, Belichick has found a way to keep his defense on course in the postseason and playing better than the Broncos coming into the game.
Receiving Corps: Broncos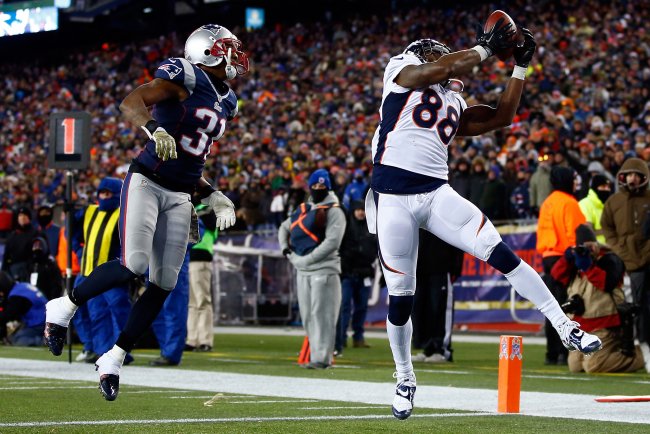 Jared Wickerham/Getty Images
Here is Manning's checklist coming into the AFC Championship Game with their regular-season statistics:
Broncos Receiving Corps (Regular Season)

| | | | |
| --- | --- | --- | --- |
| Player | Rec. Yds | YAC | TD |
| Demaryius Thomas | 1430 | 633 | 14 |
| Eric Decker | 1288 | 345 | 11 |
| Julius Thomas | 788 | 348 | 12 |
| Wes Welker | 778 | 332 | 10 |
NFL.com
With three of the most dynamic wide receivers in the NFL and an athletic tight end that is enjoying a breakout season, Manning has a plethora of targets that have led to the best season for a quarterback in league history.
And as NFL AM points out, Demaryius Thomas is a consistent force in the end zone for the Broncos in his last three playoff performances:
.@Broncos @DemaryiusT 8 receptions, 54 receiving yards, TD. 3 TD in 4 career postseason games

— NFL AM (@NFL_AM) January 13, 2014
The Patriots were served a huge blow with the loss of Rob Gronkowski for the rest of the season. If Gronk was still with the team, this would be a much closer matchup.
But with New England leaning heavily on two undersized receivers in Danny Amendola and Julian Edelman, Denver's ability to spread the field with their dynamic receivers wins out in this positional matchup.
Running Backs: Patriots
If someone said that Brady wouldn't pass for a single touchdown in the divisional round, many would have believed that the Patriots got blown out. But thanks to a multi-purpose stable of backs emerging in its last two games, New England now has a new secret weapon in the backfield.
The Patriots have utilized both Stevan Ridley, Shane Vereen and Brandon Bolden at different points this season—Bolden was actually their leading rusher in the last game between these two teams with 58 yards and a touchdown. But with Blount exploding as of late, he has become the featured back.
LeGarrette Blount has become the Patriots' most lethal back after rushing for 166 yards and four touchdowns against the Indianapolis Colts. In a recent column by Dan Wetzel of Yahoo! Sports, he highlighted a conversation he had with the former Tampa Bay Buccaneers tailback that is finally realizing his potential with Bill Belichick and the Pats:
Blount's problem was obvious. Everyone could see it. The 6-foot, 250-pounder was too upright when he ran with the ball. He was a big, easy target for defenders. On contact he lacked leverage. The high school and college days of just blasting through smaller opponents was over. This is the NFL.

So coaches screamed for him to embrace one of the basic tenants of the sport – pad level, low man wins, etc.

"They were telling me, 'Change your pad level and it'll make a world of difference,'" Blount said postgame, standing in front of his locker. "They told me that everywhere I've been."

[...] Finally this fall he found himself in front of Belichick, the legend, who told him the same old thing. Told him, demanded it, whatever. This time it took. So he changed. The pad level is, "a lot lower."

Why now?

"Because I had to," Blount said.

Why?

"Because Bill told me to."

Bill told him. That was it. Bill told him. Sometimes it's that simple – or seems that way for New England.
Under the tutelage of Belichick, Blount is not only playing a better style of football but is thriving in his system. And after rushing just two times for 13 yards against the Broncos in their last meeting, Blount will be a much bigger factor in the next go-around.
With Knowshon Moreno and Montee Ball on the other side, the Broncos also have a formidable duo. But even with Moreno rushing for 224 yards and a touchdown in the Week 12 matchup, the Patriots' backfield is much improved and has a few new toys to show off against the Broncos.
Quarterback: Broncos
Will there be a backlash from Patriots fans for this one? Yes. But when looking at the season both quarterbacks have put together, the obvious choice here has to be the guy who passed for 55 touchdowns and more than 5,000 yards this season.
The type of season Manning has put together this season makes him the clear-cut favorite to win the NFL MVP award and earned him a unanimous selection for the AP All-Pro First Team. But when looking at the overall matchup, Brady has gotten the better of Manning during their careers, according to ESPN Stats and Info:
Tom Brady:10-4 all-time when starting at QB against a team starting Peyton Manning at QB

— ESPN Stats & Info (@ESPNStatsInfo) January 13, 2014
Looking back at the last time these two teams matched up, Brady once again got the better of Manning with nearly 200 more passing yards and one more touchdown than his rival.
But when it comes to who comes in as the best quarterback after this season, Manning has been dominant against nearly every opponent with an average of 342 passing yards and nearly 3.5 touchdowns during the regular season.
And with the aforementioned receiving options around him, Manning is the better quarterback in the 2013 season and heads into the AFC Championship Game just a notch above Brady.