NBA Rumors: Analyzing Newest Free-Agent and Trade Buzz Nearing Season's Midpoint
Use your ← → (arrow) keys to browse more stories
Melissa Majchrzak/Getty Images

Roster movement in the NBA is inherently weird, coming in fits and starts and almost never being properly spaced out enough to where we can properly react. In the offseason, it all comes in a flurry, with deals getting done beginning on draft night through the middle of July at such a rate that only the biggest names get their due.
NBA moves during the season are a little different in that the most interesting moves are almost never actually made—just floated in the form of rumors to gauge reaction. Speculation of the New York Knicks trading Carmelo Anthony is probably a good idea for their future, but it's not based on reality. NBA teams with a chance of actually keeping their superstars, no matter how flawed, do not trade them without their hand being forced.
They just don't.
That said, deals and potential deals during the season are always interesting because of what they represent for the respective franchises. If your team is in the midst of buyout talks with a usable veteran, odds are you're terrible and own a one-way ticket to being Sorry for Jabari. If your team is drooling at the thought of said veteran becoming available, odds are you're a contender looking for the one piece to put you over the hump.
While most NBA rumors rarely come to fruition, they're always fun to discuss. "What if?" is often far more entertaining than what is—which is pretty much a rule in life, and not just in the NBA.
But with plenty to talk about around the Association, let's check in on the latest possible movements as teams barrel toward the season's 41-game midpoint.
Andrew Bynum Market Still in Flux?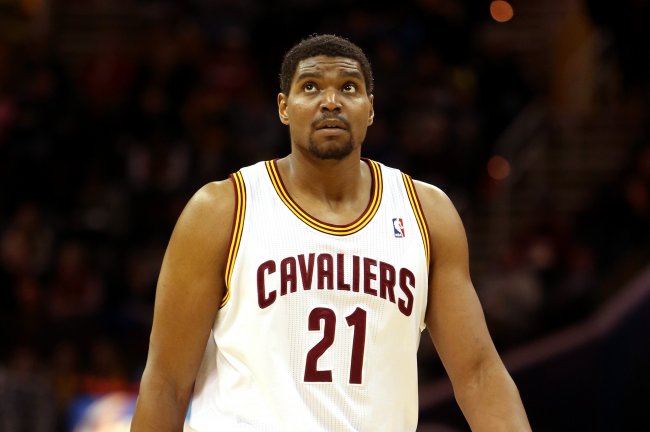 Mike Lawrie/Getty Images
It's now been about five full days since Andrew Bynum officially became a free agent at 6 p.m. last Thursday.
Bynum is still a free agent, and it seems we're no closer to figuring out where his ultimate destination will be than a week ago. This is a mild surprise. Although Bynum comes with his fair share of issues, he is still a rare seven-footer who can help a playoff team—even if he should be limited to only short minutes. The Heat and Clippers were widely expected to be the two teams most in play for his services, but the relative quiet on that front makes one suspect that either those initial reports were incorrect or neither team is all that interested.
Chris Broussard of ESPN.com reported that eight teams had contacted Bynum's representatives after he cleared waivers. Actually, we've found out more about those squads that have no interest in the 26-year-old big man than ones that do.
The Clippers are backing away. The Nets, Thunder and Hawks are planning on saying "Thanks, but no thanks" despite the fact that each of those teams has gaping holes in its defensive middle. All of this comes via ESPN.com's Marc Stein, who also indicates the only reason teams like the Pacers have reached out was to keep Bynum away from Miami.
Yikes.
The prospect of Bynum heading to South Beach at this point seems like an interesting option. The Heat still have their taxpayer mid-level exception, and though they're unlikely to use all $3.2 million of that on Bynum, it's still more than the minimum-salaried offerings Dallas and New York can dole out. Bynum isn't necessarily a need nor is he all that great a basketball bit, but Miami is in a place where it can afford to take risks without disrupting the flow of the locker room.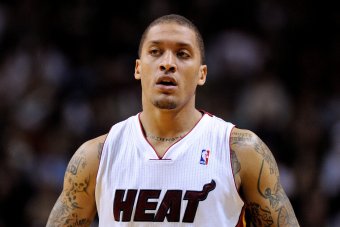 Steve Mitchell-USA TODAY Sports
Pat Riley already hit something of a home run with Michael Beasley. The franchise's former No. 2 pick came back this summer after literally being paid by the Phoenix Suns to get the hell away from their team as fast as possible. Beasley has responded by averaging 10.1 points per game with a PER of 17.32, just narrowly eclipsing the career-best mark he put up as a rookie.
Bynum is a different person and story. The Heat organization already had a pre-existing relationship with Beasley. It knew at least some of the right buttons to push to get him to buy in.
I'm not sure whether simply being around a "winning culture" will be enough for Bynum. He won two titles in Los Angeles, so he's no stranger to the Larry O'Brien Trophy. Plus, with Yahoo! Sports' Marc J. Spears reporting that Greg Oden's presence might prevent a Bynum signing, maybe it isn't such a perfect fit with the Heat after all.
But both sides would be remiss without at least considering it.
Deng to Bolt Cleveland If No Extension Reached?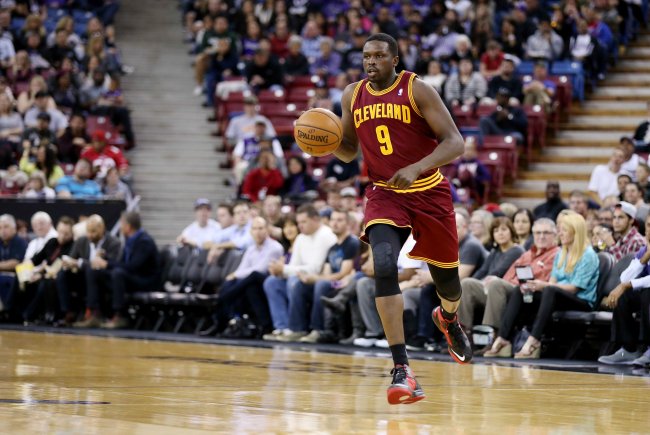 Kelley L Cox-USA TODAY Sports
In two games since being acquired from Chicago, let's just say Luol Deng's time in Cleveland has been a mixed bag. Deng scored 10 points in his debut with the Cavs, a 113-102 victory over the Utah Jazz, which was not a bad start.
Then things went to hell in a handbasket Sunday night in Sacramento. The Kings defeated Cleveland, 124-80, in what was both the season's biggest scoring differential and more of a slaughter than a basketball game. Deng increased his scoring output to 12, but watched the suddenly efficient Rudy Gay shoot 8-of-12 en route to a 20-point night.
Kyrie Irving and Dion Waiters could both be seen on the bench expressing their frustrations. It's part of the growing pains for this young ballclub, but it has to be somewhat a culture shock for Deng—who came into the league as a consummate professional. Adjustments to unprofessionalism, big and small, are just one of many adjustments for Deng in going from the somewhat well-run Bulls organization to the post-LeBron tire fire that is the Cavs.
We're far too early into the experiment for any speculation, but Deng landing in Cleveland already has a timer quickly running out of quicksand. The 28-year-old forward has the opportunity to hit unrestricted free agency for the first time in his career this summer, and could be one of the best players to actually hit the market. LeBron James, Carmelo Anthony, Dwyane Wade and others are potential free agents, but also players who could either opt in for another season or sign a brand new megadeal without even taking another meeting.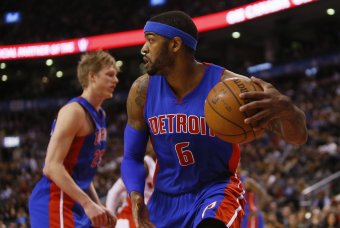 John E. Sokolowski-USA TODAY Spo
There is a distinct possibility that every franchise which thought it would get a crack at LeBron might wind up with a cap-space windfall to throw at Deng. Bob Finnan of The News-Herald reports that a source close to the situation claims Deng is asking for a contract greater than Josh Smith's four-year, $54 million deal with the Detroit Pistons. Finnan also indicates that if Deng actually hits the open market rather than signs an extension, he's more likely to leave Cleveland than stay.
In essence, this was the no-win situation that presented itself when Cleveland made his deal in the first place. It gave up real assets, including what could be a late-lottery pick in either 2015 or 2016, for the right to pay a player who could already be past his peak. We can all agree that Detroit overpaid a bit for Smith—a contract I didn't hate at the time—and there is no feasible way that Deng will be worth around $14 million per season in the final two years of that deal.
But if the Cavs don't pay Deng, they gave up actual stuff for a couple months of locker-room leadership on what should have been a lottery team. Short-term thinking with long-term consequences—your 2013-14 Cleveland Cavaliers, everyone.
Kyle Lowry Now Off the Trade Market?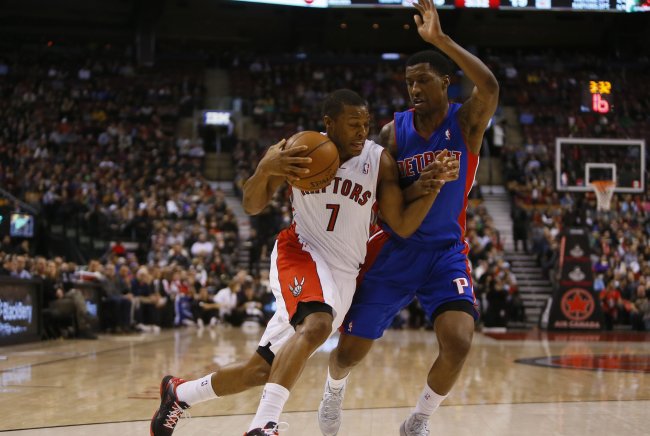 John E. Sokolowski-USA TODAY Spo
He's been vastly improved with the Kings, but for two straight seasons, a team has traded Rudy Gay and gone on to soar. Last year, Memphis' offense somehow improved by mixing a barely breathing Tayshaun Prince in with Tony Allen instead of Gay—an arrangement that has been an offensive death sentence this season. This time around, it's the Raptors who have gone 13-5 since dealing the oft-discussed forward.
Toronto's run flies against everything most expected—and what I'd venture to guess was Raptors general manager Masai Ujiri's plan. By dealing Gay for flotsam, Ujiri received financial certainty and a near-guaranteed tank that could have resulted in Canadian-born Andrew Wiggins' return via the draft. Instead, the plan backfired, with the former Kings stepping into multiple key roles in the rotation and Gay's absence leading to a vastly superior offensive profile.
The Raptors are outscoring opponents by 8.5 points per 100 possessions since the Gay trade, a rate better than every team except for Indiana and San Antonio. They now take care of the ball and have gotten away from their worst behavior offensively, as Toronto's isolations on the ball have dropped precipitously.
This has all led to a bit of awkwardness surrounding point guard Kyle Lowry. Lowry was expected to be the next one to go in Toronto, with his combination of an expiring contract and relatively cheap salary ($6.2 million) making him a feasible option for contenders. The Knicks nearly pulled off a Lowry trade in mid-December, but the dogs were called off after owner James Dolan refused to part with a first-round pick, per B/R's Howard Beck.
With Toronto making headlines for its recent run, there are rumors that Lowry might not be on the market anymore—regardless of compensation. ESPN.com's Stein reported over the weekend that there is a groundswell in the front office that has the team leaning toward keeping Lowry and chasing the franchise's first playoff berth since 2007-08.
At the moment, the Raptors lead the Atlantic Division and might make a run at the No. 3 seed, depending on how Atlanta does with Al Horford likely out for the season. Both New York franchises are digging themselves out of the sewer of late as well, so this definitely remains a fluid situation.
If Toronto starts coming back to earth a bit, and the Knicks and Nets start inching toward the division lead, Ujiri reserves the right to change his mind. There is a little more than a month remaining between now and the Feb. 20 NBA trade deadline. The Raps have already proven how much can change in that time.
For now, I expect Lowry to stay in Toronto.
Follow Tyler Conway on Twitter.