The Royal Rumble, The Wyatt Family and Randy Orton's upcoming title defense will be the center of the Jan. 13 edition of WWE Raw.
Providence, R.I. hosts a show sure to be built around hype for the matches at the next pay-per-view and the shifting dynamic between the members of Bray Wyatt's bearded clan. Last week showcased names from the past, including the surprise return of Jake "The Snake Roberts."
This week promises to look more toward the future.
Digging through previews, backstage reports and tweets reveals some of what to expect come Monday night. A promising tag match and Orton whining awaits. "The Beast" emerging to respond to Big Show's challenge does not.
News, Reports on Who Will Show Up
Lilian Garcia will be on Monday's Raw; Kaitlyn will not. Garcia tweeted that she'll be handling announcing duties for the episode.
At airport taking redeye to Providence, RI. Excited to announce I will be announcing at #Raw tomro night! Tune in at 8pmET on @USA_Network

— Lilian Garcia (@LilianGarcia) January 13, 2014
Kaitlyn, on the other hand, left the company last week.
Today is bittersweet. I've officially left @WWE on my own terms. Much love to WWE and all of you guys. http://t.co/Kch3WEEaGo

— Celeste (@KaitlynWWE) January 8, 2014
She wrestled her farewell match on the Jan. 8 edition of Main Event. Her departure gives AJ Lee one less rival and will lead to even more focus on the women from Total Divas.
With AJ just days away from passing Maryse as the longest-reigning Divas champ ever, one has to assume that the champion will have to fend someone off before she claims that record. Will one of The Funkadactyls or The Bella Twins get a crack at the title, or does someone else offer a challenge?
WWE has largely ignored this story, but this is the last Raw before AJ would surpass Maryse, so there's an opportunity for drama that the company is likely to take advantage of.
As of last Friday's SmackDown, Brock Lesnar and Big Show are set to battle at the Royal Rumble.
Don't expect to see those two powerhouses collide on Monday, though. A list of Lesnar's advertised dates, per WrestlingInc.com, has him not appearing until Jan. 20, the go-home episode before the upcoming pay-per-view.
Count on Big Show getting some major airtime instead.
Mitch Passero asks on his WWE.com five-point preview, "Who will make the next move as the collision between these two goliaths approaches at the Royal Rumble pay-per-view?" That hints at this clash getting some attention, but with Lesnar not expected to show, it will be Paul Heyman and Big Show who have to carry the hype load this Monday.
Scheduled Confrontations
The night's advertised match pits Bray Wyatt and Daniel Bryan against The Usos.
On Friday's SmackDown, Erick Rowan and Luke Harper faced Jimmy and Jey Uso, but the match ended in a double-countout. Wyatt and Bryan joined the fray after the bell and left The Usos sore and angry. The exciting duo get a shot at revenge in Bryan's first time tagging with Wyatt.
Fans will be watching to see how the dynamic of the new version of The Wyatt Family evolves. Bryan worked to establish his role in the group's hierarchy last week. He told his new brothers that he had plenty to offer, if they'd only trust him.
Is Bryan going to be able to mesh with Harper, Rowan and Wyatt? Is he set to struggle for control of the group?
Those are the questions in the audience's mind as this story continues. Meanwhile, The Usos have a big-time opportunity. In the heat of the spotlight, they can continue to impress and show that they aren't just crowd-pleasers but rather serious contenders.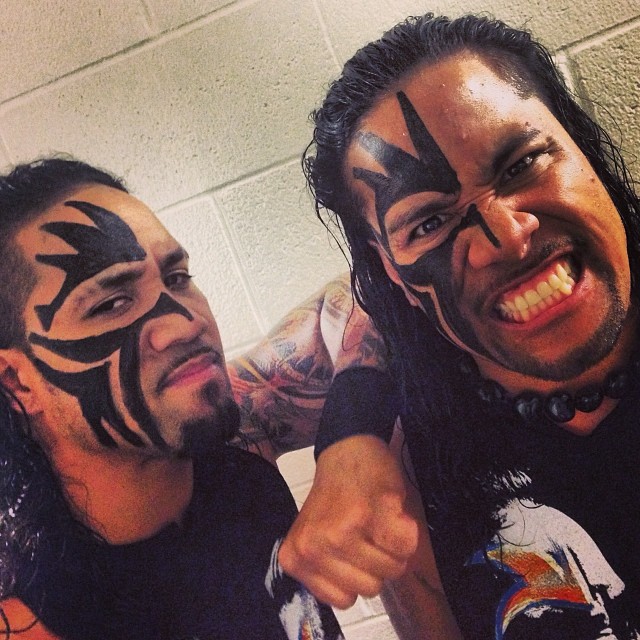 Photo from Instagram
Orton has promised to confront The Authority this Monday. Fans won't have to wait long to see that, either.
WrestlingInc.com reports that "Tonight's show is scheduled to kick off with Randy Orton 'giving a piece of his mind' to The Authority."
The champ is still up in arms about having to face John Cena at the Royal Rumble. The Authority's mantra is also irking him.
"Don't say what's #BestForBusiness ... Stop saying that. I HATE THAT!" - @RandyOrton to @ExcuseMeWWE, #SmackDown

— WWE Universe (@WWEUniverse) January 11, 2014
Look for him to clash with Triple H, Stephanie McMahon and likely Cena himself. Aside from the Rumble match, this title fight is the marquee bout, the one that WWE is banking on to attract viewers. It will get a significant chunk of airtime.
The Shield and the 30-man match that the Royal Rumble pay-per-view is built around will be major elements of the show as well.
Rumble Hype, The Shield's Next Statement
After weeks of cracks forming in The Shield's unity, the group has recently come together once again. In clashing with Roddy Piper on Old School Raw and battling Punk and The New Age Outlaws on Jan. 10, Roman Reigns, Seth Rollins and Dean Ambrose looked just as cohesive as ever.
Passero asks in his preview on WWE.com, "Will the black-clad Superstars carry their momentum into Raw and make another emphatic statement?"
The safe bet is that they will. Reigns is coming off a victory over Punk, and WWE is likely to make it look as if The Shield is without dissension for now, to better shock us when the trio's inevitable breakup occurs.
Could it happen in the every-man-for-himself atmosphere of the Rumble? That's one of the many potential stories heading into that match.
Expect Monday's Raw to add more of those as it adds confirmed participants. With just two weeks left until the Rumble, only Alberto Del Rio and Batista are officially a part of the match for now.
Marc Middleton of WrestlingInc.com writes that "WWE will be naming more competitors for the Royal Rumble match on tonight's RAW."
Which Superstars will claim their spot? The answer to that question along with Bryan and Wyatt teaming provide intrigue for Monday's episode as WWE builds toward its next big show.