In an era where NFL passing numbers are soaring at historic highs, the NFC Championship Game between the San Francisco 49ers and the Seattle Seahawks is a fitting throwback to run-oriented smashmouth football.
The Niners and Seahawks are such great rivals not only because of their geographical ties but also due to their eerie similarities in style. Both are run-oriented offenses with burgeoning young dual-threat quarterbacks and swaggering physical defenses with few (if any) weaknesses.
Thus, a flurry of points seems unlikely, even if Russell Wilson and Colin Kaepernick are among the league's best young talents. But with the defensive dominance displayed in prior meetings—both teams have scored fewer than 20 points in three of the last five meetings—can either offense keep its head above water?
The offenses will have the most difficult task on Sunday, Jan. 19, so here are the keys to maintaining offensive success for Seattle and San Francisco.
Keys for San Francisco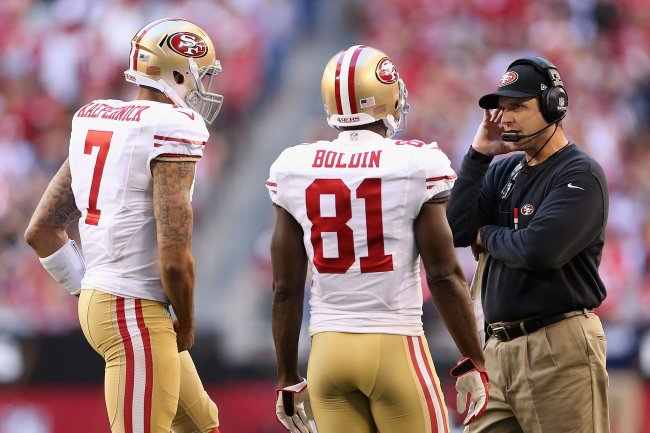 Christian Petersen/Getty Images
Establish Anquan Boldin
With Michael Crabtree's return, Anquan Boldin has once again had room to breathe in the secondary. After being held under 90 yards in eight of his first 10 games, Boldin has eclipsed that mark in five of his past eight games, including his eight-catch, 136-yard performance against Carolina last week.
The veteran was pleased with his team's win but made it clear he has his sights set on the next round:
We took one step closer to our team goal, but we still have a long way to go. Enjoy this victory today and then on to Seattle. #QuestForSix

— Anquan Boldin (@AnquanBoldin) January 13, 2014
Bleacher Report's Ian Kenyon offered some perspective on Boldin's postseason success:
Anquan Boldin's last 6 playoff games... 33 receptions, 554 yards.

— Ian Kenyon (@IanKenyonNFL) January 13, 2014
Boldin was totally shut down in the Niners' loss at CenturyLink Field in Week 2 this season, but he likely will not have Richard Sherman harassing him all game next Sunday. Instead, look for slot cornerback Walter Thurmond to draw the Boldin matchup for the Seahawks.
Thurmond is certainly no chump, but he is a far more tenable matchup for San Francisco than Sherman. Even with his production limited at times, Boldin still accounted for 64 first downs during the regular season, per Pro-Football-Reference, the most on the team and nearly double the next closest receiver.
Needless to say, Boldin will be absolutely critical to whether or not the Niners can sustain drives. The Seahawks are great at forcing teams into 3rd-and-medium or 3rd-and-long situations, but Boldin is the player capable of helping San Francisco overcome those circumstances.
Ground Transportation
The Seahawks boast an aggressive and physical front seven, and their run defense is augmented by a huge secondary unafraid to make tackles. Nevertheless, as ESPN's John Clayton notes, the Niners may possess the right formula to succeed:
The one style of offense that gives the Seahawks problems is a run-oriented attack that uses two- and three-tight end sets. That's the 49ers' style. Passing teams struggle in CenturyLink.

The 49ers use two- and three-tight end formations with the idea of being physical and keeping the score low. Expect them to work most of the game out of those formations. During the regular season, the 49ers averaged only 12.8 plays a game out of three-receiver sets. They averaged 27.8 plays a game with two or more tight ends and 15.8 out of two-back sets. Potentially down two fullbacks with injuries, the 49ers will probably use more tight ends.
Even with all his receiving weapons back, Colin Kaepernick will not single-handedly vanquish the Seahawks through the air. Getting Frank Gore to shorten the potential third-down distances is essential for the Niners to grind out the type of long drives the Seahawks rarely concede.
San Francisco does have prior success to draw upon. In four meetings over the past two years, the Niners have never averaged fewer than 4.3 yards per carry against Seattle, and they have rushed for 100 yards or more in three of the four contests.
Keys for Seattle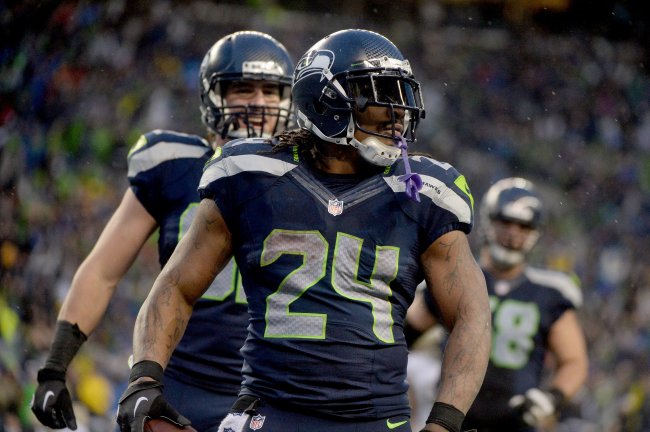 Harry How/Getty Images
Fast Start for Wilson
Russell Wilson's struggles, a quiet storyline toward the end of the regular season, almost manifested themselves disastrously against the New Orleans Saints in the divisional-round matchup. Wilson completed just nine passes for 103 yards as part of an ultra-conservative game plan, and while the defense got the job done, it will be difficult to advance any further with a harness on the quarterback.
Seattle understandably loves establishing Marshawn Lynch on early downs, as the Seahawks had the fifth-most first-down runs during the regular season, per Pro-Football-Reference.com. But by limiting Wilson's passes to obvious passing situations against the Saints, Seattle was shrinking his passing windows and putting him behind the eight ball.
Thus, it might behoove Seattle to try some play action to loosen up not only the Niners secondary but also the roaming linebacker duo of NaVorro Bowman and Patrick Willis. Bowman and Willis are practically irrepressible, but if the Seahawks can force the duo to hedge its movements rather than attack in a single direction, the two will have a significantly smaller impact on the game.
Percy Harvin's availability would obviously aid Wilson, but it's unclear whether he will be available after his concussion. Harvin made a significant impact in limited snaps, and his health is a game-changing factor, especially given his past success against the Niners defense:
.@Percy_Harvin had 98 total yds vs SF last year. No player on either team has had more vs their repsective opponent http://t.co/wEt8Qc8gV2

— Brian Nemhauser (@hawkblogger) January 13, 2014
There's nothing Seattle can do at this point about his health, but Harvin's availability is the game's first crucial factor.
Beast Mode in Red Zone
San Francisco's red-zone defense is a bit of a paradox, as SportsonEarth.com's Mike Tanier explains:
The 49ers red-zone defense does not grade particularly well statistically -- 32nd in red zone rushing defense according to Football Outsiders...The culprits were early-season games against the Packers, Seahawks and Colts..Anyway, you saw the Panthers get stoned at the goal line on play after play on Sunday...The 49ers pass defense is even stingier than the run defense near the red zone, which may be why the Panthers took all of their receivers off the field at the goal line, crossing their fingers with Cam Newton/Mike Tolbert dives. The 49ers' red-zone advantage against the Seahawks offense is one of their biggest edges, in a game that leans heavily toward the Seahawks by most indicators.
But even with the Niners' goal-line success against Cam Newton and Co., containing Lynch is a whole different animal. Wilson figures to have difficulty cracking the San Francisco defense through the air in the red zone's constricted passing windows, so Seattle's path of least resistance to the end zone is through the ground.
Barring a slew of turnovers, neither team figures to see many scoring opportunities. Running the ball not only increases the Seahawks' likelihood of cashing in with a touchdown, but it also minimizes the risk of a crippling turnover.

In the end, the offense that wins out might simply be the unit that avoids the game-changing mistake.