The Denver Broncos used the San Diego Chargers' own game plan against them.
Exactly one month after losing at home to San Diego thanks to Peyton Manning spending much of the game on the sideline, the Broncos controlled the clock on offense, stifled the Chargers on defense and held on for a 24-17 win in the divisional round on Sunday, Jan. 12.
The team's Twitter feed put an exclamation mark on the win:
See you next Sunday for the AFC Championship Game, @sportsauthfield! #UnitedInOrange pic.twitter.com/MPNXNjLj9y

— Denver Broncos (@Broncos) January 13, 2014
Behind a calculated, low-risk passing game and a committed run game, the Broncos possessed the ball for 35:27 and out-gained the Chargers 363-259. Despite losing the turnover battle (2-0), Denver ran 70 plays to San Diego's 49.
Of course, those numbers were far more lopsided before the fourth quarter, when San Diego turned a 17-0 deficit into a seven-point game before eventually falling short.
The Broncos will host the New England Patriots next Sunday, Jan. 19, for a trip to Super Bowl XLVIII. As SportsCenter's Twitter feed pointed out, the home team has had the historical advantage between Manning and Tom Brady:
Peyton Manning and Tom Brady have met 3 times career in the postseason. Home team has won each time, AND won the Super Bowl.

— SportsCenter (@SportsCenter) January 13, 2014
Manning threw for 230 yards, two touchdowns and an interception, while running backs Montee Ball and Knowshon Moreno ran rampant behind a stout offensive line for a combined 134 yards on 33 carries.
A bit unsurprisingly with heavy winds making downfield throws difficult, Manning's favorite receiver on the night was yards-after-catch dynamo Demaryius Thomas. The fourth-year wideout finished with 54 yards on a game-high eight receptions, including this two-yard grab to give Denver a 7-0 lead in the first quarter:
Wes Welker had an untimely drop and finished with just 38 yards, but he added another receiving score to double Denver's lead before halftime. Tight end Julius Thomas added a team-high 76 receiving yards.
Despite the dominance for much of the game, though, Denver didn't take full advantage of its scoring opportunities. Manning threw an interception in the end zone toward the end of the second quarter, and Matt Prater missed a field goal in the third.
Grantland's Bill Barnwell summed it up:
Amazing how wasteful Denver offense has been this game. Thomas fumble, end zone drop for INT, near-endzone drop for would-be TD, missed FG.

— Bill Barnwell (@billbarnwell) January 13, 2014
That kept open a tiny glimmer of hope for San Diego. The Chargers entered the fourth quarter down 17-0, but made things interesting when Philip Rivers led a six-play, 63-yard drive and found Keenan Allen for a touchdown early in the fourth quarter.
After Denver responded with a time-sapping 81-yard touchdown drive that was a bit indicative of the first three quarters, San Diego charged right back.
On the shoulders of Rivers and Allen, the Chargers went 80 yards for a touchdown and recovered the ensuing onside kick:
After a field goal cut the lead to 24-17, though, Manning connected with Thomas on two clutch third-down throws and the Broncos were able to run out the clock, keep the suddenly surging Chargers offense off the field and secure the victory.
Player Grades
Peyton Manning, Broncos: A-
Manning wasn't perfect. His interception in the end zone at the end of the first half wasn't entirely his fault, but it wasn't a great decision either.
Still, on a windy day where throwing the ball down the field wasn't a necessarily ideal option, the MVP candidate was mostly clinical, completing short passes, moving the ball and extending drives to keep the Chargers offense off the field.
After Manning made some tremendous throws late in the fourth to seal the win, Pro Football Focus' Tyler Loechner summed it up best:
Peyton manning. Clutch,

— Tyler Loechner (@PFF_Loechner) January 13, 2014
If not for some drops, Manning's final numbers would have looked much better as well.
Philip Rivers, Chargers: A-
Rivers' numbers for the first three quarters were terrible, but even then, he wasn't playing badly. He just wasn't getting opportunities.
Overall, whenever the bolo tie-wearing QB had time to operate in the pocket, he made good decisions and put most of his throws where they were supposed to be. His late touchdown throw to Keenan Allen was an especially impressive toss:
When the offense finally opened up in the fourth, Rivers moved the ball with ease. He finished with 217 yards on 18-of-27 throwing with two scores and zero interceptions. He just got going a little too late.
Broncos Defensive Line: B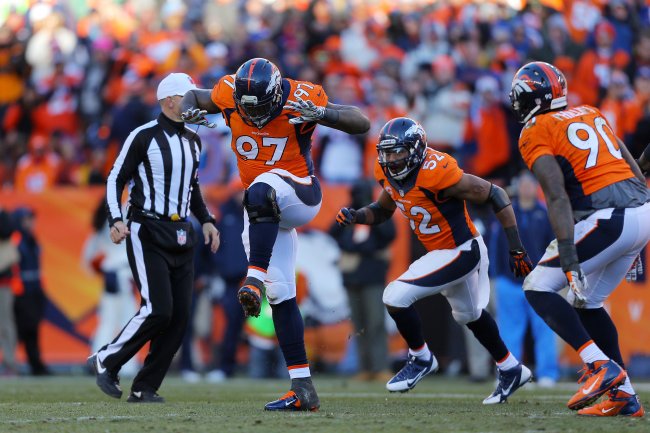 Justin Edmonds/Getty Images
I'd say the entire Broncos defense probably deserves credit here. Denver's normally explosive offense didn't take advantage of its opportunities and only put 24 points on the board.
As a result, the defense had to be solid, and for much of the game it was, holding the Chargers quiet for long enough to escape with the win.

Defensive tackle Terrance Knighton spoke after the game about his team's mindset entering the contest, via USA Today's Lindsay Jones:
Broncos DT Terrance Knighton: "We wanted to prove we could play at an elite level."

— Lindsay Jones (@bylindsayhjones) January 13, 2014
Much of their early success stemmed from the defensive line being able to create pressure. Malik Jackson, Shaun Phillips (two) and Jeremy Mincey all recorded sacks, and when they were getting pressure and Rivers didn't have a clean pocket to work with, good things happened.
The importance of the D-line was easily apparent in the fourth, too. Denver stopped getting pressure, and San Diego's offense started rolling.
Keenan Allen, Chargers: A
In the first half, when the Chargers were unable to move the ball consistently as a team, Allen was kept quiet.
But in the second, when the offense started to open up after Chris Harris' injury and Rivers was able to take shots down the field, the Broncos had no answer for the rookie wide receiver. Despite recording zero catches in the first half and seeing just nine targets all game, he still finished with six catches, 142 yards and two touchdowns.
He was essentially uncoverable late in the game, as evidenced by his second score of the night:
ESPN Stats & Info put some perspective on the performance:
Keenan Allen: 1st rookie with 100+ receiving yards and 2 TD receptions in a playoff game since Willie Green vs Cowboys in 1992

— ESPN Stats & Info (@ESPNStatsInfo) January 13, 2014
As if you needed any more reminders, this kid has an incredibly bright future.
What's Next
New England plays at Denver in the AFC Championship on Sunday, Jan. 19, at 3 p.m. ET. San Diego's season comes to an end after a hot second half of the year.