The end of the college football season signals the start of the NFL draft season. That season began this week with the practices for the 89th East-West Shrine Game. The game features 114 NFL hopefuls from 85 different schools. One unique feature of the East-West Shrine Game is that invitations are extended to players from Canadian schools and each roster contains a player from north of the border.
According to the official website of the East-West Shrine Game, more than 100 players from the 2013 game were either drafted or signed as free agents to NFL teams and invited to training camp. Former NFL head coaches Jerry Glanville and Romeo Crennel will serve as the coaches for the East and West teams, respectively.
With the Minnesota Vikings hiring former Bengals defensive coordinator Mike Zimmer as their head coach, the next order of business will be to round out the rest of the coaching staff and start the rebuilding process. Scouting the East-West Shrine Game would be a good place to start.
Longtime Bengals defensive coordinator Mike Zimmer, has been hired by the Vikings to be their next head coach: http://t.co/HSaNBSATNa

— Sports Illustrated (@SInow) January 15, 2014
This coming season, the Vikings need to find a quarterback, some depth for the offensive line and a wide receiver on offense. On defense, the Vikings need to find a defensive end and some upgrades at cornerback and linebacker.
Perusing the rosters for the East-West Shrine Game is a little bit like mining for gems—there will be a lot of sifting through to find a potential diamond. Checking the rosters against the prospect rankings of NFL Draft Scout and Walter Football, there are no projected first-round draft picks here.
Here's a look at several players the Vikings should be paying attention to.
Quarterback
There are six quarterbacks, three on each roster, who will be trying to make a big enough impression to prompt an NFL team to take a chance on them. Of the six, only one—Jimmy Garoppolo from Eastern Illinois—is projected as a potential draft pick.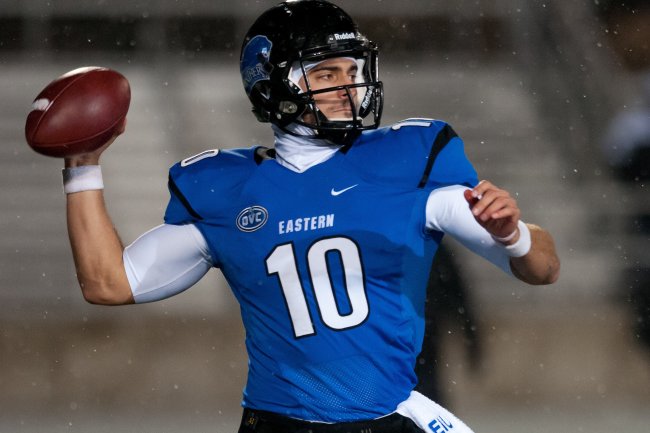 Bradley Leeb-USA TODAY Sports
According to NFL Draft Scout, Garoppolo is the fifth-best quarterback in the draft—of course the list does not include any of the underclassmen quarterbacks who have declared for the draft. Projected as a potential third-round selection, Garoppolo led all Division I players with 5,050 passing yards and 53 touchdown passes.
QB Jimmy Garoppolo hasn't disappointed so far. Smooth, easy set up and quick eyes to scan and rip. Same traits he showed on tape

— Dane Brugler (@dpbrugler) January 13, 2014
From the EIU website, Garoppolo completed 375 of 568 passes with only nine interceptions. He also rushed 70 times for 209 yards and four more touchdowns. He led the Panthers to a 12-2 record, going 8-0 in the Ohio Valley Conference.
Another EIU quarterback has cracked the starting ranks of the NFL—Tony Romo of the Dallas Cowboys. Like Romo, Garoppolo was named the Walter Payton Award winner.
Think of Garoppolo a lot like Kirk Cousins—a later-round insurance policy. The Washington Redskins selected Cousins in the fourth round of the 2012 NFL draft. In that same draft, they selected quarterback Robert Griffin III with the second pick overall. Garoppolo might be a good second quarterback the Vikings select—provided they can get a sure thing in the first round.
Garoppolo is a member of the East team and will be wearing No. 11.
Cornerback
One of the highest-rated players in the game is Missouri cornerback E.J. Gaines. According to Sports Reference—College Football, Gaines finished third for the Tigers with 59 tackles. He led Missouri with five interceptions.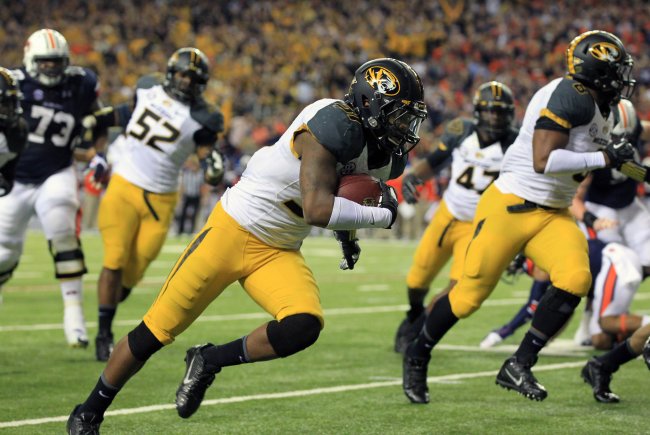 Daniel Shirey-USA TODAY Sports
Walter Football ranks him 11th among cornerbacks and projects him as a second- or third-round draft pick. At 5'11" and 195 pounds, Gaines is about the same size as Josh Robinson—a third-round pick of the Vikings in 2012.
E.J. Gaines is at the Shrine Game this week? Should tear it up in practices there because he's way better ... http://t.co/F9ITqddev6

— Kyle Casey (@kylecasey094) January 13, 2014
The consensus appears to be to that Gaines should be one of the top players in the East-West Shrine Game. Gaines is playing on the West team and will be wearing No. 32.
Another cornerback to watch from the East roster is Pierre Desir. Dane Brugler from NFL Draft Scout, sees Desir as one of the top defensive prospects in the game. At 6"2" and 206 pounds, Desir has the size of free-agent cornerback Chris Cook (6'2", 212 lbs). Desir led the Lindenwood Lions with four interceptions this season.
Desir will be wearing No. 3 for the East squad.
Offensive Guard
The Vikings have selected six offensive linemen in the past four drafts. Only left tackle Matt Kalil, selected fourth overall in 2011, was taken earlier than the fifth round. Starting right guard Brandon Fusco was selected in the sixth round of the 2011 draft from Slippery Rock. That year, Fusco took advantage of playing in the Senior Bowl to get the attention of the Vikings.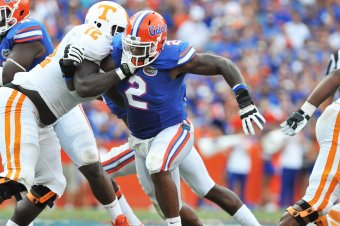 Al Messerschmidt/Getty Images
A potential replacement for left guard Charlie Johnson, who will be a free agent, is University of Tennessee guard Zach Fulton.
Ranked as the 18th guard in the draft by Walter Football, Fulton is projected as a fourth- to sixth-round draft pick. At 6'5" and 323 pounds, Fulton has the size to play in the NFL. He was a three-year starter for the Volunteers.
#ShrineGame East Preview nearly done. On the re-watch, came away thoroughly impressed with Tenn. OG Zach Fulton and W.Vir. DE Will Clarke.

— Eric Galko (@OptimumScouting) January 12, 2014
Fulton was given No. 73 for the East team, but he is listed as injured on the roster.
Linebacker
Since selecting Chad Greenway from Iowa in the first round of the 2006 draft, the Vikings have drafted eight linebackers. Only four of them remain on the roster—Greenway, Audie Cole in 2012, and Gerald Hodges and Michael Mauti, who were drafted last year.
Mike Carter-USA TODAY Sports
A couple of linebackers to watch in the East-West Shrine Game are Max Bullough from Michigan State on the West team and Andrew Jackson from Western Kentucky on the East team.
While Walter Football ranks Bullough as the eighth-best linebacker in the draft, not everyone is raving about him.
MSU LB Max Bullough might be in his first trimester. He definitely has some bad weight to lose before the Combine, starting with his gut

— Dane Brugler (@dpbrugler) January 14, 2014
Projected to go as early as the third round, Bullough finished third for the Spartans in tackles with 73. Named First-Team All-Big Ten, Bullough was a three-year starter at middle linebacker. At 6'3" and 245 pounds, he is very close to being the same size as Greenway (6'2" and 240 lbs).
He will be No. 44 for the West team.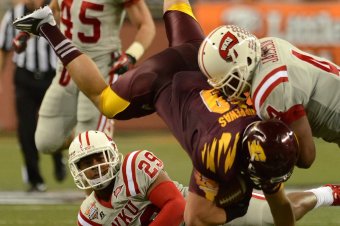 Mark A. Cunningham/Getty Images
From the East roster, Jackson is another inside linebacker to watch. In 11 games this season, Jackson finished second for the Hilltoppers with 95 tackles. Ranked 10th by Walter Football, Jackson is described as a "thumper of a linebacker with good instincts and quickness." He is projected to go between the fourth and sixth rounds in the upcoming draft. At 6'1" and 265 pounds, he has a bit more bulk to him.
Jackson will be No. 4 for the East team.
Wide Receiver
Two of the Vikings wide receivers will be free agents this year—Jerome Simpson and Joe Webb. After two one-year contracts with the Vikings, Simpson might be on his way out. As the fifth receiver on the team, Webb didn't impress in his first year after making the transition from quarterback.
Minnesota should be perusing the draft for some depth, most likely after addressing more pressing needs at quarterback, cornerback and linebacker.
The wide receivers playing in this game are not a highly ranked group. A scan of Walter Football's, ranking against both rosters only came up with two players—Jeremy Gallon from Michigan and T.J. Jones from Notre Dame.
Other East offensive players that had a strong Wednesday practice were: RB Rajion Neal, WR Jeremy Gallon and WR Matt Hazel. @Shrine_Game

— NFL Draft Blitz (@NFLDraftBlitz) January 15, 2014
A member of the All-Big Ten second team, Gallon led the Wolverines with 89 receptions and nine touchdowns. His team-high 1,373 receiving yards set a Michigan record. He also returned punts and kicks at Michigan. At 5'7", Gallon is the shortest player in the East-West Shrine Game.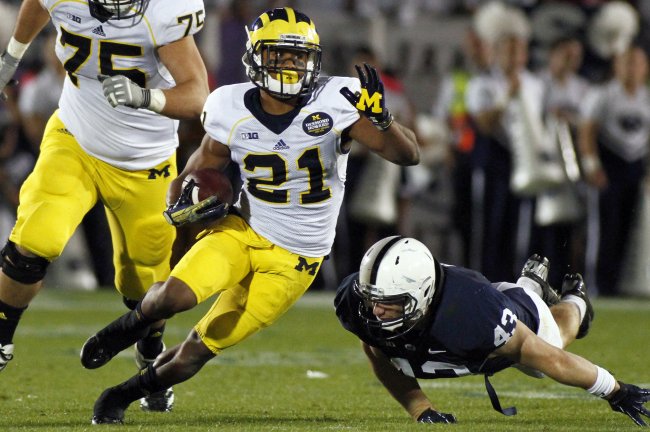 Justin K. Aller/Getty Images
He will wear No. 80 for the East team.
Another receiver worth watching this week would have been Jones from Notre Dame. Unfortunately for Jones, he is out with an injury.
Comparing SR years, TJ Jones had both more yards from scrimmage and more touchdowns than Michael Floyd... yet nobody talks about him. #NDFB

— Irish Tightness (@HLS_IT1) January 16, 2014
Jones led the Fighting Irish with 70 receptions for 1,108 yards and nine touchdowns. Walter Football projects Jones as a fifth-round draft pick.
The good thing about college all-star games, including the East-West Shrine Game, the participants still have something to play for—a potential invite to an NFL training camp and the chance to play on Sundays.
The game kicks off Saturday, January 18, at 4 p.m. ET on the NFL Network.