49ers vs. Panthers: Score, Grades and Analysis from 2014 Divisional Game
January 12, 2014

Getty Images
The San Francisco 49ers put forth a total team effort to tough out a 23-10 divisional playoff road victory over the Carolina Panthers at Charlotte's Bank of America Stadium on Sunday.
This triumph puts head coach Jim Harbaugh's team in the NFC Championship Game for the third consecutive season, where the Niners will face the conference's No. 1 seed—the division rival Seattle Seahawks.
Seahawks wide receiver Doug Baldwin acknowledged that fact after the game with this tweet:
Vernon Davis also spoke about the matchup with their division rivals (via Bear Heiser of NFL Media):
Sunday's 49ers-Panthers game was just as physical and hard-hitting as the two teams' first encounter in Week 10, but it was San Francisco that came out on top on the road instead when it mattered most.
Bucky Brooks weighed in on how Carolina's inexperience shined through in the form of eight penalties for 73 yards:
NFL.com's Gregg Rosenthal noted a key trend in the game, where the Niners dominated short-yardage situations with big defensive stands and second-half conversions to keep drives going:
Quarterback Colin Kaepernick won the fourth postseason game of his young career, throwing for 196 yards and a touchdown and adding a key four-yard scoring run to give the Niners a 20-10 lead in the third quarter.
What the young signal-caller did as celebration sent a message to his counterpart, Cam Newton, per the 49ers' official Twitter account:
It sent a message that San Francisco was not afraid—as if it were to begin with—and also foreshadowed which team would reign superior.
After a relatively quiet performance last week, physical wide receiver Anquan Boldin devastated the Panthers secondary with eight receptions for 136 yards.
Boldin and the entire Niners offense took a little while to really get rolling. ESPN.com's Mike Sando highlighted how dire it looked for much of the first half:
A Mike Mitchell personal foul aided their field-goal-scoring opening drive, and a Cam Newton interception hauled in by star linebacker Patrick Willis set up the next one.
After that, Carolina seemed to be collecting all the momentum. The 49ers sealed a goal-line stand with a fourth-down stop, but the Panthers forced San Francisco to punt on the ensuing possession, and Newton promptly rifled a 31-yard touchdown to Steve Smith to make it 7-6 in favor of the hosts: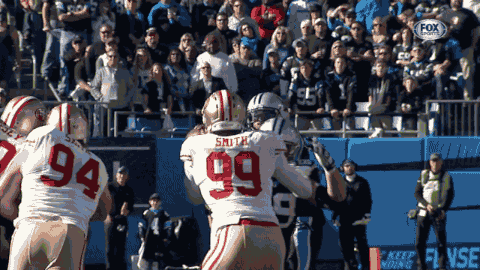 GIF courtesy of Bleacher Report
The Niners defense bailed them out again on Carolina's next possession, forcing a disappointing field goal from Graham Gano after a 13-play drive by the Panthers.
On the final possession of the first half, a number of tough grabs by Boldin set up a sensational effort by Davis. The big man's footwork in the end zone resulted in a one-yard TD reception and a 13-10 Niners halftime lead:
GIF courtesy of Bleacher Report
Carolina's dynamic front seven stymied a typically strong San Francisco rushing attack for much of the day against Carolina's dynamic front seven, but a 39-yard burst by Frank Gore in the fourth quarter put San Francisco in range for a knockout punch.
Although the more experienced team managed only a field goal, it still gave credence to the strategy suggested by Bleacher Report's Matt Miller:
Newton marched the Panthers deep into Niners territory after Phil Dawson's field goal extended the lead to 23-10, but he tried to force a pass into coverage to his tight end Greg Olsen, and Donte Whitner intercepted it.
ESPN's Skip Bayless was unimpressed with Newton's decision after a 15-yard flag went in Carolina's favor just moments before:
Mike Greenberg of ESPN felt that Newton, who led four game-winning drives in the regular season, wasn't quite playing with enough energy on the decisive drive:
On the other sideline, Harbaugh coached with a heavy heart after the passing of his grandfather, per Cam Inman of the Bay Area News Group:
That had to make the win all the more special for the prolific coach, who has made a seamless transition to the pros after a successful college career.
Bleacher Report's Aaron Nagler couldn't help but be impressed with Harbaugh's pro resume to date roaming the sidelines:
Most stunning was how the 49ers held the Panthers completely off the scoreboard in the second half, something Harbaugh highlighted after the game:
Here is a look at some of the top performers, along with a look ahead at what awaits these two teams.
Grades
Cam Newton, QB, Carolina Panthers: B-

Grant Halverson/Getty Images
A late screen play to speedy playmaker Ted Ginn Jr. inflated Newton's numbers somewhat. Although he completed 16 of 25 passes for 267 yards and a touchdown and also ran for 54 yards on 10 carries, his two interceptions proved costly.
Defensive coordinator Vic Fangio deserves a lot of credit for being able to contain Newton and prevent the big QB from plunging in on the key goal-line situations. However, Newton needed to play a bit bigger than he did and simply didn't get it done.
Anquan Boldin, WR, San Francisco 49ers: A
A lot has been made of Michael Crabtree's return to the receiving corps—and rightly so—but Boldin's strength is a big reason why Kaepernick was able to thrive.
The chemistry with Kaepernick has been honed all season long, and it paid off when the squad needed it most. Boldin had 136 of the 196 receiving yards San Francisco totaled, which is a testament to the impact he had.
Steve Smith, WR, Carolina Panthers: B+
The veteran was fired up to go in this one and played extremely well in the first half. However, he managed only four receptions for the game—and none in the second half.
Whether it related to his health or adjustments by the Niners, Smith was not the player he was in the first 30 minutes. That was a big concern entering the game, and it was part of what cost the Panthers in this one.
Ahmad Brooks, LB, San Francisco 49ers: A
It was really a sensational day for all members of the Niners' linebacker corps, but it's worth highlighting Brooks' efforts, which are often overshadowed by his All-Pro teammates Willis and NaVorro Bowman.
Brooks racked up six total tackles and 2.5 sacks, along with stuffing Newton on one of the plays that prevented Carolina from stretching its lead in the first half. That warrants an "A" grade, and it's a mark San Francisco's linebackers deserve all around.
What's Next?

Brian Bahr/Getty Images
A third NFC West showdown between San Francisco and Seattle looms to decide who will represent the conference in Super Bowl XLVIII.
The flow of that game should resemble what happened against Carolina, but the innate familiarity factor and the budding rivalry between these two elite franchises should make for an unforgettable NFC title clash.
NFL Network's Andrew Siciliano provided an early look at the matchup:
As for the Panthers, it was pretty clear that they need another weapon on the outside for Newton to have opposite of Smith. That should be the focus entering the offseason, whether it's through the draft or free agency.