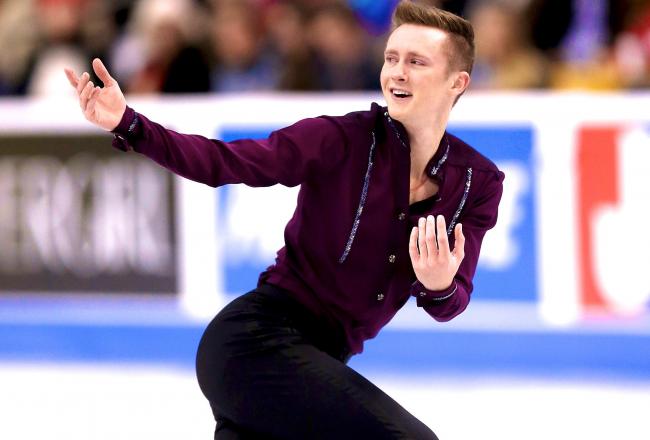 Getty Images
After an intense final day of competition at the U.S. Figure Skating Championship, Jeremy Abbott held off a strong charge from Jason Brown to secure his fourth national title and a spot on the U.S. Olympic Team. Brown won the silver medal and secured the second spot on the team for Sochi.
Brown, who entered the day's action in third place, set the bar extremely high during his free skate. He turned in a flawless performance that had the crowd roaring, and despite it not being enough to secure the title, he will still represent the United States at the Winter Games.
Earlier in the day, the ladies, pairs and ice dance teams were announced, and there is already a swirl of controversy surrounding the ladies selections.
Gracie Gold—who captured this weekend's nationals—was a no-brainer selection. She will be joined by 15-year-old surprise sensation Polina Edmunds and Ashley Wagner.
Wagner made the team despite finishing behind Mirai Nagasu in this weekend's competition. After initially considering an appeal of the decision, Nagasu has decided to abide by US Figure Skating's decision without formal protest.
There was far less drama in the pair and ice dancing selections. For the pairs, Marissa Castelli and Simon Shnapir will be joined by Felicia Zhang and Nate Bartholomay. For the ice dance event, the U.S. team will be comprised of Meryl Davis and Charlie White, Madison Chock and Evan Bates and Maia and Alex Shibutani.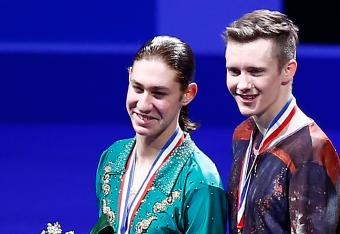 As questions continue to swirl about the makeup of the Olympic team on the women's side, there's no doubt that this weekend's top two skaters will be representing Team U.S.A. for the men.
Congratulations to Jeremy Abbott and Jason Brown for their superb performances this weekend. Looking forward to seeing them on the world stage in Sochi in February!
Jeremy Abbott says he feels remarkably calm about his selection—probably because he's still scheduled to skate in the exhibition this evening.
Brown admits to being a lot more excited. While this will be Abbott's second Olympic appearance, 19-year-old Brown will make his debut on the ice in Sochi.
There. The sound is up. And we hear from our Olympians!
Jeremy Abbott and Jason Brown—officially on the road to Sochi!
The press conference is beginning...but we have no audio...
The livestream is on at icenetwork.com. We're getting a review of today's action as we get ready for the big announcement.
Former Olympic gold medalist Kristi Yamaguchi has only anointed one skater so far in her personal Twitter:
Congratulations @jeremyabbottpcf! Emotional performance....Onto Sochi!!!!

— Kristi Yamaguchi (@kristiyamaguchi) January 12, 2014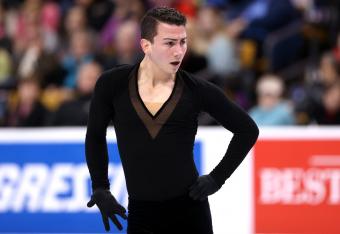 Does Max Aaron have a chance? The 2013 national champion finished 10 points behind Brown today, in third place.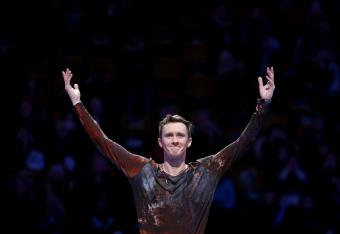 This extra wait just increases the drama ahead of the announcement.
Is there a spot at Sochi waiting for someone other than Jeremy Abbott and Jason Brown?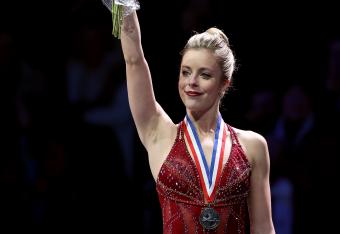 After the drama surrounding Ashley Wagner's selection to the women's side earlier today, will we be in for more suprises when the men's names are announced?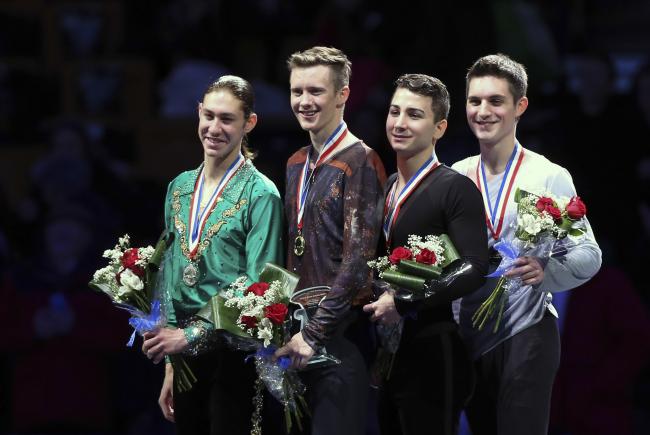 That should do it for us today!
A big congratulations to Jeremy Abbott on his fourth national title.
He'll need to wait until 7 p.m. ET tonight to find out, with the rest of us, if he's going to Sochi.
But he should have no worries.
The top 3 US men's finishers in press: Abbott (center), Brown (left) and Aaron (right) #Boston2014 Team named at 7p pic.twitter.com/HonocOIC7M

— Nick McCarvel (@NickMcCarvel) January 12, 2014
Jeremy Abbott, Jason Brown and Max Aaron at the podium answering questions.
Only two of them will be Olympians tonight...
Who do you have?
Personally, it's hard to see Abbott and Brown not getting the nod after today.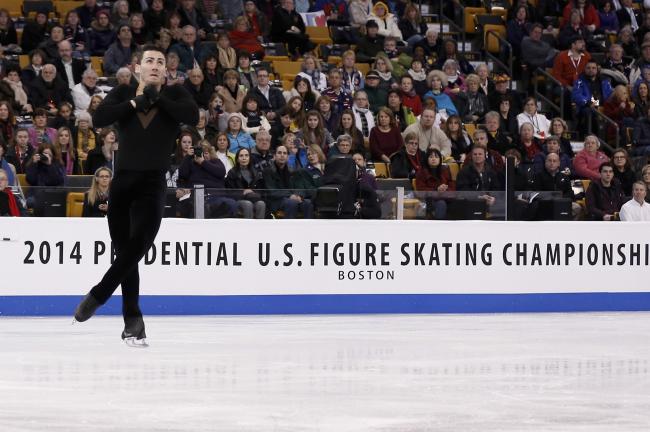 So we can pretty well assess the winners here today.
Jeremy Abbott clearly is a winner. He took home the title and will head to Sochi, barring something unheard of.
Jason Brown, who was a distant third entering today and had a dynamite performance, likely also has a great chance of qualifying for the Winter Games.
The big loser?
It would seem to be Max Aaron. The defending, coming into today, national champion slipped to third-place despite a great showing in the free skate.
He could be the man on the outside looking in when the selection is announced tonight.
With a score of 274.27 @jeremyabbottpcf grabs a U.S. title and sets a new record in the process! @jasonbskates takes 2nd. #Boston2014

— US Olympic Team (@USOlympic) January 12, 2014
Let's also throw that fact into the mix.
Not only did Jeremy Abbott win the nationals this weekend, but he did it in record-setting fashion.
That's the face of victory...
Jeremy Abbott...thrilled to win his fourth national title and a likely berth in Sochi.
Give a ton of credit to Jeremy Abbott.
He had to overcome a lot to capture the title today.
He had the big early lead...but Jason Brown won the crowd with his performance, and Abbott took it back from him with a solid, if not overly spectacular, free skate.
Who will be nominated to the Olympic Team? Find out at 7 p.m. ET on @icenetwork! #RoadToSochi

— U.S. Figure Skating (@USFigureSkating) January 12, 2014
Jeremy Abbott would seem to be a lock, but who will join him?
Jason Brown seems the most likely candidate after a big day today, but as always, expect the unexpected.
The mens program is now concluded, but we are now just receiving word about a major development on the ladies side.
Mirai Nagesu, who was left off the ladies team despite a third-place finish in Saturday's nationals, is appealing the decision of the Olympic Committee to leave her off the team in favor of Ashley Wagner.
That's a very interesting development, and sure to spark a great deal of talk in the coming days.
In the end, it was Jeremy Abbot's overwhelming edge built in the short program that carried him to this win today.
Abbott nailed a 99.86 in the short, but just 174.41 today.
Jason Brown sat more than 12 points behind him entering today (after an 87.47 in the short) but outscored Abbott with 182.61 today.
But it just wasn't enough and the deficit proved too great.
Congratulations to both guys for amazing performances.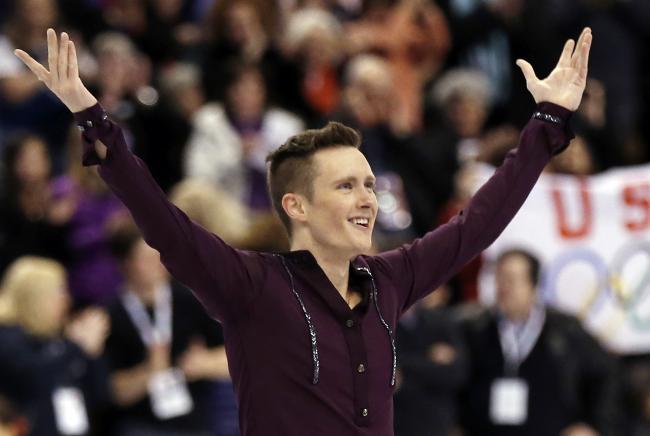 And here are the scores for Jeremy Abbott...
Free Skate: 174.41
Overall: 274.27...
And Jeremy Abbott has held off Jason Brown to win the U.S. Figure Skating Championships!!