Portland Trail Blazers' Ridiculously Hot 3-Point Shooting Is No Fluke
January 11, 2014

Gregory Shamus/Getty Images
The Portland Trail Blazers are perhaps the biggest surprise team in the NBA this season, having emerged as legitimate title contenders. A big part of the reason for their tremendous start is their ridiculously hot three-point shooting, and it is no fluke.
The Trail Blazers are leading the NBA with 10.3 treys per game, and they're knocking them down at a rate of 39.5 percent. Of the eight teams in history that have averaged at least 10 threes, only the 2005 Phoenix Suns have drained them more efficiently.
Part of the reason for Portland's success from deep is its superstar point guard Damian Lillard, who has canned a league-high 119 this season. Not to dismiss his impact or anything, but he's not the only reason; he's merely a significant part of it.
And that's why the Trail Blazers' three-point shooting is here to stay.
When you look at where they shoot, how they shoot and when they shoot, you realize this is a team that is built for the haul and this offense is for real.  
Where They Shoot
What makes them so impressive is that they don't depend on the three-point shot or any one shooter. Rather, they utilize the whole court and the whole team: That's why they are so efficient from deep.
They have five different players who make at least one three per game, and all of them shoot greater than 35 percent from long range. 
They have plenty of players who can score from deep, but it also helps that they don't just score from deep. 
Let's take a look at the shot chart. They are either average or above average from every area of the court.

NBA.com/STATS
In particular, take note of their use of the area from the infamous "long twos" or mid-range area—that space between the paint and the three-point line, the dreaded black hole of inefficiency where only really bad offenses shoot from. Would you believe that Portland is not only lights out from there but also leads the league in attempts from that spot?
And this is where things get counter-intuitive. The reason that the Blazers don't have to worry about their three-point shooting going away is because they're so good from everywhere else. Their offense isn't predicated upon gimmicks or enslaved to advanced stats; instead, they find good shots and take them where they get them.

Rocky Widner/Getty Images
That's not to say that the advanced stats don't support what they're doing—they absolutely do—but the Trail Blazers aren't trying to "cheat" the numbers by artificially taking bad shots disguised as good shots while ignoring good shots from "bad locations." 
Since advanced stats have come to rule, the long two has become mistreated. Yes, it makes perfect sense that you'd rather take a shot at the rim or a three-point shot in general than a long two. But that's provided everything else is equal.
Is a contested shot from the preferred ranges better than an uncontested shot from a lesser one?
A shot from mid-range in general might be a less efficient look than one from inside the restricted area, but an uncontested shot from a good spot-up shooter is preferable to a point guard trying to dunk on Roy Hibbert. Principles are good to know, but they should remain just principles, not laws.
Conversely, the more shots the Trail Blazers make from long two, the more honest that defenses have to be and guard them from there. The more they force defenses to do that, the more they create open threes. Ergo, they actually create three-point shots by making efficient two-point shots, even if they're from so-called "inefficient areas."
The reason that the Trail Blazers are the league's most efficient team is that they are the most prolific from mid-range. They aren't just the league's best three-point shooting team; they're the best shooting team period. And they're the best shooting team because they take good shots, regardless of where they are on the court.
How They Shoot
The player tracking data provided by NBA.com breaks down shots from outside 10 feet into two categories: pull-up jumpers and catch-and-shoot jumpers. Generally, the catch-and-shoot is preferable, with a league-wide average effective field-goal percentage of 50.3 percent compared to 39.4 percent on pull-ups.
Once again though, it's not about choosing one at the exclusion of the other. Lillard has the highest effective field-goal percentage on pull-ups of any player in the league with at least 100 attempts at 54.9 percent. You don't want to tell him not to do that because it's "inefficient."
Once again, Portland shows amazing balance.
Here are the effective field-goal percentages of every team in each category. The vertical bars indicate the league averages for the corresponding percentage.

Original Excel Chart
Now, here is how each team scores on each type.

Original Excel Chart
Only one team is above the league average in points and effective field-goal percentage on both types of jump shots. Any guesses who that might be?
When They Shoot
So what is the secret of Portland's unparalleled balance, and why isn't it going to disappear?
In a word: intelligence.
The Trail Blazers' offensive design is smart, and their players execute it smartly.
If you study the film for a while, it becomes evident that you could assign a "law" to their offense: The longer a player has the ball, the less likely he is to shoot it. And that's what makes the team so efficient.
The Trail Blazers are the anti-iso team. They aren't predicated on a player holding the ball, trying to do 11 fakes or beating back a defender trying to post him up before foisting up a contested shot.
To put things in perspective, per Synergy, they have run 203 isolation plays this season. Carmelo Anthony has run 182 by himself.

Jesse D. Garrabrant/Getty Images
It is remarkable how little time the ball spends in a Blazer's hand before he takes a shot, whether it's off the bounce or on a catch-and-shoot. The team puts more emphasis on whether the shooter is open than where he stands on the court, and that's what makes Portland so effective.
The most efficient half-court plays come from finding players off the pass, and that's what the Blazers do both frequently and well, ranking third in assists per game. When a Portland ball-handler gets crowded, he's not trying to make a shot. He's looking for the open shooter, and invariably he finds them.
Look at this footage of the Blazers' performance against the Charlotte Bobcats, when they buried 21 threes to tie the franchise record. In the 21 shots, I don't think the ball was in-hand for more than a total of 21 seconds.
I feel the urge to highlight this play. It got so bad the 'Cats were even biting on pump fakes from their own end of the court. This has to be the most hilarious dupe in NBA history. It's what happens when you make every shot in sight.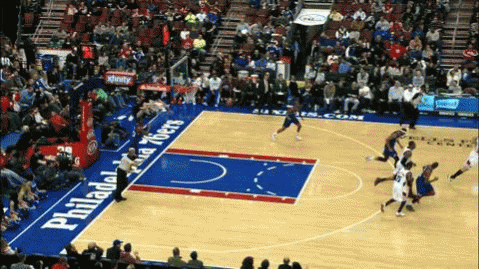 Original GIF
Moving on, let's zoom in on the broader point of how the Trail Blazers find the open shooter. When they do, he immediately takes the open shot.  
Note, these aren't intended to be "highlights" in the sense that they're amazing plays, but they are intended to show what is "typical" for Portland. They aren't amazing plays; they're ordinary, but their ordinariness is what makes the team amazing.
Watch how Lillard kicks it out with pretty much the entire opposing team converging on him and then his teammates use the extra pass to work the ball out to the open man.
Original GIF
And it's not just dependent on Lillard driving either. Watch here as LaMarcus Aldridge gets the offensive rebound and finds Mo Williams for the easy three.
Original GIF
What's remarkable isn't only how many threes that the Blazers knocked down but how effortless they were because they were open. Portland's use of ball movement, along with quick, intelligent decisions, leads to a ton of high-efficiency shots. It's not reliant on the abilities or success of any one play or player.
They can score with anyone, and from anywhere, and that's why their three-point shooting is going to stay. With historic teams that have had high three-point success, such as the 2013 New York Knicks, the three was "what they did," so if you focused on that and shut it down, then you shut them down.
That's why when the Knicks played the Indiana Pacers—the best three-point defensive team in the league in the playoffs—their three disappeared. They didn't have the balance to score somewhere else when their bombs didn't fall.
A balanced team can make you pay if you focus too much on any one area. Think of the San Antonio Spurs, whose playbook the Trail Blazers have taken some pages from (although head coach Terry Stotts has never worked with Gregg Popovich). 
With Portland, the ball just pops. You might think, isn't that what good offenses just do? And that's precisely the point.