LeBron James Shows Some Nasty in Emotional Loss to Brooklyn Nets
January 11, 2014

Getty Images
BROOKLYN — By this point, LeBron James seemed a bit too exhausted for anger.
Irritation, maybe.
Sarcasm, surely.
Reporters were crowding him in the corner, even more closely than the Nets did Friday, before some of the latter fell backwards. One of those reporters wanted to know how it felt to watch the second overtime from the sidelines, after fouling out for just the sixth time in his career.
"Huh?" James asked.
The question was repeated, if with a bit less confidence.
"It was great," James snapped.

Joe Camporeale-USA TODAY Sports
It wasn't, of course, and neither was the Heat's two-game trip to New York, one that left them 0-5 against the second through fifth place teams in the sad sack Atlantic Division. After a 102-92 loss to the Knicks on Thursday, the Heat fell in two overtimes, 104-95, to the Nets on Friday. And while they were shorthanded for both, with Shane Battier (quad) and Mario Chalmers (Achilles) sitting both games, and Dwyane Wade resting his sore knee against the Nets, they can't employ that as an excuse.
Not with Tyson Chandler and Pablo Prigioni out for the Knicks, and Deron Williams (as well as out-for-the-season Brook Lopez) missing for the Nets.
No, these losses were earned, and there wasn't much that was especially encouraging on either evening. Yes, the Heat decided to play some defense late Friday, holding the Nets to 17 points in the 17 minutes of the fourth quarter and first overtime combined, but that came after they let Joe Johnson score 22 points in the first quarter, and allowed other Nets to get some rhythm with unimpeded drives and uncontested shots.
And yes, Norris Cole—in Chalmers' absence—again demonstrated that he can handle more minutes, and the moment. This time recognizing that Chris Bosh was covered by Kevin Garnett, and drilling an 18-footer to tie the first overtime with 3.3 seconds left.
But by then, James (36 points, seven rebounds) was just an observer, and the Heat couldn't sustain their spirit in the second overtime, not with Ray Allen (2-for-14 overall) missing or passing on open shots, not with Bosh (nine field goal attempts in 44 minutes) oddly excised from the offense and not with the medical miracle Shaun Livingston playing brilliantly for Brooklyn even as he crossed his 50th minute.
But James had made his mark in the 49 minutes and 22 seconds he played, before he was no longer allowed to play any longer.
He made it with his mood.
The guy in the "King James' nickname jersey was ornery Friday, in a way we haven't often seen him this season, and certainly not in games when he isn't sharing the court with his browbeaten little brother, Chalmers.
Early on, James was clearly peeved at his teammates, once most obviously on a possession he was open under the basket, and never got a touch.
"I thought I was a little frustrated in the first half," James said. "I apologized to my teammates at halftime, and told them that my frustration and my body language was all wrong. So I changed that in the second half, tried to be aggressive, tried to put us in position to win, and we just came up short."
He had 16 points at halftime, on nine shots. He scored seven in the third quarter, on three shots. He scored 13 in the fourth quarter, on nine shots. More importantly, he picked up his energy on the defensive end, energy that has been intermittent at best in recent contests.
He started directing his anger to other parties.
There was the fan in the front row that he strongly advised to sit down, the sort of interaction that typically stokes his fire on the road.
There were the officials.
And there were the Nets.
Actually, the officials and the Nets raised his ire together.
James' first and third fouls were on the defensive end, while the second was in pursuit of a loose ball. But his fourth and fifth, picked up in the fourth quarter, were both offensive fouls.
The fourth occurred with 8:37 left in regulation. James, storming to the Brooklyn basket in transition, appeared to fend off Andrei Kirilenko with his left arm, before another Net, Mirza Teletovic, wrapped his arms around James near the rim.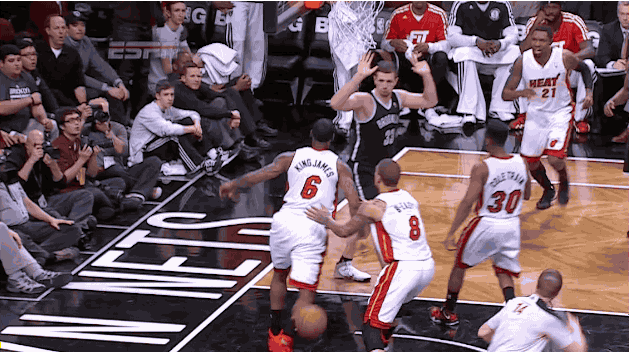 Bleacher Report
"He went around the neck, that was my take," James said. "That's not a basketball play. No, I didn't. I actually didn't. And then when I heard the P.A. say personal foul on LeBron and then flagrant foul on Tele, uh, Televich, or however you say his first name, I was surprised, because I never heard the first whistle. I had no idea that Kirilenko was even by me. All I've seen was I was attacking the guy down the floor."
It looked like James might attack Tele, or Televich, or Teletovic, or whatever he called him, but he took a quick step back, and Michael Beasley and Roger Mason, Jr., stepped in to restrain him and avoid an international incident.
The fifth foul occurred with 4:59 left in regulation.
Legit?
"Nah, I thought (Andrei) Kirilenko flopped a few times, to be honest about it," James said. "He flopped a few times but he got the call."

Joe Camporeale-USA TODAY Sports
After each of these incidents, James got even more mad, until he eventually got even, on a series of circus layups. This channeling of frustration was a bit out of the box for James. It's been Wade who has frequently used anger as fuel. James prefers to soar with a smile, but this time, was ferocious with a frown.
Then it all ended for him with 36 seconds left in the first overtime—on another offensive foul, this one against Livingston.
"I thought the last one that fouled me out, could have been a charge for sure, but he kind of put his hands on me as I drove, and that got him off balance, and then he was able to get the call," James said.
Livingston said he was just trying to make James "uncomfortable."
"Pull-up, shoot the three, he can do it all," Livingston said. "But in that situation, he would've been going to the rim, so just trying to bait him a little bit into driving and just try to beat him to the spot. If they'd called a block, it would've been good D either way."
They didn't.
Cole did hit the tying jumper.
But, without James, it was good night, Miami, in the second overtime.
"You never see LeBron foul out," said long-time rival Paul Pierce, who missed potential game-winners for Brooklyn at the end of regulation and the first overtime. "I can't even remember – I think the last time I seen him foul out was in a Boston playoff game actually, and that was three or four years ago."
It actually happened last postseason, too.
That was in Game 4 of the Eastern Conference Finals against Indiana.
That was of considerably more import.
And so, after reporters left late Friday, and he dug into some macaroni and cheese, James' anger had significantly subsided.
"You win some, you lose some," he said, rising to his feet. "You live to fight another day. I'm gonna get my butt in the shower."
To wash the trip away.