UFC Fight Night 35 Results: 10 Burning Questions Heading into UFC on Fox 10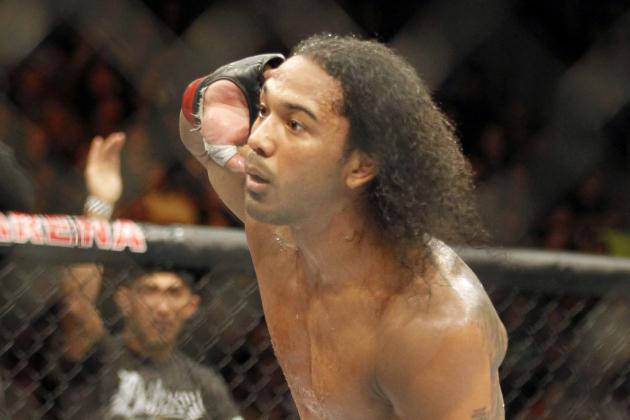 Joe Nicholson-USA TODAY Sports

UFC Fight Night 35 has come to a close. The results are as follows:
Main Card on Fox Sports 1
Luke Rockhold def. Costas Philippou, TKO (Round 1, 2:31)
Brad Tavares def. Lorenz Larkin, unanimous decision (29-28, 29-28, 29-28)
T.J. Dillashaw def. Mike Easton, unanimous decision (30-27, 30-27, 30-27)
Yoel Romero def. Derek Brunson, TKO (Round 3, 3:23)
John Moraga def. Dustin Ortiz, split decision (29-28, 28-29, 29-28)
Cole Miller def. Sam Sicilia, submission (Round 2, 1:57)
Prelims on Fox Sports 1
Ramsey Nijem def. Justin Edwards, unanimous decision (29-29, 30-27, 29-28)
Elias Silverio def. Isaac Vallie-Flagg, unanimous decision (29-27, 29-27, 29-27)
Trevor Smith def. Brian Houston, split decision (29-28, 28-29, 29-28)
Louis Smolka def. Alptekin Ozkilic, unanimous decision (29-28, 29-28, 29-28)
Online Prelims
Vinc Pichel def. Garett Whiteley, unanimous decision (30-27, 30-27, 30-27)
Beneil Dariush def. Charlie Brenneman, submission (Round 1, 1:45)
Next up is UFC on Fox 10. Headlined by the critical lightweight bout between Josh Thomson and Benson Henderson, the card is an interesting experiment that seems to try to test how many fans will tune in for a fairly weak card.
Still, there is plenty to talk about here. So what should you be wondering about in the next couple of weeks? Find out here!
Begin Slideshow

»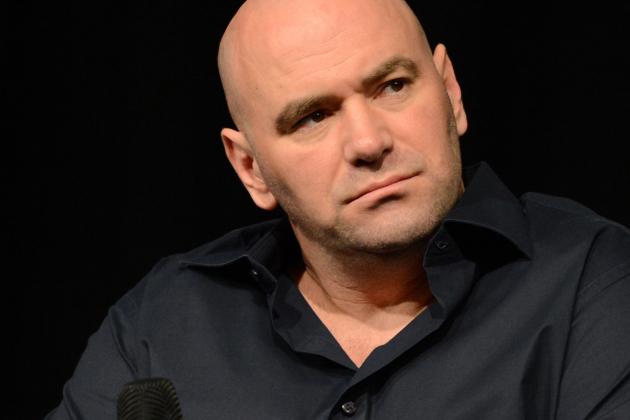 Jayne Kamin-Oncea-USA TODAY Spor
After strong buys for UFC 168, the UFC is hoping to follow that up with strong ratings on Fox.
I touched on this in my "Burning Questions Heading into 2014" article. The important bit is this:
"UFC on Fox 9 may have marked the end of an era for the UFC. The super-stacked card could be the last great event on free TV in America.

UFC on Fox 10 represents a huge drop-off in terms of quality between network TV events, with four title-relevant bouts being replaced by four 'fun' fights. Similarly, the upcoming Fox Sports 1 event—headlined by Luke Rockhold vs. Costa Philippou at UFC Fight Night 35—lacks the intrigue and importance of cards headlined by Glover Teixeira vs. Ryan Bader, Vitor Belfort vs. Dan Henderson and Lyoto Machida vs. Mark Munoz."
There are a few factors at play with this UFC on Fox card.
First of all is the lack of recognizable names. Ben Henderson vs. Josh Thomson is a big fight for the lightweight division, but it lacks mainstream appeal. The biggest UFC on Fox cards after the first two featured BJ Penn and Quinton "Rampage" Jackson. Other cards, even with championship headlines, have struggled to put up big numbers.
Second, the UFC is getting a lot of help from Fox in terms of advertising. If you watched the NFL playoffs last week, you saw frequent plugging for this card.
Yhe third factor is the publicity following UFC 168. This is the first major card following UFC 168, which reportedly hit more than one million buys and had all of that less-than-flattering publicity regarding Anderson Silva's broken leg.
How will those three things translate into ratings?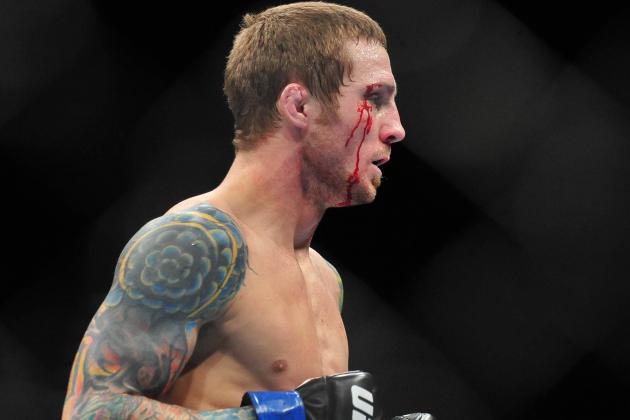 Gary A. Vasquez-USA TODAY Sports
Eddie Wineland suffered a brutal loss to Renan Barao. How will he bounce back from that?
In a telling display of where the UFC bantamweight division is at, Eddie Wineland has gone from fighting for the belt to the preliminary leg of a relatively weak TV card. Granted, it was telling that he got a title shot in the first place. He was 2-2 in his last four fights, losing to Urijah Faber and Joseph Benavidez before beating two now-flyweights in Scott Jorgensen and Brad Pickett...
But whatever. Focus, man!
Wineland is a strong, savvy veteran with powerful striking. But nobody has ever beaten him the way Renan Barao did. There's always a question about how a fighter will bounce back from his first big knockout loss, and the one Wineland suffered was particularly brutal.
He is a legitimate Top 10 bantamweight, and he should be a big favorite over Yves Jabouin. Will he look the part? Or will the memories of that spin kick to the face make him a little bit tentative?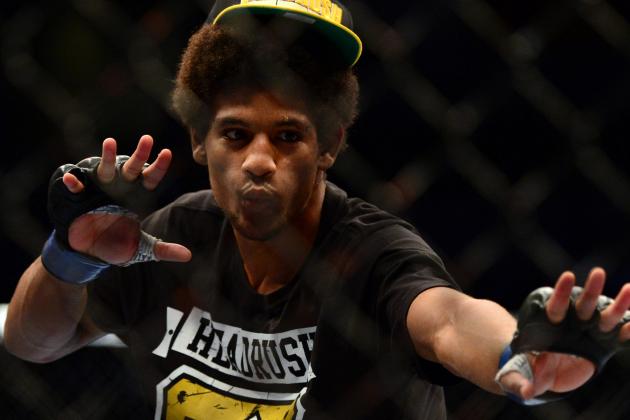 Kyle Terada-USA TODAY Sports
Alex Caceres' rise since TUF12 is downright surprising, and a bantamweight title shot may be in his future.
I wrote about Alex Caceres before his scrapped fight with Mitch Gagnon at UFC Fight Night 33. Everything I said then applies now.
Caceres is underrated and good everywhere in the cage and would be undefeated in his six fights in the bantamweight division if it wasn't for a couple of oddities. He has a great crew around him at the MMA Lab and a top-notch coach in John Crouch. He is an emphatic win away from being on the short list of fighters in line for a bantamweight title shot.
Will he get it here?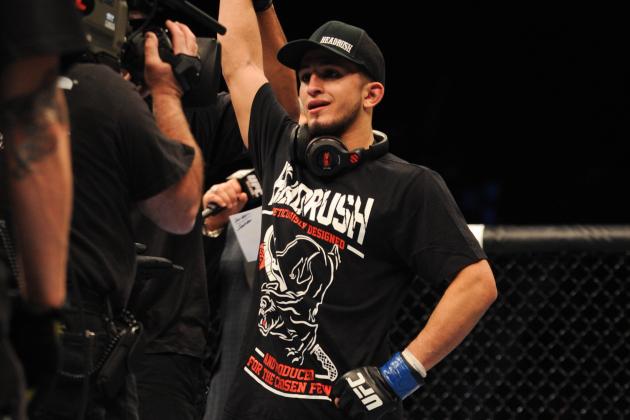 Stephen R. Sylvanie-USA TODAY Sp
Sergio Pettis is one of the UFC's hottest prospects. How has he developed since fighting Will Campuzano?
Sergio Pettis was the hottest flyweight prospect in MMA not too long ago, and he had a decent UFC debut against Will Campuzano back at UFC 167. When your last name is Pettis, though, fans aren't expecting you to have a "decent" fight.
If you hit up YouTube and check out any of Pettis' past fights, you'll quickly see that he has all of the skills to succeed in the UFC in any area of the cage. He'll need all those skills if he wants to beat Alex Caceres. Caceres has been around long enough and had enough success that anything less than Pettis' best simply won't be enough to earn the win.
Was Pettis' good-but-not-great performance against Campuzano just "Octagon jitters?" Or is he getting thrown into the deep end very early in his UFC career?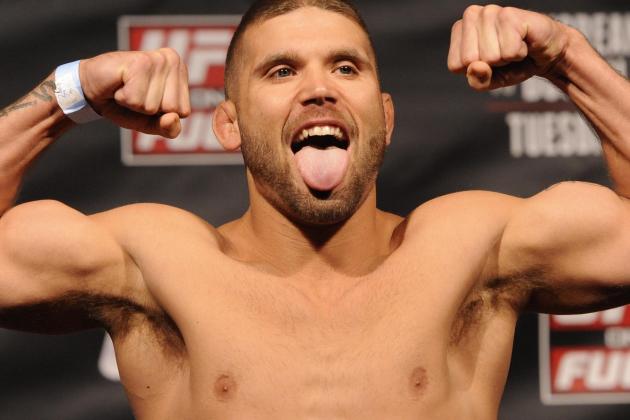 Rafael Suanes-USA TODAY Sports
After a career spent in the middle of the lightweight pack, Jeremy Stephens is suddenly a factor at featherweight.
Jeremy Stephens has put on some good fights in the past, but he has never been relevant to the actual sport. Quite frankly, he was a lightweight Leonard Garcia, wooing UFC brass with his "toughness" and "heart" to the point where the promotion sacrificed its claim to being a legitimate sporting organization by keeping him around. Unlike Garcia, though, Stephens had out-of-the-cage baggage to go along with his penchant for losing.
He has cleaned up his act in the cage since dropping to featherweight. No way to tell on out-of-the-cage stuff quite yet, though.
His 145-pound debut saw him make Estevan Payan regret ever putting on mitts. His second fight, against The Ultimate Fighter: Brazil winner Rony "Jason" Bezerra, ended with a 40-second knockout.
Now on his first winning streak since 2011, Stephens is finally starting to creep toward title contention. He is set to face off with 10th-ranked Darren Elkins. If Stephens wins in emphatic fashion, the entire division needs to start watching their backs.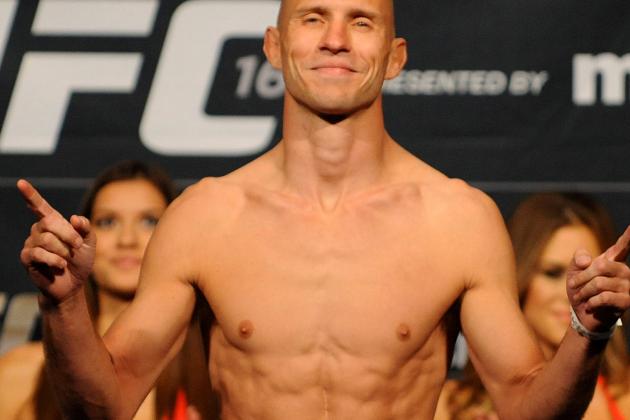 Stephen R. Sylvanie-USA TODAY Sp
After re-establishing himself as a top lightweight, Donald Cerrone seems to be taking a step down in competition.
There's a bit of talk lately about Urijah Faber and how he is fitting five fights into 11 months' time. The simple ability to do that is impressive, but an important thing to remember is that the UFC wants him to fight that much.
Obviously, Zuffa did that in order to set up another (deserved) title shot for Faber as quickly as possible...so what are they planning with Donald Cerrone?
Cerrone also had a ridiculously busy stretch not too long ago, fighting five times between February 2011 and December 2011. He slowed down in 2012 but seems to be back to fighting as frequently as possible, with four bouts in 2013 and one more coming up at UFC on Fox 10.
His opponent is Adriano Martins. Adriano who? Exactly.
Don't let Martins' long record fool you into thinking the UFC is seeing something we don't. When the promotion thinks it's onto something with a young, unknown fighter, it doesn't toss him in against a Top 10 fighter with finishing power everywhere in the cage.
At best, the UFC is looking to keep "Cowboy" as active as possible. At worst, it is outright looking to feed him.
Either way...why? Only time will tell.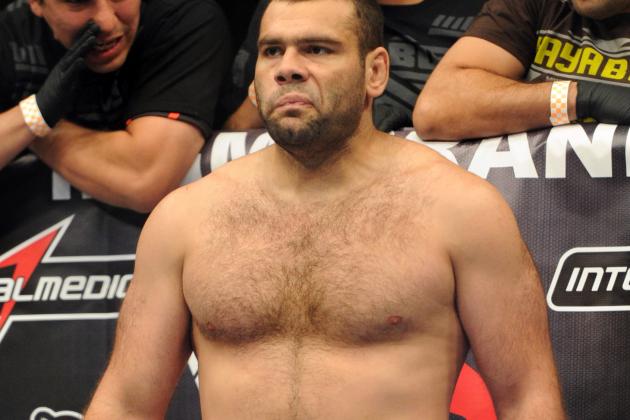 Jayne Kamin-Oncea-USA TODAY Spor
Gabriel Gonzaga has sneakily climbed back into heavyweight relevance.
We all remember Gabriel Gonzaga knocking out Mirko "Cro Cop" Filipovic. Not nearly as many remember that he is actually on a 4-1 run in the UFC.
His four wins, over Ednaldo Oliveira, Ben Rothwell, Dave Herman and Shawn Jordan, were all emphatic stoppages. His one loss was the infamous case of Travis Browne elbowing the back of his head so hard it made the referee forget what "disqualify" means.
Still, Gonzaga is regarded as a gatekeeper. Nothing more, nothing less.
Some of that, naturally, is for good reason. The biggest name in his win column is Cro Cop, but after that...hmm...I guess Rothwell? His losses, meanwhile, have come to the likes of Junior dos Santos, Shane Carwin, Randy Couture and other folks you'll actually recognize.
Wins are wins, though, and Gonzaga keeps getting them. If he steps over Stipe Miocic, it's hard to deny that he should face a Top 10 opponent.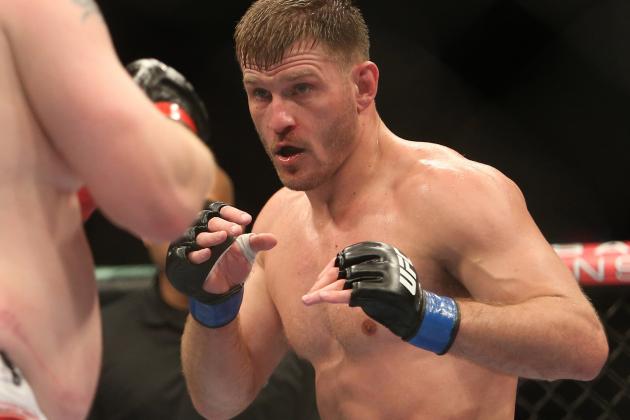 Tom Szczerbowski-USA TODAY Sport

Gabriel Gonzaga isn't the only guy on a 4-1 run in the heavyweight division at the moment. Stipe Miocic shares that honor, and unlike Gonzaga, he actually has a win over a Top 10 heavyweight from the past five years (or, at least, an on-again, off-again Top 10 heavyweight).
Miocic, as you vaguely recall (I'm pretty sure a lot of us forgot most of the fight), watched Roy Nelson do his best 2006 Clay Guida impersonation for two minutes and then spent the next 13 sticking and moving as Nelson wheezed from the early action. It was effective and ugly, but, one more time, a win is a win.
The list of people who have beaten Roy Nelson in the UFC is an impressive one. Frank Mir, Fabricio Werdum, Junior dos Santos and Daniel Cormier represent some of the best heavyweights in MMA over the past few years. That's some good company to be in.
If Miocic can climb past two of the heavyweight division's entrenched gatekeepers, it might just mean we have a great fighter in the making.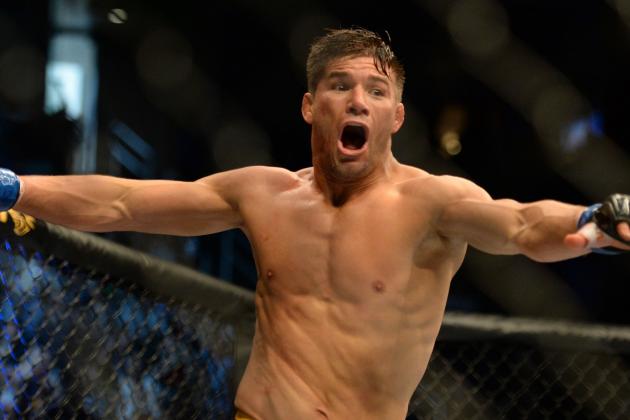 Kyle Terada-USA TODAY Sports
Josh Thomson needs to get through Ben Henderson to preserve his sudden stardom.
Josh Thomson is in a great spot right now.
After being forgotten in the shuffle of the dissolution of Strikeforce, his presence seemed like an afterthought, and his place in the division seemed to be that of a stepping stone. It looked like there was no way that Nate Diaz, the guy who tossed around Donald Cerrone and Jim Miller the way Hulk did to Loki at the end of The Avengers, would lose to this relic of a fighter.
But Thomson didn't just trample Diaz, a persistent fixture in the lightweight division's Top Five. In a lot of ways, he rewrote his entire legacy.
No longer was he a medium-sized fish in a small pond. No longer was he the lightweight equivalent of the Tennessee Titans.
He's a legitimate title contender, damn it. And he wants to stay that way.
Will he be able to prolong that relevance against an all-time great lightweight in Ben Henderson?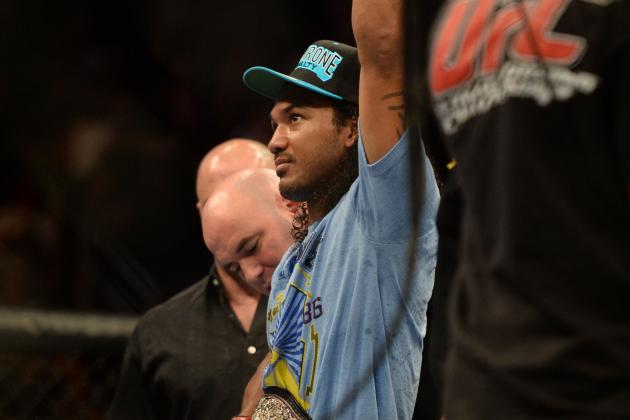 Kyle Terada-USA TODAY Sports
The UFC really doesn't like Ben Henderson, but it's hard to deny his place at the top of the division.
The UFC hates Ben Henderson. It's a stupid, irrational hatred...but it's there.
The promotion consistently undercut him to the media during his title reign. First because he smacked around Dana White's man crush, Frankie Edgar. Then because he won the shouldn't-have-even-happened rematch. Then because he beat the substantially easier-to-market Nate Diaz in terribly lopsided fashion. Then because he handily out-landed Gilbert Melendez, whom the UFC was hoping to use as a spearhead for its push into Mexico (which the UFC then tried to actively build up as "controversial").
That hatred is why the UFC breathed a sigh of relief when Anthony Pettis got Henderson to tap to a fluke armbar.
It's why it isn't going to give Henderson a second crack at the belt.
The problem, of course, is that Henderson is still really, really good at this whole MMA thing. Better, I'd wager, than any other lightweight (Pettis not withstanding).
A win over Thomson, who was supposed to fight Pettis in December, would theoretically line him up for a third crack at the belt. The key word, of course, is "theoretically." The reality is that the UFC will cross its fingers and hope he loses so it can drum up a fresh contender, a la Jon Fitch circa 2011-2012.
Will Henderson lose to Thomson and fade into the middle of a swirling lightweight pack as the UFC is hoping, or will he stick around long enough to make things awkward?