Every week, the NFL continues to prove that it is unpredictable. With eight evenly matched teams facing off in the divisional round of the playoffs, picking winners should be even more challenging.
The opening round of the postseason saw three road teams earn wins while the other blew a 28-point lead. Therefore, you cannot assume a higher seed is going to have the advantage simply because it is playing at home.
Still, a full breakdown of each matchup helps figure out which side will come out victorious. Here is a look at each game of the weekend with predictions for the entire slate.
Note: All spread info courtesy of Vegas Insider.
No. 1 Seattle Seahawks vs. No. 6 New Orleans Saints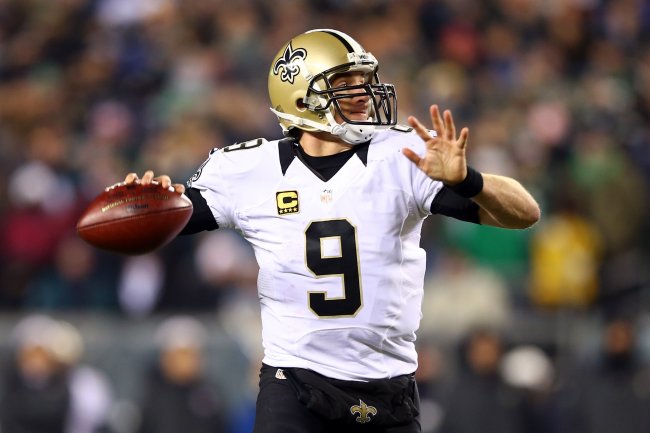 Elsa/Getty Images
When: Saturday, Jan. 11 at 4:35 p.m. ET
Where: CenturyLink Field, Seattle
Watch: Fox
Spread: SEA -8
When these teams last played, the Saints were embarrassed by a score of 34-7. The offense was only able to muster 188 yards from scrimmage, and it allowed as many touchdowns as it scored.
However, this has not discouraged New Orleans heading into the divisional round. On NewOrleansSaints.com, running back Mark Ingram said:
It's not too often you get a second chance. We're all excited about it.

After the game (in December), all of us were hoping that we'd have a chance to go back up there and see them again, and we got what we asked for. So we have to prepare hard and go out there and play our best game, because Seattle is a great team.
While confidence is a good thing, it will still take more than that to win, and the matchup does not suit the Saints.
New Orleans excels at passing the ball, but Drew Brees will have to throw into the No. 1 pass defense in the NFL led by three Pro Bowlers in the secondary. On the other side of the ball, the Seahawks should be able to run consistently up and down the field.
This game should be closer than the regular-season battle, but the Saints will not be able to pull out a win.
Prediction: Seahawks 27, Saints 14
No. 2 New England Patriots vs. No. 4 Indianapolis Colts
When: Saturday, Jan. 11 at 8:15 p.m. ET
Where: Gillette Stadium, Foxboro, Mass.
Watch: CBS
Spread: NE -7
The Patriots went 8-0 at home this season, but as the Cincinnati Bengals found out, that does not mean much. Bleacher Report's Russell Baxter points out that there are more important things than location:
#NFL playoffs: 3 wins by road teams this weekend and 1-point win by a home team. Further proof stadiums don't tackle, throw, run or catch

— Russell S. Baxter (@BaxFootballGuru) January 6, 2014
While New England has one of the better offenses in the NFL, the unit could have a hard time moving the football against a defense that does a great job of pressing in man coverage.
This will limit the opportunities for undersized targets like Danny Amendola and Julian Edelman, two players who have been very important to Tom Brady's success this season. Without Rob Gronkowski, the Patriots will have a hard time moving the ball through the air.
Meanwhile, the Colts offense has a lot of confidence after Andrew Luck led the unit to 45 points in a comeback effort against the Kansas City Chiefs. This has helped him extend this impressive statistic, courtesy of ESPN's Trey Wingo:
Reminder: over the last two years....no QB has more 4th quarter/OT comebacks than Andrew Luck.

— trey wingo (@wingoz) January 5, 2014
If Indianapolis is close at the end of the game, the second-year quarterback should be able to lead his team to victory on the road.
Prediction: Colts 28, Patriots 27
No. 2 Carolina Panthers vs. No. 5 San Francisco 49ers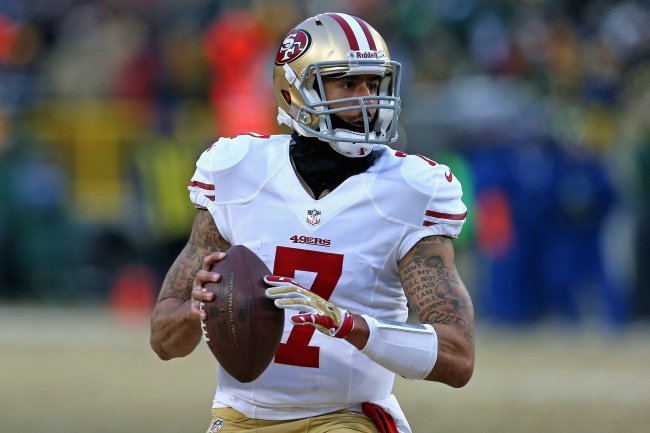 Jonathan Daniel/Getty Images
When: Sunday, Jan. 12 at 1:05 p.m. ET
Where: Bank of America Stadium, Charlotte, N.C.
Watch: Fox
Spread: SF -1
Colin Kaepernick has the tools to be a dominant quarterback in the NFL. However, he has not fared well against the teams still alive in the playoffs, as noted by ESPN Stats and Info:
Kaepernick went 1-4 this season against teams currently in the playoffs. He posted his 5 worst QBRs in those games pic.twitter.com/tOhWyJpIyY

— ESPN Stats & Info (@ESPNStatsInfo) January 9, 2014
The good news is he is coming off an excellent game against the Green Bay Packers where he rushed for a season-high 98 yards. This ability to run the ball will help against a Panthers defensive line that knows how to get after the quarterback.
Additionally, Kaepernick has fared better since the return of Michael Crabtree. If he can utilize his legs and find his best receiver, he could be in line for a big game.
On the other hand, Cam Newton also struggled when these two teams played in Week 10. He completed only half of his passes and had one interception with no touchdowns. With Steve Smith still less than 100 percent, it might be tough for the Panthers to score.
This should be the lowest-scoring matchup of the weekend, but the 49ers will have what it takes to pull out a victory.
Prediction: 49ers 16, Panthers 13
No. 1 Denver Broncos vs. No. 6 San Diego Chargers
When: Sunday, Jan. 12 at 4:40 p.m. ET
Where: Sports Authority Field at Mile High, Denver
Watch: CBS
Spread: DEN -9.5
The Chargers are one of the hottest teams in the league with five wins in a row, including one on the road over the Denver Broncos. This should give the squad plenty of confidence heading into the divisional matchup, although winning again will be tough:
Only 3 times has a road team defeated a No. 1 seed both in regular season + playoffs. SD looking to become 4th team. pic.twitter.com/gI3xcHU3Qx

— NFL on ESPN (@ESPNNFL) January 7, 2014
Although San Diego knows exactly what it will take to slow down Peyton Manning and come away with a win, the squad played almost a perfect game in the previous win, and this will be difficult to replicate.
The key for the Broncos will be to do a better job of getting off the field on third downs. The Chargers led the NFL in third-down conversions this season, which helped them hold possession for over 38 minutes the last time they played.
If Denver can force punts and get the offense back onto the field, Manning should take care of the rest as he leads the highest-scoring offense in the NFL to a home win.
Prediction: Broncos 31, Chargers 21
Follow Rob Goldberg on Twitter for the latest breaking news and analysis.