Dissecting the 2009 Bills Offense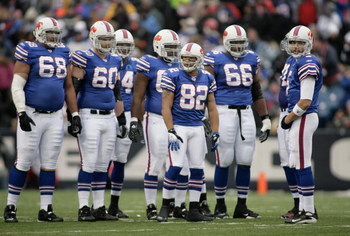 For a human body to achieve any goal, all of its parts need to work together properly. The same thing can be said for professional sports teams.
Each player has his own special role, yet cannot function correctly without the help of his teammates.
When it comes to the Buffalo Bills, it's pretty easy to discern which body part a member represents. In dissecting the Buffalo Bills 2009 offense, we'll see how the units need to work for the whole to succeed.
The Heart: Turk Schonert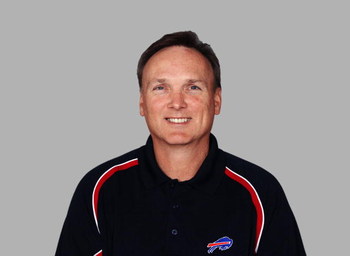 At the heart of every offense is the offensive coordinator. For the Buffalo Bills, their heart happens to be Turk Schonert, a former quarterback of the Cincinnati Bengals and Atlanta Falcons.
Schonert and the Bills current quarterback, Trent Edwards, are former Stanford signal callers.
Last year, there was a whirlwind of talk about Schonert's desire to open up the playbook for Edwards. He also wanted to work with new formations and spread the ball around to multiple receivers.
The hopes of Bills fans everywhere were high. Unfortunately, after a fast start, the team finished 7-9 on the season for the third time in a row and failed to show much, if any, explosiveness on offense.
Plays were predictable. First down, hand off to Marshawn Lynch. Second down, hand off to Marshawn Lynch. Third down, short pass to whoever was open. Fourth down, punt.
This year, there's more talk of Schonert adding some much needed push to the team. The no-huddle offense is supposedly going to be implemented and Trent Edwards, with his uncanny ability to read the defense, may be allowed to change certain plays at the line of scrimmage.
If Schonert sticks to these plans while throwing in some new, less predictable plays, the Bills offense may be able to overcome their woes and jump into being a serious contender.
If the heart fails, however, the rest of the body, er....team, fails as well.
The Head: Trent Edwards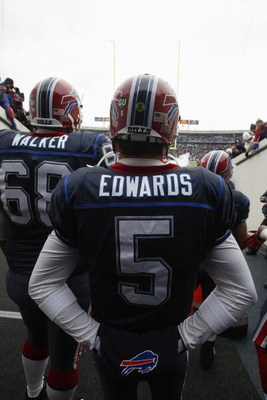 The head is one of the most important parts of the body since it holds and protects the information center, also known as the brain.
Quarterback Trent Edwards serves as both the head and brain for the Buffalo Bills.
In only his second full year as a starter, Edwards has a lot resting on his shoulders. The Bills franchise has been looking for a quarterback since Jim Kelly retired and a big question mark remains next to his name as to whether or not Edwards can fill that role.
Edwards is known for his accuracy, pocket poise, and his ability to read defenses. However, to succeed in this league, he has to do a few things.
First and most importantly, he needs to stay healthy. Protecting his own head is crucial.
Edwards is known for being extremely fragile, and no matter how much weight he adds, there's still reason to worry.
Sorry folks, the Bills will go nowhere with their backups.
Secondly, he needs to establish himself as the true leader of the team. They cannot operate without their head. They need him as much as he needs them.
Building that kind of relationship will help the players develop a certain respect for Edwards on and off the field. They will listen to the things he has to say and have no problem taking directions from him.
Finally, Edwards needs to learn to control his emotions. Often, after incompletions or interceptions, Edwards seems to lose his head. This negative energy usually carries over to the next few plays, making the situation worse than before.
If he wishes to become the quarterback everyone wants him to be, then he has to learn to let his disappointment/anger/frustration go and move on. Every play is different and he has to treat them as such.
Trent Edwards has the physical assets and talent to be a great quarterback.
For 2009, he has to overcome his mental obstacles. If he can do this, there may be a contract extension in his near future.
The Hands: Lee Evans and Terrell Owens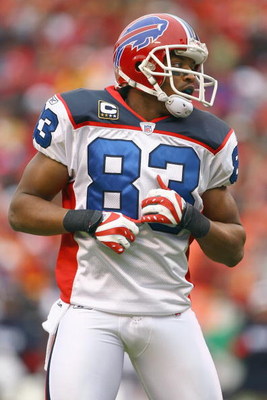 The hands hold things.
Lee Evans and Terrell Owens or "Ovens", as I like to call them from a previous article, hold, or rather catch, footballs.
It's no secret that veteran Lee Evans is pushing to become an elite wide receiver in this league. The only reason he has not become one as of yet has been due to the lack of other receiving threats on the team.
During the 2009 offseason, the Bills front office went shopping. They skipped the local jeweler and headed straight for the Tiffany's of pro football.
Thus, the T.O. era of the Buffalo Bills was born.
Currently, the Bills boast one of the best wide receiver tandems in the NFL. Not to mention the fact that slot receiver Josh Reed and reserves James Hardy and Stevie Johnson aren't too shabby either.
Since teams will have to send two men to cover Owens, Evans will be able to enjoy the luxury of being open more often. With his speed, it won't take too much of an effort to blow past defenders and into the end zone.
And if Evans can't get open, no problem. Owens is known for making spectacular plays, as he already has a few under his belt in the first few weeks of OTA's.
The only real problem facing this unit is the ego. Lee Evans has already declared himself the No. 1 receiver on the team. T.O. is an egomaniac, for better or for worse, and needs to get the ball frequently.
If these two star players cannot work together like any good pair of hands do, major problems will arise.
But, if they can be selfless individuals who unite for the greater good of the team, there won't be many cornerbacks in the league who can cover them with much success.
The Feet: Marshawn Lynch and Freddy Jackson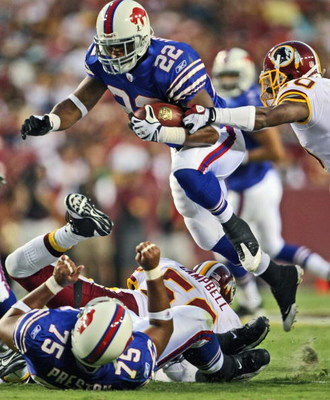 Without the feet, people cannot move from place to place. The same goes for football teams.
The running backs, or the feet of the group, get the chains moving on the ground.
Another solid unit for the Bills, the running backs should be able to take off this year.
With the addition of Dominic Rhodes to pick up some slack after Marshawn Lynch's three-game suspension, Buffalo now has one of the best running back trios in pro football.
In 2008, even with an overrated offensive line, the Bills running backs were fairly successful. This year, Lynch has told the public that he added more weight to his frame but has not lost a step as far as speed is concerned.
The Beast just got bigger. And hopefully better, if that's possible.
Freddy "Action" Jackson, who to many plays just as well as Lynch, was rewarded with a contract extension.
Already quick and hard to tackle, Jackson's play should only get better as he tries to show the front office they made the right decision in re-signing him.
Finally, the Bills made a sound choice in signing former Colt Dominic Rhodes. Last year, while sharing starting duties with Joseph Addai, he collected a total of nine touchdowns, three through the air and six rushing.
Add his experience, and he brings not only points, but also leadership to the table.
If Lynch can stay out of trouble the rest of the season, this unit could be one of the most productive for the team. If he can't, it shouldn't suffer too much.
Jackson and Rhodes have enough talent to lead this team to the end zone.
Since the addition of T.O., teams can no longer stack eight men in the box against the backs, allowing for more holes to be opened up.
If the offensive line can gel, this unit will be unstoppable.
The Rear: Tight Ends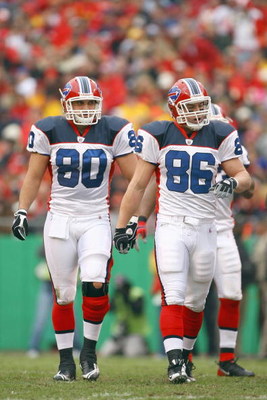 Sorry guys, I had to throw this one in here.
Like a nice rear end, the tight ends stick out a bit.
Usually a little bigger than most receivers, they can block players and catch footballs.
This year, the Buffalo Bills have assigned Shawn Nelson, Derek Fine, and Derek Schouman to this role.
Buffalo hasn't had any real talent at this position since Jay Riemersma, who played for the Bills from 1996-2002.
Dererk Fine was drafted in the fourth round of the 2008 draft, but didn't see any action until Week Eight due to injury.
Nonetheless, he was able to establish himself as a productive blocking tight end while also making some pretty impressive catches.
He should be a starter, at least for the first part of the season.
During this year's draft, the Bills were able to snatch up Shawn Nelson, of Southern Miss, in the fourth round.
Considered to be the steal of the draft, Nelson has great hands and amassed 16 touchdowns in his college career. He could make a push for starter by mid-season.
Last but never least is Derek Schouman. He's smart and has decent blocking skills. As far as depth goes, he is a safe player who can sometimes be the target on short passing plays.
This year, everyone will be keeping an eye on the tight ends. If they continue to progress and learn the offense, it adds just a few more weapons for Edwards to utilize.
The Bills may have just gone from having no talent at tight end to having at least two viable threats at the position. What more could you ask for?
The Spine: The Offensive Line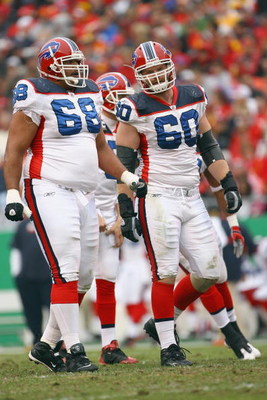 Finally, the unit that holds the entire structure together is the spine.
For the Bills, their offensive line bends, but hopefully this season, won't break.
Since trading star left tackle Jason Peters to the Eagles, the offensive line for the Bills has undergone major reconstruction.
It's still a huge question mark as to which positions players will play heading into the season, but some educated guesses can be made.
First, the Bills acquired a solid center in Geoff Hangartner, formerly of the Panthers.
Carolina fans from all over expressed their concern over losing him and stressed to Bills fans how great of a pickup he truly was.
Next, on the first day of this year's draft, the Bills acquired Eric Wood and Andy Levitre who will most likely start and play right guard and left guard respectively.
While they still have a lot to learn, they bring toughness and intelligence to the team which was previously lacking.
Langston Walker, the mammoth that manned the right tackle opposite Jason Peters last year will shift over to play left tackle. Brad Butler, formerly at right guard, will team up with Walker at the right tackle position.
Walker plays his heart out and is big enough to play this position well. He's also pretty smart.
Butler is always consistent and his switch should be a fairly smooth one.
If this unit can come together and gel early on, the other offensive weapons on the Bills should have plenty of opportunities to make plays and score.
Holes will be opened up that weren't available before and receivers should have an easier time of getting open.
On paper, analysts and fans alike already believe that the o-line is better than last year's.
Of course, with any new unit though, only time will tell.
Keep Reading

Buffalo Bills: Like this team?