Louisville Basketball: Cards Struggling to Adjust to Life Without Chane Behanan
Use your ← → (arrow) keys to browse more stories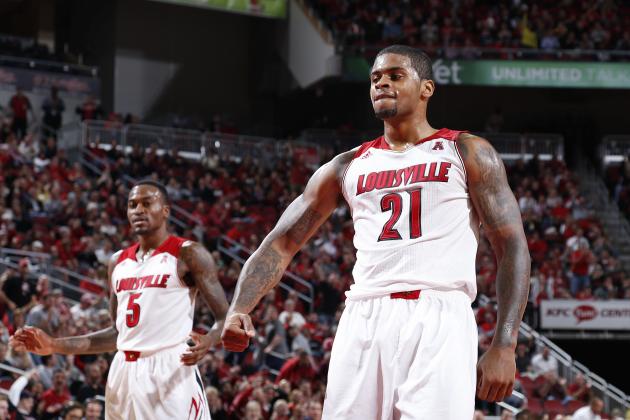 Joe Robbins/Getty Images
Kevin Ware (redshirt) and Chane Behanan (dismissed) have been greatly missed by Louisville
The Louisville Cardinals are coming off of their first home loss of the season. The 24th-ranked Memphis Tigers handed the 12th-ranked Cardinals another crushing loss.
When the final horn sounded, Memphis held the edge 73-67, and the Cardinals were left looking for answers. With each game it becomes more clear, Louisville is severely missing Chane Behanan.
Forward Chane Behanan was dismissed from the team December 30 (via CBS). Louisville has a 2-1 record without Behanan, but the team has not looked solid in either victory. The Cardinals have been out-rebounded in every game since Behanan's dismissal. Louisville went to Rutgers a 21.5 point favorite, allowed the Scarlet Knights to stay in the game and pulled out a seven-point victory.
Behanan was a key contributor in back-to-back Final Four runs, as well as last season's National Championship. He was expected by many to average a double-double this season. Obviously the double-double average didn't pan out. With career lows in scoring and rebounding, why is Louisville missing Behanan so badly?
At the time of his dismissal, Behanan was averaging 7.6 PPG and 6.3 RPG, both career lows. However, his mere presence on the court made the Cardinals a more formidable team.
With Behanan on the floor, opposing teams had to change the scheme of their defenses to counter Behanan's capabilities. This allowed Montrezl Harrell to be guarded one-on-one, which greatly improved Louisville's interior play.
Are the Louisville Cardinals a serious Final Four threat without Ware and Behanan?
Without Behanan, Harrell has been pressured more on the inside. Freshman center Mangok Mathiang is still adjusting to the college game, and senior Stephan Van Treese will not scare any opposing defense. The Cardinals are desperate for someone to step up his game and help Harrell in the paint.
The news that Kevin Ware will redshirt this season, per ESPN's Jeff Goodman, makes the loss of Behanan even greater. Goodman was critical of Louisville following its home loss to conference rival Memphis. He took to twitter to broadcast his displeasure
Still surprised that Memphis leaving Louisville with a win. The defending champs have a resume that looks like an NIT team right now.

— Jeff Goodman (@GoodmanESPN) January 10, 2014
Here is a short clip showing Behanan's game-changing ability.
Behanan with a monster dunk
The defending champs have shown no signs of being a serious threat to repeat. According to ESPN, the Cardinals have faced three teams ranked in the RPI Top 50. They have lost two of those three, with the lone victory at home against Southern Miss (39th in RPI). Louisville is 0-3 against Top 25 opponents this season.
If anyone has proven that he can do more with less, it is Louisville head coach Rick Pitino. The Hall of Fame coach has guided Louisville to consecutive Final Fours and last season's National Championship. If Louisville wants to make a third straight trip to the Final Four, they will have to fill the void left by Behanan and fill it fast.
All stats courtesy of ESPN.com