If the Wild Card Round provided any foreshadowing for how the NFL divisional round will shape up, this weekend should be another erratic slate of games.
With three of the four matchups involving teams that have already faced each other, looking to the last game helps, but it's not a perfect science. Two teams—the San Francisco 49ers and Denver Broncos—were without two of their best receivers and will try to get some revenge with both of them healthy.
The New Orleans Saints will be looking to rebound from their most lopsided loss of the season when they travel to take on the Seattle Seahawks. And one of the most intriguing matchups of the weekend comes on Saturday night when Andrew Luck and the Indianapolis Colts go into Tom Brady's house to clash with the New England Patriots.
Here is a breakdown and the predicted winner for each game during the divisional round of the playoffs.
NFL Divisional Round Schedule

| | | | | | |
| --- | --- | --- | --- | --- | --- |
| DATE | TIME (ET) | AWAY | HOME | TV | Pick |
| Jan. 11 | 4:35 p.m. | New Orleans Saints | Seattle Seahawks | Fox | SEA |
| Jan. 11 | 8:15 p.m. | Indianapolis Colts | New England Patriots | CBS | IND |
| Jan. 12 | 1:05 p.m. | San Francisco 49ers | Carolina Panthers | Fox | CAR |
| Jan. 12 | 4:40 p.m. | San Diego Chargers | Denver Broncos | CBS | DEN |
NFL.com
New Orleans Saints at Seattle Seahawks, Saturday, Jan. 11, at 4:35 p.m. ET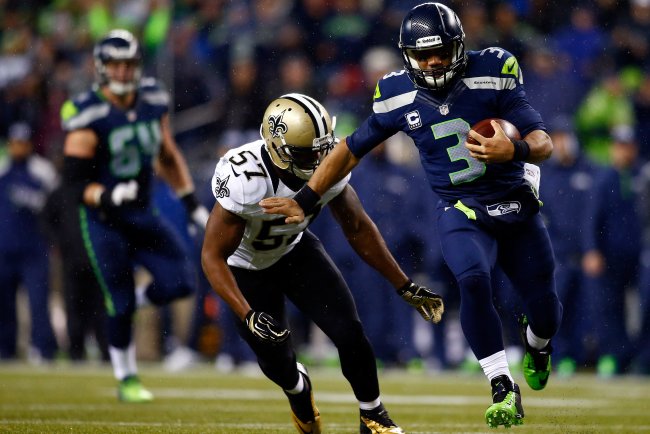 Jonathan Ferrey/Getty Images
When it comes to blowouts this season, it doesn't get much worse than when the Saints played the Seahawks in Week 13. The final score was 34-7, and it wasn't even that close.
Then there's the last time the two played against one another in the playoffs. In Seattle once again, Marshawn Lynch single-handedly crushed the Saints and left them with one of the more miserable losses in franchise history the year after they won the Super Bowl.
But after proving itself on the road in the Wild Card Round, New Orleans is looking to exact some revenge on a team that went 7-1 at home during the 2013 season. For a team that finished the regular season at 3-5 on the road, winning at Seattle still seems like a tall task.
While this game may bring back awful memories for Drew Brees, the Saints' signal-caller said he still looks forward to the test:
Despite worst game for Drew Brees-Sean Payton, Saints embrace Seattle rematch: "We've all been hoping for this chance again," Brees says.

— Ed Werder (@Edwerderespn) January 10, 2014
For Seattle, it comes down to playing stingy defense and getting its offense going in the passing game. The Saints are stout against the rush but ranked 19th in the regular season against the pass.
Luckily, Russell Wilson will be with one target that he only had for one game during the regular season with Percy Harvin back on the field, as the Seahawks' official Twitter account reports:
VIDEO @Percy_Harvin Thursday press conference: "I will absolutely play." http://t.co/i7KbV9Acb5

— Seattle Seahawks (@Seahawks) January 10, 2014
This will be a much closer game than the first one, but the Seahawks will still move on to the NFC Championship Game after winning the rematch between these two teams.
Prediction: Seahawks 27, Saints 20
Indianapolis Colts at New England Patriots, Saturday, Jan. 11, at 8:15 p.m. ET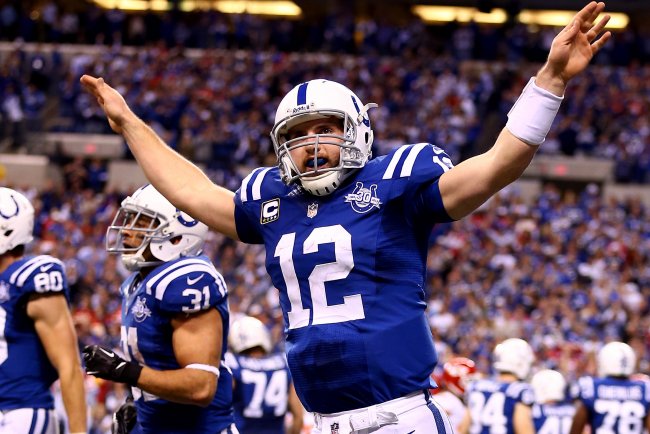 Andy Lyons/Getty Images
Could the guard be changing in the NFL this weekend when Luck takes on Brady in a battle between the new wave versus one of the best playoff quarterbacks ever?
While Luck may only be in his second year as a quarterback in the NFL, he already has his playoff moment after leading the Colts back from a 38-10 deficit to advance to the divisional round.
Following that game, he's earned some pretty high praise from the coach he will face this weekend in Bill Belichick, according to Julian Benbow of The Boston Globe:
A really complete player. Great long-ball thrower. Very accurate. Has a good touch on short, intermediate passes. Reads defenses well. Does a good job checking plays at the line of scrimmage and making some of those adjustments. Active in the pocket.

Hard guy to tackle. Hard guy to bring down. Good feet. Can scramble and run. Can scramble and buy time to throw. Has good vision down the field. Makes good decisions. There's not really any weaknesses to his game.
The man who can seemingly do no wrong will be facing a quarterback who was seen as invincible after starting his postseason career at 9-0. But with a team that is missing the physicality of Rob Gronkowski in the receiving game and is down yet another defender with Brandon Spikes being sidelined, defeating the Colts will be a much more difficult task than it may appear.
Facing a team that possesses one of the best pass-rushers in the league with Robert Mathis (19.5 sacks in regular season), Brady will be out after his first playoff game for the third time in his career as Luck advances to take on Peyton Manning or Philip Rivers in the AFC Championship Game.
Prediction: Colts 34, Patriots 31
San Francisco 49ers at Carolina Panthers, Sunday, Jan. 12, at 1:05 p.m. ET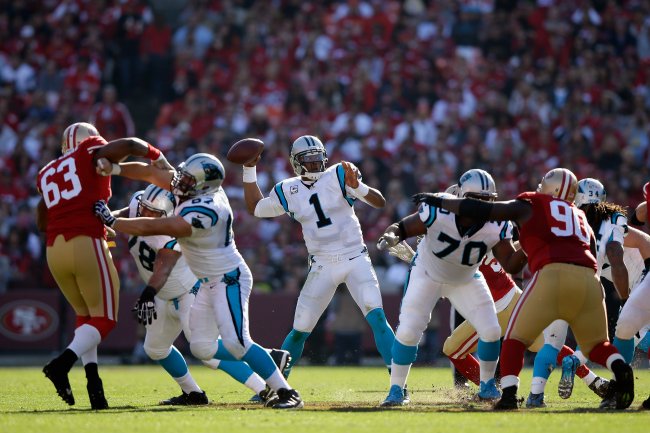 Ezra Shaw/Getty Images
Two of the nastiest defenses in the NFL will meet yet again to decide who will travel to Seattle to take on the Seahawks for the NFC Championship Game. And with both teams potentially being at full strength, could this game be any different?
While both defenses are ranked inside the top five, let's look at the two offenses to figure out which team will pull out the win.
For the 49ers, Colin Kaepernick has been one of the best postseason quarterbacks of the last two seasons. But when he's taken on teams still left in the playoffs this season, he's put up his worst numbers, according to ESPN Stats and Info and its graphic about QBR:
Kaepernick went 1-4 this season against teams currently in the playoffs. He posted his 5 worst QBRs in those games pic.twitter.com/tOhWyJpIyY

— ESPN Stats & Info (@ESPNStatsInfo) January 9, 2014
One notable part of that tweet is looking at Kaepernick's rating against Carolina, which was the worst of his career. Considering he finished just 11-of-22 with 91 passing yards, an interception and only 16 rushing yards, it's easy to say Kaepernick was not able to get anything going for the 49ers offense against the Panthers.
But those numbers came without receiver Michael Crabtree, who returned in Week 13. As ESPN Stats and Info once again points out, Kaep has seen his numbers turn around since that game:
Since Michael Crabtree made his season debut in Week 13, Colin Kaepernick has the 3rd-highest Total QBR in the NFL (76.9).

— ESPN Stats & Info (@ESPNStatsInfo) January 8, 2014
On the other side of the ball stands Cam Newton. While Kaepernick has proved himself on the big stage after leading his team to the Super Bowl last season, Newton hasn't been given the opportunity in his first three seasons with the team and will be making his postseason debut.
Though it hasn't become official if the Panthers will be without their best receiver in Steve Smith for the divisional round, Jonathan Jones of the Charlotte Observer notes that Smith practiced with the team on Friday:
Steve Smith walking to practice in full pads and helmet.

— Jonathan Jones (@jjones9) January 10, 2014
If the Panthers have Smith in the lineup, their offense will be running on all cylinders against a 49ers defense that was able to shut down even Aaron Rodgers in Green Bay. But with a front seven that is one of the most fearsome in the NFL, it will be Kaepernick that faces the tougher task after getting sacked six times in their first meeting.
Though Kaepernick has played well in the postseason thus far, Cam Newton and Carolina's defense will be the team moving forward to the NFC Championship Game.
Prediction: Panthers 20, 49ers 13
San Diego Chargers at Denver Broncos, Sunday, Jan. 12, at 4:40 p.m. ET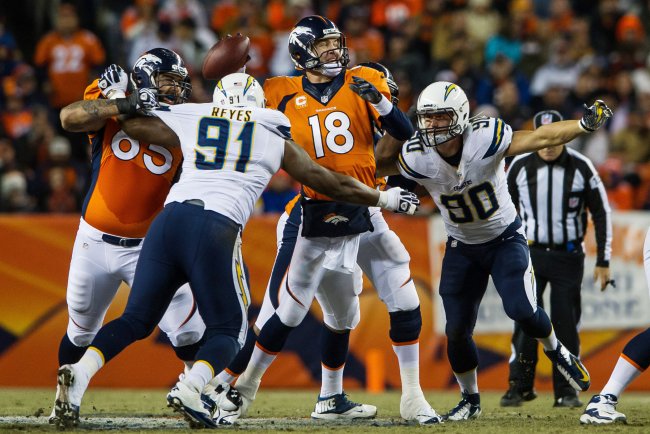 Dustin Bradford/Getty Images
The first round went to the Denver Broncos. The second round went to the San Diego Chargers. With both teams featuring explosive offenses and porous defenses this season, the third round is expected to be a slobber-knocker.
When looking at the two meetings, the one statistic everyone is talking about in terms of the Chargers dominating is time of possession. But the other notable statistic is that of the third-down ratio for the Broncos, as ESPN Stats and Info points out:
Broncos: Converted 29.3 pct of 3rd downs vs Chargers this season; 48.3 pct vs rest of NFL

— ESPN Stats & Info (@ESPNStatsInfo) January 9, 2014
Which road team will win?
The one difference between the first and second games just so happened to be Wes Welker, one of the best slot receivers in the game. Andrew Mason of the Broncos' official website notes that the team's third-down woes increased after Welker's concussion, which held him out of the final three-and-a-half games:
Prior to Welker's second concussion, the Broncos converted 48.2 percent of their third downs. Their percentage was just 39.0 in the three-and-a-half games they played without him.

Meanwhile, the Chargers converted 31 of 55 third downs and never converted less than 50 percent in a game. That helped the Chargers finish with the second-highest third-down success ratio of any team in the last four years, and as the league leaders in time of possession, averaging 32 minutes, 59 seconds per game.
In terms of Welker's importance in those clutch situations, teammate and fellow receiver Eric Decker spoke about the first-year Bronco to Mason:
He's a guy that has done very well on third down—and just any down it is. When you lose a weapon like that you have to fill the shoes and I don't think we as a team did a good enough job of having a successful first down, minimizing the third and longs and taking advantage of some of the opportunities we had.
The Chargers' weapon in this game will have to be their running game. After rushing the ball 44 times and holding the time of possession advantage with 38:49 in their last meeting, they could be without the leading rusher for that game in Ryan Mathews again, as Tom Krasovic of U-T San Diego reports:
Ryan Mathews isn't practicing. Hardwick is practicing.

— Tom Krasovic (@UTkrasovic) January 10, 2014
Without one of their biggest weapons and the Broncos getting more reinforcements, Denver will win another close game to advance to the AFC Championship Game to set up a rematch between Luck and Manning—on Manning's home turf.
Prediction: Broncos 30, Chargers 24