Kevin Love was clearly upset about the Minnesota Timberwolves' recent, narrow loss to the Phoenix Suns and decided to publicly air his frustrations. It was a brazen decision, but one that may pay off in the form of more motivation and desire to close out opponents.
According to Jon Krawczynski of the Associated Press, the superstar big man vented after the game about certain teammates failing to support the squad during timeouts and contributing to poor bench chemistry.
Love: "We can't have 2 guys sitting at the end of the bench that play good mins just sitting there and not getting up during TOs ... ".

— Jon Krawczynski (@APkrawczynski) January 9, 2014
Love: "We all need to be in this together. That kind of pisses me off. We're supposed to be a team."

— Jon Krawczynski (@APkrawczynski) January 9, 2014
Love: "If and when I did that last year when maybe I didn't sit out for the game for all 48 minutes ... They would've aired me out."

— Jon Krawczynski (@APkrawczynski) January 9, 2014
Krawcyznksi pointed out that the six-year veteran was specifically speaking about Dante Cunningham and J.J. Barea, which isn't the first time that Love has called out the backup point guard.
Love called out Barea and Cunningham for sulking on the bench. This #TWolves team is anything but one right now.

— Jon Krawczynski (@APkrawczynski) January 9, 2014
On Dec. 30, Barea was upset when Love said, "five bench points is not okay" after a 100-98 loss to the Dallas Mavericks. The two also had to be separated back in 2012, during the waning moments of another defeat to the Sacramento Kings.
While there is clearly no love lost between these two, Love's most recent comments might just be the spark that Minnesota needs to turn things around.
When adjusting for pace, the T-Wolves rank as a top-10 team in the league in terms of offensive efficiency and rebounding rate. They rate in the top half of the league in defensive efficiency and assist ratio, while only the New York Knicks have a better turnover ratio.
Those stats indicate that this team—laden with quality players such as Love, Barea, Ricky Rubio, Nikola Pekovic and Kevin Martin—should be much better than its 17-18 record indicates.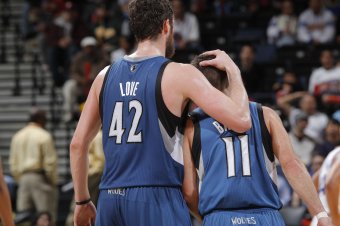 Rocky Widner/Getty Images
Instead of attempting to improve their seeding in the Western Conference, the T-Wolves are hoping to just make a trip to the playoffs for the first time since 2004. Approaching the midpoint of the season, Minnesota is 2.5 games back from the No. 8 Dallas Mavericks, despite having a point differential that is nearly four points better than the Mavs.
Should the T-Wolves deal Love?
The T-Wolves are in such disarray right now that some, such as an unnamed Eastern Conference executive, believe that the organization should trade Love. Due the star's status as a potential free agent after the 2014-15 campaign, the exec told CBS Sports' Ken Berger: "They should trade him. No one thinks he's staying. Everyone knows he wants to go to the Lakers."
However, winning could change Love's mind. He's clearly trying to get his squad to close games out and they would be so much better off for it.
The T-Wolves are currently 0-10 in games decided by four points or less, an absolutely unacceptable number for a team with lofty postseason aspirations. Steve Aschburner of NBA.com noted that Minnesota is 1-18 over the last year in that same situation, so something clearly has to change.
ICYMI: Timberwolves' 0-10 record in games dec. by 4p or less (1-18 in last yr) might require desperate measures. http://t.co/92WmVIKWNt

— Steve Aschburner (@AschNBA) January 10, 2014
Hopefully a switch in attitude will help get the Timberwolves over the hump. If not, it seems that drastic, potentially negative changes—such as a Love trade—could be on the horizon.