Montpellier's Remy Cabella is a transfer target for Arsenal, Manchester United and Newcastle United (as per David Wright at The Express), so here is a scouting report on the 23-year-old French footballer.
Cabella's Burden
Montpellier are staring down the barrel of relegation to Ligue 2 after losing Ligue 1 championship quality players in Olivier Giroud (Arsenal), Henri Bedimo (Lyon), Mapou Yanga-Mbiwa (Newcastle), Younes Belhanda (Dynamo Kyiv) and Marco Estrada (Al Wahda).
Last season, Cabella was on the field when Saber Khalifa willed Evian Thonon Gaillard to a 3-2 victory over Montpellier with a hat-trick capped off by an 89th minute winner.
By the end of the campaign, two points separated Nancy, the last relegated team, and Evian, a club that needed every single one of Khalifa's 13 goals.
Cabella played a minor role during Montpellier's Ligue 1-winning season (2011-12) as 72.4 percent of his league games were sub-affected.
Now he carries an immense amount of responsibility to be Montpellier's answer to Khalifa.
Cabella's Playing Style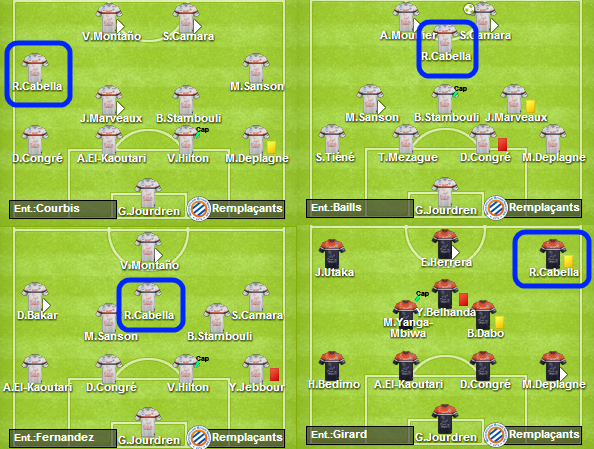 Source: L'Equipe
Arsenal manager Arsene Wenger wants his players to be adaptable from a tactical and positional point of view.
Montpellier owner Louis Nicollin's coaching carousel has been a learning curve for Cabella.
It has forced him into a variety of situations: on the left wing in a 4-4-2, as the No. 10 in a 4-3-1-2, behind the No. 9 as a deep-lying forward in a 4-4-1-1 and he was previously a right attacking midfielder in a 4-2-3-1.
Being tactically flexible works to Cabella's advantage.
What type of player is he?
He is a skillful, creative, two-footed, deep-lying forward/wide attacking midfielder who can take on players and works hard without the ball.
In Montpellier's 1-1 draw against Guingamp, Cabella created something out of nothing Robert Pires-style.
Team-mate Souleymane Camara's ungainly first touch steered the ball fortuitously into Cabella's path.
He strode into the shot with his right foot and imperiously lofted the ball over Guingamp goalkeeper Guy N'Dy Assembe.
Push Cabella to his "weaker" foot, his left, and he can still manufacture moments of brilliance as evident in Montpellier's 5-1 win over Lyon.
Lyon right-back Jordan Ferri was out of position, forcing centre-back Bakary Kone to cover.
Cabella, who couldn't cut in as Ferri was making up ground, noticed Victor Montano making a run behind Lyon utility player Gueida Fofana.
A pin-point cross was delivered with the left-foot to Montano, who headed home.
This allowed Cabella to notch up another assist (his corner had led to Anthony Mounier's goal earlier in the game).
Cabella is a prototypical Wenger player.
So it makes sense why Newcastle, sometimes referred as "Le Toon" for their French contingent, would be chasing Cabella.
Like Wenger, a common trait in Alan Pardew's Newcastle players is their ability to play multiple positions.
For example, Yoan Gouffran played up front in his last season for Bordeaux, though he is now mainly a left-winger. Moussa Sissoko can be a deep-lying forward, a box-to-box midfielder or a right-winger. Loic Remy is excellent in the "Cristiano Ronaldo" role on the left wing, playing off a centre forward or leading the line by himself.
Regarding Manchester United, what will impress manager David Moyes about Cabella is his willingness to press.
The 1-1 draw between Toulouse and Montpellier provides one instance of Cabella's ball-winning capability.
Toulouse midfielder Abel Aguilar was trying to play out of defence but had the ball stolen by Cabella.
He played a smart reverse pass to team-mate Camara which eliminated Toulouse centre-back Uros Spajic from the play.
It was a perfectly weighted pass, and Camara put the ball past Toulouse goalkeeper Ali Ahamada.
Cabella, an attack-first player, is a better tackler than Manchester United midfielder Tom Cleverley, which should be a major concern to United supporters.
Remy Cabella vs. Tom Cleverley (Tackling)

| | | | |
| --- | --- | --- | --- |
| Player | Tackle Success % | Tackles Per Game | Fouls Per Game |
| Remy Cabella | 78 | 2.1 | 0.7 |
| Tom Cleverley | 50 | 2.1 | 0.8 |
WhoScored & Squawka
Cabella's Transfer Situation
Montpellier president Laurent Nicollin denied that Manchester United had submitted a transfer bid for Cabella but confirmed Newcastle's interest.
"Manchester has not sent any proposal," Nicollin said, as per Midi Libre (h/t Sky Sports). "As for Newcastle, it seems to me they are about to make one, but I expect confirmation on that."
Ideally, Nicollin wants Cabella to be "with Montpellier until June."
Translation: Turn into a hero by keeping Montpellier in Ligue 1 thus upping your transfer value.
"The Montpellier president [Nicollin] and I have an agreement to see out the rest of the season together," Cabella said, as per Jason Mello at The Mirror. "I think this is my last season with the club and I do not want to leave Montpellier in Ligue 2."
Arsenal Or Newcastle?
"Up front we lose Theo [Walcott] as a potential central forward and that's maybe where we have to look outside," Wenger said, as per Rob Kelly at Arsenal.com. "But we hopefully have [Nicklas] Bendtner back in three weeks."
Judging by Wenger's statement, Cabella, who isn't an out-and-out No. 9, won't factor in Arsenal's January transfer calculations.
So maybe Cabella is cover for Remy as Queens Park Rangers, the club that owns his playing rights, will engage in hardball tactics with Newcastle over extending the loan to a permanent deal.
"You'd think they'd [Newcastle] want to snap him [Remy] up, wouldn't you?" QPR manager Harry Redknapp said, as per Simon Johnson at The London Evening Standard. "If they don't then someone else will."
Newcastle supporter shouldn't be too worried about Nicollin trying to inflate Cabella's transfer stock in the following weeks.
Nicollin talks the talk, but he does not walk the walk.
He is a push-over in the transfer market.
Montpellier president Louis Nicollin claims star striker Olivier Giroud is worth at least 50 or 60 million Euros: http://t.co/UWILnitj

— Ligue1 (@Ligue1) December 28, 2011
Montpellier president Louis Nicollin: "Allowing Giroud a €12m buyout clause was bloody silly. In future, there'll be no more buyout clauses"

— Matt Spiro (@mattspiro) July 2, 2012
Which club should Remy Cabella join?
Montpellier do not have any pull as the club is in a relegation battle, so Cabella will probably go for £5-7 million this month, which is value-for-money given his world-class upside.
If he is taken off the market, Nicollin risks halving what Montpellier could receive in this window if the club suffer relegation and then look to sell Cabella in the summer transfer window.
Cabella leads Montpellier this season in league goals (six), assists (three), scoring chances created (42), dribbles (24) and passes (698).
Montpellier are currently three points above the relegation zone heading into their match against Monaco.
It is a tough predicament for Nicollin to be in, but signing M'Baye Niang on loan from AC Milan suggests there is a contingency plan in place should Cabella be sold in this window.
Statistics via WhoScored, FFT Stats Zone, Squawka and Transfermarkt.