Arizona Cardinals Free Agency: Keep, Walk or Tag Options for Every Free Agent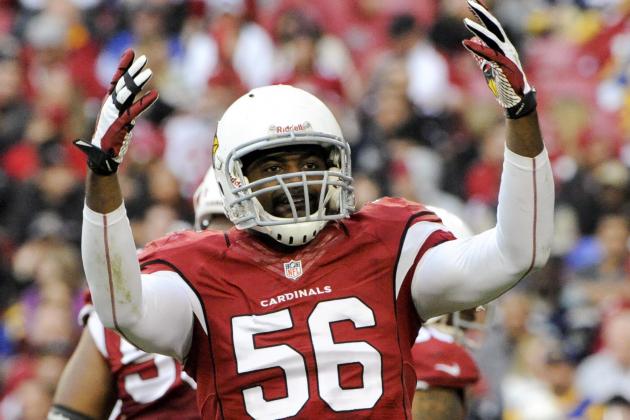 Casey Sapio-USA TODAY Sports
Will Karlos Dansby return in 2014?
The Arizona Cardinals enter free agency this offseason in a bit of a pickle. Twenty of Arizona's players are set to hit the market—16 of them are unrestricted free agents.
Many of them signed one-year deals last offseason, which helped the team to its second-largest turnaround in team history, at five games. Among the one-year players, a handful started at least part of the year for head coach Bruce Arians, while others contributed in some capacity on offense, defense and special teams.
Then there are those who have been in the Valley a while and could see their stay come to an end in March when free agency begins.
Thus is the life of an NFL player. Teams are always looking to improve, and for the Cardinals, they have an opportunity to improve by letting certain players walk while signing and drafting others to replace them.
Here is a breakdown of Arizona's 20 free agents and whether they should be kept, tagged or given walking papers.
Key: UFA = unrestricted free agent; RFA = restricted free agent
Begin Slideshow

»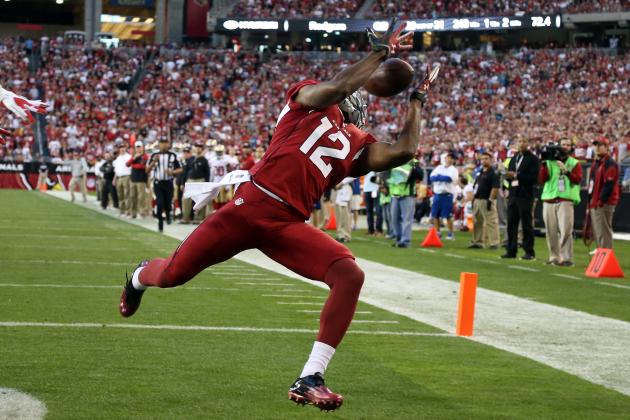 Christian Petersen/Getty Images

Based on potential, Andre Roberts should command a healthy contract this offseason. He was a starter for two seasons in 2011 and 2012. Over that time, he recorded 115 receptions for 1,345 yards (11.7 yards per catch) and seven touchdowns.
After Michael Floyd's breakout year in which he led the team in receiving yards and yards per catch, there is about a zero percent chance Roberts returns to the starting lineup if he re-signs with Arizona.
Verdict: Walk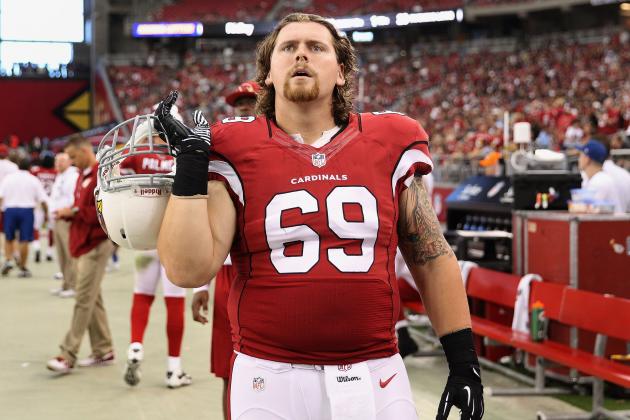 Christian Petersen/Getty Images

Backup interior offensive lineman Mike Gibson did not get into game action in 2013. In fact, he hasn't played a snap of NFL football since playing in 14 games in 2010 with the Seattle Seahawks.
He has starter experience at both guard positions, so that makes him valuable to the team. He won't cost much, even at the veteran minimum. Entering his sixth year of NFL service, his minimum salary would be $730,000 for 2014, according to Mike Florio of ProFootballTalk.
Verdict: Keep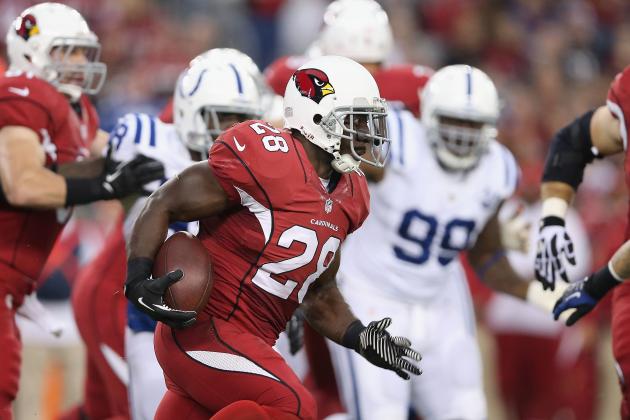 Christian Petersen/Getty Images

Veteran running back Rashard Mendenhall won't be 27 years old until about the time training camp starts. He's still young, but his production in 2013 was not impressive.
Mendenhall got better as the season neared its end, but he still wasn't great. Over the last six games, he averaged 3.5 yards per carry while scoring four touchdowns.
He was overshadowed by rookie Andre Ellington, however. Ellington led the NFL with 5.53 yards per carry and became the fourth rookie running back in franchise history to top 1,000 yards from scrimmage (652 yards rushing, 371 yards receiving).
With Ryan Williams and Stepfan Taylor also on the roster and under contract, the Cardinals could leave Mendenhall out of the 2014 equation and not drop in production.
Verdict: Walk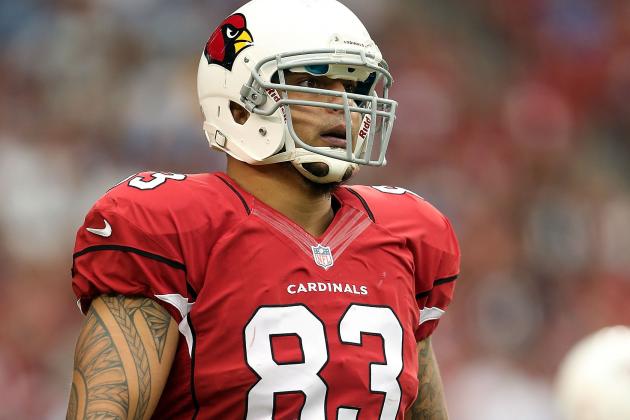 Christian Petersen/Getty Images

Five-year veteran tight end Kory Sperry earned two starts early in the season due to an injury to starter Rob Housler. He had only one reception on the season, however, a 16-yard tote during the Week 1 loss at St. Louis.
Arizona signed three tight ends to "futures" contracts this week, two of whom have a background in basketball. Sperry was already deep down on the depth chart, but now it appears he could be replaced.
Verdict: Walk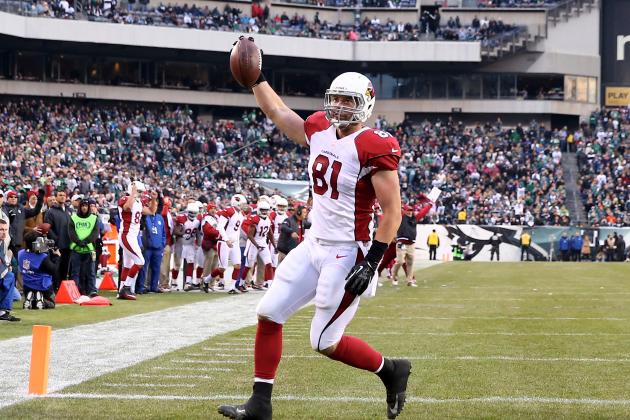 Elsa/Getty Images

This should be an easy decision for general manager Steve Keim. Tight end Jim Dray was the most consistent inline receiver for the team in 2013; he was quarterback Carson Palmer's safety valve on numerous occasions.
Dray finished with 26 receptions for 215 yards (8.3 YPC) and two touchdowns. Fifteen of his 26 receptions (57.7 percent) gained first-down yardage, and he did not drop a pass—unlike Housler, who has had problems consistently catching footballs.
The Cardinals have four free-agent tight ends to think about this offseason, but Dray should be among those back for 2014.
Verdict: Keep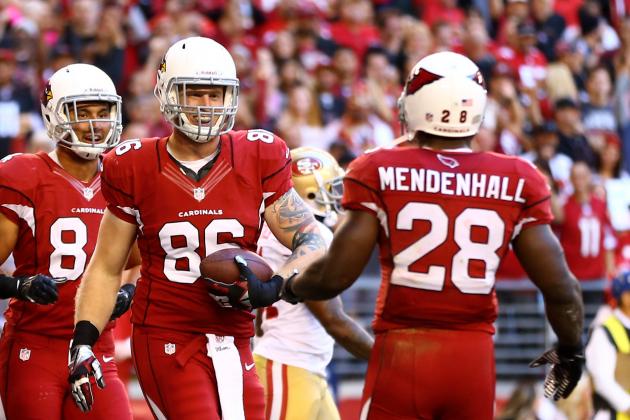 Mark J. Rebilas-USA TODAY Sports

The first of four restricted free agents mentioned, tight end Jake Ballard was more productive in the red zone in five games than Housler has been in three full seasons. The 26-year-old had seven receptions for 75 yards (10.7 YPC) and two touchdowns in five games this season—his two scores double that of Housler's three-year career.
Ballard is a decent inline blocker who is able to help either offensive tackle handle a pass-rushing defensive end or a run-stuffing middle linebacker up the middle. That makes him more valuable than most free-agent tight ends the Cardinals have to decide on in the coming months.
Verdict: Keep
Matt Kartozian-USA TODAY Sports

Tight end Jeff King spent his 2013 season on the injured reserve list after a knee injury sidelined him for most of the offseason. His two previous seasons with the Cardinals were average for a backup, hauling in 44 receptions for 400 yards (9.1 YPC) and three touchdowns.
Only, he started 22 games over that stretch. Quarterback play had a hand in King's lack of production, obviously, but the soon-to-be 31-year-old has spent a lot of time the past three seasons on injury reports. That, coupled with Ballard's production in such a short time, could be what decides it for Keim and the front office.
Verdict: Walk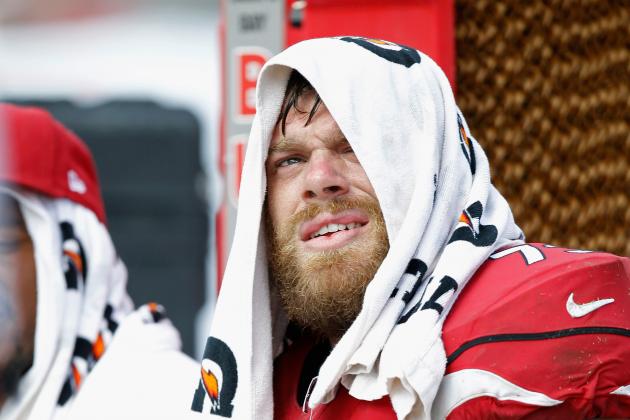 Scott Iskowitz/Getty Images

He struggled at times in 2013, but right tackle Eric Winston was a leader of the offense this season. The well-spoken offensive lineman did play well down the stretch, not allowing a sack over the final six games and earning his top two grades from Pro Football Focus (subscription required) to end the season.
This could be a difficult choice if the franchise feels Bobby Massie is ready to reassume his position as the starting right tackle. But if they feel Massie needs more time, this should be another very easy decision.
Verdict: Keep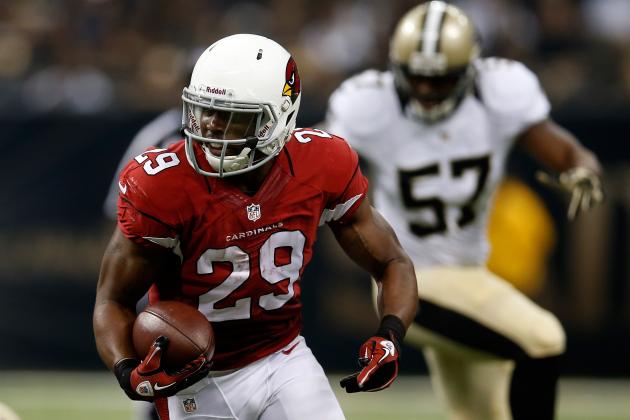 Chris Graythen/Getty Images

After an impressive training camp and the Ryan Williams situation, it looked as though Alfonso Smith would factor into the rushing attack in 2013. He had 10 carries during the Week 1 loss to the Rams, but then he had eight the rest of the season.
Partly because he struggled to find open running lanes and partly because Ellington burst onto the scene, Smith was rendered useless in Arians' offense as the season unfolded.
It would be a minor shock if the team re-signed Smith. As a restricted free agent who was originally an undrafted rookie, an original-round tender means to match the money offer (a total that has not been released yet), and a team would not have to surrender a pick in return. It would be awarded Smith without sending over any picks.
Verdict: Walk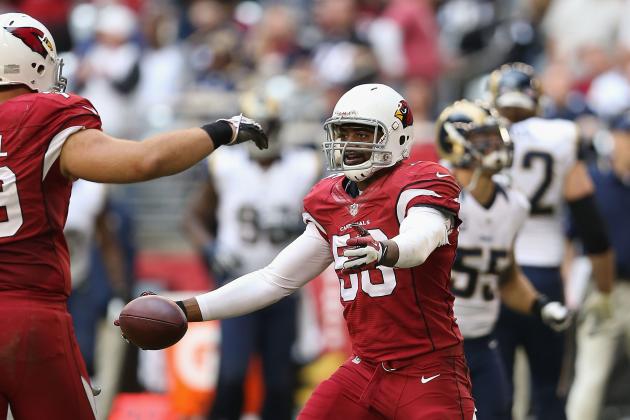 Christian Petersen/Getty Images

If any of Arizona's free agents are worth re-signing, it's Karlos Dansby. He set a career high with 113 solo tackles this season, and if not for a severe case of the "dropsies," he likely would have set a Cardinals' linebacker record for interceptions in a season as well.
His four picks in 2013 are second in franchise history as it is, just one behind a trio of former Cardinals.
Dansby was snubbed off the Pro Bowl roster this season. Though that may be disappointing for fans, it may actually benefit the franchise. A Pro Bowl vote likely would have driven Dansby's price tag up this offseason.
Now, though, he could still be affordable.
He is worth it for another season should the team find it necessary to pay him.
Verdict: Keep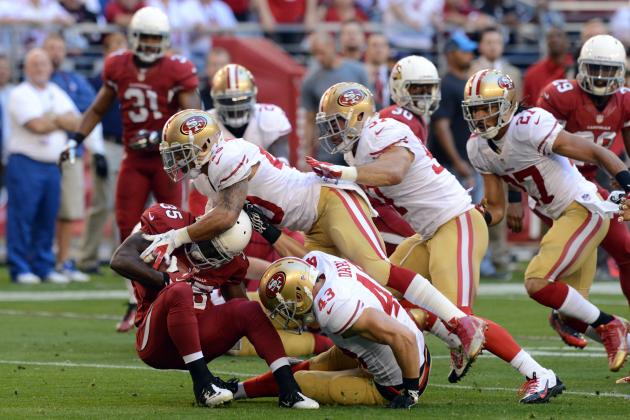 Norm Hall/Getty Images

This will be a lot like his kick returns in 2013: short. Javier Arenas did nothing on special teams to stand out, and he didn't get any playing time on defense until a rookie got hurt and couldn't play anymore.
Among returners with a minimum of 20 returns in 2013, only Niles Paul of the Washington Redskins (20.55 yards) gained fewer yards per return than Arenas' 21.43 yards.
Verdict: Walk (quickly)
Christian Petersen/Getty Images

Matt Shaughnessy was brought in on a one-year deal. In that year, he transitioned from a 4-3 run-stuffing defensive end into a 3-4 run-stuffing outside linebacker.
Run defense was the only area in which he succeeded this season. He recorded three sacks, but PFF graded him (subscription required) as one of the worst 3-4 pass-rushers in the league. But the Cardinals did not sign him to rush the passer; they signed him to stop running backs from trampling all over them.
And he did that. For that, he has earned another contract—hopefully a multi-year deal.
Verdict: Keep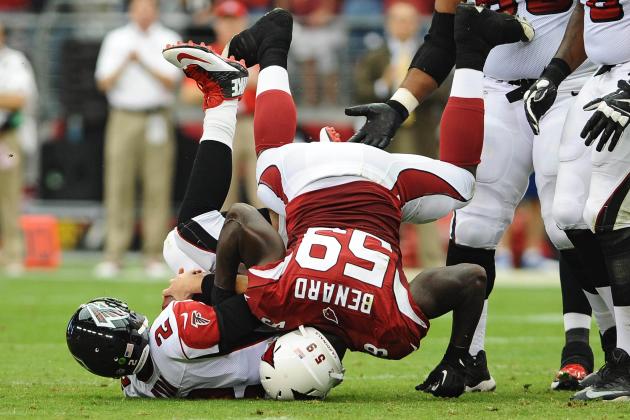 Jennifer Stewart-USA TODAY Sport

For not being on the roster at the season's beginning, Marcus Benard sure had a good season. He was not a star by any stretch, but he did record 2.5 sacks and 16 total pressures (which was good for third among OLBs on the team).
That said, Benard was on the roster to replace injured outside linebackers who will return from injury next season. There simply won't be any room on the roster for him, and he won't be practice-squad eligible because he was active and played in too many games this season.
Verdict: Walk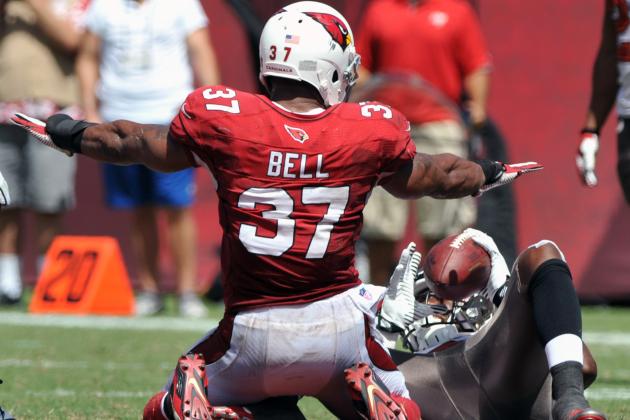 Al Messerschmidt/Getty Images

Veteran safety Yeremiah Bell recorded a sack and two interceptions in 2013 to go along with 72 total tackles and 10 passes defensed. Those are all solid numbers, especially for a 35-year-old strong safety.
But it is time for the Cardinals to get younger at the position, and that can come in the form of either Rashad Johnson or Tony Jefferson—or both, depending on the formation, down and distance and opposing team's personnel on the field.
Verdict: Walk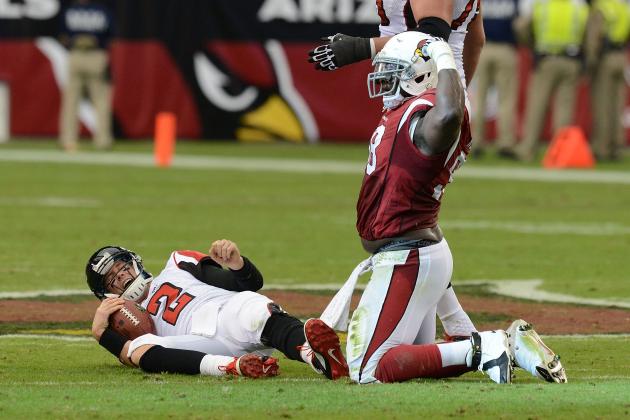 Norm Hall/Getty Images

Frostee Rucker played in all 16 games in his first season in Arizona, earning one start along the way. He played well in very limited work, and while he did not have a slew of highlight-reel plays, he did his job by being an on-field leader and veteran presence on the sideline.
Is he worth big-time money through free agency? No way. But is he worth giving a multi-year deal to as a backup defensive lineman? Absolutely.
Verdict: Keep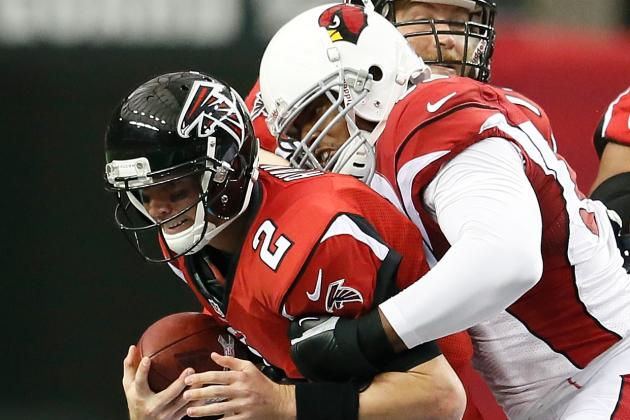 Kevin C. Cox/Getty Images

Defensive end Ronald Talley was a backup for three years in Arizona. He missed a bunch of time this season with a wrist injury and recorded only four tackles in six games.
When teams talk about "churning the bottom of the roster" in an attempt to find talent, guys like Talley are those who don't return after three seasons.
Verdict: Walk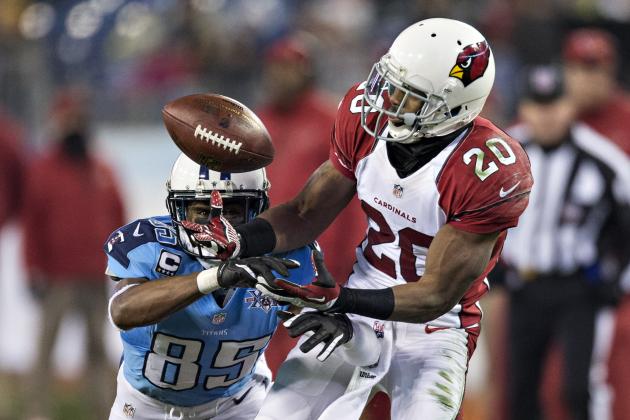 Wesley Hitt/Getty Images

He had almost no role in Todd Bowles' defense until Tyrann Mathieu tore ligaments in his knee, but Antoine Cason made a solid impact when he took over as the outside cornerback in nickel downs (starter Jerraud Powers slid inside to nickelback in three-receiver sets).
Cason had a hand in the Cardinals defeating the Tennessee Titans on the road, picking off two Ryan Fitzpatrick passes and returning one for a touchdown. For that reason—the potential to be a solid player—he should be back.
Verdict: Keep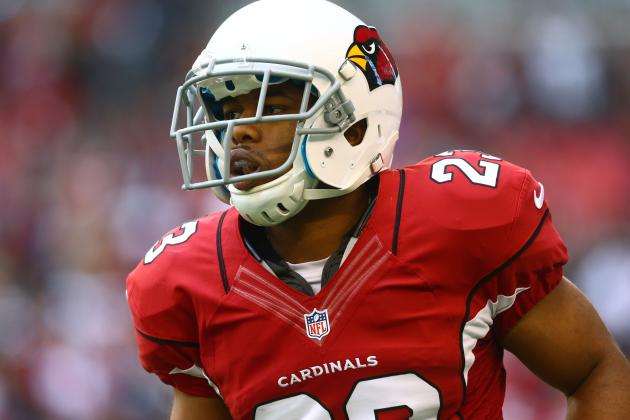 Mark J. Rebilas-USA TODAY Sports

Cornerback Bryan McCann had a couple stints on the 53-man roster this season, the last of which came after the Mathieu injury. But he did not see the field on defense, instead serving on special teams the final month-plus of the season.
He recorded two special-teams tackles and was below average on kickoffs, according to PFF (subscription required). To put it quite bluntly, McCann has no future on a Cardinals defense that ranked in the top 10 in scoring and yards this season, and he may have been part of the problem down the stretch on kickoffs.
Verdict: Walk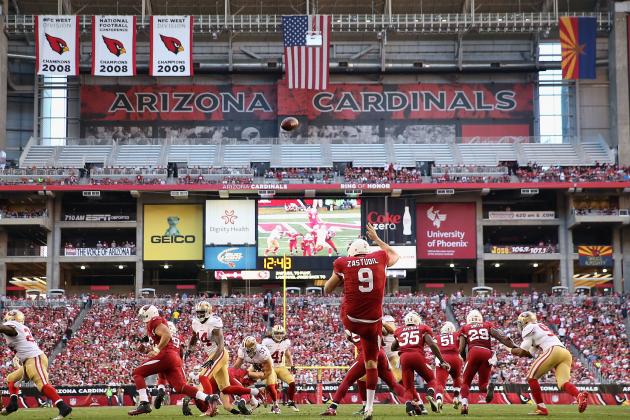 Christian Petersen/Getty Images

It would be a bit surprising if Dave Zastudil were not the Cardinals' punter in 2014. He followed up a subpar 2011 season with two brilliant campaigns in 2012 and 2013, downing a total of 85 punts inside the 20-yard line over that time.
Zastudil is the franchise's all-time leader (among punters with at least 100 kicks) at 45.86 yards per punt. He also moved into second in franchise history this season with 105 punts downed inside the 20. Scott Player (179 from 1998 to 2006) owns that record—for now.
Verdict: Keep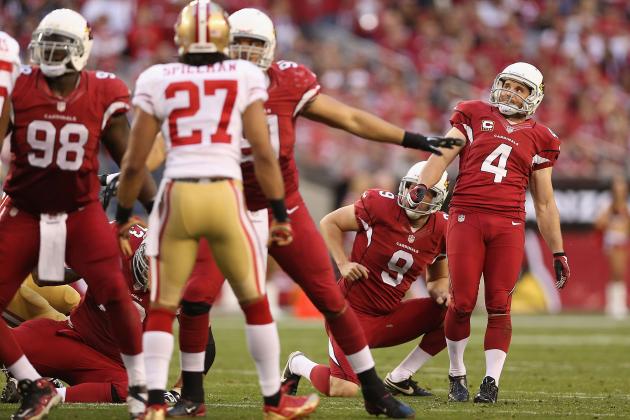 Christian Petersen/Getty Images

He owns the franchise record for the longest field goal (61), but Jay Feely has struggled when the Cardinals need him to hit a field goal.
He connected on only 12-of-17 field goals (70.6 percent) from Week 11 on, and the two he missed in a Week 17 loss to the San Francisco 49ers may have been the reason the team finished 10-6 instead of 11-5. The game did not matter in terms of playoff contention, as the New Orleans Saints' victory knocked Arizona out of contention. But Feely is old, even for a kicker, at 37.
When you're that old and hitting clutch field goals like they're nothing, you're doing alright. When you start missing potential game-winning chip-shot field goals on the regular and you're 37?
It's time to go.
Verdict: Walk