When Cameron Jordan and his New Orleans Saints teammates watched kicker Shayne Graham knock through the 32-yard field goal that eliminated the Philadelphia Eagles on their home field in the Wild Card round of the NFL playoffs, there was an immediate feeling of elation, but a sobering reality of what would come next.
Waiting for the Saints is a second date with the high-powered Seattle Seahawks at CenturyLink Field—a location that's become a consensus by visiting teams as one of the hardest places for an opponent to play.
Seattle owns the NFL's best record, is 7-1 at home, and has defeated visiting opponents by an average of 18.5 points per game—including a 27-point thrashing of the Saints on Monday Night Football earlier in the season.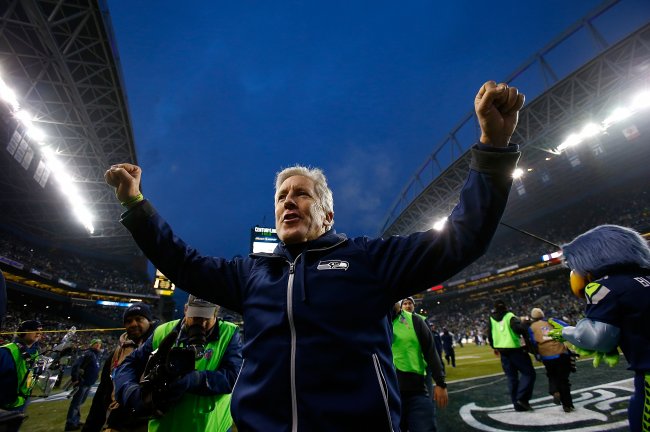 Jonathan Ferrey/Getty Images
Everything unraveled for New Orleans in the Week 13 loss.
Aside from their inability to move the ball offensively, both on the ground and through the air, the defense allowed a season-high 34 points and permitted quarterback Russell Wilson to do whatever he wanted en route to his second-highest passing total of the season and a 139.6 quarterback rating.
Seemingly absent in the game was defensive end Cameron Jordan. In the loss, the first-year Pro Bowl selection recorded just one tackle, and no sacks.
In all but four of New Orleans' 2013 victories, Jordan recorded at least one sack. His body of work as a pass rusher has culminated in a team-leading 14 sacks.
It's clear that the former first-round pick has become the leader of the Saints' pass rush and unlike last time, Jordan must be able to pressure the passer so defensive coordinator Rob Ryan isn't forced to dial up all-out blitzes as he did on Doug Baldwin's 52-yard third down touchdown reception—broken down by Brock Huard:
Wilson was an efficient passer in the 2013 regular season, but threw for a pedestrian 3,357 yards—ranking him 16th among NFL quarterbacks.
This stat is such primarily because the Seahawks don't need to take unnecessary chances through the air because of the success and workload of running back Marshawn Lynch. In the regular season, Lynch carried the ball 301 times—second-most in the NFL.
The key for the Saints to slow Seattle's rushing attack is to maintain integrity on the ends, so as to not allow Lynch and Wilson's speed to be factors as they get to the outside on running plays. To that point, as well as rushing the passer, Jordan also plays a large role in run containment.
Ryan mus help Jordan become more involved by trying different things, such as stunts to bring him closer to the play, into the backfield and get him into rhythm by registering tackles and sacks early on in the game.
It will be critical that the Saints' ends don't allow Wilson to escape the pocket, as in the last matchup in which the former third-round pick rushed for 47 yards on just eight carries.
Fact: Since 2005, #NFL playoff 6 seeds are 6-2 in head-to-head matchups vs No. 1 seeds. #Chargers #Saints

— ESPN The Magazine (@ESPNMag) January 8, 2014
If New Orleans can force Seattle into long second and third down plays, obvious passing situations, then the Saints' pass rush will be able to take advantage of an offensive line that's allowed 40 sacks—a fairly high number for how often the Seahwaks pass.
The Saints' defense must establish momentum early by getting stops and takeaways to give Drew Brees and the prolific Saints offense a chance.
Unless otherwise mentioned, all stats were gathered via Pro-Football-Reference.com.