As one of the most intriguing fights of 2014, Rashad Evans and Daniel Cormier are set to do battle as the co-main event at a Ronda Rousey-charged UFC 170.
Their light heavyweight bout has massive title implications as Cormier is making his division debut following back-to-back one-sided victories at heavyweight.
Considering "Suga" and "DC" are two of the most athletic fighters in the world, sparks shall fly on Feb. 22. But that doesn't mean the UFC Tonight co-hosts will remain all buddy-buddy leading up to Fight Night.
"I think he's kind of scared to text me now," said Evans in a recent interview with MMA Junkie Radio. "But the thing about it is, you've got to put it on hold. You can't be palling around, because it's a fight. If I allow myself to think any other way than he's someone who's trying to separate me from consciousness, I've already lost."
If you remember, Evans just fought another one of his MMA pals as he absolutely destroyed Chael Sonnen at UFC 167. Leading up to their fight the former champion made numerous suggestions about Sonnen being the aggressive outlet for countless weeks of training, not eating and not seeing his kids, so this time should be no different.
As far as Cormier is concerned, he hasn't cut this much weight since his days as an Olympic standout.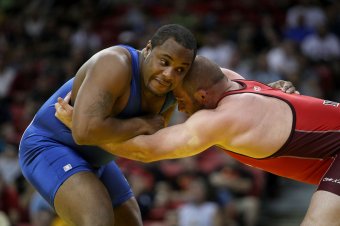 Jonathan Ferrey/Getty Images
"He couldn't make 211 (pounds) five years ago or so for the Olympics, so it's going to be hard if he's a little bit older," added Evans. "So it's going to be hard, but maybe he has discipline now that he didn't have then."
In any case, Cormier should provide Evans with one of his toughest fights to date. Even after dropping all that weight, the former Strikeforce king still possesses the best wrestling in MMA and very heavy hands.
"Man, I hope it will be a big factor," said Evans regarding the potential speed difference. "But you never know. I can just imagine the transition from going against a guy who is fast and is one of the smaller (guys) at light heavyweight, versus going with the guys that he's used to going against with heavyweights"
For more UFC news and coverage, Follow @DHiergesell