Arsene Wenger is insistent that January is a difficult time for a Premier League club to secure transfer targets. It is becoming clear that he is right.
After turning his attention to Real Madrid's Alvaro Morata, Wenger has been left disappointed.
The issue in January is one of availability. Arsenal already have a strong squad. The list of players who could improve upon Wenger's current selection options is relatively small.
There undoubtedly are an elite few players who could add to Arsenal's title challenge. The Gunners have suffered several key injuries, notably those to Nicklas Bendtner and Theo Walcott, and will most likely require reinforcements if they are to retain their top spot at the Premier League.
However, the players able to improve Arsenal are invariably stars at their current clubs. Ask yourself this: Why would any team allow one of their best players to leave in the middle of the season?
In the summer, clubs can afford to contemplate letting a valuable asset go. They have time to plan and rebuild, investing the money elsewhere. What's more, there are no fixtures to navigate in the interim period between selling and replacing a key player.
In January, however, everything is still to play for. Arsenal have been extensively linked by the Mirror with Atletico Madrid's Diego Costa, but with Atletico chasing the title, they will fight tooth and nail to keep their man.
Atletico have something of a reputation as a selling club and, come the summer, the situation might change. For now, however, he appears to be off limits.
Manuel Queimadelos Alonso/Getty Images
The same is true of clubs at the other end of the table. According to the Telegraph, Arsenal are considering a swoop for Fulham's Dimitar Berbatov. However, selling Berbatov could seriously jeopardise Fulham's chances of avoiding relegation.
Given that staying in the Premier League is worth far more than Berbatov's mooted £2 million fee, selling now would make little to no sense.
One alternative is to target young players who are surplus to first-team requirements. In the wake of the FA Cup win over Tottenham, Wenger told Sky Sports: "If we find someone like Serge Gnabry at that age when no-one knows them, then maybe."
That strategy is presumably what prompted his interest in Real Madrid's Alvaro Morata. Although talented, Morata has struggled for game time in competition with Cristiano Ronaldo, Karim Benzema and others.
According to WhoScored, he has made just one start in La Liga this season. Reports in the Mirror suggested that Arsenal were determined to take the young Spaniard on a loan deal until the end of the season.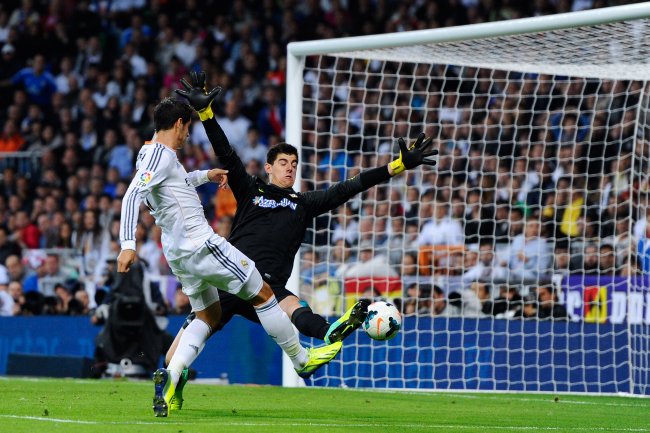 David Ramos/Getty Images
Unfortunately for Arsenal, Madrid won't contemplate allowing a valued squad member to leave. Carlo Ancelloti has reiterated to ESPN that there will be "no new players and no exits."
Another young Arsenal target, Antonio Sanabria, is also off limits. The Barcelona player was linked by the Mirror with a move to England back in December but is now on the verge of signing for Roma.
Time is of the essence for Arsenal and Arsene Wenger. The Gunners' options are diminishing all the time and with each passing day, the window gets closer to slamming shut. Wenger must continue to work tirelessly to find the solution Arsenal badly need.
James McNicholas is Bleacher Report's lead Arsenal correspondent and will be following the club from a London base throughout the 2013-14 season. Follow him on Twitter here.