10 NFL Draft Prospects Every New Orleans Saints Fan Should Know About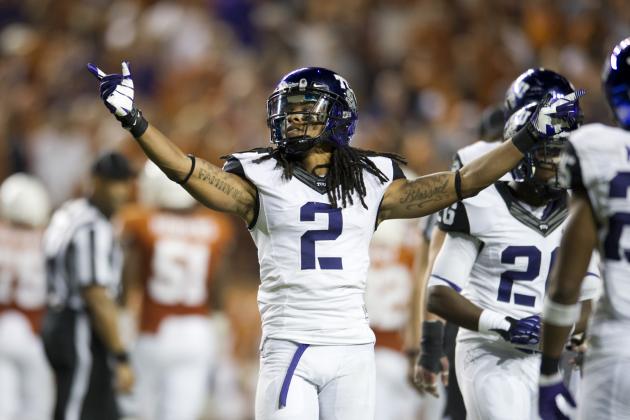 Cooper Neill/Getty Images
TCU's Jason Verrett is one of the nation's top cornerbacks.
The end of the college football season signals the beginning of the next stage for many of the nation's NFL prospects, and like most other teams in the league, the New Orleans Saints have numerous needs to address in the upcoming draft.
Following their victory at Philadelphia in the NFC Wild Card round, the Saints are in the midst of preparation for this Saturday's return trip to Seattle to face the Seahawks in the divisional round. Seattle crushed New Orleans 34-7 earlier this season at CenturyLink Field, and the Monday night blowout served to cast light on numerous flaws that the Saints will be looking to correct through the draft.
The Saints' other losses this season revealed more personnel deficiencies that need shoring up. Based on the weaknesses revealed over the course of the season, the Saints will almost certainly be looking for help at wide receiver, offensive tackle, cornerback and outside linebacker.
There is no shortage of quality prospects at these positions in 2014, and the New Orleans front office will heavily consider all possible options before making a decision.
Here are 10 NFL draft prospects every Saints fan should know about, ranked according to each player's potential to make early contributions.
Begin Slideshow

»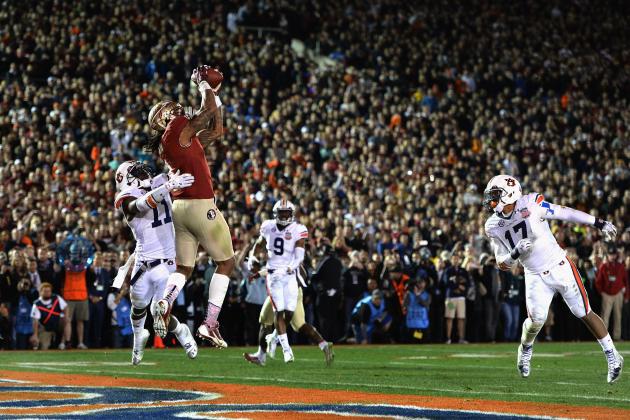 Harry How/Getty Images
Benjamin made the winning catch in Florida State's national title game win over Auburn.
One of the chief areas of concern exploited in the Seattle game was that of wide receiver. The Seahawks' ultra-aggressive defense features big, physical cornerbacks who prefer to jam receivers at the line of scrimmage. This tactic was highly successful in the Monday night game, as New Orleans quarterback Drew Brees struggled to find open receivers for most of the contest.
Although rookie Kenny Stills has been a nice addition, the Saints' receiving corps, for the most part, lacks athleticism. One player that could instantly change this is Florida State's Kelvin Benjamin.
With three Seminoles registering over 50 catches this season, and with Heisman Trophy-winning quarterback Jameis Winston garnering much of the attention, it was difficult for Benjamin to stand out in 2013. But with a solid performance in the BCS National Championship Game, the 6'5" wideout made the most of his opportunity on a big stage.
Benjamin is a bit unpolished in the route-running department, but he would immediately bring undeniable talent and athleticism to the New Orleans receiving corps. Don't expect the Saints to pass on him if he's still available in the first round.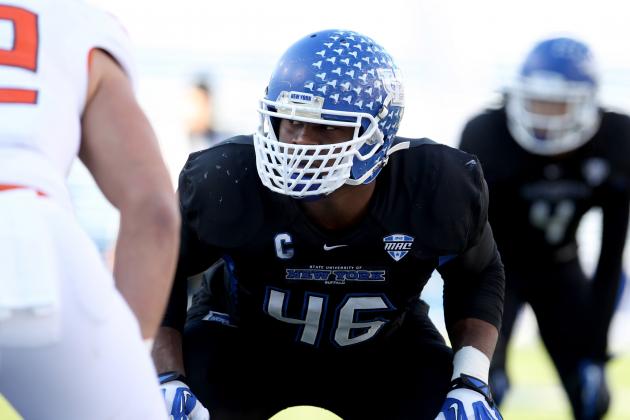 Timothy T. Ludwig-USA TODAY Spor
Despite playing at Buffalo, Mack is a high draft prospect in 2014.
After finishing in the top five in total defense, and holding the red-hot Eagles offense to just 24 points at home, it's safe to say that Rob Ryan has successfully implemented his 3-4 defense in New Orleans.
Junior Galette had a superb season for the Saints, and he recorded 12 sacks from one outside linebacker spot. While Parys Haralson has been serviceable at the other slot, the position could use an upgrade.
Yes, Ryan brought in Victor Butler as a free agent, but Butler missed the entire season with a knee injury. He should be fully healthy in 2014, but it's never a terrible thing to have depth at linebacker. The position is very physically demanding, and the more bodies the better, especially in Ryan's high energy, attacking defense.
While other needs may be more pressing, Mack would be a fantastic addition to the Saint defense. He's projected to go anywhere from the mid-first to the early second round, and there are a number of teams in need of players with his skill set.
Mack has excellent speed and quickness, and he appears to pride himself on his physical style of play. He could step right in and serve as a playmaking edge-blitzer for Ryan and the Saints next season.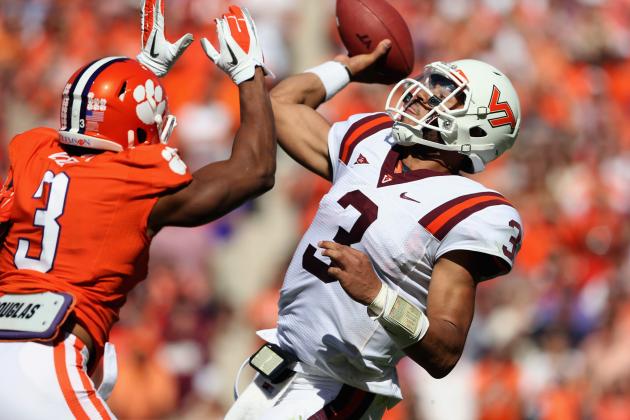 Streeter Lecka/Getty Images
Beasley made his mark as a pass-rusher at Clemson.
Another linebacker that could flourish in Ryan's system is Vic Beasley. The speed-rusher was dominant in 2013, as he registered 12 sacks. He had multiple sacks on four different occasions, and acted as a disruptive defensive force for coach Dabo Swinney's Clemson squad, which won the Orange Bowl last week with a win over Ohio State.
Beasley's chief attribute is his speed, and like Mack, he could serve as an effective pass-rusher in Ryan's blitz-happy scheme. At only 235 pounds, his lack of size is a concern. With Butler returning, however, the Saints could probably find numerous ways to utilize Beasley's talents, and he would provide no shortage of energy in relief of Butler and Haralson.
Beasley's not as much of a natural 3-4 outside linebacker as Mack is, but Ryan would be able to find plenty of ways to take advantage of his considerable well of talent. He may very well be there for the Saints' taking in the late first round.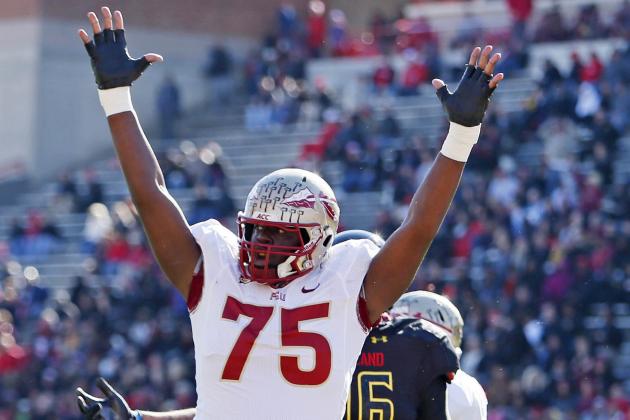 Mitch Stringer-USA TODAY Sports
Erving was a key cog in the Seminoles' national title run.
The Saints' pass protection issues have been glaring this season. In back-to-back late season losses to the Rams and Panthers, Brees was sacked 10 times.
Rookie left tackle Terron Armstead has started at left tackle the last three games, and although he played poorly at Carolina, he's turned in quality performances against the Buccaneers and Eagles. Armstead may be the future at left tackle, but it never hurts to have options at such a crucial position.
On the heels of a stellar season at Florida State, Cameron Erving is a strong candidate to be selected in the first round as an offensive tackle. The former defensive tackle has quick hands and quick feet, and he has considerable abilities as a run-blocker.
Erving, a converted defensive tackle, enjoyed his best game this season against Beasley, as the aforementioned Tiger linebacker found the going tough in Florida State's blowout victory.
Erving could still be on the board when the Saints make their first-round pick, and he has the talent to push Armstead or right tackle Zack Strief for a starting spot in 2014.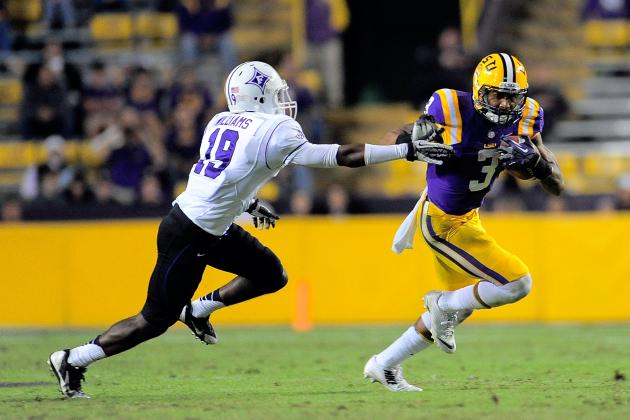 Stacy Revere/Getty Images
Beckham racked up over 1,000 yards receiving for the Tigers in 2013.
If he doesn't completely drop the ball against Seahawk defensive ends Cliff Avril and Chris Clemons this weekend, the safe money is on Armstead locking down the starting left tackle spot for the near future.
With wide receiver being another pressing need, and Benjamin potentially jumping up into the middle portion of the first round on the heels of his most recent performance, there's a strong chance that Odell Beckham, Jr. could be there when the Saints make their first-round pick.
Beckham is fast, agile and extremely explosive with the ball in his hands. He excelled as a kick and punt returner at LSU and recently broke the school's single-season record for all-purpose yards. Last Friday, Beckham was named the Paul Hornung Award winner as college football's most versatile player.
His dynamic talents would make for a fine fit in Saints head coach Sean Payton's offense. Beckham could team with Stills to stretch the field, thus giving the Saints another formidable deep threat.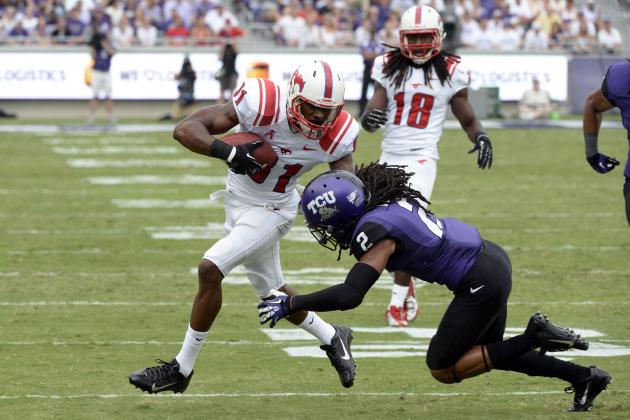 Richard Mackson-USA TODAY Sports
Verrett is capable as both a cover man and a tackler.
Offseason free-agent pickup, Keenan Lewis, has performed admirably for New Orleans this season, but the other cornerback spot has not been nearly as stable.
Injured starter Jabari Greer may very well be done with football, and Corey White has been shaky, at best, as his replacement. This leaves the Saints in need of another cornerback, be it through the draft or free agency.
While this year's group of cornerbacks isn't as deep as in past years, it's top-heavy, and there are quite a few highly touted prospects projected to go in the first and second rounds.
Among them is TCU's Jason Verrett, whose play can best be described, in a word, as tenacious. Verrett doesn't have great size, but he's a punishing tackler, and he's ideally suited to play press-man coverage in the NFL. He approaches every play as a battle with the opposing receiver, and he looks to be a great fit for Ryan's system.
Verrett is a relentless competitor, as evidenced by the fact that he didn't receive any scholarship offers out of high school. He was forced to go the junior college route before finally receiving an offer from TCU coach Gary Patterson, and he's made the most of his opportunities. He may get another such opportunity on draft night, and the Saints could be the team that makes the call.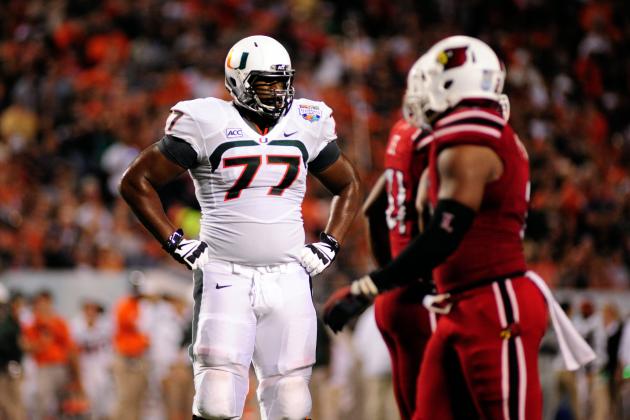 David Manning-USA TODAY Sports
Henderson is a physically imposing left tackle prospect.
Should New Orleans choose to address its needs at cornerback and wide receiver in the early rounds, Seantrel Henderson is a realistic possibility in the middle rounds as an offensive tackle selection.
He has adequate pass protection skills, and at 6'8" and 345 pounds, he possesses size that can't be taught. Henderson is somewhat unpolished in his technique, however, and he has room for improvement as a run-blocker.
In addition, his conditioning issues have been documented. During games, he has a tendency to get winded to the point that his blocking suffers from it.
Overall, however, Henderson's size and athleticism outweigh his negatives and could make him an attractive prospect for the Saints in the middle rounds of the draft.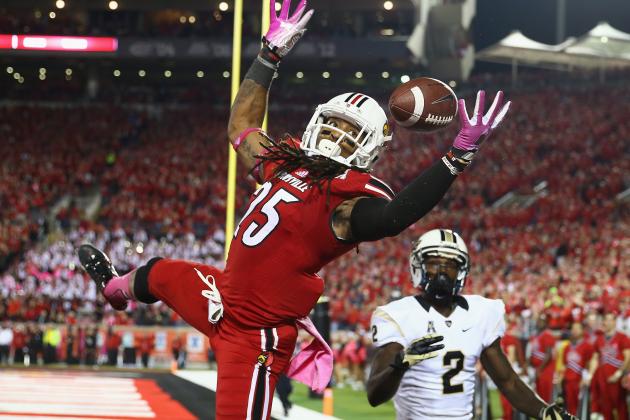 Andy Lyons/Getty Images
Pryor made his mark as a playmaker for the Cardinals.
With the Saints already well over their 2014 projected salary cap, numerous roster cuts are expected in the coming months. Among those most likely to be cap casualties are linebacker Will Smith and safety Roman Harper.
If the Saints cut ties with Harper, they'll be in need of some young talent to help fill out the roster. Calvin Pryor is a hard-hitting safety that could be chosen anywhere from the second to the fourth round.
Pryor not only has the size and physicality to man the safety position, but he also has a knack for the big play. He picked off three passes in 2013, and he had five forced fumbles in 2012. Players with a nose for the football will always have a place in Ryan's defense, and Pryor could prove to be a productive middle-round selection.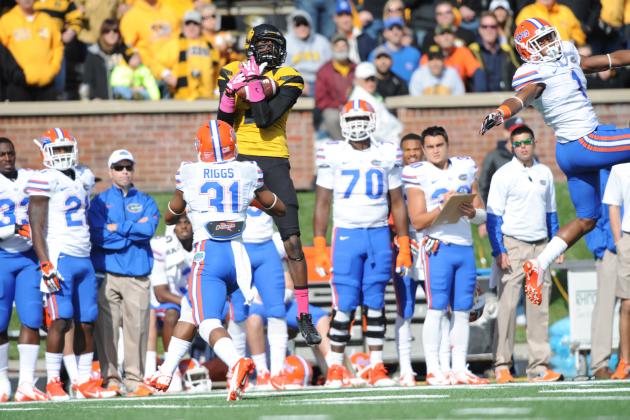 Denny Medley-USA TODAY Sports
Washington has both great size and great speed.
In the fifth round of last year's draft, New Orleans nabbed fleet-footed receiver Kenny Stills out of Oklahoma. Stills would go on to earn a starting job in 2013, and he's currently the starting wideout on a team headed to the Divisional Playoffs.
If Payton is looking for another late-round steal at receiver in this year's draft, then Missouri's L'Damian Washington could very well be that player.
The 6'4" Washington cut his teeth in the ranks of the SEC and faced some of the nation's top cover men on a regular basis. In addition to his considerable size, he also has great speed, which makes for a rare, but potent combination.
On the negative side, Washington could stand to fine tune his skills as a route-runner, and he doesn't demonstrate much enthusiasm for physical contact. Nevertheless, his talents as a tall, big-play wide receiver are undeniable, and the Saints could bring him on board in the late rounds.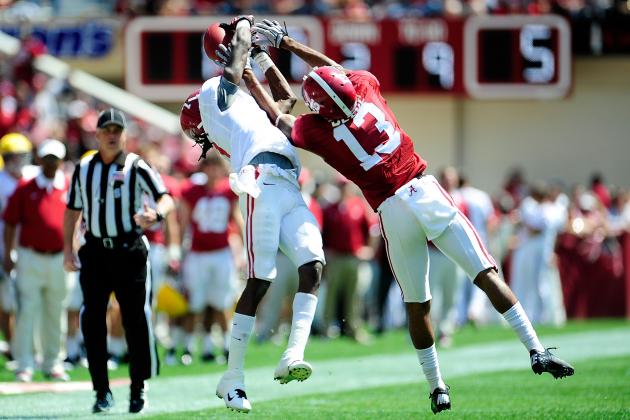 Stacy Revere/Getty Images
Belue has solid cover skills and good speed.
If the Saints are looking to build depth in the defensive backfield in the late rounds of the draft, then cornerback Deion Belue wouldn't a bad choice.
Belue was tutored at Alabama by longtime defensive back guru Nick Saban. Unlike a lot of college corners, he already has sound technique. He also has excellent footwork, and he knows how to use his hands properly.
At 5'11", Belue isn't short, but he can have difficulties when matched up with larger, bulkier receivers. He's a tough competitor, however, and would make a fine addition to any defensive backfield, particularly one in need of depth like the Saints.
Although the New Orleans Saints are still marching in this year's playoffs, they have weak spots in need of attention in the upcoming offseason. The draft is months away, but Saints fans should probably familiarize themselves with the players mentioned above. After all, there's a decent chance that one or more of them could be donning the Black and Gold in the Mercedes-Benz Superdome next season.