Big E Langston Headed for the Top in 2014, Taking the IC Title with Him
Use your ← → (arrow) keys to browse more stories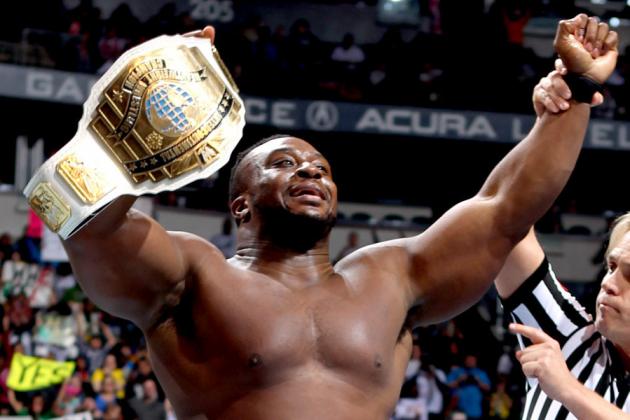 wwe.com

You might think that holding the Intercontinental title would be a sure sign in and of itself that Big E Langston is on his way to greatness, but the past few holders of the strap haven't exactly set the world alight.
The numbers don't lie. During his run with the title, former champion Curtis Axel could only manage a 62.9 percent win rate in his televised matches, and before him, Wade Barrett could only manage a paltry 26.7 percent after regaining the title from The Miz.
In stark contrast to this, as of Monday Night Raw earlier this week, Big E Langston has not lost a single match while champion—televised or otherwise. You might write this off as the difference between the character Langston plays (a babyface) and that of Barrett and Axel (both heels), but the last out-and-out face champion, Kofi Kingston, could himself only muster up a win rate of 34.6 percent.
It's clear from this evidence that Big E has some serious momentum behind him, and the fact that he reportedly has a big fan in John Cena can't be doing him any harm. However, you can't dismiss Langston's success as merely having the right friends—he proved himself on NXT, and he's getting over on his own each week on television.
Langston has natural, easy charisma that shines through when he's given a chance on television, and of course his social media presence is well known as being particularly engaging, even in a company that considers Twitter and other networks to be a huge focus.
So, with Langston riding a wave of popularity and being booked very strongly, we have to wonder whether he is being elevated by the Intercontinental title or whether it's him elevating the belt itself.
Champions that declare they are "restoring prestige" to the title or engage in other such self-inflating patter has become somewhat of a cliche for the once-prestigious championship. Cody Rhodes seemed to be successful in returning some of its prestige back in 2011, but since then, the stock of the Intercontinental Championship has dropped somewhat.
However, Langston's first real feud over the belt—a simple but engaging program with the ever-entertaining Damien Sandow—was notable as a rare occurrence of an honest-to-goodness attempt at building to a match over one of the secondary singles titles. It wasn't perfect, even for the fact that Sandow should have, by rights, found himself further up the card after winning Money in the Bank, but it was certainly a start.
Is Big E a future world champion?
Evidently, both the Intercontinental title and Big E Langston are priorities for the WWE going into 2014, and if things continue as they are now, it's difficult to imagine Big E and the belt doing anything but raising one another's stock.