The 2014 NFL playoffs are in full swing, but fans of 24 of the league's 32 teams are already focused on the offseason. During the January-through-September break from professional football, there isn't a more important event than the NFL draft.
That is no different in 2014, and scoring a great haul from of this loaded class could drastically alter the fortunes of a few downtrodden clubs. On the flip side, missing out on some great prospects from this crop of talent will likely have a strong, negative impact on a franchise's future.
With that in mind, let's take a look at where all the top prospects should land in our first mock 2014 NFL draft.
1. Houston Texans: Teddy Bridgewater, QB, Louisville
The Texans went from Super Bowl contender to the worst team in the league in the span of one season. It is a testament to how important a quarterback's performance is to a team's success.
With former Penn State head coach Bill O'Brien now running the show and star running back Arian Foster on the road to recovery, Houston can address the main issue that plagued this team in 2013: poor play under center.
Bridgewater became the top signal-caller in this draft after officially declaring his intent to leave early from Louisville. He has a great arm, solid decision-making skills and represents a vast improvement over Case Keenum and Matt Schaub.
2. St. Louis Rams (via Washington): Jadeveon Clowney, DE, South Carolina
Clowney may be the best player in this draft, by a mile.
The physical freak may not have been making as many highlight plays during the 2013 campaign as he did in season's past, but he learned to deal with constant double teams and improved his fundamentals. His upside is through the roof, and the Rams would be foolish to pass up this top-tier prospect at No. 2.
3. Jacksonville Jaguars: Blake Bortles, QB, UCF
The Jaguars have to realize that Chad Henne and Blaine Gabbert aren't the answer for their quarterback woes—especially not Blaine Gabbert, who is arguably one of the worst starting quarterbacks we have seen in recent years.
Enter Blake Bortles, the cannon-armed athlete that could turn this struggling club around. The UCF product is not likely to instantly transform Jacksonville into a contender—such as Andrew Luck did in Indianapolis—but he should develop into a respectable signal-caller in the near future.
4. Cleveland Browns: Johnny Manziel, QB, Texas A&M
Johnny Football is the right quarterback to take Cleveland from a perennial loser to an exciting, young playoff-bound squad.
The former Heisman Award-winner is thrilling to watch and is improving as a passer, which makes him a home-run pick for this team at No. 4.
5. Oakland Raiders: Sammy Watkins, WR, Clemson
Watkins is far and away the top wideout in the class and has game-breaking abilities.
The Raiders love to add these types of prospects to their roster, but Watkins also has the fundamentals to back up his elite athleticism. His presence will undoubtedly make life easier for whoever ends up under center in the Black Hole.
Should Matthews be the first tackle off the board in the draft?
6. Atlanta Falcons: Jake Matthews, OT, Texas A&M
Matthews will be able to protect Matt Ryan's blindside for the forseeable future. He's the top offensive lineman in this class and will immediately improve both the passing and running game for the Dirty Birds.
7. Tampa Bay Buccaneers: Greg Robinson, OT, Auburn
The Bucs would love to find a way to move up and add an elite pass-rusher like Jadeveon Clowney in order to improve the lackluster pressure they put on the quarterback in 2013. However, if the team stands pat, expect this improving organization to land a great tackle who will help bolster a slumping running game and keep young quarterback Mike Glennon upright.
8. Minnesota Vikings: Derek Carr, QB, Fresno State
This is a bit of a reach, but the Vikings simply have to dig up a consistent quarterback in order to have a chance at returning to the playoffs anytime soon.
At this point, Carr is the best on the board, as Brett Hundley chose to return to UCLA for his junior season. The Fresno State signal-caller is a great playmaker with a rock-solid arm, and he should immediately be Minnesota's No. 1 option under center.
9. Buffalo Bills: Khalil Mack, OLB, Buffalo
The Bills should have a plethora of talent to select from at No. 9, as they have their quarterback spot solidified with EJ Manuel.
Now they can concentrate on getting pressure on the opposing signal-caller and bolster their coverage abilities by adding a versatile linebacker in Mack. The Bills defense was good in 2013, but it has the potential to be even better with this local college prospect in the fold.
10. Detroit Lions: Mike Evans, WR, Texas A&M
The Lions were hopeless without Calvin Johnson in the lineup, so adding Evans gives the team a bit of an insurance policy in addition to another weapon to stretch the field and take advantage of single coverage. Detroit's offense would become even more dangerous with this elite wideout running routes across from Megatron.
11. Tennessee Titans: Anthony Barr, OLB, UCLA
The Titans need to get more pressure on the quarterback, as the team ranked in the bottom half of the league in terms of sacks generated in 2013, making Barr a no-brainer at No. 11. He presents great value here and will pay dividends for a defense that could use a jolt going into the 2014 campaign.
12. New York Giants: Cyrus Kouandjio, OT, Alabama
The G-Men have to secure a new left tackle after Will Beaty struggled with injury and poor play in 2013.
Kouandjio would afford the team the luxury of moving Beaty to the right side and putting Justin Pugh at guard, a series of moves that would drastically improve the offensive line.
13. St. Louis Rams: Ha Ha Clinton-Dix, FS, Alabama
The Rams defense wasn't awful this past season, but safety was an area of concern.
Rodney McLeod isn't the answer as a starting safety and should be replaced with Clinton-Dix, who is a rangy, smart talent that will easily live up to this lofty draft position.
14. Chicago Bears: Louis Nix III, DT, Notre Dame
Nix should be drafted higher than the middle of the first round, but the Bears are getting a steal in this scenario.
Chicago had a league-worst run defense in 2013 and has to plug up the middle of the defensive line with a big, skilled body. There is no better option in this class than Nix.
15. Pittsburgh Steelers: Ra'Shede Hageman, DT, Minnesota
The Steelers were amongst the five worst teams in terms of registered sacks this year, making a pass-rusher a must-add come May. Hageman will inject some much-needed youth and athleticism into an aging, deteriorating defense.
16. Baltimore Ravens: Marqise Lee, WR, USC
Lee is simply a playmaker that can change a game with his elite combination of speed, athleticism and knack for making big catches.
While his numbers were down in 2013—mostly due to injury—the young star racked up 25 receiving touchdowns during his first two years with the Trojans. He has a knack for the end zone, and that won't change when he enters the pros.
Joe Flacco clearly needs more weapons around him to succeed, as Dennis Pitta and Torrey Smith alone aren't cutting it. If Baltimore plans to get back to the Super Bowl in the near future, it has to start stockpiling some more firepower at the wideout and tight end spots.
17. Dallas Cowboys: Kony Ealy, DE, Missouri
The Cowboys defense was utterly disgusting in 2013, ranking near the bottom of the league in almost every major category. Perhaps the most disparaging stat was their bottom-10 sack total, which is hard to fathom with DeMarcus Ware wreaking havoc behind the line of scrimmage.
Ealy should help Dallas get back into the top 10 in that department, as he is a disruptive force that can knife into the backfield and make good things happen for a defense.
18. New York Jets: Eric Ebron, TE, UNC
Gang Green needs to find out what they have in Geno Smith, but that's not possible with a group of sub-replacement-level options at the wideout and tight end spots.
Ebron represents a major upgrade at the tight end position and should aid Smith's development over the next few seasons by providing a big target in the red zone and all over the field.
19. Miami Dolphins: Taylor Lewan, OT, Michigan
The 'Phins have to address their offensive line this offseason. Lewan is one of the best pass-protectors on the board and should ensure that Ryan Tannehill has a bit more time to throw next season.
20. Arizona Cardinals: Cedric Ogbuehi, OT, Texas A&M
The Cardinals had an excellent 2013 season, but they still managed to miss the playoffs in the uber-competitive NFC West.
They should be able to make a run in 2014 if they upgrade the offensive line, as Carson Palmer was constantly under pressure this season, taking sacks that cost the team games. Ogbuehi is a clear-cut first-round talent that can step in at right tackle but has plenty of upside if he is moved to the left side as well.
21. Green Bay Packers: C.J. Mosley, ILB, Alabama
Green Bay's playoff hopes ended because it struggled to make stops when it counted. Factor in an aging linebacker corps, and you are looking at an issue this team has to address in the draft.
Mosley is simply a monster in the middle and should emerge as one of the top backers in the league sooner than later.
22. Philadelphia Eagles: Stephon Tuitt, DE, Notre Dame
The Eagles offense was near unstoppable in the second half of the 2013 campaign, but the defense left something to be desired.
Getting a player who can get after the quarterback, such as Notre Dame's Tuitt, will be imperative to this club's chances of another playoff run.
23. Kansas City Chiefs: Kelvin Benjamin, WR, Florida State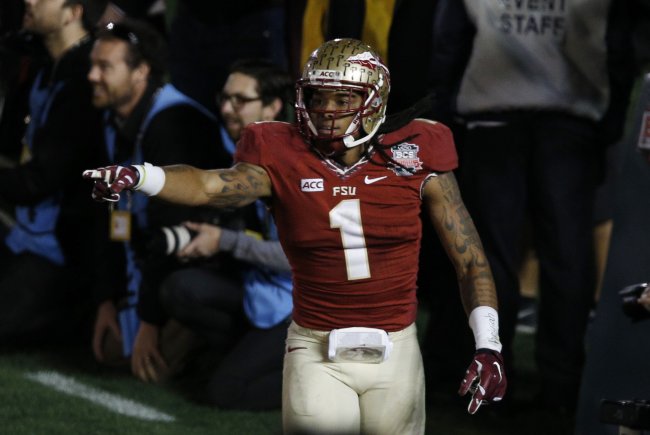 Kelvin Kuo-Oncea-USA TODAY Sport
The Chiefs run-heavy system and lack of wide receiver talent made the offense quite predictable. Running back Jamaal Charles finished as the team's leading receiver, an issue that must be corrected next season.
Benjamin is best known for hauling in the two-yard touchdown pass that wound up winning the nation title for the Seminoles, but he's been a beast for much longer than that. Over the final two games of the regular season, this monster went off for a combined 331 yards and five touchdowns on 14 catches.
He has tremendous size (6'5", 234 lbs.), athleticism and box-out ability, making him one of the most intriguing talents in the draft. Bleacher Report's Matt Miller believes that Benjamin's upside is going to be a major factor in a team's decision to select the sophomore wideout:
That's the ceiling you draft with Kelvin Benjamin. Big redzone target you can throw it up too. Box-out artist.

— Matt Miller (@nfldraftscout) January 7, 2014
24. Cincinnati Bengals: Darqueze Dennard, CB, Michigan State
The Bengals may want to bring in another quarterback to challenge Andy Dalton, but they shouldn't burn a late first-round pick to do so.
Instead, adding a standout talent like Dennard to the team's secondary would provide more value and fill an immediate need, especially with Adam Jones and Terence Newman on the decline.
25. San Diego Chargers: Jason Verrett, CB, TCU
The Bolts' weakness is their pass defense, and it may be exploited during this weekend's divisional round matchup with Peyton Manning and the rival Broncos.
Verrett would help improve the team's coverage against opposing wideouts and hopefully keep some of the big plays that plagued this group all season from happening.
26. Cleveland Browns (via Indianapolis): Allen Robinson, WR, Penn State
The Browns would have a powerful one-two punch at wide receiver if they added Allen Robinson. He would make for a nice compliment to Josh Gordon, taking some heat off pf the emerging superstar.
27. New Orleans Saints: Ryan Shazier, OLB, Ohio State
The Saints defense took drastic steps forward this past season and could get even better with Shazier in the mix. The Ohio State product is adept at getting the ball-carrier in a hurry with his great closing speed and can help in coverage, which only add to his solid pass-rushing capabilities.
28. New England Patriots: Scott Crichton, DE, Oregon State
The Pats may end up adding some more firepower on offense to help Tom Brady in his twilight years, but tinkering and improving the defense is a favorite of head coach Bill Belichick. Crichton is an immense value here and immediately bolsters New England's defensive front.
29. San Francisco 49ers: Justin Gilbert, CB, Oklahoma State
The Niners are one of the most complete teams in the NFL, but their cornerbacks need to be upgraded. Gilbert would be a starter on this team, and his presence would make a great defense even better.
30. Carolina Panthers: Brandin Cooks, WR, Oregon State
Steve Smith is still on top of his trash-talking game, but the veteran wideout will soon be fading into the sunset.
The Panthers would be wise to get Cam Newton more weapons now, and hopefully, the team can develop a No. 1 receiver over the next few years. Cooks has the potential to shoulder that load for this Super Bowl contender.
31. Denver Broncos: Vic Beasley, OLB, Clemson
The Broncos should improve their defense, as their record-setting offense clearly doesn't need much help.
Beasley would be a nice addition due to his ability to get the opposing signal-caller, a skillset that a contending team can never have enough of.
32. Seattle Seahawks: Zack Martin, OG, Notre Dame
The Seahawks would land a slam-dunk, surefire starter at guard with Martin. He's a plug-and-play talent that will make a top-tier running game, featuring Russell Wilson and Marshawn Lynch, even better.