David Moyes was in spiky mood following Manchester United's third consecutive loss on Tuesday, a 2-1 defeat at the hands of Sunderland in the first leg of their Capital One Cup semifinal.
And he may have talked himself into trouble with the FA, according to Jamie Jackson of the Guardian:
the FA is looking into David Moyes post-game comments from #safc 2 #mufc 1 they are not at stage yet where asked him for observations

— jamie jackson (@GuardianJamieJ) January 8, 2014
An FA spokesman said, per talkSPORT:
We are looking into David Moyes' comments to the media following the match at Sunderland.

We are also contacting both clubs to seek their observations in relation to the use of flares last night.
Moyes was angered by a free-kick—given against Jonny Evans—that led to Sunderland's first goal, and his mood was soured further when a penalty was given against Tom Cleverley.
The Red Devils boss commented in the aftermath that his side are "having to play" the referees as well as the opposition, with the notion that his side are being unfairly treated by the officials.
Colin Young of the Daily Mail quotes Moyes saying:
After the first 15 minutes I thought we were very good. We defended a terrible free-kick, but how the referee has given a free-kick for that is way beyond me.


I just cannot see how that is a free-kick. And the penalty? We had a player booked for that the other day against Tottenham. The referee is in a great position to look at it, down the line, 15 yards, and the linesman gives it from behind and he cannot see through Patrice Evra.


That is what we're finding at the moment. The performance was good without having the last bit. I have experience and I can sense it's on the verge of turning. I sense we're about to get a bit better.
Andre Marriner had little choice in giving Fabio Borini the decisive spot-kick after linesman Peter Bankes raised his flag in order to give the referee a clearer idea of what had occurred.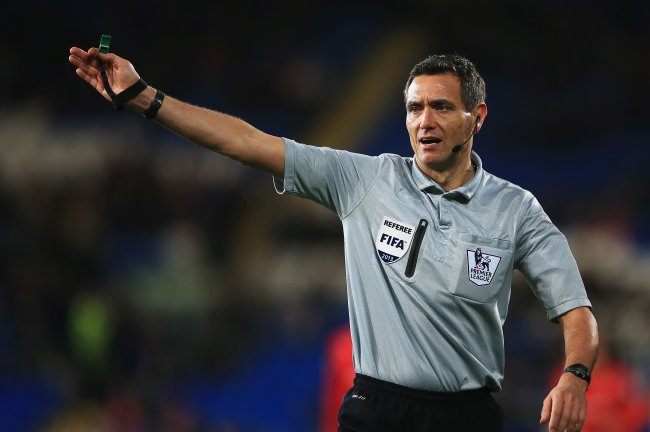 Richard Heathcote/Getty Images
As ex-Premier League referee Graham Poll hints in Young's column, although Cleverley's contact with Adam Johnson inside the area was minimal, it was punishable all the same, and an irresponsible decision from the United midfielder.
Evans, too, was guilty of a needless knee into the back of Steven Fletcher, leading to Sunderland's opener. Both decisions were avoidable, but Moyes should be looking at his own players rather than the officials.
As the Daily Mail's Lee Clayton hinted, Moyes is still trying to get out from under the shadow of his predecessor:
Time to break out of Fergie's shadow, Mr Moyes and build your own team... (I backed United to win the title #oops) pic.twitter.com/MvUUk5OJRl

— Lee Clayton (@LeeClayton_) January 8, 2014
It's the first time since 1992 that the club have lost three games in a week, the latest in a growing list of unenviable records being broken under Moyes' management.
The Scot does, however, remain upbeat about the signs of progress that he feels his side are showing. Others may not be quite as full of praise.
Former Norwegian international Jan Aage Fjortoft has noted that the Premier League champions are still reeling as a result of a poor summer transfer window:
Moyes/Man UTD biggest loss wasn't last games. Biggest loss was the the way they played the SummerWindow.That wasn't even Europa League level

— Jan Aage Fjortoft (@JanAageFjortoft) January 7, 2014
This weekend's meeting against Swansea City holds a special significance for the Welsh club, who have already managed one win at Old Trafford in the last week following their 2-1 FA Cup triumph.
Moyes is undoubtedly a manager feeling hot under the collar right now, despite the positive facade that he continues to exude.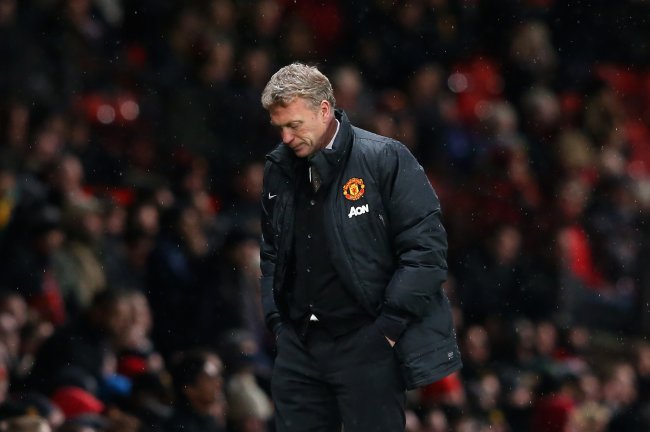 Alex Livesey/Getty Images
Moyes' criticism of Marriner's decision to award Tuesday evening's decisive penalty is something that may now warrant retrospective action from the Football Association, as the Scot continues to endure a hiccup-ridden first term as Manchester United manager.
He previously moaned at decisions that went against his team in the 2-1 loss to Tottenham, per Sky Sports, but the truth is United's problems lie much closer to home than the odd questionable call from an official.