It was just on Nov. 10 that the Carolina Panthers went into San Francisco and beat the 49ers, 10-9. Now, the 49ers have to figure out how to reverse that outcome while having to play the Panthers at Bank of America Stadium in Charlotte, N.C., at 1:05 p.m. ET on Sunday.
Despite the previous outcome portraying this as an unfavorable matchup for San Francisco, the 49ers enter this game as three-point favorites at Bovada.
In the first meeting, the 49ers held a 9-0 lead, but the Panthers took the game over with defense. With talented inside linebackers Luke Kuechly and Thomas Davis keeping an eye on quarterback Colin Kaepernick, the mobile quarterback was held to 16 rushing yards.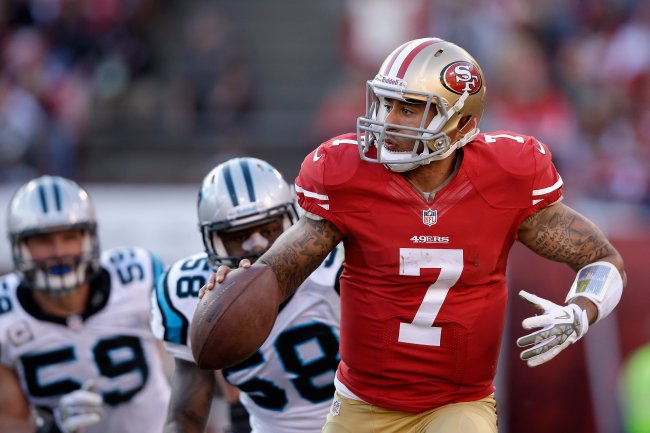 Ezra Shaw/Getty Images
What was even worse was the passing offense. The Panthers got to Kaepernick to the tune of six sacks and the 26-year-old was not finding any receivers to quickly get rid of the ball to. He finished the game 11-of-22 passing for just 91 yards and no touchdowns but an interception.
It's not like the Panthers were finding abundant success of their own, but with a defensive effort like that, they didn't need to.
Kaepernick is eager to turn the tables:
Colin @Kaepernick7 on rematch with Carolina: "We owe them." READ: http://t.co/g5y6I5DnVX pic.twitter.com/MhU9Ss2mBv

— San Francisco 49ers (@49ers) January 7, 2014
The way the following keys to this game play out will dictate if the outcome will be different than the first.
Cam Must Own His First Playoff Start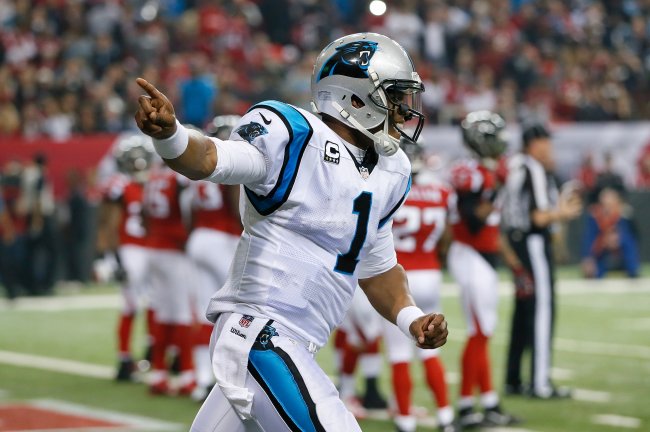 Kevin C. Cox/Getty Images
Cam Newton made great strides this year as a starting quarterback. The win in San Francisco is a classic example. Newton was struggling, but he didn't allow that to lead to panicked play and turnovers. Instead, he made enough plays when he had to in order to lead his team to victory.
Despite the added poise Newton has shown this year, this is his first playoff game and it comes against a menacing defense. It remains to be seen how Newton will handle adversity in this game.
Early in his career, this game presents an opportunity for a defining moment:
"The bottom line is he's got his opportunity now to shut everyone up." @SteveBeuerlein on Cam Newton's 1st playoff game #Panthers

— NFL MondayQB (@NFLMondayQB) January 7, 2014
It's not like this is Newton's first experience on an epic stage. The former college national champ went 20 of 34 for 265 yards, two touchdowns and an interception in the 2011 BCS title game.
Still, facing the Oregon Ducks defense in that game will be a bit different than lining up against the 49ers.
Newton has the ability to break down even the stingiest of defenses and create big plays. The Panthers will need him to do just that to find success in this game.
Which Inside Linebackers Will Have the Best Game?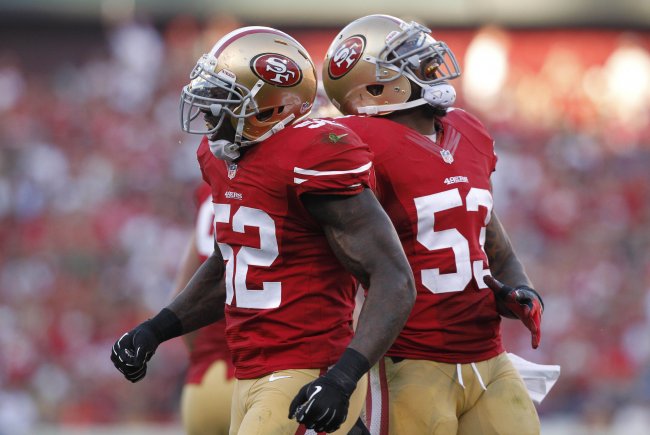 Cary Edmondson-USA TODAY Sports
The 49ers' Patrick Willis and Navorro Bowman get a lot more hype for their greatness than Kuechly and Davis, but the Panthers' duo doesn't need to take a backseat to anyone.
From @nfl: #Panthers Luke Kuechly (156 tkl, 2 sk, 4 INT) & Thomas Davis (123 tkl, 4 sk, 2 INT) are only LB duo w/ 120+ tkls, 2+ sks & 2+ INT

— Ryan Anderson (@randerson1126) January 8, 2014
In just two years, Kuechly has evolved into one of the game's best at the position, and Davis has had a phenomenal season. The 30-year-old is one of the most underrated players in the league.
This is not to take anything away from Willis and Bowman. They are the heart and soul of the 49ers defense.
In this game, all four are vitally important.
Both the 49ers and Panthers have mobile quarterbacks who can cause their most damage when breaking out of the pocket. The inside linebackers will be asked to help keep tabs on the signal-callers.
Even more importantly, both of these teams feature run-heavy attacks, and these linebackers need to make impact tackles to keep the opposition from extending drives.
Both duos found success in the first game. Kuechly and Davis combined for 15 solo tackles, one sack, two tackles for loss and a pass defensed. Willis and Bowman combined for 13 solo tackles, one sack and two tackles for loss.
Kap Must Make Some Big Play
Colin Kaepernick has had an up-and-down season. His first game against the Panthers was definitely one of the down moments.
The last time 49ers/Panthers faced each other, Colin Kaepernick had his worst game of the 2013 season. CAR 10 SF 9 pic.twitter.com/GZIJHsRQF7

— NFL on ESPN (@ESPNNFL) January 8, 2014
Kaepernick does have solid postseason experience, however, and he played well in the 49ers' 23-20 win against the Packers in the divisional round. Although he was far from perfect, as he finished the game 16 of 30 for 227 yards, a touchdown and an interception, he played well down the stretch and made enough plays to lead his team to victory. He added 98 yards rushing.
Kaepernick's coolness in clutch leads #49ers to wild-card win at frigid Lambeau. http://t.co/ENnZ9QPJPB

— Eric Branch (@Eric_Branch) January 6, 2014
Although the 49ers will take Kaepernick making plays with either his arm or his feet, Kaepernick needs to pick up a few key first downs with scrambles to make the biggest positive impact.
This will not only help the 49ers extend drives, but it will slow down the Panthers' pass rush that destroyed the 49ers the last time these two teams played.